I Got It!!
ISSUE #611: May 29 - June 4, 2016
MANAGER / DEVELOPER: Brian C. Timmons
Toronto: (416) 461-2203 // (647) -498-4266
Costa Rica: Land line: (506) 2282-4142 Ext. 101 // Cell: (506) 8305-3965
ResidenciasPropertyManagement@gmail.com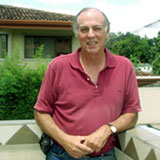 Brian Timmons
Dear friends,
When I started Residencias Los Jardines, I started writing a weekly newsletter -determined to tell all the good, bad, and the ugly. I knew some readers would be interested in the construction process. I expected others might be interested in the lifestyle of two people who had decided to live outside the box. For others, the adventures of Lita, the parrot and the cat took on an entertainment saga all its own.
Residencias Los Jardines is finished. We periodically have re-sales and rental availability. Some readers may be interested in this information.
Brian Timmons
Developer / Property manager
Residencias Los Jardines

Web: https://www.residenciaslosjardines.com
Emails: info@residenciaslosjardines.com
ResidenciasPropertyManagement@gmail.com
Paradisus Condos / Rohrmoser
FOR SALE / RENT
Visit our website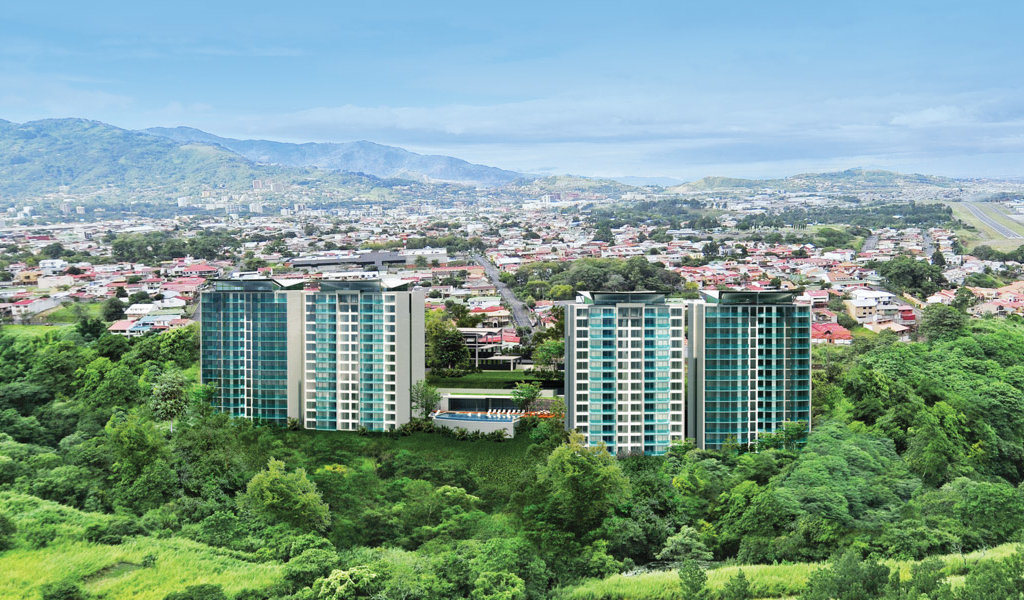 Each of the units consists of two bedrooms / two bathrooms, and a large living/dining/kitchen area. The floor plan of each of these units has eliminated the optional "den / office" divider. The result is a larger area offering more flexible furniture arrangements while still maintaining the option of including an office area. At 105m2 plus two parking spots each and storage locker, they offer a great opportunity for someone seeking views, security, central location, and first class, all round living...
PRICE REDUCTION
Semi furnished unit: For sale: $235,000
Fully furnished unit: For sale: $245,000
Floor 12 -west view
PARADISUS UNIT FOR RENT
Paradisus unit for rent: $1,400 mo.
More Opportunities
rentals & sales
FORECLOSURE,
Condominio Santa Lucia, Tres Rios
FOR SALE / EXECUTIVE HOME
Visit our website
Price reduction: $520,000 $549,000 (Appraised: $800,000)
6 bedrooms
5 bathrooms
610 m2 (6,500 sf)
2 Story
2 Car garage
Market activity
sales & rentals
Sales: Several inquiries for Los Jardines. We have no vacancies.
Rentals: Paradisus: two / three bdrm unit, $1,400 fully furnished.
Los Jardines: No vacancies.
Residencias Los Jardines
property management, rentals & re-sales
FOR SALE
Unit #106A: $ 165,000 / See Unit
Unit #107: $ 205,000 / See Unit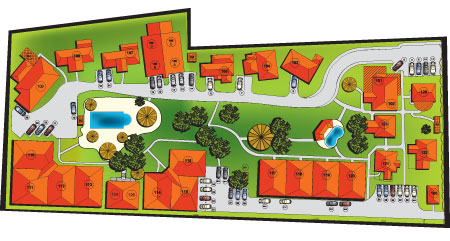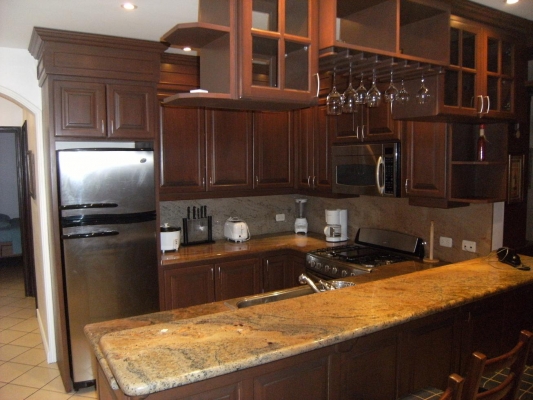 See a complete description of this unit
UNIT #106A
FOR SALE
$165,000
Total Area (Sq Ft): 1250
Total area (Sq M): 120
Bedrooms: 2
Bathrooms: 2
Floor(s): 1
Type: Apartment
Furnished: Yes
This is a fully furnished 2-bedroom unit situated in a 2-story building, which has two units on the ground floor and two units on the 2nd. floor. Each unit is the same size (1,250sf) divided into 800 sf of interior space and 450 sf of covered front and back terraces. Units 106A and B are on the ground floor; Units 106 C and D are on the 2nd. Floor. The solid masonry demising wall (common wall) as well as the 5" concrete slab prevent sound transference.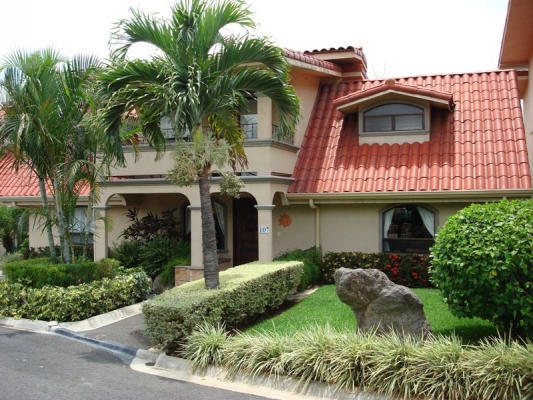 See a complete description of this unit
UNIT #107
FOR SALE
$205,000
Total Area (Sq Ft): 1716
Total area (Sq M): 158
Bedrooms: 2
Bathrooms: 2.5
Floor(s): 2
Type: Detached
Furnished: Yes
This 1,716 sf. (plus parking for one car) two story, detached house, with three terraces, two bedrooms (one on each floor) and upstairs master suite is a beautiful home. This home consists of two VERY large bedrooms (one on each floor) with en-suite bathrooms and a powder room, each with large closets with extensive built-ins for personal organization. The vaulted living room and ground floor bedroom ceilings as well as the master bedroom on the 2nd floor, provide a feeling of grandeur while allowing the warmer air to rise and exit through the ceiling ventilating system. There are three TVs (one in each bedroom and one in the living room.) This is a beautiful home. There is a rough-in for a dishwasher in the kitchen area.
Weather: Lots and lots of rain... virtually every day. Traffic, accidents, and flooding due to clogged drains are the norm.
New Distribution System: Last we, I changed newsletter distributors... It was mostly transparent to the reader and was fairly simple on our end. I had been using Constant Contact which was great but they increased their price. I found a "free" distributor and Maria, my fantastic person in Argentina did all the work.
Tres Rios house repairs: This work continues. Two issues... the house has a "smart" lighting system... this is a mistake in a 3rd. world country. No one knows how to work the bloody system. The house has 120 m2 of hardwood flooring. It needs refinishing. The two quotes I got are ridiculous. I'm in the wrong business! Sourcing and repairing old stuff is a challenge. It take time and experience.
Rental market: Agents report no interest, no calls.
Car: I Got It! referring to the final document needed to drive the bloody thing. However, it took a final two trips on Monday to (now a total of 7 trips to INS to get it done.) The first trip this week (Monday) found that the changed license plate from one month previous had not yet been uploaded into their data base... They phoned ?? and asked that it be entered. I was to wait. Knowing CR, I did some errands and returned 5 hrs later that afternoon. It still hadn't uploaded but they phoned again and... I guess it worked, because they were shortly able to complete their end of things. I ended up with a reduction in the marchamo to a the remaining 7 months for the year. I left saying that I feel like I am leaving old friends... and laughed my way out the door.
While there are still some issues to fix re. the car, it runs great and after a near week of driving​, the fuel gauge has barley dropped... and fuel prices are now increasing, but diesel remains 22% cheaper than the regular gas I bought for the Pathfinder and since diesel engines are about 25-30% more efficient than gas, I have achieved my objective. If I keep the car until I'm 115 years old, I will break even!!!!! Sometimes that is the way life is... but I expect this to be the last chapter on this sad story. The Pathfinder has been in the garage being for maintenance and repairs all week. The diesel Santa Fe will go in next week for the finishing work it needs... hopefully, I and nearing the end of cars and car repairs!! But I will probably sell the Pathfinder...
News Items of the Weeknews
Comments
What I had time to survey was mostly a rehash of rehashed talk which will never happen so I didn't bother capturing it.
(1) What was new is that the US government is encouraging more intensive / extensive English language teaching in schools. The problem is that the 5200 teachers of English aren't capable of delivering since their English is, in most cases, not good enough.
(2) Riteve data bases are not connect to each other... so the Alejuelita data base doesn't know what the Heredia date base holds. So owners who don't pass one can go to another after a minor fix... given my experience, I am not surprised by this.
(3) Many AyA water clients are still be rationed despite the torrential rains of the past two weeks. It will take time to refill the aquifers. Of course, the pipes delivering it are still full of holes.
(4) Traffic congestion has been horrific in the Central Valley virtually any time of the day or any day of the week.
(5) Solis has stated that at the end of his term, the national debt he will pass along to his successor will rise from 6% to 10% of GDP... he wants to hire more police to quell the riots he expects...