Dear friends,
When I started Residencias Los Jardines, I started writing a weekly news letter -determined to tell all the good, bad, and the ugly. I knew some readers would be interested in the construction process. I expected others might be interested in the lifestyle of two people who had decided to live outside the box. For others, the adventures of Lita, the parrot and the cat took on an entertainment saga all its own.
Residencias Los Jardines is finished. We periodically have resales and rental availability. Some readers may be interested in this information.
Brian Timmons
DEVELOPER / PROPERTY MANAGER
Residencias Los Jardines / https://www.residenciaslosjardines.com info@residenciaslosjardines.com
ResidenciasPropertyManagement@gmail.com
Featured house this week
Paradisus Condos / Rohrmoser
FOR SALE
FORECLOSURE, Tres Ríos
Executive home
Condominio Santa Lucía, Tres Ríos
Price reduction: $520,000 $549,000
(Appraised - $800,000)
6 bedrooms
5 bathrooms
610 m2 (6,500 sf)
2 Story
2 Car garage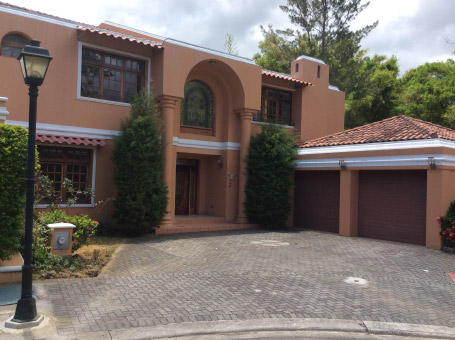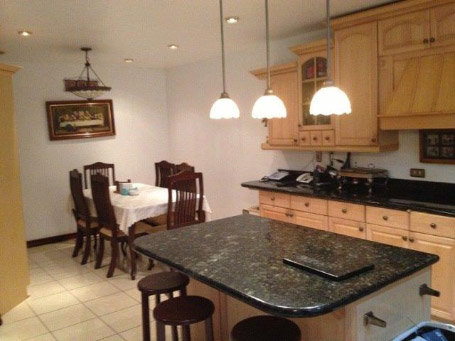 More pictures and full description
Market Activity
Sales: one viewing of Tres Rios.
Rentals:
Paradisus: one viewing / students.
Paradisus: two / three bdrm unit, $1,400 fully furnished.
Los Jardines: 104: leased, 112: leased
Residencias Los Jardines
Property Management, Rentals, Re-Sales
FOR SALE
Unit #106A: $165,000 / See Unit
Unit #107: $205,000 /See Unit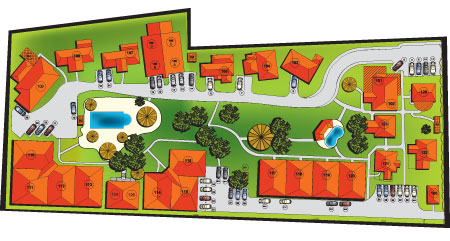 HOUSES FOR SALE
UNIT #106A
FOR SALE
$165,000
Total Area (Sq Ft): 1250
Total area (Sq M): 120
Bedrooms: 2
Bathrooms: 2
Floor(s): 1
Type: Apartment
Furnished: Yes
This is a fully furnished 2-bedroom unit situated in a 2-story building, which has two units on the ground floor and two units on the 2nd. floor. Each unit is the same size (1,250sf) divided into 800 sf of interior space and 450 sf of covered front and back terraces. Units 106A and B are on the ground floor; Units 106 C and D are on the 2nd. Floor. The solid masonry demising wall (common wall) as well as the 5" concrete slab prevent sound transference.
UNIT #107
FOR SALE
$205,000
Total Area (Sq Ft): 1716
Total area (Sq M): 158
Bedrooms: 2
Bathrooms: 2.5
Floor(s): 2
Type: Detached
Furnished: Yes
This 1,716 sf. (plus parking for one car) two story, detached house, with three terraces, two bedrooms (one on each floor) and upstairs master suite is a beautiful home. This home consists of two VERY large bedrooms (one on each floor) with en-suite bathrooms and a powder room, each with large closets with extensive built-ins for personal organization. The vaulted living room and ground floor bedroom ceilings as well as the master bedroom on the 2nd floor, provide a feeling of grandeur while allowing the warmer air to rise and exit through the ceiling ventilating system. There are three TVs (one in each bedroom and one in the living room.) This is a beautiful home. There is a rough-in for a dishwasher in the kitchen area.
Our Lives
WEATHER: a number of overcast days but little rain.
Rental market: we rented two units this week at Los Jardines. RLJ does reasonably well even in a weak rental market. Yes, our rates have come down but we have very few vacant days.
Car: I got the plates and went directly to INS to get the window sticker for the operating permit. No, they wouldn't give it to me saying the number of the temporary license doesn't match the final license... duh!!!!! Exasperated, I dumped the problem back to the lawyer. He went... no I couldn't get the window sticker until I had the safety certificate because the car was too old. Wait a minute, they allowed me to by the operating permit on an old car so... didn't make any difference... o.k. there is no use fighting this... I try to start the car... no go... the new 18 mo. old battery is dead and won't take a charge... new battery, everything works... well almost... a few more changes... cars sitting for 18 mo. always need some TLC. But diesels love to run regardless of how long they have been sitting. Turn the key. wow!! Saturday midday I went to Riteve... it passed... only a couple minor things to work on... and it is 100% perfect. Now, back to INS on Monday... I wonder how they will deny the sticker now?????
New Construction: a huge condo project was announced for Santa Ana... 4 towers -two at 10 stories, 1 at 6 stories and 1 at 5 stories. This is unusual in that Santa Ana has usually limited residential to 3 stories... while no mention of where it would be located was made, my guess is that it will be along Lindora Blvd. where they have allowed higher rise buildings. This will me more people, more jobs, and more cars... and a lot more condos on a fully built market.
New Commercial Mixed Use: the new mall across from MacDonalds continues to be finished out. The Maserati dealership will be located there a the sign is up for multiple movie theaters as well.
Volcan Turiallba continues to act up. Ash is spewing out and being blown our way. Take a look--live feed from remote camera:
https://www.facebook.com/OVSICORI/videos/1009287839108474/
Some air line flights are being cancelled; more household dusting and sweeping is required. Life goes on...
Tres Rios House: it has virtually sat for the past 6 months while the three owners have looked for someone to take a leadership role and to figure out what to do. I made suggestions at the outset as to what I felt needed to be done... now, 6 mo. later, it is beginning to happen. Of the 3 owners, all are unable to do anything to resolve the problem except write e-mails... I know my friend's limitations... they are legit... one of the other investors problem is not legit and the last investor I don't know about.... guess who got the job... no pay and probably only criticism... that is the way these things usually go... they can fire me any day and I'll be happy... I no longer have any patience for their BS and I am not really into consensus building... they are all incapable of solving their problem -I've done this work for 35 years. I'm not happy about this but Monday basic repair work begins... there will be no thanks, just criticism... I've been there before...
News Items of the Week
Comments:
I really didn't find much news of interest this week: (1) Oscar Arias is considering running for a 3rd term for presidency; (2) the banks are making it more difficult to do banking under the guise of ferreting out money laundering... this is BS, it will still be done and the little guys will now have more hurdles to jump... I just spent several hours this week and a lawyer to satisfy one bank -I am looking to move to cooperatives which operate under a different review scheme; (3) avocados are rotting at the border; (4) more and more refugees are collecting at the CR / Panama border trying to get to the States; (5) the CR economy is growing at 4.5%... pretty healthy.
Brian, Lita, the Late Hugo IV, irreverent Vicka, the pigeon toed parrot, Chico II and Chica II