Dear friends,
When I started Residencias Los Jardines, I started writing a weekly news letter -determined to tell all the good, bad, and the ugly. I knew some readers would be interested in the construction process. I expected others might be interested in the lifestyle of two people who had decided to live outside the box. For others, the adventures of Lita, the parrot and the cat took on an entertainment saga all its own.
Residencias Los Jardines is finished. We periodically have resales and rental availability. Some readers may be interested in this information.
Brian Timmons
DEVELOPER / PROPERTY MANAGER
Residencias Los Jardines / https://www.residenciaslosjardines.com info@residenciaslosjardines.com
ResidenciasPropertyManagement@gmail.com
Featured house this week
Paradisus Condos / Rohrmoser
FOR SALE
FORECLOSURE, Tres Ríos
Executive home
Condominio Santa Lucía, Tres Ríos
$549,000 (Appraised - $800,000)
6 bedrooms
5 bathrooms
610 m2 (6,500 sf)
2 Story
2 Car garage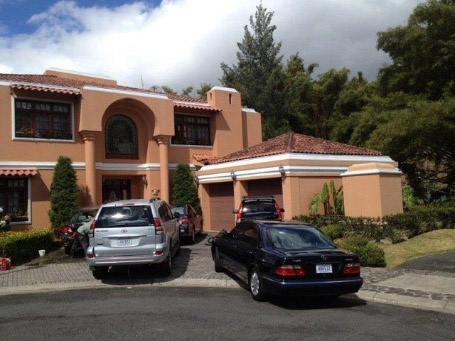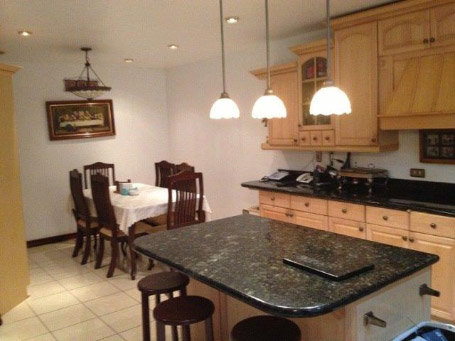 More pictures and full description
Market Activity
Sales: Supposedly a viewing on the Tres Rios property.
Rentals:
Paradisus: two / three bdrm unit, $1,400 fully furnished.
Los Jardines:
#104: UNFURNISHED 2 bdrm $950 mo.
#112: FURNISHED, $1350 mo.
Residencias Los Jardines
Property Management, Rentals, Re-Sales
FOR SALE
Unit #106A: $165,000 / See Unit
Unit #107: $205,000 /See Unit
FOR RENT
Unit #104: $950 mo. / UNFURNISHED / See Unit
Unit #112: $1350 mo. / See Unit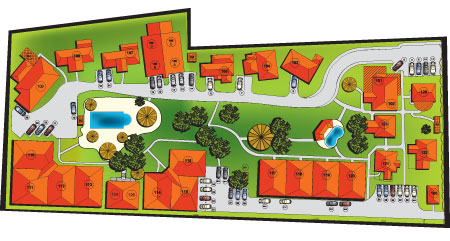 HOUSES FOR SALE
UNIT #106A
FOR SALE
$165,000
Total Area (Sq Ft): 1250
Total area (Sq M): 120
Bedrooms: 2
Bathrooms: 2
Floor(s): 1
Type: Apartment
Furnished: Yes
This is a fully furnished 2-bedroom unit situated in a 2-story building, which has two units on the ground floor and two units on the 2nd. floor. Each unit is the same size (1,250sf) divided into 800 sf of interior space and 450 sf of covered front and back terraces. Units 106A and B are on the ground floor; Units 106 C and D are on the 2nd. Floor. The solid masonry demising wall (common wall) as well as the 5" concrete slab prevent sound transference.
UNIT #107
FOR SALE
$205,000
Total Area (Sq Ft): 1716
Total area (Sq M): 158
Bedrooms: 2
Bathrooms: 2.5
Floor(s): 2
Type: Detached
Furnished: Yes
This 1,716 sf. (plus parking for one car) two story, detached house, with three terraces, two bedrooms (one on each floor) and upstairs master suite is a beautiful home. This home consists of two VERY large bedrooms (one on each floor) with en-suite bathrooms and a powder room, each with large closets with extensive built-ins for personal organization. The vaulted living room and ground floor bedroom ceilings as well as the master bedroom on the 2nd floor, provide a feeling of grandeur while allowing the warmer air to rise and exit through the ceiling ventilating system. There are three TVs (one in each bedroom and one in the living room.) This is a beautiful home. There is a rough-in for a dishwasher in the kitchen area.
HOUSES FOR RENT
UNIT #104
FOR RENT
$950 mo. UNFURNISHED
Available Immediately
Total Area (Sq Ft): 1140
Total area (Sq M): 106
Bedrooms: 2
Bathrooms: 2
Floor(s): Single floor
Type: Detached
Furnished: NO
Detached, single story, two bathrooms, two bedroom, with covered terrace. Cedro cabinetry throughout including kitchen, bedroom and bathroom built in closets / cupboards. Granite counters (kitchen / bathroom), vaulted ceiling, ceramic floors through out. Two parking spaces. On-site internet, cable TV. Laundry. Electricity if desired. UNFURNISHED.
UNIT #112
FOR RENT
$1350 mo.
Available Immediately
Total Area (Sq Ft): 1290
Total area (Sq M): 120
Bedrooms: 2
Bathrooms: 2
Floor(s): 1 story
Type: Attached
Furnished: Yes
This 1,290 sf single floor home includes a 300 sf front terrace plus parking for one car. It is attached on two sides by a 6 inch cement demising (common) wall, which prevents sound transfer.
Our Lives
WEATHER: the rainy season continues to develop. We have had rains 5 of the past 7 days. The garden is happy.
Rental market:it is very slow... I am not receiving many calls and neither are agents I have worked with over the years... and those clients who do show... many cancel... are on very tight budgets, and look at many, many options and usually work their way down the food chain from what I offer. Some agents are becoming ever more despondent...
Car: well, as of Friday I was told I could pick up the license plates on Monday... o.k. now I have the pleasure of going through safety and emissions (RETIVE)... it has been sitting for 18 mo. getting it working might be a bit of an issue. We'll see.
News Items of the Week
Comments:
1. Lots of jobs up for grabs... most all require English and some university still..eng., bus. admin., accounting, marketing, and some tech type skills.
The economy of CR is hot these days... around 4.5% growth this year... much higher than expected and higher than neighbors.
2. High Rise Boom: what can I say? lots and lots of construction... commercial and some residential high rise... Paradisus phase 2 is underway. Latest info shows construction backing off... there are lots of unsold / vacant properties on the market.
3. Avocados: the war continues... and still CR fails to recognize that the fruit does not carry the disease claimed by them... that disease occurs at the flowering stage with the pollen... The local avocado producers are pretty powerful.
4. Craft Beers: it's a tough slug when you are up against the established brewery (97% of domestic market) which has, in the past, and probably continues to do everything they can to make life difficult for the micro guys... who do you think is behind the anonymous complaints?????? But I won't drink Buho again!!! I'll switch...
1. Foreign firms announce more than 2,000 new job openings in Costa Rica

Five foreign-owned companies have recently announced the expansion of their operations in Costa Rica and are currently offering 2,200 new jobs at professional and technical levels.

Bakery giant Bimbo opened its new global services center last week in Tres Ríos, Cartago, and announced plans to hire 200 people. The new center will provide administrative services in finance and accounting to Bimbo's operations worldwide and also customer service for the company's English-speaking markets.

Those interested in applying should send their résumés in English to: workwithus@grupobimbo.com.

Business outsourcing services company Sykes is currently seeking to hire 900 new workers for its customer service and sales departments. New employees will manage the company's operations with customers across the Americas.

The company is looking for bilingual applicants fluent in English or Portuguese. Applications can be submitted online at the company's website.

E-commerce giant Amazon is also hiring staff to fill 700 new positions for its local operation. Interested candidates can find the full list of available posts at Amazon's jobs website.

U.S. pharmaceutical corporation Pfizer is looking for 200 bilingual (Spanish-English) professionals in business administration, finance and accounting for its financial shared services center in Costa Rica. Applications should be submitted online.

Finally, the local office of U.S. human resources consulting firm Manpower reported that it is seeking 200 people for manufacturing, accounting and finance positions. The company is also offering 50 internships in computer engineering and business administration.

Candidates should send their résumés in English to: reclutadorcr3@manpower.com.mx, or bring print versions to Manpower's offices in Pavas, west of San José.

In 2015, Costa Rica attracted a total of 39 foreign investment projects, mainly in service industries and manufacturing technology, according to the Costa Rican Investment Promotion Agency (CINDE). Nearly 12,000 new jobs came with these investments, according to the Social Security System.

There are currently 139 companies running shared services centers in Costa Rica. These operations offer 75 types of services in 10 languages, according to CINDE.
2. Costa Rica's high-rise boom

The bakery's storefront on Avenida Central in Los Yoses, just east of downtown San José, looks like dozens around the metropolitan area selling pan dulce and other sweets. That is, until you take a few steps back and see the looming 25-story residential tower under construction behind it.

Towers like Latitude Los Yoses are sprouting up all over the Greater Metropolitan Area, which includes San José and parts of Cartago, Alajuela and Heredia, changing the Central Valley skyline. Between April 2014 and March 2015, there was a 30 percent jump in the amount of space approved for construction of buildings taller than five stories in the Greater Metropolitan Area — to just over 1 million square meters, according to figures from the Costa Rican Chamber of Construction.

Construction approvals in the last 12 months are nearly equal to the previous period.

The boom in high-rise construction is being driven by a combination of changing consumer preferences, more attractive housing credit, and quality of life concerns, according to architects, real estate agents and developers who spoke with The Tico Times.

In the mid-2000s, San José Mayor Johnny Araya started promoting high-rise development as a way to repopulate the capital after decades of urban flight caused by fear of crime and a lack of new urban housing. High-rise construction started off in La Sabana and Ezcazú, but towers have also gone up over the past decade in Heredia, Curridabat, Montes de Oca, Desamparados, and other traditionally low-rise neighborhoods.

Not your grandparent's home

Some observers said the high-rise boom reflects a generational shift in what buyers and renters are looking for. For many young people, the traditional Costa Rican home is financially out of reach, even if desirable. Besides the financial limitations, there are several trends pushing people toward high-rise living:

Families are smaller and more people are living alone;
Towers offer collective security;
Undeveloped land to build new single-family homes is expensive and scarce;
Young people are more transient and less interested in living in the same home for the rest of their lives;
Traffic is pushing people to live closer to where they work; and
People want to live within walking distance of amenities like parks, restaurants and bars.

José Salinas, president of Grupo Inmobiliario del Parque, the developer of Latitude Los Yoses, said the metropolitan area has emulated the U.S. model of car-dependent residential sprawl. He thinks Costa Ricans are now seeing the pitfalls of that model.

"We've been destroying one of the most beautiful valleys in the world with suburban development, exchanging coffee plantations and forests for concrete, asphalt and fences," he said. Long commutes and persistent traffic jams are pushing people back into the city and into high-rise living.

"We wouldn't be building them if people weren't buying them," Salinas said.

The trend in new construction is likely to continue for the next several years. Arturo Sotela, manager of TK Bienes Raíces, said the real estate market hit its nadir in 2011 following the financial crisis but has since picked up, especially now that banks have fewer loan requirements.

Francisco Navarro, market intelligence director for Colliers International Costa Rica, agreed.

Navarro said that the residential market was healthy and banks have been supporting new buyers with favorable credit, sometimes offering to finance up to 100 percent of an apartment or condominium with no money down.

But many people buy apartments as an investment rather than a first home. The developers of towers like URBN Escalante, a $38 million development in pre-sale on the southern edge of the trendy Escalante neighborhood, are aiming to appeal to university students, and young professionals and couples. But Navarro said that this demographic often doesn't have the means to buy apartments starting at almost $90,000. Instead, older people are buying these apartments as investment properties to rent to younger tenants.

Shaky market for office towers

Though market watchers feel bullish about the high-rise residential market, there is debate over whether the boom will extend to office towers. One project that's in the works is Torre 40, a $35 million office tower that aims to challenge the 30-story Torres Paseo Colón as the country's tallest building.

Omnia Desarrolladora Inmobiliaria, the developer behind the 40-story commercial office building, believes that the tower's location — just down the block from Torres Paseo Colón — along with its amenities and the prestige of occupying the tallest building in the country will attract clients. Omnia Sales Manager Maybell Araya said that with an estimated 15 percent annual growth in demand for office space in the San José area, they hope to have the tower at capacity within two years.

Some, though, are concerned that Torre 40 will end up creating a glut in office space in the city. Francisco Navarro of Colliers International said that there is already a 15 percent office vacancy rate in the San José area. Demand for office space has been falling recently and Navarro said he does not think the office market is "healthy."

Beware density for density's sake

Changing tastes, expensive land and favorable financing may be supporting high-rise construction, but some worry that Costa Rican cities aren't well prepared for high-density living. Victor Montero, president of the Council of Tall Buildings and Urban Habitat—Costa Rica, said city leaders need to start thinking harder about public policies that will make this type of construction sustainable.

More people living in the same space requires better urban planning, public transportation and investments in utilities, Montero said. It's not enough for people to live near amenities if the urban landscape still requires them to have a car, for example. Urban planners need to think about how density is going to impact demand on public spaces, he said, and the quality of life for neighbors.

Montero said San José and Curridabat have started to regulate tall buildings, but that there needs to be a more holistic approach to how cities adapt to handle more inhabitants in the same space.

"We're always going to be short of something, whether it's money or training or whatever," Montero said. "But without vision, we're lost."
3. Now they are smuggling avocados!
By the A.M. Costa Rica staff

The avocado trade war has been elevated to smuggling.

The Policía de Fronteras stopped a truck coming from Panamá in Guaycará de Golfito Thursday afternoon and confiscated 20,000 avocados.

Police said that the Ministerio de Agricultura y Gandería ordered that the agricultural products be destroyed because they had not been inspected and entered the country illegally.

Costa Rica has forbidden the entry of hass avocados from México and the United States over a concern about avocado sunblotch, which is caused by a viroid, a small piece of genetic material that can reduce production of the avocado trees.

The prohibition has affected the avocado market.

As A.M. Costa Rica has reported, the viroid cannot be transmitted except through pollen or by physical contact to trees by diseased plant material. In the case of pollen, the viroids cannot be transmitted unless the infected avocado seed is propagated and the subsequent plant comes in contact with other trees.

México has brought the situation to the attention of the World Trade Organization after the ministry's Servicio Fitosanitario del Estado forbade the importation of the fruit.
4. Legal skirmishes cause rifts in Costa Rica's craft beer industry

Though it may sound like a dream job for every beer lover, running a microbrewery in Costa Rica can sometimes be about as enjoyable as a day-long hangover.

Gustavo Arroyo, the owner and sole employee of Bora Brewing Co., which was formerly known as Búho ("owl" in Spanish), knows this first hand: he recently ended a two-year legal battle with beverage giant Florida Ice & Farm (FIFCO) over the name of his company. FIFCO, besides bottling mainstream domestic beers like Imperial and Pilsen, owns Domingo 7, the line of specialty beers that the conglomerate launched in 2014 in response to the country's craft beer movement.

The craft beer industry worldwide is full of David and Goliath stories like this one. And in Costa Rica, legal issues, especially around trademarks, are already creating fissures in the nascent movement.

Arroyo, a 32-year-old former homebrewer with sleeve tattoos etched into each arm, said he spent $6,000 in legal fees in an unsuccessful attempt to fend off Domingo 7 from the Búho name, which he said he was using first. The National Registry awarded the name to Domingo 7 in February, along with image rights to the owl that adorns the label of its amber bock.

Attorney Paola Castro, who did not defend Arroyo but who addressed his case at a recent brand awareness workshop sponsored by the Costa Rica Craft Brewers Association, said Arroyo technically never registered his brand name, although Arroyo contends it was under study at the National Registry.

"From my understanding, Gustavo's brand was not yet registered before Florida Ice & Farm registered it," Castro told The Tico Times in an email. "What Gustavo alluded to in the defense process was that he had prior use, but that is something that is very difficult to prove, and with the existing registry belonging to Florida Ice & Farm, it's a difficult process that Gustavo, or any other person or business, has little probability of winning."

After losing the long legal process, Arroyo had to change his company's entire image just over two years after starting his company. He said although he's received a tremendous amount of support from consumers, he had a sentimental connection to the owl name and logo.

"For Florida Ice & Farm, it's just a name that they can market and use a pretty image to get people attracted to it," Arroyo said. "For me, it meant something else because it was totally linked to the memories of my father growing up. … he always liked owls and had a bunch of owls collected in different forms. It's something more personal."

Rafael Cruces, the general manager of Domingo 7, said the company had all of its paperwork ready in 2014 before sending it to the parent company to finalize with the National Registry.

"For any industry, what you have to do is make sure your brand is registered," Cruces said. "There's a lot of misinformation out there for young business owners starting their companies. Especially in the world of alcohol, there's a ton of legal checks you need to fill."

Cruces said he wanted to avoid a long, drawn-out legal dispute with Arroyo, but that because the craft brewer was unresponsive to phone calls and emails, he had to go through the courts.

"We invited him to talk on various occasions," Cruces said. "He never wanted to talk until we sent a final warning that the brand was property of Domingo 7. It was a shame because we didn't have any intention of doing it like that."

Arroyo said when he did finally talk to representatives of Domingo 7 during the dispute, they invited him to the beach, but he declined. (Cruces remembers inviting Arroyo somewhere but couldn't remember if it was the beach.)

"It was like they wanted to take me out to party and forget about the problem, but I wasn't going to do that," Arroyo said. "They only invited me out to drink so that I could forget this was an issue and it wouldn't become anything bigger. But I had to keep fighting for what belonged to me."

He said that during a second phone conversation with Domingo 7 employees, he was offered a deal in which he would be allowed to use the owl brand name and logo for one year, then transfer it to Florida Ice & Farm at the end of the year.

"I said 'no' because I didn't want to be tied to their company at all," Arroyo said.

Arroyo's case highlights a persistent drag on Costa Rica's relatively young craft beer scene. Whether it's fighting against mega-company Florida Ice & Farm, the government, or each other, many of Costa Rica's small brewers seem to get baptized early on into the industry's realm of potential legal disputes.

Costa Rica's Craft Brewing Company, which opened in 2010, is widely considered the first of the country's current wave of craft brewers. Its founders, including U.S.-born Peter Gilman, were able to carve out a niche that has turned craft brewing into a popular industry for young entrepreneurs here.

Gilman's attorney Juan Carlos Retana said that when Gilman started, he had a nightmare of a time trying to define the industry in the eyes of the state.

"It was extremely hard because the government literally didn't know what it was or how to classify it," Retana told The Tico Times.

Since those initial hiccups, Costa Rica's Craft Brewing Co. has continued to face nagging legal problems, including anonymous complaints channeled through the Health Ministry and Culture Ministry.

Last year, the First Circuit Court ruled in favor of the company in a complaint that, in part, argued that the logo for the company's popular Segua red ale, which depicts a half-woman, half-horse figure stemming from Costa Rican folklore, was inappropriate. Costa Rican law prohibits advertising for alcoholic drinks that uses "famous people or those with special abilities" or national symbols to encourage drinking.

Retana said none of the anonymous complaints that Costa Rica's Craft Brewing Co. received could be traced back to their origin.

Ignacio Castro, the general manager of Treintaycinco, said he's also received several anonymous complaints against his company, including one alleging that he was spiking his beers with illicit drugs. He said his small brewery in Escazú was inspected by Judicial Investigation Police, who went "bottle by bottle" to make sure no drugs were present.

Castro said that for law-abiding companies, the anonymous complaints represent an annoyance more than anything and that any potential legal disputes can almost always be avoided among honest brewers.

Castro criticized Domingo 7's case against Arroyo over the Búho name. "We believe that among beer makers, you don't do that," he said, referring to the company's ultimate reliance on lawyers to settle the conflict. "We can always resolve things as a community," Castro said.

This idea of unwritten rules among craft brewers in Costa Rica's small but growing beer landscape was something the 39-year-old from Venezuela learned early on. When starting his brewery five years ago, Castro intended to name the company "Malacrianza," after the legendary Costa Rican bull.

However, Gilman had supposedly already registered the trademark for his strong scotch ale. Instead of waging a legal war, Castro said he eventually let it go.

"We've had some ups and downs with Costa Rica's Craft Brewing Co., sure," Castro admitted. "But our problem was solved without ever having to go to court. At the end of the day, we changed the company name and that was that."

Conflicts continue to pop up between brewers. Adolfo Marín, the co-owner of Stiefel Pub and Cervecería Primate, told The Tico Times on Tuesday that he planned to hand a cease and desist letter to the Costa Rica Beer Factory for naming its new apple bock "San José," which happens to be the name of Marín's award-winning IPA.

Though Marín said it's impossible to register "San José" as a brand name with the National Registry because of its potential for prolific use among different industries, he said the craft beer industry had unwritten rules on copying names.

"I find it super unethical and really think this could destroy these core ideals that the craft beer movement should be about," he said.

Costa Rica Beer Factory owner Jaime Zuluaga said he had never heard of Marín's San José IPA and, as of Tuesday, had yet to hear from anyone about the possible name conflict.

Marín said he has plans to bottle San José IPA in November, but said a possible confusion of products could delay that process.

Potential product confusion is a major issue on the business side, where negative feedback can sink a young company. In that sense, Arroyo of Búho-turned-Bora Brewing Co., takes some small comfort in leaving the owl behind.

"It's maybe even better because before when it was Búho, the brands were getting confused a lot," Arroyo said, referring to the cell phone app Untappd, which lets users rate and review beers.

"Sometimes people would give terrible reviews, and it wasn't even my beer."
Brian, Lita, the Late Hugo IV, irreverent Vicka, the pigeon toed parrot, Chico II and Chica II