Dear friends,
When I started Residencias Los Jardines, I started writing a weekly news letter -determined to tell all the good, bad, and the ugly. I knew some readers would be interested in the construction process. I expected others might be interested in the lifestyle of two people who had decided to live outside the box. For others, the adventures of Lita, the parrot and the cat took on an entertainment saga all its own.
Residencias Los Jardines is finished. We periodically have resales and rental availability. Some readers may be interested in this information.
Brian Timmons
DEVELOPER / PROPERTY MANAGER
Residencias Los Jardines / https://www.residenciaslosjardines.com info@residenciaslosjardines.com
ResidenciasPropertyManagement@gmail.com
Featured house this week
Paradisus Condos / Rohrmoser
FOR SALE
FORECLOSURE, Tres Ríos
Executive home
Condominio Santa Lucía, Tres Ríos
$549,000 (Appraised - $800,000)
6 bedrooms
5 bathrooms
610 m2 (6,500 sf)
2 Story
2 Car garage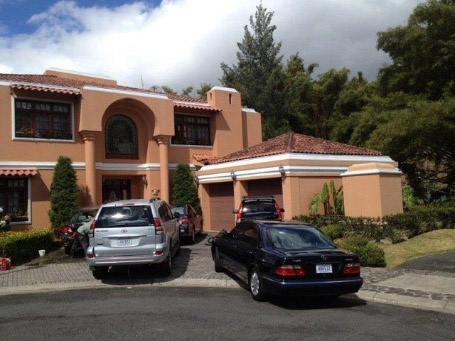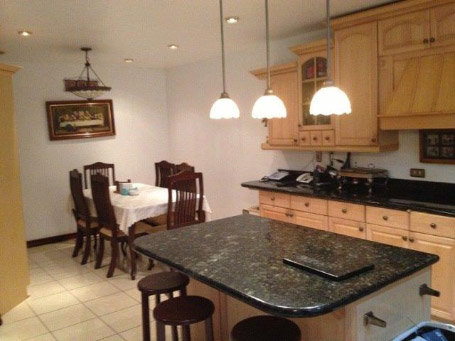 More pictures and full description
Market Activity
Sales: Supposedly a viewing on the Tres Rios property.
Rentals:
Paradisus: two / three bdrm unit, $1,400 fully furnished.
Los Jardines:
#104: UNFURNISHED 2 bdrm $950 mo.
#112: FURNISHED, $1350 mo.
Residencias Los Jardines
Property Management, Rentals, Re-Sales
FOR SALE
Unit #106A: $165,000 / See Unit
Unit #107: $205,000 /See Unit
FOR RENT
Unit #104: $950 mo. / UNFURNISHED / See Unit
Unit #112: $1350 mo. / See Unit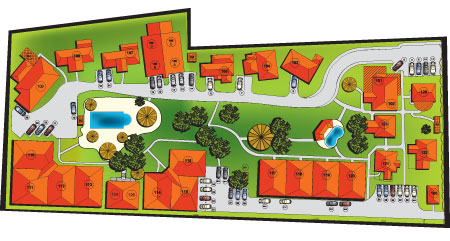 HOUSES FOR SALE
UNIT #106A
FOR SALE
$165,000
Total Area (Sq Ft): 1250
Total area (Sq M): 120
Bedrooms: 2
Bathrooms: 2
Floor(s): 1
Type: Apartment
Furnished: Yes
This is a fully furnished 2-bedroom unit situated in a 2-story building, which has two units on the ground floor and two units on the 2nd. floor. Each unit is the same size (1,250sf) divided into 800 sf of interior space and 450 sf of covered front and back terraces. Units 106A and B are on the ground floor; Units 106 C and D are on the 2nd. Floor. The solid masonry demising wall (common wall) as well as the 5" concrete slab prevent sound transference.
UNIT #107
FOR SALE
$205,000
Total Area (Sq Ft): 1716
Total area (Sq M): 158
Bedrooms: 2
Bathrooms: 2.5
Floor(s): 2
Type: Detached
Furnished: Yes
This 1,716 sf. (plus parking for one car) two story, detached house, with three terraces, two bedrooms (one on each floor) and upstairs master suite is a beautiful home. This home consists of two VERY large bedrooms (one on each floor) with en-suite bathrooms and a powder room, each with large closets with extensive built-ins for personal organization. The vaulted living room and ground floor bedroom ceilings as well as the master bedroom on the 2nd floor, provide a feeling of grandeur while allowing the warmer air to rise and exit through the ceiling ventilating system. There are three TVs (one in each bedroom and one in the living room.) This is a beautiful home. There is a rough-in for a dishwasher in the kitchen area.
HOUSES FOR RENT
UNIT #104
FOR RENT
$950 mo. UNFURNISHED
Available Immediately
Total Area (Sq Ft): 1140
Total area (Sq M): 106
Bedrooms: 2
Bathrooms: 2
Floor(s): Single floor
Type: Detached
Furnished: NO
Detached, single story, two bathrooms, two bedroom, with covered terrace. Cedro cabinetry throughout including kitchen, bedroom and bathroom built in closets / cupboards. Granite counters (kitchen / bathroom), vaulted ceiling, ceramic floors through out. Two parking spaces. On-site internet, cable TV. Laundry. Electricity if desired. UNFURNISHED.
UNIT #112
FOR RENT
$1350 mo.
Available Immediately
Total Area (Sq Ft): 1290
Total area (Sq M): 120
Bedrooms: 2
Bathrooms: 2
Floor(s): 1 story
Type: Attached
Furnished: Yes
This 1,290 sf single floor home includes a 300 sf front terrace plus parking for one car. It is attached on two sides by a 6 inch cement demising (common) wall, which prevents sound transfer.
Our Lives
WEATHER: the rainy season continues to develop. We have had rains 5 of the past 7 days. The garden is happy.
Picking up the Pieces: while still smarting from the BS of the previous tenants, I have been cleaning the place up and trying to figure out what to do with a place I don't like. Since I have built something I personally don't like, there may be a market for a 3 bdrm unit. I have the furniture now... unfortunately... will let the future client tell me how they want to use the room -as an office (I have the furniture) or as a bedroom (I have that furniture as well). If no one wants it as currently configured, I'll undo it and move back to what it was before.
Car: Surprise, surprise, surprise!! The car still "sits"! now going on 18 mo. -yes, this is what I wrote last week, and the weeks before that and before that as well... nothing has changed!! I've been given a "hopeful" sign that something may be ready by Tuesday. It is approaching the time by law that if something isn't done, it can be forced... yeah, right... that usually means they find a reason to reject it...
News Items of the Week
Comments:
1. Electric RR: this is the beginning of a gigantic slush fund... the rails don't exist, the bridges are structurally unsound, electricity is unreliable, the population is insufficient to justify the expense, right of ways are effectively discontinuous or are too narrow to allow passage...
2. Avocados: the ban was based on a false premise which continues today even though CR has been shown all the scientific evidence, they continue the ban... this seems to be more a political move to support local avocado producers which produce an inferior type of avocado, and as the article shows, again there is no enforcement of the government restriction. Personally, I have always found all the Haas avocados I wanted at any market.
3. Solis and the Economy: contrary to his claim, he really hasn't done anything... despite his time in office, CR business has improved, not because of this tenure... and one continues to wonder how long the financial can can continue to be buried or ignored...
4. Opposition Rules the Government Agenda: again, Solis has no one on the legislative power brokers... and again the legislators are going to obstruct Solis's agenda unless they get some concessions... and again we will have what we have had for the past year.
1. Rail institute bond proposal seems like another financial train wreck

Lawmakers are likely to approve hundreds of millions of dollars in loans for a valley electric train.

The calculations seem to be based on a false premise. The bill that is in the legislature now assumes that the rail institute is worth a lot of money. The bill would allow the agency to borrow 40 percent of its estimated worth.

An estimate from the Universidad de Costa Rica says the railroad is worth a bit more than $1 billion. So the bill would give the agency the right to float bonds up to $408 million.

Every person who has been in business knows that a company is worth only what it can net and not the total value of its assets. Most of the assets of the rail institute are not marketable. They include rights-of-way, 125 bridges and a tunnel.

The only reason investors might buy any bonds or notes emitted by the rail agency is because they are backed by the government of Costa Rica. That means the public will end up paying off the bonds.

The bill itself gives the rail institute a blank check that even has raised eyebrows within the legislature. The permissions may be so broad as to be unconstitutional.

Still, it is clear that in their haste to produce a rail system that does not emit the dreaded carbon dioxide lawmakers and officials are grasping at financial straws. No one seems to be asking how the rail agency will pay off this debt.

The bill does not contain any financial projections, which investors will need.

But there is a clause that says if rating agencies fail to evaluate the bonds as investment grade, the debt can be sold privately. That could mean that the $408 million in bonds will be sold back to the country or that some investor will purchase the paper at a deep discount.

Hardly any of the people involved in approving the debt will be around in official positions when the time comes to build the electric railroad or even float the bonds.
2. Costa Rican importers decry black market avocados 1 year after ban

The first anniversary of Costa Rica's ban on avocado imports from nine different countries falls on Cinco de Mayo, a cruel joke for those looking forward to celebrating Mexico's victorious battle over the French with a bowl of guacamole.

With avocado prices here hitting five-year highs, importers claim that the ban isn't just affecting availability of the popular dip, but also encouraging a black market for coveted Hass avocados.

Randall Benavides, president of the Chamber of Perishable Goods Exporters and Importers, told The Tico Times that his organization has denounced contraband Mexican Hass avocados that have been appearing in farmers markets around the capital.

Benavides said the shortage of avocados has driven up prices as much as 87 percent and made it attractive for unscrupulous importers to buy Mexican avocados, ship them to Panama and then drive them over the border.

According to figures from the National Production Council, wholesale avocado prices were 47 percent higher during the first quarter of 2016 compared to the same period in 2015. Prices in April ranged from ¢2,850/kg ($5.30) in farmers markets to ¢3,338/kg ($6.26) in Costa Rican supermarkets.

The government Phytosanitary Service (SFE) decided to block the importation of Mexican and other avocados last year over fears of importing the sunblotch virus and infecting local trees. But Benavides said that decision has backfired.

"Contraband avocados aren't going through any revision for sunblotch or other phytosanitary reviews," Benavides said. Plus, their sellers aren't paying taxes.

"Legal commerce is the only way to fight contraband," he said.
3. President Solís takes credit for healthy economy; Business leaders push back

With two years to go, President Luis Guillermo Solís defended his accomplishments to an uncooperative legislature and the Costa Rican public in his second State of the Nation address Monday afternoon.

Solís highlighted his administration's achievements in the economy and other areas. But he offered no hints as to how he might change tack to achieve other, elusive goals like fiscal reform, drawing critiques from economists and business leaders.

Costa Rica's economy has been improving. GDP grew 3.7 percent in 2015 and the Costa Rican Central Bank estimates it will grow another 4.2 percent in 2016.

The country also saw a big improvement in the World Bank's 2016 Doing Business report, which measures the business climate in countries around the world. Costa Rica climbed 21 spots in 2015 to reach 58th.

In October 2015, the Central Bank lowered interest rates 2 percent, which the government claims has been a relief to businesses and consumers and given the economy a boost.

Despite the uptick, unemployment remains just under 10 percent and more than 20 percent of the population lives in poverty.

Orlando Soto, general manager of Grupo Financiero Acobo, said in a statement following the speech that the improved economy has more to do with larger macroeconomic factors, including the low price of oil and other commodities, than with specific actions by the Solís administration. Soto added that Solís showed little vision for the country's economy beyond asking for more taxes as part of his proposed fiscal reform.

Costa Rican Chamber of Commerce President Yolanda Fernández Ochoa was not impressed with the president's insistence on new taxes either. "It's a very simplistic way to see the problems that confront Costa Rican society," she said in a statement.

Fernández said she wanted to see more control over public spending in the short term.

Solís says his administration has been tightening the public sector's belt, especially in collective bargaining agreements with public workers. He said the Labor Ministry had saved the government nearly ¢18 billion (roughly $32 million) when it renegotiated several union contracts over the last year. He said the ministry would go after 12 more "abusive" agreements.

He said the ministry would go after 12 more "abusive" agreements.

Still, the president maintained that new taxes were necessary to solve the deficit dilemma, which has been a concern for ratings agencies for several years.

Lawmakers have not been receptive to new taxes and several told local media they were committed to fighting the executive branch on any new taxes. Solís warned that if the legislature doesn't pass his fiscal reform bills, the fiscal deficit would exceed 8 percent by 2018, up from nearly 7 percent in 2015.
4. Opposition parties maintain control over Legislative Assembly

President Luis Guillermo Solís will have to step up his negotiating skills to deal with a Legislative Assembly leadership that doesn't include a single lawmaker from his party — just like in his first year in office.

In a voting session that lasted almost 10 hours on Sunday, opposition lawmakers were elected to all posts in the Legislative Directorate, which governs the legislature. National Liberation Party (PLN) lawmaker Antonio Álvarez Desanti was chosen to lead the new directorate.

Elections for some of the six leadership positions required three rounds of voting after none of the candidates obtained the required majority during the first rounds. The lack of consensus was the result of thorny negotiations in recent weeks, in which leaders of the Assembly's eight parties failed to agree on a list of candidates.

Negotiations restarted in the early hours of Sunday, however when the session opened at 9 a.m., legislators from several parties delayed the voting by requesting multiple recesses.

Álvarez was elected to lead the directorate after three rounds of voting, at around 3 p.m., following an agreement signed during the lunch recess by six parties: National Liberation, Social Christian Unity Party (PUSC), Libertarian Movement Party (PML), Costa Rican Renovation Party (PRC), National Restoration Party (PRN) and Christian Democratic Alliance Party (PADC).

The new legislative president received just 26 direct votes, short of a majority. But per internal rules, he also received all null and blank votes cast during the third round of voting. Álvarez defeated Emilia Molina, the candidate of Solís' Citizen Action Party (PAC), who got 22 votes.

The 2016-2017 directorate will consist of three legislators from PLN, two Libertarians and one from Costa Rican Renovation (see list below).

Despite electing three men and three women, the results were not welcomed by some lawmakers, who had been pushing for a female legislative president and for an equal and alternate distribution of the directorate seats according to the power those positions wield.

PAC legislator Marcela Guerrero attended the session in a man's suit to protest what she said was a lack of equal opportunities for female legislators. Epsy Campbell, also from PAC, said she was not pleased with the results, as men took the directorate's top three posts.

Agreement to cut spending

The opposition parties now in control of the legislature pledged to expedite approval of a series of bills aimed at reducing government spending, improving the fight against tax fraud and reinstating the country's corporate tax law. They agreed to refrain from supporting any government proposal to create new taxes unless President Solís moves forward with measures to cut public spending.

They also agreed not to support any bill that would affect the salaries of public school teachers.

At the request of PUSC and evangelical parties, legislative leaders agreed to table bills that those parties oppose on religious grounds, including bills that would legalize in vitro fertilization, passive euthanasia and same-sex marriage. New Assembly President Álvarez said leaders would not block those bills, but would also not include them in the priority list of bills to be discussed in the coming months.

"These bills will follow the normal approval process in the legislative agenda," Álvarez said at a news conference following the voting session.
Brian, Lita, the Late Hugo IV, irreverent Vicka, the pigeon toed parrot, Chico II and Chica II