Dear friends,
When I started Residencias Los Jardines, I started writing a weekly news letter -determined to tell all the good, bad, and the ugly. I knew some readers would be interested in the construction process. I expected others might be interested in the lifestyle of two people who had decided to live outside the box. For others, the adventures of Lita, the parrot and the cat took on an entertainment saga all its own.
Residencias Los Jardines is finished. We periodically have resales and rental availability. Some readers may be interested in this information.
Brian Timmons
DEVELOPER / PROPERTY MANAGER
Residencias Los Jardines / https://www.residenciaslosjardines.com info@residenciaslosjardines.com
ResidenciasPropertyManagement@gmail.com
Featured house this week
Paradisus Condos / Rohrmoser
FOR SALE
FORECLOSURE, Tres Ríos
Executive home
Condominio Santa Lucía, Tres Ríos
$549,000 (Appraised - $800,000)
6 bedrooms
5 bathrooms
610 m2 (6,500 sf)
2 Story
2 Car garage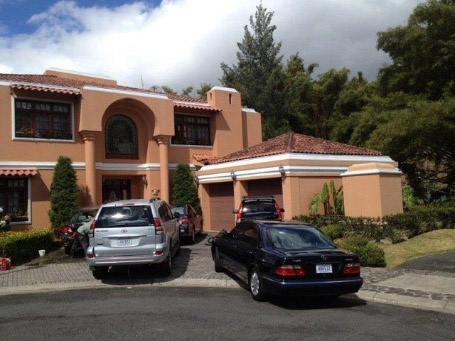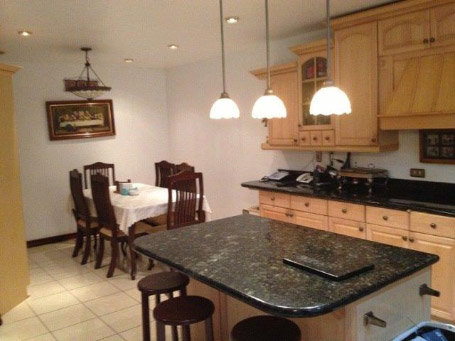 More pictures and full description
Furnished 2 bdrm - $750 - Paco / Escazú
92 m2
2 bedrooms
1.5 bathrooms
24/7 armed gated security
$750 mo. year rental contract
Walking distance to Mas x Menos supermarket, fresh market, world gym, Multiplaza, off the main road on quiet street but only 100 meters to bus line 1st and 2nd floor units available.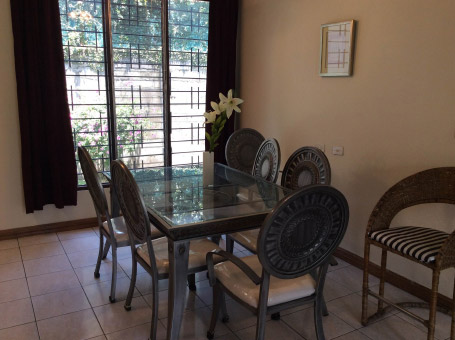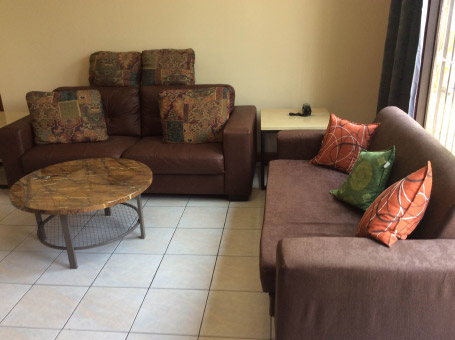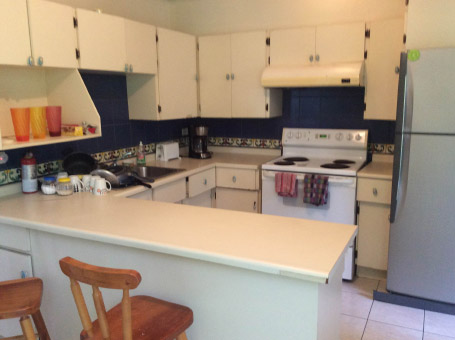 Residencias Los Jardines
Property Management, Rentals, Re-Sales
Market Activity
Sales: One inquiry.
Rentals: Paradisus: one two bedrm unit, $1,400 fully furnished. UNFURNISHED 2 bdrm $950 mo. Los Jardines #112: FURNISHED, $1350 mo.
FOR SALE
Unit #106A: $165,000 / See Unit
Unit #107: $205,000 /See Unit
FOR RENT
Unit #104: $950 mo. / UNFURNISHED / See Unit
Unit #112: $1350 mo. / See Unit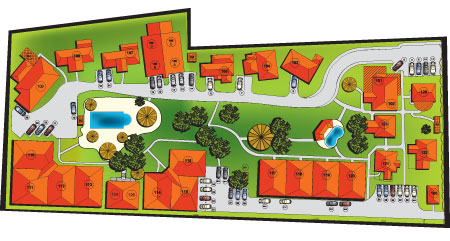 HOUSES FOR SALE
UNIT #106A
FOR SALE
$165,000
Total Area (Sq Ft): 1250
Total area (Sq M): 120
Bedrooms: 2
Bathrooms: 2
Floor(s): 1
Type: Apartment
Furnished: Yes
This is a fully furnished 2-bedroom unit situated in a 2-story building, which has two units on the ground floor and two units on the 2nd. floor. Each unit is the same size (1,250sf) divided into 800 sf of interior space and 450 sf of covered front and back terraces. Units 106A and B are on the ground floor; Units 106 C and D are on the 2nd. Floor. The solid masonry demising wall (common wall) as well as the 5" concrete slab prevent sound transference.
UNIT #107
FOR SALE
$205,000
Total Area (Sq Ft): 1716
Total area (Sq M): 158
Bedrooms: 2
Bathrooms: 2.5
Floor(s): 2
Type: Detached
Furnished: Yes
This 1,716 sf. (plus parking for one car) two story, detached house, with three terraces, two bedrooms (one on each floor) and upstairs master suite is a beautiful home. This home consists of two VERY large bedrooms (one on each floor) with en-suite bathrooms and a powder room, each with large closets with extensive built-ins for personal organization. The vaulted living room and ground floor bedroom ceilings as well as the master bedroom on the 2nd floor, provide a feeling of grandeur while allowing the warmer air to rise and exit through the ceiling ventilating system. There are three TVs (one in each bedroom and one in the living room.) This is a beautiful home. There is a rough-in for a dishwasher in the kitchen area.
HOUSES FOR RENT
UNIT #104
FOR RENT
$950 mo. UNFURNISHED
Available Immediately
Total Area (Sq Ft): 1140
Total area (Sq M): 106
Bedrooms: 2
Bathrooms: 2
Floor(s): Single floor
Type: Detached
Furnished: NO
Detached, single story, two bathrooms, two bedroom, with covered terrace. Cedro cabinetry throughout including kitchen, bedroom and bathroom built in closets / cupboards. Granite counters (kitchen / bathroom), vaulted ceiling, ceramic floors through out. Two parking spaces. On-site internet, cable TV. Laundry. Electricity if desired. UNFURNISHED.
UNIT #112
FOR RENT
$1350 mo.
Available Immediately
Total Area (Sq Ft): 1290
Total area (Sq M): 120
Bedrooms: 2
Bathrooms: 2
Floor(s): 1 story
Type: Attached
Furnished: Yes
This 1,290 sf single floor home includes a 300 sf front terrace plus parking for one car. It is attached on two sides by a 6 inch cement demising (common) wall, which prevents sound transfer.
Our Lives
WEATHER: we are transitioning into the rainy season. This past week has seen more cloud cover, a few afternoon showers, and today it is fully cloudy... actually, this is a wonderful change...
A Week of Arguments: there is no real common denominator but they landed on my doorstep:
A guy, after very careful due diligence on my Paradisus unit in which he committed and after I had cancelled marketing initiatives and turned other prospective clients away, decided for "business reasons" -whatever that means- not to follow through. Fine... he pays the price... he's whining...
A guy leases for three years and is given a special price. He jumps ship... he loses his deposit due to breach of agreement... he's unhappy.
An agent helps my friend market the foreclosure... he involks the help of another agent who works in that area. Trust breaks down... from my perspective... undeservedly but I am just a stakeholder wanting to facilitate a deal...
and then there is always the domestic scene to add...
Car: Surprise, surprise. The car still "sits"! now going on 18 mo.
Driving: on last Saturday afternoon, I should have added that I had seen another accident... a 3 car pile-up...
Foreclosure: I actually have someone looking at the house today...
Cedula renewal: we now have the paperwork... and wait... I am sure a minimum of two months...
Ending on a bright note: I was able to help a friend solve a problem and save a lot of money... He had had a motorcycle smash into his back passenger door... I had had a similar problem... so I knew how and the approx. cost and the contacts... He's on his way to being happier...
News Items of the Week
Comments:
1. Corporate Taxes: the bill now goes to the legislature.. who knows what will happen, if anything???
2. Bridge construction: one of the two..the Lindora bridge... is of particular interest to me living in this area and being constantly constructed by the current OLD two lane bridge... However, knowing the pace of things here... and having heard that this was to have been finished two years ago... I am not buying the champagne yet. It will be years before it happens...
3. Mrs. Bender: this story has no ending... tried three times for her husband's murder..currently residing in the US is trying to retrieve jewellery confiscated by the CR government... good luck!!!
4. Canadian expats and voting: currently the Cdn. government does not allow expats of 5+ years to vote... but they can continue to pay taxes...
5. / 6. Air Routs: Air France -SJO-to-Paris... direct... great... Air Canada -Montreal to SJO direct... great; SJO to Guadalajara -o.k on ALBATROS AIR (Venzeuela) SJO to Caracas... who cares? and on ALBATROS AIR...?? really?? a cut rate VENEZUELAN air line??? you have to be kidding... I am sure you can get a first class seat anytime you want...
1. New corporate tax goes to full legislature for debate
By the A.M. Costa Rica staff

A legislative committee reported out a bill reinstituting an annual tax on corporations Tuesday, 7-2. Opposition votes came from the committee chairwoman, Rosibel Ramos of the Partido Unidad Social Cristiana, and Otto Guevara of Movimiento Libertario.

A statement released by the Partido Acción Ciudadana gives the impression that owners of corporations will have to pay the tax for all of 2016 if it is approved by the full legislature.

This is No. 19.818. The approved text is not yet available. However, statements from the political parties involved show that the tax rates will be different than those in the tax that was declared unconstitutional in January 2011. The tax covers sociedades anónimas, sociedades de responsabilidad limitada and similar entities inscribed in the Registro Nacional.

Many expats hold vehicles and properties in corporations. Those with inactive corporations would pay 15 percent of a base judicial salary, the usual method for establishing taxes and fines. The Partido Liberación Nacional estimated that this would be about 63,600 colons or about $120.

Active corporations but without income would pay the same. Firms with gross income up to 50.9 million colons, some $96,000, would pay 25 percent of a base salary or about 106,000 colons or about $200.

Companies with gross income between 50.9 million and 118.7 million colons, $96,000 to $224,000, would pay 30 percent or about 127,200 colons or $240.

Companies with income greater than 118.7 million colons would pay 50 percent of a base salary or 212,000 colons, about $400.

The bill is subject to change when it is debated in the full legislature. Amounts of the tax in future years would increase as the judicial salary increases.

The central government estimates that the bill will bring in about $40 million in taxes from the productive sector. Earlier estimates were higher. Some 95 percent of the proceeds are supposed to go to the Ministerio de Seguridad Pública.

A proposal has been advanced to give some to the Judicial Investigating Organization.

The central government sold the tax to the public and lawmakers as a bonus to the security ministry, but then budget makers reduced the ministry's budget in anticipation of money from the tax. So when the tax was declared unconstitutional, the central government was in a bind. Lawmakers like Guevara have been seeking big cuts in the current budget, but the central government has declined to so.

The original tax was unconstitutional because lawmakers had made significant changes and failed to publish the final product.
2. Two key bridges have sister spans in design
By the A.M. Costa Rica staff

The government plans to build a bridge with three more lanes on Ruta 32 over the Río Virilla near the Estadio Ricardo Saprissa. The river there marks the boundary between Tibás and Santo Domingo de Heredia.

A second bridge is planned on Ruta 147 between Santa Ana and Belén over the same river downstream. This bridge will be two lanes that will go up adjacent to the existing two-lane bridge.

Design work for both projects will be ready soon, said the Consejo Nacional de Vialidad.

The estimated investment is $25 million, the road agency said.

Ruta 32 is the highway that carries traffic from San José north to Guápiles and then to Limón on the Caribbean coast. The route also carries traffic from much of the southern part of the country, including trucks carrying containers of agricultural products.

Road agency officials said they expected to have the designs approved and the jobs submitted for bids by the end of the year.
3. Mrs. Bender files criminal case over jewelry held by customs official
By the A.M. Costa Rica staff

Ann Patton Bender has filed a criminal charge against a top executive in the Costa Rican customs department alleging appropriation and illegal retention of some $7 million in jewels that has been confiscated by investigators, according to a family spokesman.

Mrs. Bender is the widow of Wall Street millionaire John Bender who died at the couple's 5,000-acre private Refugio de Vida Silvestre Boracayán in La Florida de Barú de Pérez Zeledón Jan. 10, 2010.

Mrs. Bender was the women who was tried three times on allegations of murder involving her husband's death. She was acquitted twice and convicted once. Prosecutors are appealing the last acquittal with the goal of yet a fourth trial.

She said her husband took his own life while she tried to stop him. Prosecutors disagreed although there was really no way to prove otherwise.

Early in the case, investigators cleaned out the huge mansion at the reserve and discovered that Mrs. Bender had accumulated about $7 million in precious and semi-precious stones. Many were loose and not mounted as jewelry.

Peter DeLisi, a childhood friend of John and also a Wall Street expert, is the family spokesman. As A.M. Costa Rica reported March 21 he said Mrs. Patton and he thought that the case of the precious and semi-precious stones had been resolved with a ruling by a judge that acquitted her of money laundering and smuggling allegations.

There is a paper trail that shows the stones were to be returned, and DeLisi said that the woman agreed to pay a $1.5 million tax even though she was not legally required to do so.

According to the spokesman, the couple accumulated the stones in 2008 and 2009 when prices were low due to the world economic downturn. He said that they were brought into the country with the full knowledge of customs inspectors after some 10 to 15 trips the Benders made to the United States.

Mrs. Bender's representatives here reached an agreement with the then-manager of the central office of the Dirección General de Aduanas, the customs agency. But that individual left, and the job was filled Jan. 15 by a woman with the coincidental name of Guiselle Joya Ramírez.

Ms. Joya has not responded to inquiries from A.M. Costa Rica, and others in the customs agency decline to discuss the case and claim it still is an open investigation. A.M. Costa Rica has documents that show a judge has made a final determination in favor of Ms. Bender.

DeLisi provided a reporter with a copy of the official criminal complaint report filed with the judiciary. He also said that Ms Joya was served with the complaint Friday.

DeLisi for some time has raised questions as to why Ms. Joya has held discussions with a lawyer, Juan de Dios Álvarez Aguilar. The lawyer was a trustee for the family holdings in Costa Rica and now stands accused of helping himself to millions in Bender assets.

DeLisi said that Ms. Joya has allowed Alvarez to insert himself into the proceedings as a third party although he has no legal standing. In addition, he said earlier that Mrs. Bender's own lawyer was excluded from a meeting between Ms. Joya and Alvarez.

Mrs. Bender, after three trials, was able to leave Costa Rica last September. The woman spent time in preventative detention in Buen Pastor prison and also was hospitalized. Both she and her husband suffered from depression, and Bender had threatened suicide.
4. Canadian expat voting case going to Supreme Court
Special to A.M. Costa Rica

The Supreme Court of Canada has agreed to hear the case for voting rights that currently are denied to 1.4 million Canadians living abroad for more than five years.

The hearing is expected to take place early next year.

Expats said that the legal battle was a see-saw situation since 1993.

"For a while, we could reset the five-year clock by returning on vacation," said Joan Ritchie Dewar, a Canadian expat in Costa Rica, in an August statement announcing the bid to the Supreme Court. "That ended in 2011. In 2012 a lawsuit was filed by Canadians currently living and working in the U.S.A. In 2014 they won, and now in 2015 it has been overruled, creating a backlash amongst expat Canadians around the world."

Their country's Charter of Rights and Freedoms states that all Canadian citizens have the right to vote, without qualification as to their place of residence or for how long, the disenfranchised Canadians are quick to point out.

Two Canadian citizens currently living and working in the United States challenged the overseas voting rule in 2012 in Ontario Superior Court. A favorable decision there resulted in the vote being restored in 2014.

That ruling was overturned last July by the Ontario Court of Appeal and this created a backlash among Canadians living and working around the world.

They include aid workers, teachers, journalists, business people, entertainers, creators, innovators, and professional athletes, who are disenfranchised, Mrs. Dewar said.

The appeal to the Supreme Court is designed to affirm the rights and principles of Canadian democracy to its citizens living abroad, she added in a statement Thursday. Many of the estimated 10,000 Canadians residing in Costa Rica will be affected, she said.

Some 178 persons raised $14,629 in seven months through a GoFundMe campaign.
5. Air France plans two high season flights
By the A.M. Costa Rica wire services

Air France said Thursday that it would put on two direct flights a week from Paris to San José starting in November for the high season. The flights will use a Boeing 777-300 that accommodates 468 passengers.

The flights will be on Wednesdays and Saturdays, according to the Instituto Costarricense de Turismo.

A flight will leave Charles de Gaulle at 1:45 p.m. local time and arrive in Costa Rica at 6:10 p.m. local time. The craft will leave Juan Santamaría airport at 8:40 p.m. and arrive in Paris at 1:50 p.m. the following day.
6. Airlines announce new flights to Costa Rica

Three airlines this week announced new flights between Costa Rica and destinations in Canada, Mexico and Venezuela.

Air Canada on Wednesday announced it will add a seasonal non-stop flight between Montreal and San José during the 2016-2017 winter season. Starting on Dec. 22, the airline will fly twice a week using aircraft with a capacity for 282 passengers.

Currently the airline has weekly flights between Toronto and San José, Toronto and Liberia, and Montreal and Liberia.

Canada is Costa Rica's second largest source of tourists arriving by air after the U.S., Tourism Minister Mauricio Ventura highlighted Wednesday.

"Montreal and Toronto are the two best prospects of Canadian visitors for our country," he said. "Our research indicates that some 12 percent of residents of these cities have a high interest in visiting or revisiting the country," he said.

Officials from the Costa Rica Tourism Board (ICT) expect the new route to facilitate connections between Costa Rica and other Canadian cities such as Quebec, Ottawa, Newfoundland, Labrador, Nova Scotia and New Brunswick.

Last year, Costa Rica 157,614 Canadians entered the country, of which 90 percent came by air.

Between 2009-2014, Canadian tourists spent an average of $96 here daily and stayed an average of 15 nights, according to the Costa Rica Tourism Board (ICT).

Mexico and Venezuela
Mexican low-cost airline Volaris also announced Wednesday that was adding a third weekly flight between San José and Guadalajara and San José and Cancún. The carrier launched operations in Costa Rica in September 2015 with two weekly flights on these two routes.

Earlier this week, Venezuela's Albatros Airlines confirmed the start, on May 2, of a non-stop flight three times a week between Caracas and San José.

Costa Rica is the airline's first international destination.

Albatros general manager in Costa Rica Mauricio Castro said the company chose Costa Rica mostly because of the large number of Venezuelan expats currently living here.

"Costa Rica also is an excellent destination for both tourism and business," he said. "Undoubtedly, we believe Costa Ricans also will find in Venezuela a great vacation destination."

Castro said the carrier is currently looking into opening at least two more routes in Central America.
Brian, Lita, the Late Hugo IV, irreverent Vicka, the pigeon toed parrot, Chico II and Chica II