Dear friends,
When I started Residencias Los Jardines, I started writing a weekly news letter -determined to tell all the good, bad, and the ugly. I knew some readers would be interested in the construction process. I expected others might be interested in the lifestyle of two people who had decided to live outside the box. For others, the adventures of Lita, the parrot and the cat took on an entertainment saga all its own.
Residencias Los Jardines is finished. We periodically have resales and rental availability. Some readers may be interested in this information.
Brian Timmons
DEVELOPER / PROPERTY MANAGER
Residencias Los Jardines / https://www.residenciaslosjardines.com info@residenciaslosjardines.com
ResidenciasPropertyManagement@gmail.com
Featured house this week
Paradisus Condos / Rohrmoser
FOR SALE
FORECLOSURE, Tres Ríos
Executive home
Condominio Santa Lucía, Tres Ríos
$549,000 (Appraised - $800,000)
6 bedrooms
5 bathrooms
610 m2 (6,500 sf)
2 Story
2 Car garage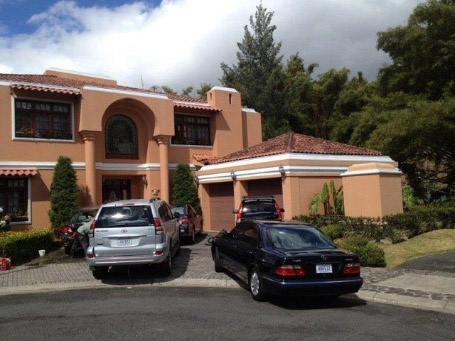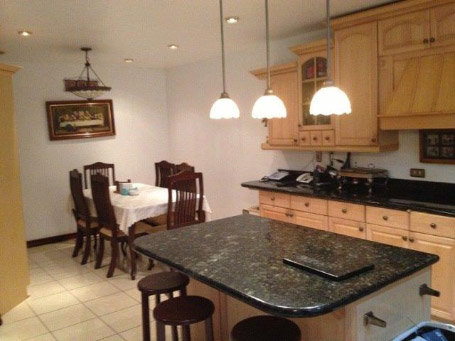 More pictures and full description
Furnished 2 bdrm - $750 - Paco / Escazú
92 m2
2 bedrooms
1.5 bathrooms
24/7 armed gated security
$750 mo. year rental contract
Walking distance to Mas x Menos supermarket, fresh market, world gym, Multiplaza, off the main road on quiet street but only 100 meters to bus line 1st and 2nd floor units available.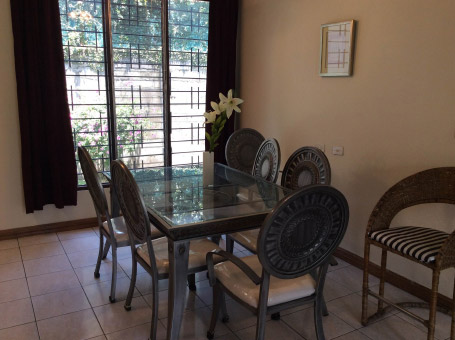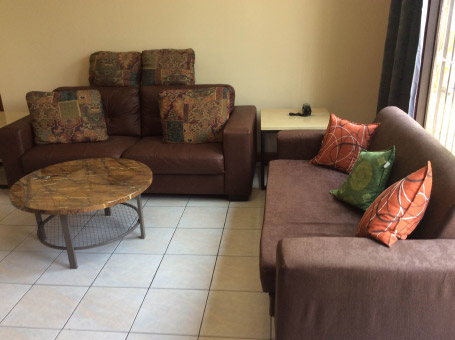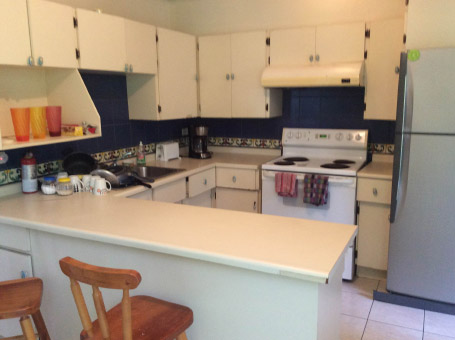 Residencias Los Jardines
Property Management, Rentals, Re-Sales
Market Activity
Sales: No inquiries.
Rentals: Paradisus: LEASED. Los Jardines #104: UNFURNISHED 2 bdrm $950 mo. Los Jardines #112: FURNISHED, $1350 mo.
FOR SALE
Unit #106A: $165,000 / See Unit
Unit #107: $205,000 /See Unit
FOR RENT
Unit #104: $950 mo. / UNFURNISHED / See Unit
Unit #112: $1350 mo. / See Unit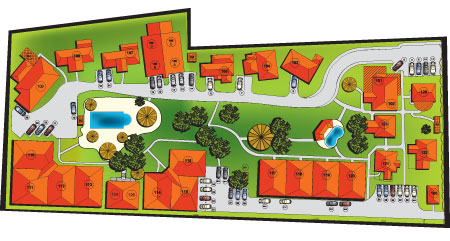 HOUSES FOR SALE
UNIT #106A
FOR SALE
$165,000
Total Area (Sq Ft): 1250
Total area (Sq M): 120
Bedrooms: 2
Bathrooms: 2
Floor(s): 1
Type: Apartment
Furnished: Yes
This is a fully furnished 2-bedroom unit situated in a 2-story building, which has two units on the ground floor and two units on the 2nd. floor. Each unit is the same size (1,250sf) divided into 800 sf of interior space and 450 sf of covered front and back terraces. Units 106A and B are on the ground floor; Units 106 C and D are on the 2nd. Floor. The solid masonry demising wall (common wall) as well as the 5" concrete slab prevent sound transference.
UNIT #107
FOR SALE
$205,000
Total Area (Sq Ft): 1716
Total area (Sq M): 158
Bedrooms: 2
Bathrooms: 2.5
Floor(s): 2
Type: Detached
Furnished: Yes
This 1,716 sf. (plus parking for one car) two story, detached house, with three terraces, two bedrooms (one on each floor) and upstairs master suite is a beautiful home. This home consists of two VERY large bedrooms (one on each floor) with en-suite bathrooms and a powder room, each with large closets with extensive built-ins for personal organization. The vaulted living room and ground floor bedroom ceilings as well as the master bedroom on the 2nd floor, provide a feeling of grandeur while allowing the warmer air to rise and exit through the ceiling ventilating system. There are three TVs (one in each bedroom and one in the living room.) This is a beautiful home. There is a rough-in for a dishwasher in the kitchen area.
HOUSES FOR RENT
UNIT #104
FOR RENT
$950 mo. UNFURNISHED
Available Immediately
Total Area (Sq Ft): 1140
Total area (Sq M): 106
Bedrooms: 2
Bathrooms: 2
Floor(s): Single floor
Type: Detached
Furnished: NO
Detached, single story, two bathrooms, two bedroom, with covered terrace. Cedro cabinetry throughout including kitchen, bedroom and bathroom built in closets / cupboards. Granite counters (kitchen / bathroom), vaulted ceiling, ceramic floors through out. Two parking spaces. On-site internet, cable TV. Laundry. Electricity if desired. UNFURNISHED.
UNIT #112
FOR RENT
$1350 mo.
Available Immediately
Total Area (Sq Ft): 1290
Total area (Sq M): 120
Bedrooms: 2
Bathrooms: 2
Floor(s): 1 story
Type: Attached
Furnished: Yes
This 1,290 sf single floor home includes a 300 sf front terrace plus parking for one car. It is attached on two sides by a 6 inch cement demising (common) wall, which prevents sound transfer.
Our Lives
WEATHER: Hot, dry the odd roll of thunder sometimes...
Health: I can now say that the allergy which dogged me for 8 wk. is now gone.
Car: Surprise, surprise. The car still "sits"! Went to collect the plates... no, that didn't happen -their records do not show the handicapped plates being returned. They were returned in 2012... now I wait one more time????? What will it be next????
Driving: in the past three days I have seen: one 18 wheeler crosswise in key access / exit road... broken down... one car on a busy main thoroughfare, out of gas... the car in front of it was being pushed due to mechanical failure... this morning at a wide open residential intersection... fender bender... one car going straight through and another turning left across the traffic... clear for 50 yards in each direction...
Foreclosure: I am helping my friend out... see info included in this newsletter...
Cedula renewal Now applied for... I wait... how long?? who knows... 2+ mo? A friend just got his cedula 12 years after having applied... papers got lost and he didn't push it... until he could not renew his drivers license...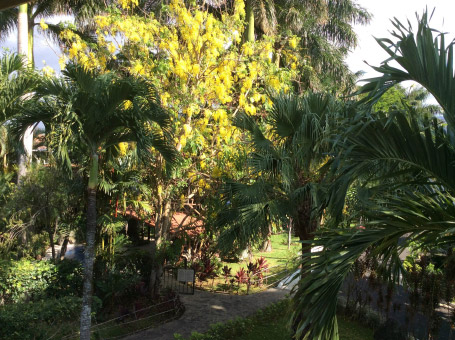 View from my hammock: "Crown of Gold" -Cassia flowers last about a month then the leaves return only to repeat itself the next year... flowers when it is dry...
News Items of the Week
Comments:
1. Corporate Taxes: the easy tax that didn't happen due to ????
2. Rental Control Legislation: the government spent precious time working an a law which is useless... there is no inflation, rents are stable to downward due to over supply of everything except low income government housing.
3. Moin Container Port: they will build it in 1/3 of the time it took to talk about it... and I bet, the government will not find the money to build the access road... the container company -Mearsk- will end up building it...
4. Juan Santamaria... A CR hero... Whether he ever actually existed or not is a subject of debate but the story is retold in various forms. The article is interesting because it discusses life in CR at that time. Also, the story of William Walker... to which there are a number of different aspects... is interesting for those who don't know it...
5. and (5a) Refinery Canceled: surprise... this article gives the government's perspective. The next piece was written by a friend of mind who has been in Latin Am. virtually all his life and has an learned perspective. His perspective is probably closer to reality...
1. Government shell game left security ministry wanting
By the A.M. Costa Rica staff

The tax on corporations gained passage because it promised to give more money to the security ministry to fight crime.

But those drawing up the nation's budget saw the tax as a way to reduce the money that the ministry normally would get from the general fund. So when the Sala IV constitutional court declared the tax unconstitutional in January 2015, the Ministerio de Seguridad Pública left with a hole in its own budget.

The hole could be as much as $70 million, although officials are estimating $40 million. That is why Luis Gustavo Mata Vega, the minister, is so anxious to have the tax on corporations to be reinstituted.

He has made pitches to the Comisión de Asuntos Hacendarios where the bill is bottled up.

The Partido Unidad Social Cristiana has gone so far as to suggest that the central government create an addition to the national budget so that the ministry would get the money it needs to function. Lawmaker Johnny Leiva has been the most vocal on this point.
2. Minimal impact seen from new law on rent increases
By Rommel Téllez and the A.M. Costa Rica staff

The legislature's latest effort at social engineering puts a cap on annual rent increases consistent with inflation.

The measure, which awaits the signature of Luis Guillermo Solis and publication, ties rent increase in colons to whatever the government statistical agency says is the annual rate of inflation. The law that is being replaced allowed landlords to raise colon rents by 15 percent a year.

Naturally landlords will be seeking ways around the law to protect their investments.

Otto Guevara, legislator for the Partido Movimiento Libertario who voted against the change, said it is a nonsense reform because it will negatively affect those it seeks to protect.

"Most owners will increase the starting price of the contract in a way that it makes up for future low adjustments. In other words, it will be less affordable for people to rent." Guevara said.

A similar opinion is held by Jose Porras, president of Cámara Costarricense de Corredores de Bienes Raíces.

"We find this law useful to avoid abuses from landlords even when the inflation has been very low in the last years. However, we don't believe it will relieve poverty because it doesn't help get access to decent housing." he said. When asked if the regulation would impact investments and real estate developments, Porras considers it will have a minimum influence, since most of the market works on a supply and demand basis.

"Anyway, most of the people who build apartments for rent are issuing their contracts in U.S. dollars that have shown little variation over time. So far, we have not noticed any reaction in the market." he said. Rental contracts issued in any foreign currency continue to be fixed for three years.

Some landlords with substantial holdings in rental property have expressed fears that the rental cap reduces the market value of their properties. Some also fear that the soon-to-be law hurts banks who hold mortgages on apartment complexes. But Maria Isabel Cortes, director of Asociación Bancaria Costarricense, declined to discuss if this reform would reduce the interest of investors to build apartment buildings for rent. She considered there is no relationship among mortgage's market and the reform.

According to data provided by Instituto Nacional de Estadística y Censos, there are 244,000 houses and apartments for rent in Costa Rica.

Some previous news stories in A.M. Costa Rica said incorrectly that the measure would cap colon rent increases at 10 percent. That was the original wording of the bill. The change to the inflation rate came in committee.
3. New Moín container terminal set to open in 2017

Construction of the new container terminal in the Caribbean port of Moín in Limón province is 27 percent completed, according to a report issued Friday during an inspection by President Luis Guillermo Solís and some of his ministers.

The new terminal is set to quadruple the Moín port's current capacity, allowing for an estimated 2.5 million TEUs (twenty-foot equivalent units) annually by 2030, according to the project's plan.

When finished, the new docks will be able to receive ships more than three times bigger than the current docks are able to receive. The project is also expected to ease the high costs the country incurs when cargo ships are stuck waiting to unload onto the current port's limited docks.

According to the timetable for the $1 billion project, the terminal's first berth should be operational by September 2017 and the second is to open in January 2018.

When those first two berths are operational, there will still be two more stages to go to complete the project, which was granted in a private bid to Dutch company APM Terminals.

Solís and his entourage inspected the artificial island being built to house the terminal using 3.7 million cubic meters of dredged material. The island's current surface is some 10 hectares; it is expected to spread over 40 hectares at the end of the project.

To government is currently in the bidding process to choose the company that will build the last stretch of road to the new container terminal. The chosen company will be responsible for the design and construction of a 2.1 kilometer road connecting the port with Route 32, the main road between Limón and the Central Valley.

The first two lanes of the road are scheduled to be ready by July 31, 2017 and the other two by November 30.

Eighty percent of Costa Rica's exports pass through Limón ports, according to the Foreign Trade Ministry.

Construction of the Moín deep water port will create an estimated 700 jobs, many of which are to be filled by Limón residents.

Limón residents hope the project gives a major boost to the economy of Costa Rica's most depressed province.
4. Life in Juan Santamaría's Costa Rica: A look back

April 11 is Juan Santamaría Day, a Costa Rican holiday to remember the Battle of Rivas in 1856 and the heroic action of Juan Santamaría, a common soldier from Alajuela who saved the battle and Costa Rica's right to be a nation.

William Walker, a U.S. southerner, sought to make slave states of the five Central American republics. With his mercenary army, Walker claimed Nicaragua, then turned to Costa Rica. President Juan Rafael Mora Porras called for recruits to chase out the filibusteros, as the invaders were known, and defend the borders. Four thousand Ticos answered the call and set out for the northern zone, routing the North Americans and chasing them north to Rivas, Nicaragua.

It was in Rivas that the decisive battle took place on April 11, 1856. As every Costa Rican student learn in school, Santamaría, carrying a torch, set fire to the Mesón de Guerra, Walker's headquarters.

Although the war continued for another year along the river route on the northern border, Walker never regained the upper hand.

What was life like in Costa Rica in 1856? How did the soldiers endure the long marches and fierce firefights? By the standards of the day, Costa Rica was a rich country. Coffee production had had a broad impact on society: even the humblest members of the population had a chance to work with the huge crops. Demand for coffee from Europe and North America created jobs and brought in foreign exchange, and that drew merchants from France, Germany and other countries to set up emporiums with imported products.

Costa Ricans could now buy porcelain dishes, elegant fabrics for clothes, lamps, furniture and even pianos, from Europe. They also imported hats, gloves and crinolines for the ladies and girls, and ropa blanca or white clothes, the euphemism for underwear. Culture flourished: books, music, theater and carriages were part of the social scene. Even in the rural areas, there was a sense of identity within the young nation.

The army benefited as well, with rifles from England and military trainers from Germany (Saxony and Prussia). Wearing loose white pants and tunics, broad-brimmed hats, and leather sandals called caites, 4,000 men set out from San José on March 4 for the 300 kilometer route to Puntarenas and north to Santa Rosa. This meant 20 days in the March heat, over rocky roads, high mountains and steep valleys.

They passed through La Uruca, Lagunilla, San Antonio de Belén and around Alajuela, through La Garita and El Coyol, Altos de Monte and onward, on roads used to carry the coffee-laden oxcarts to the port. They stopped and rested in flat areas near streams and grass for the oxen and horses. They ate rice and beans and meat with plátanos. And they were not alone. Women – wives, sisters and others interested in helping the men and the country – came along. They cooked the huge pots of food, washed and mended clothes, and even helped the fighters, carrying supplies and loading rifles. National heroine Pancha Carrasco helped save a cannon with her sharp shooting.

Although the war in Santa Rosa and Rivas, known as the "first campaign," were important victories for Costa Rica, an epidemic of cholera hit the army and forced it to retreat. In December, 1856, the "second campaign" to clear the San Juan river of Walker's troops was also successful, and Costa Rica proved itself as a sovereign nation.
5. Costa Rica cancels $1.2 billion Chinese refinery project

Costa Rica's National Oil Refinery (RECOPE) has canceled a $1 billion-plus oil refinery project, according to a statement released Thursday afternoon.

The joint venture project was supposed to be a symbol of Chinese-Costa Rican cooperation when it was first announced nine years ago, but the beleaguered project has been plagued with scandals.

RECOPE President Sara Salazar told reporters that the joint Chinese-Costa Rican Reconstruction Corporation (SORESCO) cost the Costa Rican government ₡33 billion — more than $61 million — with nothing to show for the effort, according to Radio Monumental.

In January 2015, the project appeared to have new life. Salazar announced there would be a new feasibility study and there was talk of refining biofuels at the facility in Moín, Limón. But both sides could not come to an agreement.

President Luis Guillermo Solís said that he supported the RECOPE board of directors' decision. Solís said that attempts to renegotiate the terms of the contract, originally agreed to by former President Laura Chinchilla's administration (2010-2014), were unsuccessful.

RECOPE and the China National Petroleum Corporation formed the 50-50 SORESCO partnership to build and finance the refinery. The Chinese Development Bank agreed to loan $900 million of the $1.2 billion to Costa Rica for the project. RECOPE was supposed to be responsible for financing the remaining $300 million.

SORESCO was one of the first projects announced between the governments of Costa Rica and the People's Republic of China after the two countries established diplomatic relations in 2007, during the administration of Óscar Arias (2006-2010).

The refinery project was suspended in 2013 after a Comptroller General's Office investigation determined that a conflict of interest in the environmental impact study violated the terms of the agreement. Huanqiu Contracting & Engineering Corp., the company that conducted a feasibility study of the project, was a subsidiary of the China National Petroleum Corporation.

Since then, SORESCO has been a joint-venture zombie. RECOPE has not refined petroleum in Costa Rica since 2011.
5A. A different Perspective

But I actually tink that this is great news! The Salvadorian refinery, actually planned and built at the same time as this CR one was contemplated, has double the output, 40,000 bbl/d and cost around $600 million or half the cost of the CR refinery with an output at 20,000 bbl/d.

Not exactly the same output mix, but, in rough numbers, the CR refinery would have a capital cost per output of 4 times the Salvadorian one. You can also guess that the Recope staff would then be doubled or tripled, or probably even more and thus skyrocketing the operating costs. The CR plan was for a very small refinery, and Jairo insists it is just too small to compete from the start.

At the same time, the Chinee would be using this as another avenue to get cash out of China and then keep their 'annual offshore contributions' very high. The CR politicians were looking at hundreds of million$ and the Chinee laundrymen the same!

The CR and Chinee original investors, politicians, and favored groups had an inordinate amount of 'chorizo' planned. And that was before construction started back 2 or 3 presidential regimes who would now also require their 'chorizo'. Do you tink dat the 'approving' and 'construction' regimes would accept less than the previous regimes?

It would have also thrown a huge hit of USD into CR, like the billion buck container port, which would artificially liquefy the economy with another temporary crack fix. The colon would have been under even more pressure to go up - can you guess say c400 to the USD, with everyting else going on! So the Central Bank would be burning through the dwindling reserves at an even faster rate. With the low ratings, CR is paying interest rates in the high 7%s and low 8%s, and that is only going to go up as they can not control gobment spending.

Why did Solis cancel this deal? The waste, chorizo, inefficiency, in lack of viability had become too much even for him, the legislature, banks, rating agencies, and maybe the suits in the CIA! Now dat is the real news here!

So Little Solis has now pissed on the leg of the gigunda giga Chinee Premier, gobment, laundrymen, businesses, and Chinee global hegemony planners. What is going on here?

The Chinee slowed the cash to Solis, slowed the highway to Limon, announced the Nica canal project, and what else?

Maybe Little Solis is making a secret deal to rejoin with Taiwan! Maybe they will send more cash to the myriad Panamanian corporations that the CR politicians and elite routinely use for laundering and hiding!
Brian, Lita, the Late Hugo IV, irreverent Vicka, the pigeon toed parrot, Chico II and Chica II