Dear friends,
When I started Residencias Los Jardines, I started writing a weekly news letter -determined to tell all the good, bad, and the ugly. I knew some readers would be interested in the construction process. I expected others might be interested in the lifestyle of two people who had decided to live outside the box. For others, the adventures of Lita, the parrot and the cat took on an entertainment saga all its own.
Residencias Los Jardines is finished. We periodically have resales and rental availability. Some readers may be interested in this information.
Brian Timmons
DEVELOPER / PROPERTY MANAGER
Residencias Los Jardines / https://www.residenciaslosjardines.com info@residenciaslosjardines.com
ResidenciasPropertyManagement@gmail.com
Featured house this week
Paradisus Condos / Rohrmoser
FOR SALE
FORECLOSURE, Tres Ríos
Executive home
Condominio Santa Lucía, Tres Ríos
$549,000 (Appraised - $800,000)
6 bedrooms
5 bathrooms
610 m2 (6,500 sf)
2 Story
2 Car garage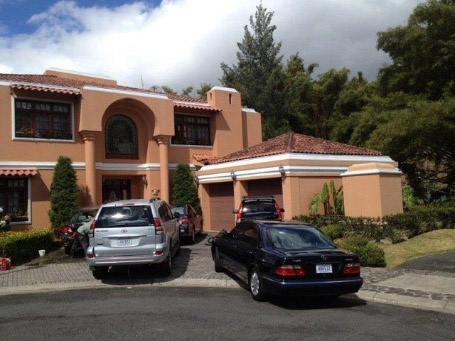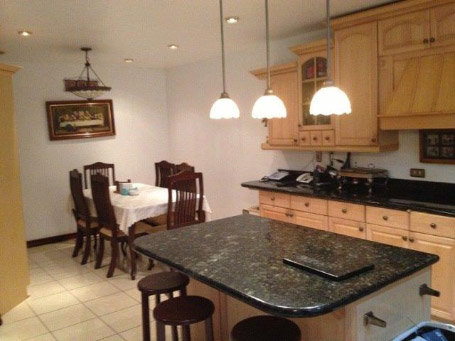 More pictures and full description
Furnished 2 bdrm - $750 - Paco / Escazú
92 m2
2 bedrooms
1.5 bathrooms
24/7 armed gated security
$750 mo. year rental contract
Walking distance to Mas x Menos supermarket, fresh market, world gym, Multiplaza, off the main road on quiet street but only 100 meters to bus line 1st and 2nd floor units available.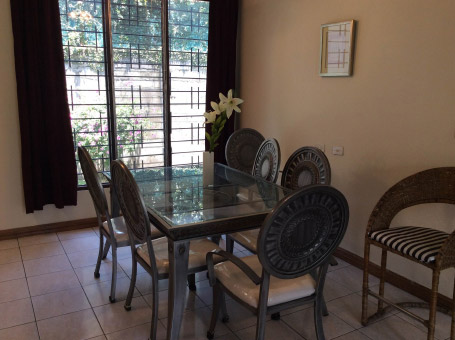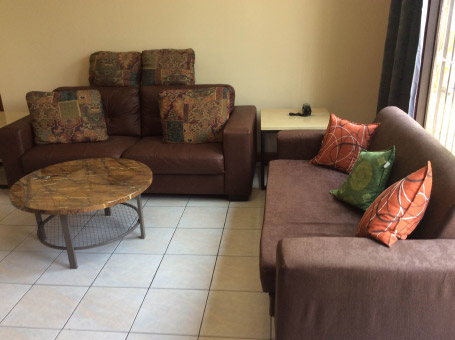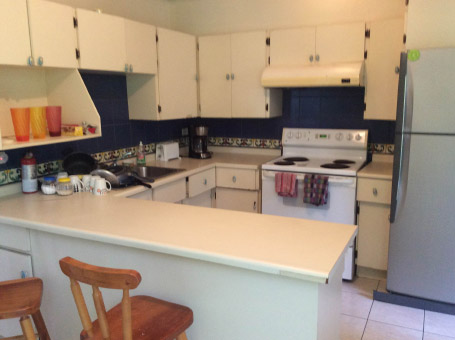 Residencias Los Jardines
Property Management, Rentals, Re-Sales
Market Activity
Sales: No inquiries.
Rentals: Paradisus: one two bedrm unit, $1,400 fully furnished. Los Jardines: UNFURNISHED 2 bdrm $950.
FOR SALE
Unit #106A: $165,000 / See Unit
Unit #107: $205,000 /See Unit
FOR RENT
Unit #104: $950 mo. / UNFURNISHED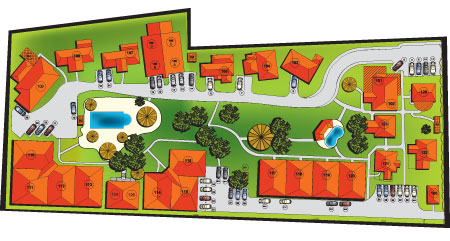 HOUSES FOR SALE
UNIT #106A
FOR SALE
$165,000
Total Area (Sq Ft): 1250
Total area (Sq M): 120
Bedrooms: 2
Bathrooms: 2
Floor(s): 1
Type: Apartment
Furnished: Yes
This is a fully furnished 2-bedroom unit situated in a 2-story building, which has two units on the ground floor and two units on the 2nd. floor. Each unit is the same size (1,250sf) divided into 800 sf of interior space and 450 sf of covered front and back terraces. Units 106A and B are on the ground floor; Units 106 C and D are on the 2nd. Floor. The solid masonry demising wall (common wall) as well as the 5" concrete slab prevent sound transference.
UNIT #107
FOR SALE
$205,000
Total Area (Sq Ft): 1716
Total area (Sq M): 158
Bedrooms: 2
Bathrooms: 2.5
Floor(s): 2
Type: Detached
Furnished: Yes
This 1,716 sf. (plus parking for one car) two story, detached house, with three terraces, two bedrooms (one on each floor) and upstairs master suite is a beautiful home. This home consists of two VERY large bedrooms (one on each floor) with en-suite bathrooms and a powder room, each with large closets with extensive built-ins for personal organization. The vaulted living room and ground floor bedroom ceilings as well as the master bedroom on the 2nd floor, provide a feeling of grandeur while allowing the warmer air to rise and exit through the ceiling ventilating system. There are three TVs (one in each bedroom and one in the living room.) This is a beautiful home. There is a rough-in for a dishwasher in the kitchen area.
Our Lives
WEATHER: Hot, dry the odd roll of thunder sometimes...
Health: I can now say that the allergy which dogged me for 8 wk. is now gone.
Car: Surprise, surprise. The car still "sits" I had to pay the road tax ($300) but had to go to a regional office... it was fast... now I have to wait for the temporary plate number to be reissued and temporary ownership be re-assigned to me... wow!!! what they can invent to slow down progress... CR is going backwards... it is no longer a "developing" / 3rd. world country... it is headed for oblivion an irrevelance.
Foreclosure: I am helping my friend out... see info included in this newsletter...
Condo property taxes: After two more attempts, I paid it... only about $150 more than last year. However, the "credit" I was issued previously, has not been processed... go figure...
Cedula renewal Now applied for... I wait...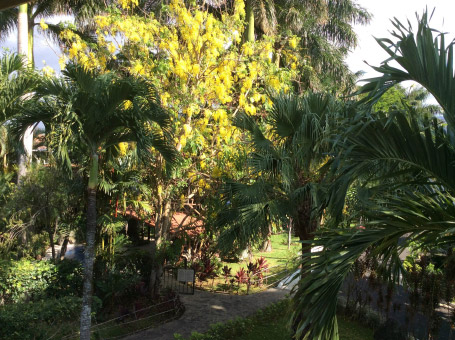 View from my hammock: "Crown of Gold" -Cassia flowers last about a month then the leaves return only to repeat itself the next year... flowers when it is dry...
News Items of the Week
Comments:
1 & 2: AyA / water: one of the many poorly run, over indepted, incompetent state monopolies... they cannot supply water to 75,000 consumers... for days and days... of course, they blame others...
3. Another BS case with CR: who knows what the truth is but finding or not finding "wetlands" seems pretty fundamental and objective... Based on my experience -CR can come up with changed criteria and decisions ALL the time if they want and they are not ashamed of it... they simply do not acknowledge the changed decision... and allege "slander...!"
4. US: CR trade: my take... The US is beginning to play "hardball" with CR... CR made a decision to ban the importation of HASS avacados based on what appears to be "political" reasons, vs. scientific. And since CR is, through it's large government banks laundering $1.2 bil in drug money, the US has made things a bit more difficult. Will CR connect the dots... I doubt it... "pura vida"... and hasta luego...
5. Strike: April 26 / 27 -school will be closed- Tuesday - Wednesday... keep my benefits regardless of whether it is appropriate or hurts the greater situation.
6. Trains collide: I think they only have two trains... if they had only one, this would not have happened. Reminds me of an article I read a number of years ago which said that in the early 30s there were two cars in the country... They collided on Paseo Segundo...
1. 50 residents of Paso Ancho protest lack of water in roundabout La Guacamaya

Demonstrations by the lack of water will not cease. Monday night's neighbors Paso Ancho partially blocked the passage through the roundabout of La Guacamaya, on Beltway to demand a solution to your problem.

Neighbors reported that in some sectors of the community water went from Wednesday and still are dry, while in other regions the drawback started since Friday.

"There are now more than 100 hours without water, that has brought a number of neighborhood problems, everyone gets up early and there is not a drop of water," said Gianco Brenes, one of those affected.

Past 6:30 pm, at least 50 people blocked the way for five minutes. That exercise it repeated every 10 minutes until 8:30 pm, when they gave end the protest.

However, they called for Tuesday at 7 am in the same place.

Ricardo Jimenez, one of the neighbors, said the blockades continue as long as necessary.

To avoid further road collapse, the traffic police made preventive closures in the rotanda Santa Marta and San Sebastian.

"A month ago we have many problems with water. From Tuesday the cuts are over 12 hours, on Wednesday arrived and turned to go and so far has not come, there are many hours without water," said Carolina Barrientos, president Development of the Association of South Paso Ancho.

According to Barrientos, they understand the problem that exists today, but want to give them hours to prepare properly.

Aqueducts and Sewers (AyA) reported that the problems are shortages by an increase in demand, which coupled with drought complicate the situation.

"AyA says it will fix the problem, but the strange thing is that they are the southern suburbs who went through this. You will Rohrmoser and Pavas and does not pass. Until yesterday at midnight threw the water and went completely black" said Raquel Arias, one of the affected.

This is the fifth event in less than a week after the movements in Hatillo, Sagrada Familia (2) and San Sebastian.

AyA and the Ministry of Public Education (MEP) agreed to supply about 50 schools in the southern suburbs three times a week, as a measure to avoid suspension of lessons.
2. San José suffer 'serious' water deficit for two months

During the last week, affected people have been five protests for lack of water. One was by residents of Sagrada Familia.

The heartbreak for bathing, washing clothes, make food and carry out cleaning accompany the daily lives of some 150,000 residents of the southern suburbs of San Jose.

Far from being temporary, these troubles threaten to continue for at least another two months, according to projections (IMN) National Meteorological Institute.

The drought caused by El Niño and exacerbated by infrastructure problems AyA has caused to entire days elapse without communities Hatillo, San Sebastian, Alajuelita and Paso Ancho receive a drop of liquid, as reserves that supply they are depleted.

Luis Fernando Alvarado, Department of Climatology of IMN, predicted that the effects of the phenomenon will persist until June, after two years to alter rainfall in the country.

However, he clarified that the normalization of water service will not necessarily occur at the same time that the onset of precipitation, since deposits of supply will take time to fill.

The estimated 1,000 liters per second (L / s) water deficit forced the Costa Rican Institute of Aqueducts and Sewers (AyA) to take extraordinary measures.

"We have a plan that we apply immediate response from last Saturday. It is integral because the only solution is to bring water from sectors that are not being affected now. For that, we will interconnect 10 of the potable water in the Greater Metropolitan Area (GAM) for pumping the liquid to the south of the capital town, "said Yamileth Astorga, president of the Institute.

With this measure, he said the hierarch, you try to address an "exaggerated" deficit.

The company claims that, in the most affected communities, about 75,000 people, has water at least six hours a day, from 4 pm to 10 pm.
3. Bribery claims, threats are part of arbitration case
By the A.M. Costa Rica staff

Starting in December, if the case advances, an arbitration panel will consider, among other allegations, if the country is responsible if officials rebuffed in bribery attempts take revenge against a developer.

This is one of the many allegations brought by U.S. investors who seek more than $100 million for Costa Rica's failure to protect investors, as required by the free trade treaty with the United States.

This is the case of Condominio Horizontal Residencial Las Olas in Esterillos Oeste in the Municipalidad de Parrita. A three-person arbitration panel already has been formed through the World Bank's International Centre for Settlement of Investment Disputes.

One of the principals in the Las Olas investment group is David R. Aven, who alleged in an arbitration filing that the government shut down the project in 2011 over claims that part of the property was a protected wetland.

Costa Rica has not yet replied to all the allegations, but the country's lawyers in an initial filing said that the rationale behind the decision to suspend the project was based on environmental protection and not the developer's nationality.

The Las Olas most recent filing, some 174 pages, suggests that nationality is a concern by some. It cites a series of email threats that have been entered into evidence. One said in part:

"Stop all your bizness in Costa Rica or no more luck for you and your friends. Get the message Gringo!"

Then there was the motorcycle assailants who put five shots into a car containing Aven and another investor, according to the filing.

That's why he no longer is in Costa Rica.

Aven has been described as a hard-driving U.S. businessman who tries to cut through the Costa Rica red tape. The record shows that his project, condos, a hotel and a beach club, were fully approved before the municipality issued the stop-work order.

And while the project has been in limbo, squatters have moved onto the prime beach land, and there have only been sporadic efforts to dislodge them. The project's local associate, Jovan Damjanac, estimates their number at about 40.

Basically, Aven says that environmental inspections of the property failed to locate any wetlands, but then other government agencies claimed the wetlands exits. The filing blames neighbors for opposing the project.

The investment became a swamp.

Wetlands or not, the case certainly is a swamp of allegations, contradictions and bad luck. The full filings are available HERE!

Aven and Damjanac have been accused of environmental crimes. The filing maintained that their defense case was overwhelming, and that only an ailing judge prevented a decision and propelled the case into a new trial. That is when Aven left Costa Rica.

For a time he was the subject of an Interpol red notice.

The arbitration filling presents a strong case, but Costa Rica, in a response probably will maintain as it has in the past that Aven broke the law involving wetlands. Damjanac is accused of cutting down trees.

Aven's allegations of bribe attempts by members of the municipality and a local environmental worker appear to have not generated a vigorous investigation.

For example, the filing said that a prosecutor closed one bribe case without informing Aven.

The filing also said:

"Notes on the file claimed that the prosecutor had repeatedly tried to contact Mr Aven. The prosecutor claimed to have asked Mr. Aven on November 4, 2011, to attend his office for an interview. Mr. Aven never received such a request. The file also noted that the prosecutor had requested evidence from Mr. Aven and that Mr. Aven had said he was not interested in pursuing the matter. As Mr. Aven states in his witness statement, this is simply not true. A third note on the file claimed that the prosecutor had attempted to place a call to Mr. Aven. Mr. Aven never received such call, nor was his attorney contacted by the prosecutor's office."

The filing also says that there have been no results of an investigation on who fired on Aven's car.

Regardless of the outcome of the arbitration, the Las Olas case is not good public relations for Costa Rica.
4. US sends mission to lower trade tensions with Costa Rica

The criticisms of the US ambassador. UU. agricultural policy of the administration of Luis Guillermo Solis will result in the visit of a mission comprising senior officials of the Government of that country.

The news was given by the Minister of Foreign Trade (Comex), Alexander Mora, the members of the Committee of Agricultural Affairs.

That panel called him to appear yesterday that it referred to complaints raised by the diplomatic Stafford Fitzgerald Haney, in an interview published in La Nacion, in February.

In that interview, Haney said the agricultural policy of the government causes "tension" between the two countries and regretted the operation of the State Phytosanitary Service (SFE), Office of the Ministry of Agriculture and Livestock (MAG) which, according to him, dulls "hundred percent "bilateral trade in agricultural goods to be handled with political and not technical criteria.

Contact. Following the publication of this newspaper, Mora minister requested an appointment with Haney to hear their concerns.

After the meeting, he said yesterday the minister, the diplomat made contacts with Washington for the Obama administration sent, on 12 and 13 April, a delegation composed of officials from the Office of the US Trade Representative (USTR, for its acronym in English), and the Department of Agriculture (USDA).

Officials have appointments with Mora and the hierarch of MAG, Luis Felipe Arauz, who will direct criticism of the administration of Costa Rican agricultural trade.

Alexander Mora said the delegation also heard claims that makes Costa Rica in the field of administration of the Free Trade Agreement between Central America, Dominican Republic and the United States (DR-CAFTA).

The giant American country is the main trading partner of Costa Rica. In 2015, the exchange of goods and services between the two countries reached $ 11,381 million.

During the meeting between Haney and Mora, in late February, the ambassador stated that his country is concerned about the actions of the national agricultural administration that hinder the importation of rice.

He also informed the chief of Comex about his discomfort with the obstacles to the entry of American onion to the country, the lack of issuance of permits for the import of new varieties of plants, and barriers to entry of other products such as soy, corn, wheat and potatoes.

Mora, meanwhile, claimed at the meeting that the United States abandoned two years ago the Monitoring Committee of the CAFTA, which causes several commercial claims have no solution.

The minister also noted barriers to trade in papaya and ornamentals policies.

"In record time, after they have expressed concerns, we will create conditions to address differences that may have with EE. UU. "Said Mora Minister lawmakers.
5. Unions go on strike on 26 and 27 April to oppose fiscal reform

They asked to bills like the dual education and withdraw the proposal to evaluate the performance of public employees.

Block unions Unitarian Association and Social Costarricense (Bussco) will strike next Tuesday 26 and Wednesday 27 April, to oppose a number of bills such as tax reform and performance evaluation of public employees.

Gilberto Cascante, president of the National Association of Teachers (ANDE) and spokesman Bussco, said the strike aims to oppose a series of initiatives launched by the Government in the Legislative Assembly to please international bodies such as the Organization for Cooperation and Development (OECD), the World Bank and the International Monetary Fund (IMF).

"We are against the bill of public employment, performance evaluation of public workers, the dual education and tax reform projects involving taxation Costa Ricans," Cascante said.

The Bussco is comprised of 54 unions and organizations, among which is the Teachers' Union of Costa Rica (SEC) and the Association of Secondary School Teachers (APSE) block.

Education sector unions go on strike together with communal, indigenous, social and environmental groups, according to Cascante.

The movement also seeks to oppose the bill which seeks to limit the salaries and pensions in the public sector.

The Bussco invite the unions that are part of Patria Justa block to join the strike.

Albino Vargas, secretary general of the National Association of Public and Private Employees (ANEP) and Patria Justa coordinator, said they have not yet received a formal invitation to partic ipate in the strike.

Patria Justa consists of organizations such as the Union of Japdeva (Sintrajap), the Internal Workers Front (FIT-ICE), among other groups.

Cascante explained that just started the process of convening Tuesday, but will strike demonstrations in different parts of the country.

The strike could involve the suspension of lessons in some schools in the country by the participation of educators in motion
6. Commuter trains collide head-on
By the A.M. Costa Rica staff

The Cruz Roja said that more than two hundred persons suffered injuries this morning when two trains in the valley line collided head-on in Pavas.

Other estimates said more were injured. Five were reported in critical condition at area hospitals.

The collision came during the start of morning rush hour about 6:27 a.m.

Guillermo Santana, president of the Instituto Costarricense de Ferrocarriles, was at the scene and attributed the collision to human error.

The Cruz Roja said that some 15 rescue units were dispatched along with 60 aid workers.

Ambulatory patents were evaluated on blankets alongside the tracks.

The Cruz Roja said that 245 persons suffered some form of injury. Those who were uninjured continued their journey, manly to work site, on foot.
Brian, Lita, the Late Hugo IV, irreverent Vicka, the pigeon toed parrot, Chico II and Chica II