Dear friends,
When I started Residencias Los Jardines, I started writing a weekly news letter -determined to tell all the good, bad, and the ugly. I knew some readers would be interested in the construction process. I expected others might be interested in the lifestyle of two people who had decided to live outside the box. For others, the adventures of Lita, the parrot and the cat took on an entertainment saga all its own.
Residencias Los Jardines is finished. We periodically have resales and rental availability. Some readers may be interested in this information.
Brian Timmons
DEVELOPER / PROPERTY MANAGER
Residencias Los Jardines / https://www.residenciaslosjardines.com info@residenciaslosjardines.com
ResidenciasPropertyManagement@gmail.com
Featured house this week
Paradisus Condos / Rohrmoser
FOR SALE
Residencias Los Jardines
Property Management, Rentals, Re-Sales
Market Activity
Sales: No inquiries.
Rentals: Nothing available.
CR -Land of the Difficult: if there is an easy way to do it, it won't be done... it will be made complicated. Fixing anything which goes off the rails -and it virtually always does- it really, really difficult. Complicated systems, sometimes work surprisingly fast... why because no one follows the rules, they are bypassed... you can spend you whole life solving bureaucratic BS!!
FOR SALE
Unit #106A: $165,000 / See Unit
Unit #107: $205,000 /See Unit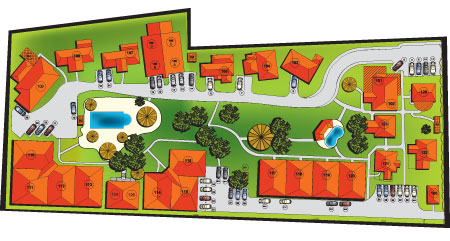 HOUSES FOR SALE
UNIT #106A
FOR SALE
$165,000
Total Area (Sq Ft): 1250
Total area (Sq M): 120
Bedrooms: 2
Bathrooms: 2
Floor(s): 1
Type: Apartment
Furnished: Yes
This is a fully furnished 2-bedroom unit situated in a 2-story building, which has two units on the ground floor and two units on the 2nd. floor. Each unit is the same size (1,250sf) divided into 800 sf of interior space and 450 sf of covered front and back terraces. Units 106A and B are on the ground floor; Units 106 C and D are on the 2nd. Floor. The solid masonry demising wall (common wall) as well as the 5" concrete slab prevent sound transference.
UNIT #107
FOR SALE
$205,000
Total Area (Sq Ft): 1716
Total area (Sq M): 158
Bedrooms: 2
Bathrooms: 2.5
Floor(s): 2
Type: Detached
Furnished: Yes
This 1,716 sf. (plus parking for one car) two story, detached house, with three terraces, two bedrooms (one on each floor) and upstairs master suite is a beautiful home. This home consists of two VERY large bedrooms (one on each floor) with en-suite bathrooms and a powder room, each with large closets with extensive built-ins for personal organization. The vaulted living room and ground floor bedroom ceilings as well as the master bedroom on the 2nd floor, provide a feeling of grandeur while allowing the warmer air to rise and exit through the ceiling ventilating system. There are three TVs (one in each bedroom and one in the living room.) This is a beautiful home. There is a rough-in for a dishwasher in the kitchen area.
Our Lives
WEATHER: Hot, dry and wind has died down in March... beautiful...
Health: The allergy seems to be weakening but not yet gone... still being controlled by meds... I am hopeful...
Car: Car plates have not yet been uploaded into the database that the road tax people need to access and see that plates have actually been issued for the car... so the car still sits...!!
Foreclosure: The "offer" fell through... when I was told about it, I was skeptical... the lawyers should have been as well... my friend feels they blew it... now an actual marketing plan needs to be developed... leaving anything "planning" / "execution" to ticos... is a difficult task...
Condo property taxes: Three weeks after trying to pay, I now have a figure... yes, I guess thousands of others are in our situation... the amount will be similar to last year... wow -about $710 per unit including bodega (storage unit) and tandem parking spot valued at $240,000!!! It should not have taken this long to figure that out... but here it does and did... and if I didn't have a schmoozing pit bull on the case, it would have taken longer.
Cedula renewal (permission to live in the country) is up for renewal. We are apply for "permanent" status vs. "temporary". Permanent is for 5 years... and then it has to be renewed. I don't know how long this will take... perhaps 3-4 months.
News Items of the Week
Comments:
1. Finally, a conviction... the original judge is under investigation... she will found to have been influenced in the case...
2. CNFL asked for a 36% increase and was granted 18% and then came back and was granted another 4.5% for customers in the Central Valley... that is where 75% of the people live... and now most of the electricity is generated by water which is the cheapest form of generation or a small amount by geo-thermal or wind -- we continue to have the most expensive rates in Central Am. and one of the highest in the world.
3. Gas: the price has dropped substantially but the substantially high taxes keep it above where it should be. Note Article 7 and you can understand why the taxes are so high... to pay for the unbelievable benefits negotiated and agreed to over the years with the government union... the provisions are ludicrous!!!!!!
4. The plant has been ready for some time... the supply lines have not been in place and even now, don't have a lot of capacity. This is funded by a Japanese loan which, after years and years of dragging their feet in CR, finally the Japanese said--take it / use it or we are giving it to someone else...
5. Import Duties: I found the list of markups interesting and with no rhyme or reason...
6. Heading to the US: Cubans are still filtering through CR but what I found more interesting was the other nationalities as well: "The largest number of migrants were from Ghana but authorities also detained people from Cameroon, Senegal, Nigeria and Mali, among other African countries. One migrant was from Afghanistan."
7. RECOPE benefits: transportation subsidy represents about 915 per employee and overall benefits seem to be about $7,000 per employee...
8. State Bank hefe gets $33,600 mo. salary... + aginaldo and bonuses... incredible!!!!!! and contrary to what the idiot minister says, it does affect CR financial health and the attitude of tax payers...
9. Cocaine / drug trafficking: the amount is incredible with an estimated 1% capture.
10. A dysfunctional government... reminiscent of the US -lawmakers simply don't show up and the opposition has vowed to slow down any and all requests for tax increases- at least until better collection of existing taxes happens AND until waste / fraud / and excesses are addressed... since this will never happen, the government will continue dysfunctional, no new taxes will be collected... in fact, corporate taxes required for the past several years, are not being collected this year because the government didn't address some wording changes required by the Sala IV (Supreme Court -constitutional issues.)
1. UPDATE: 4 convicted, 3 acquitted in Jairo Mora murder trial

LIMÓN - A Limón court delivered guilty verdicts for four of seven defendants in the 2013 killing of sea turtle conservationist Jairo Mora and the kidnapping and robbery of four foreign volunteers. The same defendants were acquitted in a previous trial last year, but the verdict was overturned on appeal.

Héctor Cash, Ernesto Centeno, José Bryan Quesada and Donald Salmón were found guilty; Donald's brother Darwin Salmón, Felipe Arauz and William Delgado were cleared of all charges.

All seven defendants were acquitted on charges of sexual assault against one of the female volunteers captured with Mora because prosecutors were unable to prove which of the defendants had committed the assault.

The four men found guilty on Tuesday received sentences ranging from 74 to 90 years for both the crimes on the night of Mora's murder and another rape and robbery that was tried at the same time.

Each of those defendants will serve 50 years in prison, the maximum allowed by Costa Rican law.

In an explanation of the ruling that lasted more than two hours, the court's panel of three judges highlighted Mora's work with sea turtles as the primary motivation for his murder.

"The court rejects that there is any other motive for this murder," said Carlos Álvarez, the trial's chief judge. "The killing of Mr. Jairo Mora Sandoval was the straw that broke the camel's back in this war that was taking place between poachers and environmentalists on the beach."

At the time of his death, Mora was working as a sea turtle monitor for the conservation group Widecast, now renamed LAST, on the crime-ridden Moín Beach in Limón. Notoriously headstrong, Mora had gained a reputation on the beach as a vocal advocate against turtle egg poaching, earning himself enemies among the beach's poaching gangs. Despite receiving numerous threats from poachers, Mora and four foreign female volunteers headed to the beach on the night of May 30, 2013 in hopes of catching a glimpse of a leatherback sea turtle. On their way back to the rescue center where they worked, their car was overtaken by a group of men in masks. The attackers beat Mora and threw him in the trunk of the conservationists' car before taking the women to an abandoned house and sexually assaulting at least one of them. The men then took Mora to the beach where they stripped him, beat him and dragged him behind a car in the sand.

Judges said witness testimony from Almudena Amador, a Spanish veterinarian kidnapped with Mora, and the victims of the previous rape and robbery provided consistent physical descriptions of each of the accused men along with each of their roles within the gang. Recorded phone calls, text messages and a cell tower investigation also placed each of the men on the beach at the time of the murder. Though the phone evidence also placed Arauz and Delgado on the beach the night of the murder, judges said they could not convict based on a lack of witness testimony describing them participating in the crimes. Weeks before the verdict, prosecutors had dropped charges against Darwin Salmón due to a lack of evidence.

"The phone evidence showed that they communicated with the other suspects, but it didn't prove that they participated in the murder," Álvarez said.

In his closing remarks regarding the judges' decision to give the defendants the maximum penalty for murder (35 years), Álvarez again looked to Mora's work with turtles as a critical factor.

"Jairo was someone dedicated to the environment," Álvarez said. "This crime is more than just a horrible murder, it has also damaged Costa Rica's reputation as a green country. It has scared away environmentalists."

Following the verdict, Arauz folded his hands and began to pray, Centeno put his head in his hands while the other convicted defendants wore blank stares. On the other side of the courtroom, Mora's parents, Fernanda Sandoval and Rafael Mora, began to cry.

"All that we wanted was for this crime to not go unpunished," said Rodrigo Araya, the Mora family lawyer. "I believe this verdict can bring some peace to Jairo, to all of Costa Rican society and to environmentalists everywhere."
2. Regulatory Authority approves lower electricity rates except for San José, Cartago residents

The Public Services Regulatory Authority (ARESEP) on Monday approved new electricity rates that mostly will benefit residents outside the Central Valley.

New rates will apply starting in April and will be up to 4.8 percent cheaper for customers of six of the country's eight main energy suppliers.

ARESEP approved the lower rates after a year in which the country rarely had to turn to its expensive, bunker-fueled power plants to meet the country's electricity needs. A full 99 percent of the country's electricity demand in 2015 was generated using renewable sources, mostly hydroelectric plants, the Costa Rican Electricity Institute (ICE) reported in January.

The regulatory agency also took into account that power generation using thermal plants during the first two months of this year was 40 percent lower than previous estimations by ICE.

But not all electricity consumers will see lower bills. Customers of the National Power and Light Company (CNFL), which supplies mainly residents of the capital, San José, instead will pay 4.5 percent more on their monthly bills. And customers of the Electric Services Administrative Board of Cartago, or JASEC, will pay 0.1 percent more.

Both companies had requested significant rate hikes last year, though the hikes approved by ARESEP were smaller.

ARESEP spokeswoman Carolina Mora said that, for example, CNFL requested a 35 percent rate hike in November to cover operating costs, however the regulatory agency approved only a 18.6 percent hike.
3. Liter of super gasoline will increase 18 ¢ in April

Price per liter of super gasoline will increase from ¢ 445 to ¢ 463, regular gasoline the ¢ 424 to ¢ 446 and diesel from ¢ 345 to ¢ 358 (¢ 13 more).

The Regulatory Authority for Public Services (Aresep) increases resolved Tuesday 18 ¢ and 22 ¢ in the price per liter of petrol super and regulate respectively. The company attributed the increase to be effective in April to variations in the international price of petroleum.

Thus, the price of a liter of super gasoline will increase from ¢ 445 to ¢ 463 today, the regular gasoline from ¢ 424 to ¢ 446 and diesel from ¢ 345 to ¢ 358 (a difference of ¢ 13).

With the change, fill a 45 liter tank with regular gasoline will cost ¢ 19,080 to ¢ 20,070 today; with the setting: ¢ 990 cost more. If super gasoline, the cost will increase from ¢ 20,025 to ¢ 20,835; a difference of ¢ 815.

In a press release, ARESEP recalled that even with the increase approved, Costa Rica would have competitive prices at regional level, "not for the taxes on fuel paid by the final consumer are loaded". In the case of super gasoline tax represents 53% of the final price; Regular gasoline 52% and 39% diesel.
4. Los Tajos sewer plant has begun operation
By the A.M. Costa Rica staff

The Los Tajos sewage plant is in operation with 36,000 connections in San José.

The Instituto Costarricense de Acueductos y Alcantarillados said that the initial stage for the plant cost $48.2 million. Eventually more than a million persons in the metro area will be hooked up to the plant.

This means that less raw human waste will be flowing into the Río Grande de Tarcoles to be transported to the Gulf of Nicoya to end up on the country's supposedly pristine beaches.

News reports have called the lack of treatment Costa Rica's dirty little secret. Abel Pacheco, when he was president, joked that Río Tarcoles crocodiles are nourished by the Metro Area effluent, although he was more graphic.

The treatment plant is in La Carpio, a section of La Uruca west of the San José downtown. The facility was inaugurate nearly a year ago, but it was not operational at that time.

The initial step protects parts of the Ríos Rivera and Torres. Eventually all the metro area rivers will be protected for sewage drainage, according to the project plans. They include the rios Torres, María Aguilar and Tiribí.

The project also is designed to phase out individual septic tanks. Eventually the sewerage network will be expanded to Tibás, Moravia, Vásquez de Coronado, Goicoechea, Montes de Oca the remaining part of San José, according to Acueductos y Alcantarillados.

The total investment is expected to be $361 million. The money is coming from the Japanese International development agency, the Interamerican Development Bank and Banco Nacional with the addition of the national water institute's funds.
5. Import duty schedule shows why smuggling can be profitable
By the A.M. Costa Rica staff

Most expats know that the import duty on books is negligible, just 1 percent of the stated value. But are they aware of the biggies?

The customs agency that is part of the Ministerio de Hacienda has said that a criminal network is involved in the importation of some personal-use items into the country. They call it fraud.

A quick check of the schedule of import duties shows that such actions can be highly profitable. Shampoo, for example, carries a 49.27 percent import duty. The duty on hair cream is 68.60 percent.

Clearly smugglers are well positioned to offer their goods at a less than fair market price to distributors and even retail.

Several of the private mail service companies have current duty scheduled on their Web pages, where this information is taken.

Customs officials also have cracked down in the past on the smuggling of electronic devices. In most cases the smuggling really amounts to falsifying paperwork. There is profit in doing this, too.

Although computers are assessed just 13 percent of value as import duty, the monitor is assessed at 49.27 percent, as is a home theater setup. And those flat screen televisions that are such a great price at major retailers also carry a 49.27 percent import duty.

There does not seem to be any consistency in the rates of import duty, although garden equipment ranks right down there with books at 1 percent. Other hand tools are assessed 19.78 percent.

For some reason kitchen appliances are charged high import duty. Mixers are assessed at 49.27 percent, as is a coffee maker.

But leading the list are refrigerators. Bringing one of those into the country will cost the importer 81.48 percent.
6. More than 100 African migrants caught entering Costa Rica illegally

Police detained 116 migrants from Africa and Asia crossing Costa Rica's southern border with Panama on Monday, according to a statement from the Public Security Ministry and the Immigration Administration. The immigration stop came after the government announced it would increase its police presence in the Southern Zone because of large numbers of Cuban migrants camped out just across the border in Panama.

The migrants, who did not have authorization to enter Costa Rica, were traveling on foot in groups of roughly 20 to 25 people, according to Public Security spokeswoman Patricia Meléndez. The largest number of migrants were from Ghana but authorities also detained people from Cameroon, Senegal, Nigeria and Mali, among other African countries. One migrant was from Afghanistan.

Immigration officials accepted refugee applications from 60 of the 116 migrants. The remaining 56 were returned to Panama, according to Immigration Administration spokeswoman Seidy Muñoz.

No arrests were made for human smuggling.

The overland route north through Central America to the United States and Canada is well known to migrants from outside the Western Hemisphere. Migrants from Africa and Asia fly to South American countries that do not require visas and then cross illegally into neighboring countries to reach North America.

This is the same path that thousands of Cuban migrants started using in increasing number during the last several years, culminating in a four-month immigration crisis in Costa Rica when a border dispute with Nicaragua left 7,800 migrants stranded here. Most of those migrants have since made it to the U.S.
7. Deputy complaint Recope spending by ¢ 873 million in transport personnel

In the past four years, the Costa Rican Oil Refinery (Recope) spent ¢ 873 million ferrying officials to schools and workstations under their collective agreement.

This was denounced Wednesday afternoon Mario Redondo, deputy Christian Democratic Alliance (CDA) party, referring to a report requested from the Executive President of Recope.

The document released by the legislator, states that in 2012, the agency paid ¢ 182 million in personnel transport; a year later ¢ 212 million; in 2014 it was ¢ 240 million in 2015 ¢ 238 million. This adds up to ¢ 873 million.

Two bus companies "the biggest slice" are distributed according to the lawmaker said in a press release.

Recope document sent to Redondo notes that one of the companies received ¢ 274 million and another ¢ 206 million. Two taxi drivers have also received some of the money. A one Recope has paid a cumulative total of ¢ 47 million and another ¢ 14 million.

According to the letter, which this newspaper has a copy, on the campus of Alto de Ochomogo, in Carthage, the annual cost of carry and bring an official amounts to ¢ 432,447 (¢ 36 thousand per month).

In La Garita, Alajuela, that amount per worker amounted to ¢ 401,773, about ¢ 33,481 per month, while in Barranca, Puntarenas, reaches 733,097 a year ¢ (¢ 62,758 per month).

In the case of Limón, by the transfer of two officials from the airport to downtown are paid ¢ 555,683 per year (an average of ¢ 46,302 per month for both).

"We are not against the employees, but obviously these privileges must end and still not a solution to the negotiations carried out by the authorities on the collective agreement looks," said Redondo, who said that these exaggerated benefits must end by pointing out that the great most people pay their transportation to their workplaces.

Recope has admitted that for years load fuel prices some costs of their collective agreement, despite the law of the Regulatory Authority of Public Services (Aresep) prevents it.

Thus, consumers of gasoline, diesel, cooking gas, bunker and others have paid for the savings fund of workers, loans, service soda, as well as useful and scholarships to children, among other benefits only 2013 meant ¢ 25,700 million for 1,800 employees.

In August, ARESEP refrained from transferring fuel prices ¢ 5,000 million in the collective agreement Recope in an application for adjustment raised by the state company.

The rejection was because, in the opinion of ARESEP, money for such purposes unrelated to the costs linked to public service Recope provides, as is the distribution of fuel in the country.

However, this led to the presentation of several appeals for protection of workers against ARESEP Recope. On Thursday, the judges of the Constitutional Court will hear complaints from officials and ARESEP arguments at a hearing focused on the case.

Workers argue that the exclusion of these funds violates fundamental rights enshrined in the collective agreement Recope, which has the force of law.

The space open tomorrow allow the parties to develop their arguments.
8. Finance Minister justifies salary of ¢ 18 million

Finance Minister Helio Fallas, justified his silence yesterday, the manager of the Central Bank of Costa Rica, Eduardo Prado, can earn in one month to ¢ 18 million.

Fallas failed yesterday to give an opinion as Minister of Finance and Vice President, because so "it was agreed", but did not specify the media present, if it was an order from Casa Presidencial not talk about it.

EXTRA DAILY consulted hierarch how the government will go for taxes on corners and bus stops when in public institutions such as the Central Bank, there are such high salaries that allow buy a house with the payment of one month.

However, Fallas insisted that these salaries do not affect the public budget, as implying that bear no relation to the fiscal situation, and that it should be the Central Bank who should give an explanation to the country. Here is an excerpt of the questions.

How will you go to ask for more taxes if such high wages in the Central Bank?
- That is an issue that the spokesperson's going to have the President of the Central Bank.

Do you agree you that the manager of the Central Bank win ¢ 18 million in a single month?
- That answer has to answer the President of the Central Bank.

But you are the Vice President, the Minister of Finance and belongs to the board of the Central Bank, and it is you who is asking people to pay more taxes How will tell me that I may turn to ask the President of the Central Bank?
- Mary, and I said that and I will not leave this idea with another answer.

But it is that they (the Central Bank) are both judge and party gift Helio ...?
- Well, I replied. What I can tell you is that board has not been the issue.

To you it 's all right morally speaking?
- Already I replied.

No, it is not responding I don Helio. I asked him his opinion as finance minister?
- That was what was agreed (to give the Central Bank spokesperson) and I will not respond otherwise. In addition it seems that you are saying that I am mistaken Minister of Finance. Of course I'm Minister of Finance, but that does not affect the public budget.

It does not affect the Public Budget salaries ¢ 18 million in a month?
- No, because that is paid directly by the Bank (Central).

But still public funds?
- Yes, but one thing is the National Budget and Budget otherwise the Central Bank of Costa Rica.

But still public funds?
- Yes, and I'm not saying no.

How then ask for more taxes with wages of ¢ 18 million a month?
- Well, I replied.
9. Police Anticipates Record cocaine trafficking by Costa Rica this 2016

Security Minister confirmed that 85% of drug is transported by sea

Attorney General reveals that 98% of the cocaine is of Mexican cartels

During 2015, it is presumed that happened about 1,200 tons of cocaine. The authorities only seized 15 tons of heroin, representing 1% have seized a total that went through our territory.

The Ministry of Security expected to give a record traffic of cocaine in 2016 by Costa Rica: it will take about 1,700 tons of the drug.

The alarm figure because in 2015 1.200 tons of cocaine were trasegaron, while in 2014, were between 663 and 670 tons, according to a report by the United States Department of State.

The increase in traffic responds to more and better crops of cocaine in Colombia, Peru and Bolivia, countries that are considered the main producers explained the Drug Control Police (PCD).

"The calculation is born from seizures that are made. We note that there are lot of land that are used for the production and the narcos have improved the quality of the bush to get a better raw material, "he explained the PCD to consultations of the nation.

100% produced by the South American groups, almost 90% goes to EE. States. and Europe, so that Costa Rica is considered a "must pass". The remaining 10% of the merchandise is aimed at Africa, so it does not cross the Central American region.

Attorney General Jorge Chavarria said that 98% of drugs entering the country belong to groups of Mexico, which have links with policies bands.

That link, he added, makes local groups use violence to "Mexican style".

Gustavo Mata, Minister of Public Security, said take "extraordinary measures to combat" such as strengthening agreements with authorities in Panama, Colombia and, above all, Mexico measures.

"Our goal is to bring Mexican analysts, for example, to share information with us; ie talk routes and groups that exist in the region, "he said. He added that there is still no date for the arrival of the experts.

Despite the police action, last year managed to seize only 1% (15 tons of coca) of what is presumed that passed through the territory (1,200 tons).

Until 30 March this year, the ethics police had seized nearly three tons of the drug.

By sea. Gustavo Mata said that 85% of the drug is transported to the United States and Europe by sea.

"For the Pacific usually spends coca goes to other countries, while the Caribbean enters marijuana from Jamaica and it is for local consumption," explained the PCD.

Therefore, shielding maritime borders is a priority for the Ministry of Security.

"We have taken measures such as constant patrolling by Coast Guard and National have done in-depth research by the PCD," said Mata.

Although he admitted that ideally have more effective teams, as "appropriate" boats and helicopters.

"Since we have the necessary tools, we turned to other methods, such as fluid communication with other policemen. Is a very tough fight and they take advantage, in the sense that they have to acquire economic security boats circumventing power, "lamented the hierarch.

According to the PCD, it is also relevant work in educating young people.

"If since childhood he taught why not do drugs, though tons of cocaine put them on their feet, will reject," he said.

Implications. Although the final destination of the drug is not Costa Rica, much it remains embodegada in our territory for several days.

By making these "favors" criminals ask for a certain amount of drug. "Rarely they come with money, because their goal is to have cocaine to strengthen the local market," the PCD.

Then, a greater amount of goods passing through the country, the amount could stay in Costa Rica, or at least that is the assumption of the authorities.

This worries the police in two ways: first, because, from the previous year, the country is in the midst of a violent drug war.

Second, because little by little Costa Rican structures generate stronger links with Mexican organizations who own the drug from the time this comes out of Colombia, Peru or Bolivia.

Attorney General Jorge Chavarria said that ties cause also local "copy" the way in which the Aztecs come from "traitors or enemies."

"Lately it sees more violent behavior in the killings and that is because (Ticos groups) are embracing the model used to kill Mexicans," he said.
10. Lawmaker vows to send the cops after any no-show cabinet ministers
By the A.M. Costa Rica staff

Relations between the executive branch and the legislature may have reached a new low Thursday. A lawmaker threatened to send the Fuerza Pública to bring in government ministers if the executive branch officials declined to appear before committees on their own.

The lawmaker is Juan Luis Jiménez Succar of the Partido Liberación Nacional. He said that some legislative committees were studying proposed laws and they needed the input from various government ministers.

He said that lawmakers cannot just wait until the ministers decide to show up. He said that some ministers, all members of the president's cabinet, have declined to confirm a time when they had been asked to appear by lawmakers.

He made his comments at a meeting of the Comisión de Asuntos Internacionales Thursday. He also extended his threat to vice ministers and other high officials in the executive branch.

"If the minister declines to come, we ought to then ask the police to bring him in," he said in a summary prepared by the political party.

Relations between the executive branch and lawmakers have been in decline since it became obvious that most legislators would not support President Luis Guillermo Solís in his effort to pass laws calling for more taxes.
Brian, Lita, the Late Hugo IV, irreverent Vicka, the pigeon toed parrot, Chico II and Chica II