Dear friends,
When I started Residencias Los Jardines, I started writing a weekly news letter -determined to tell all the good, bad, and the ugly. I knew some readers would be interested in the construction process. I expected others might be interested in the lifestyle of two people who had decided to live outside the box. For others, the adventures of Lita, the parrot and the cat took on an entertainment saga all its own.
Residencias Los Jardines is finished. We periodically have resales and rental availability. Some readers may be interested in this information.
Brian Timmons
DEVELOPER / PROPERTY MANAGER
Residencias Los Jardines / https://www.residenciaslosjardines.com info@residenciaslosjardines.com
ResidenciasPropertyManagement@gmail.com
Featured house this week
Paradisus Condos / Rohrmoser
FOR SALE
Residencias Los Jardines
Property Management, Rentals, Re-Sales
Market Activity
Sales: One inquiry but Semana Santa interferred. We'll see.
Rentals: Paradisus unit rented -but no money yet!!
FOR SALE
Unit #106A: $165,000 / See Unit
Unit #107: $205,000 /See Unit
Unit #123: $237,000 $215,000 / See Unit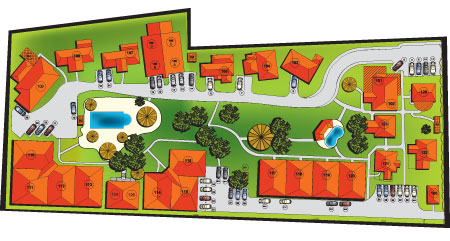 HOUSES FOR SALE
UNIT #106A
FOR SALE
$165,000
Total Area (Sq Ft): 1250
Total area (Sq M): 120
Bedrooms: 2
Bathrooms: 2
Floor(s): 1
Type: Apartment
Furnished: Yes
This is a fully furnished 2-bedroom unit situated in a 2-story building, which has two units on the ground floor and two units on the 2nd. floor. Each unit is the same size (1,250sf) divided into 800 sf of interior space and 450 sf of covered front and back terraces. Units 106A and B are on the ground floor; Units 106 C and D are on the 2nd. Floor. The solid masonry demising wall (common wall) as well as the 5" concrete slab prevent sound transference.
UNIT #107
FOR SALE
$205,000
Total Area (Sq Ft): 1716
Total area (Sq M): 158
Bedrooms: 2
Bathrooms: 2.5
Floor(s): 2
Type: Detached
Furnished: Yes
This 1,716 sf. (plus parking for one car) two story, detached house, with three terraces, two bedrooms (one on each floor) and upstairs master suite is a beautiful home. This home consists of two VERY large bedrooms (one on each floor) with en-suite bathrooms and a powder room, each with large closets with extensive built-ins for personal organization. The vaulted living room and ground floor bedroom ceilings as well as the master bedroom on the 2nd floor, provide a feeling of grandeur while allowing the warmer air to rise and exit through the ceiling ventilating system. There are three TVs (one in each bedroom and one in the living room.) This is a beautiful home. There is a rough-in for a dishwasher in the kitchen area.
UNIT #123
FOR SALE
$237,000
$215,000
Total Area (Sq Ft): 1516
Total area (Sq M): 140
Bedrooms: 2
Bathrooms: 2.5
Floor(s): Two story
Type: Detached
Furnished: Yes
This two story, detached 1,423 sf home + parking for one car has two bedrooms, 2 ½ bathrooms and a 2nd floor covered terrace.
The open railed wrought iron cement stair case leads to the 2nd level where the master bedroom with en-suite master bathroom as well as 2nd bedroom and en-suite bathroom are located. Also accessed from the 2nd floor hallway is the covered terrace.
This is a very nicely furnished home with a good floor plan for those wanting two floors.
Our Lives
WEATHER: Hot, dry and wind has died down in March... beautiful...
Health: (same) I have still be plagued by this allergic rash... a new series of visit to docs and the current thinking is that the allergy is weakening and will die away... I hope so... this has not been a lot of fun!
Aftermath of break-in: (same) it appears the association will be enhancing the perimeter security.
Car: (same) now I have to wait for the plates to be uploaded into a data base so I can buy the operating license for the balance of the year. Since next week is Semana Santa and virtually everything is closed down, the wait is likely to be longer than otherwise.
Foreclosure: (same) my friend waits for the "offer" to be finalized and the deal to close -probably another two months.
Condo property taxes: (same) as suspected, we were not the only ones affected by some incompetent programmer. There seem to be lots of cases which need to be adjudicated... getting anything done the first time is difficult in this country, fixing even the simplest things is really, really difficult. I can see this going on for a long time... like the car...
(same) -- this is the way it is in Costa Rica...
News Items of the Week
Comments:
While there wasn't much news reporting over Semana Santa, I did manage to fine something... What I did not see, but was told about by two different people, is an article in La Nacion... It seems the US government is quite directly accusing CR of allowing, if not facilitating money laundering to the tune of $4.2 billion. It is also being done at the highest levels in government banks... It seems that the US is tired of this... while names were not mentioned, you can bet the US has that information and is pressuring CR behind the scenes. Seemingly independent of this, was a separate series of articles bout CR complaining of slow decisions re. export of CR agricultural products... I wonder if there is any connection??!!
1. Fire in Pavas: note: there was virtually no water in the water lines dedicated to fighting the fire....such is the infrastructure here.
2. Electrical generation: a dam is ready to generate electricity... according to a resident who lives at Los Jardines and is overseeing the construction of another hydrulic facility, CR has a surplus of electricity but because they haven't completed the tie line to Panama, cannot export it. ICE has been dragging their heels on completing this.
3. El Nino: finally I have an explanation as to why it was sooooo hot at the beach... El Nino. According to this report, Guanacaste is, on average, about 3 degrees C higher than normal... with the temperature now being 37-41 C (98-106 Fahrenheit). That is what I felt... I cannot take it any more.
4. Rainfall: the populated areas of CR were lighter than average last year as well as the Pacific central and north west areas... and the same is expected this year. This is not good news.
5. Solar Panels and ICE: dragging their Neanderthal knuckles, ICE has been forced (almost anyway) to accept buying back surplus electricity from solar panels... however, they have not yet determined the price of installation / connection... you can bet it will be expensive and may yet rule out the economics of such arrangements.
1. Field fire ignites Pavas warehouse complex
By the A.M. Costa Rica staff

A field fire is being blamed for causing a spectacular blaze that ravaged part of an industrial area in Pavas Wednesday. The Cuerpo de Bomberos said that 1,750 square meters (18,837 square feet) of a 6,675 square meter (71,849 square feet) complex were destroyed.

The blaze engulfed large storage facilities of Tips, the kitchen appliance and commercial furniture firm as well as adjacent facilities. A firm involved in the manufacture of clothing was burned out, and the refrigeration firm Clima Ideal S.A., lost a warehouse. The properties were in the Zona Industrial Pavas.

Firemen were overwhelmed by the magnitude of the blaze and the shortage of water. Six tankers were at the scene but the service in the street was less than adequate. The blaze burned furiously because the content of some large storage warehouses were mainly cartons and plastic.

About 50 persons were working the warehouse complex, and most were involved in removing boxes, furniture and computers to protect them from the encroaching flames.

There were no injuries from the fire, but a fireman suffered an injury to his shoulder when he was hit by a ladder. He was reported hospitalized in stable condition.

The alarm came in about 2:23 p.m. Winds fanned the field fire and allowed it to jump to the nearby structures.
2. $1.4 billion power project ready to go into service
By the A.M. Costa Rica staff

The $1.4 billion Reventazón hydro project is expected to go on line next week and begin providing power to the national grid.

The project eight kilometers southeast of Siquirres de Limón has the largest dam in Central America with a height of 130 meters or 430 feet which creates an 8-kilometer long lake.

The Instituto Costarricense de Electricidad said Wednesday that the power project has completed final tests with the national grid and that initially one of four turbines will provide 73 megawatts of power. The capacity is estimated at 305.5 megawatts. The power company said that this is enough for 125,000 homes and 2 million persons. The project takes water for the Río Reventazón via a 4.2-kilometer tunnel. That's about 2.6 miles.

Construction began in April 2010. The project is not without controversy.

Environmentalists say the use of river water might damage the passage of migratory fish, and the project also has been accused of severing a wildlife corridor.

Residents in the area also have complained about shifts in the ground due to the weight of the water accumulated in the reservoir. The company has agreed to make infrastructure investments in 15 communities.
3. El Niño heat expected to last through May

National Meteorological Institute (IMN) forecasts state that high temperatures currently felt across most of Costa Rica will rise up to 3 degrees Celsius in coming weeks due to direct influence of El Niño, the warm phase of a recurring climate pattern across the tropical Pacific called the El Niño-Southern Oscillation, or "ENSO."

IMN Director Juan Carlos Fallas Sojo said high temperatures will increase starting this week and will last through May. Forecasts state that the strongest effects on weather will be in the northwestern province of Guanacaste, where temperatures will range from 37-41 C (98-106 Fahrenheit).

Temperatures in the Central Valley will range from 32-36 C (89-97 F).

High temperatures also will be present in the central and southern Pacific regions, where they are expected to range from 34-40 C (93-104 F).

Average temperatures in the Caribbean region will see a small increase of half a degree, and Limón residents can expect temperatures ranging from 29-34 C (84-93 F).

Iván Brenes Reyes, president of the National Emergency Commission (CNE), said 50 communities currently are facing severe problems from drought and scarce drinking water. He called on the public to help prevent wildfires, as high temperatures can quickly turn small brush fires into larger, hard to control fires.

The CNE also recommends that people exercise caution while in the sun and avoid direct exposure to sunlight. April is the month when Costa Rica receives the highest incidence of solar radiation.
4. Rainy season and La Niña

According to the IMN, the effects of El Niño in 2015 exceeded the record extreme conditions experienced in 1997.

The weather phenomenon during the past rainy season (May to November) caused a significant precipitation deficit — 45 percent below normal in the northern Pacific region and 22 percent below normal in the Central Valley.

On the flip side, the Caribbean received above average rainfall in 2015 — up to 34 percent.

In the coming weeks, scattered showers could be present over Costa Rica, Fallas said. However, the IMN is forecasting that the first real showers of the rainy season will fall in the southern Pacific starting in mid-April, in the central Pacific region by the first week of May, in the Central Valley by the second week of May and in the northern Pacific by the end of May.

The rainy season this year will begin, on average, a week later than usual, Fallas said.

El Niño will continue its influence over Costa Rica through June and is expected to enter a neutral stage in July.

In August, the country is expected to begin experiencing effects of the cold phase of the ENSO phenomenon known as La Niña, usually characterized by an increase in heavy showers.

IMN also expects at least two tropical cyclones in the Caribbean during the cyclone season that runs June 1-Nov. 30, "and at least one of them could grow into a hurricane," Fallas said.

CNE's Brenes said that emergency officials have begun coordinating efforts to reactivate emergency committees in all cantons that might be affected by La Niña and that they've already started monitoring areas prone to flooding and landslides.

"It is highly possible that areas currently experiencing drought will instead face problems with excessive rains in coming months," Brenes said.
5. Costa Rica moves forward on distributed generation with net metering to start in April

Starting on April 7, Costa Rica's power companies are expected to offer price structuring for net metering in homes and businesses, allowing consumers to save on energy bills through distributed generation. This is a big step forward for distributed generation in Costa Rica – particularly solar power – which had been stalled in recent months pending new regulations and interconnection tariffs.

The net metering pricing – the cost of running a meter two ways to allow consumers to connect and send electricity back into the national grid – was announced at a March 17 public meeting of the Public Services Regulatory Authority, or ARESEP, following negotiations with the Costa Rican Electricity Institute, solar providers and solar power lobbying group ACESOLAR.

Interconnection tariffs are projected to begin in April for all of the country's power companies.

"Residential customers with homes will benefit tremendously from putting solar on their homes, even with bank financing," said Jon Harrington, president of Solar Costa Rica, a company that builds, installs and sells solar systems. "With available bank financing and no upfront cost, they can pay less for electricity they produce from day one than they were paying for power they buy from the grid."

Interconnection tariffs range from about ¢12-28 per kilowatt hour of electricity sent back to the grid, depending on the power company.

According to Harrington, consumers will pay this tariff "only for electricity that is net metered, or produced by their solar array and pumped into the grid during the day, and then used at night when the solar array is inactive." ARESEP established no tariff for electricity that is directly consumed as it is produced, which had been an issue of concern for Costa Rica solar advocates and businesses.

"This means that self-consumed power will save the retail cost of each kilowatt-hour," Harrington said. "Net metered electricity will help the power company offset their production, transmission and administrative costs, and still save the consumer up to 79 percent of the retail cost. It is a win-win situation."

This week the Environment Ministry published a uniform application process to be used by all electrical providers for solar interconnection agreements, which will help simplify the process for solar providers and their clients.

Electricity providers, however, have not yet announced the cost to consumers of two-way meters, installation, inspection and other fees, which must be made public by April 7.
Brian, Lita, the Late Hugo IV, irreverent Vicka, the pigeon toed parrot, Chico II and Chica II