Dear friends,
When I started Residencias Los Jardines, I started writing a weekly news letter -determined to tell all the good, bad, and the ugly. I knew some readers would be interested in the construction process. I expected others might be interested in the lifestyle of two people who had decided to live outside the box. For others, the adventures of Lita, the parrot and the cat took on an entertainment saga all its own.
Residencias Los Jardines is finished. We periodically have resales and rental availability. Some readers may be interested in this information.
Brian Timmons
DEVELOPER / PROPERTY MANAGER
Residencias Los Jardines / https://www.residenciaslosjardines.com info@residenciaslosjardines.com
ResidenciasPropertyManagement@gmail.com
Featured house this week
Paradisus Condos / Rohrmoser
FOR SALE
Residencias Los Jardines
Property Management, Rentals, Re-Sales
Market Activity
Sales: Sale of 116 closed.
Rentals: One rental at Los Jardines; one vacancy at Paradisus.
FOR SALE
Unit #106A: $165,000 / See Unit
Unit #107: $205,000 /See Unit
Unit #123: $237,000 $215,000 / See Unit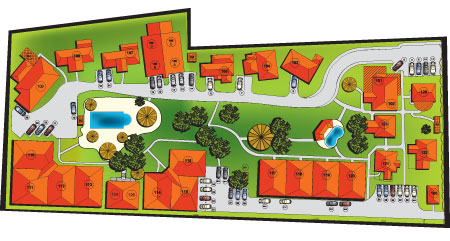 HOUSES FOR SALE
UNIT #106A
FOR SALE
$165,000
Total Area (Sq Ft): 1250
Total area (Sq M): 120
Bedrooms: 2
Bathrooms: 2
Floor(s): 1
Type: Apartment
Furnished: Yes
This is a fully furnished 2-bedroom unit situated in a 2-story building, which has two units on the ground floor and two units on the 2nd. floor. Each unit is the same size (1,250sf) divided into 800 sf of interior space and 450 sf of covered front and back terraces. Units 106A and B are on the ground floor; Units 106 C and D are on the 2nd. Floor. The solid masonry demising wall (common wall) as well as the 5" concrete slab prevent sound transference.
UNIT #107
FOR SALE
$205,000
Total Area (Sq Ft): 1716
Total area (Sq M): 158
Bedrooms: 2
Bathrooms: 2.5
Floor(s): 2
Type: Detached
Furnished: Yes
This 1,716 sf. (plus parking for one car) two story, detached house, with three terraces, two bedrooms (one on each floor) and upstairs master suite is a beautiful home. This home consists of two VERY large bedrooms (one on each floor) with en-suite bathrooms and a powder room, each with large closets with extensive built-ins for personal organization. The vaulted living room and ground floor bedroom ceilings as well as the master bedroom on the 2nd floor, provide a feeling of grandeur while allowing the warmer air to rise and exit through the ceiling ventilating system. There are three TVs (one in each bedroom and one in the living room.) This is a beautiful home. There is a rough-in for a dishwasher in the kitchen area.
UNIT #123
FOR SALE
$237,000
$215,000
Total Area (Sq Ft): 1516
Total area (Sq M): 140
Bedrooms: 2
Bathrooms: 2.5
Floor(s): Two story
Type: Detached
Furnished: Yes
This two story, detached 1,423 sf home + parking for one car has two bedrooms, 2 ½ bathrooms and a 2nd floor covered terrace.
The open railed wrought iron cement stair case leads to the 2nd level where the master bedroom with en-suite master bathroom as well as 2nd bedroom and en-suite bathroom are located. Also accessed from the 2nd floor hallway is the covered terrace.
This is a very nicely furnished home with a good floor plan for those wanting two floors.
Our Lives
WEATHER: Hot, dry and wind has died down in March... beautiful...
Health: the rash I have been fighting for the past month, returned, only to be again brought under control. Now the docs are trying an anti-parasitic drug. They are just guessing... who knows, we'll find out.
Aftermath of break-in: having had time to gather the rest of the story and put it into a narrative, I'm pretty certain that it was a mistaken address. There are simply too many things which didn't / don't make sense and then on this past Monday, the occupants of what I suspect was the target house, moved out. That, to me, put the final nail into a narrative which made more sense. Lita continues to be traumatized; I've moved on. Doneste is looking to add either razor wire or an electric fence topping the current fence.
Car: no word yet but I am expecting some movement this next week.
Foreclosure: my friend waits for the "offer" to be finalized and the deal to close -probably another two months.
Condo property taxes: If paid before the end of March, there is a substantial discount. I went with Paul and Esther since they had to do the same for their three units. Payment is made at the San Jose Muni offices. You pull a number and wait... my number was called immediately... the amount I was told was 130% more than last year? Wow!! what happened... Paul's was 30% more. Why the difference? They started asking questions. The cashier could not explain the reasons, she was there to take payment. OK, who can... we pulled another number, waited, that code was not being called... we drew a few more numbers and finally got into the person who could (supposedly) explain. When presented with the former tax bill and the current... she printed of pages and pages of data and came to the conclusion that there was an error... muni services had been added to the parking spaces as well as the locker room... this isn't right... no one lives in these units... but she couldn't do anything about the error... we were directed to another person... we waited, explain the issue, he agreed to expedite the investigation and be back to us within a month... wow!!!!!!! we wait... just another thing which will take forever to resolve and should never have happened.
News Items of the Week
Comments:
​I was a little preoccupied with other things to follow this...​
Brian, Lita, the Late Hugo IV, irreverent Vicka, the pigeon toed parrot, Chico II and Chica II