Dear friends,
When I started Residencias Los Jardines, I started writing a weekly news letter -determined to tell all the good, bad, and the ugly. I knew some readers would be interested in the construction process. I expected others might be interested in the lifestyle of two people who had decided to live outside the box. For others, the adventures of Lita, the parrot and the cat took on an entertainment saga all its own.
Residencias Los Jardines is finished. We periodically have resales and rental availability. Some readers may be interested in this information.
Brian Timmons
DEVELOPER / PROPERTY MANAGER
Residencias Los Jardines / https://www.residenciaslosjardines.com info@residenciaslosjardines.com
ResidenciasPropertyManagement@gmail.com
Featured house this week
Paradisus Condos / Rohrmoser
FOR SALE
Residencias Los Jardines
Property Management, Rentals, Re-Sales
Market Activity
Sales: 116 is suppose to close this week.
Rentals: I am never "full" for very long before someone leaves... A tenant in Paradisus isn't returning from Mexico... he has done this before... pisses me off how some people run their lives...
FOR SALE
Unit #106A: $165,000 / See Unit
Unit #107: $205,000 /See Unit
Unit #116: $189,900 / sale pending / See Unit
Unit #123: $237,000 $215,000 / See Unit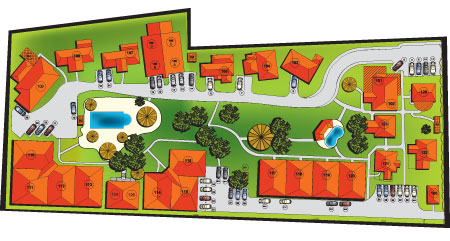 HOUSES FOR SALE
UNIT #106A
FOR SALE
$165,000
Total Area (Sq Ft): 1250
Total area (Sq M): 120
Bedrooms: 2
Bathrooms: 2
Floor(s): 1
Type: Apartment
Furnished: Yes
This is a fully furnished 2-bedroom unit situated in a 2-story building, which has two units on the ground floor and two units on the 2nd. floor. Each unit is the same size (1,250sf) divided into 800 sf of interior space and 450 sf of covered front and back terraces. Units 106A and B are on the ground floor; Units 106 C and D are on the 2nd. Floor. The solid masonry demising wall (common wall) as well as the 5" concrete slab prevent sound transference.
UNIT #107
FOR SALE
$205,000
Total Area (Sq Ft): 1716
Total area (Sq M): 158
Bedrooms: 2
Bathrooms: 2.5
Floor(s): 2
Type: Detached
Furnished: Yes
This 1,716 sf. (plus parking for one car) two story, detached house, with three terraces, two bedrooms (one on each floor) and upstairs master suite is a beautiful home. This home consists of two VERY large bedrooms (one on each floor) with en-suite bathrooms and a powder room, each with large closets with extensive built-ins for personal organization. The vaulted living room and ground floor bedroom ceilings as well as the master bedroom on the 2nd floor, provide a feeling of grandeur while allowing the warmer air to rise and exit through the ceiling ventilating system. There are three TVs (one in each bedroom and one in the living room.) This is a beautiful home. There is a rough-in for a dishwasher in the kitchen area.
UNIT #116
FOR SALE
SALE PENDING
$189,900
Total Area (Sq Ft): 1290
Total area (Sq M): 120
Bedrooms: 2
Bathrooms: 2
Floor(s): 1
Type: Semi-attached
Furnished: Yes
This 1,290 sf single floor home includes a 300 sf front terrace plus parking for one car and a separate, secure storage locker. It is and end unit and therefore attached on only one side by a 6 inch cement demising (common) wall, which prevents sound transfer.
UNIT #123
FOR SALE
$237,000
$215,000
Total Area (Sq Ft): 1516
Total area (Sq M): 140
Bedrooms: 2
Bathrooms: 2.5
Floor(s): Two story
Type: Detached
Furnished: Yes
This two story, detached 1,423 sf home + parking for one car has two bedrooms, 2 ½ bathrooms and a 2nd floor covered terrace.
The open railed wrought iron cement stair case leads to the 2nd level where the master bedroom with en-suite master bathroom as well as 2nd bedroom and en-suite bathroom are located. Also accessed from the 2nd floor hallway is the covered terrace.
This is a very nicely furnished home with a good floor plan for those wanting two floors.
Our Lives
WEATHER: Hot, dry and wind has died down in March... beautiful...
Health: well, "stabilization" was short lived... for the past 5 days, I have been sick -with something seemingly unrelated to the allergic rash... which is still with me... it broke out again yesterday. However, the current illness is flu like symptoms or possible heat stroke...
We went to our favorite beach... Playa Carrillo... for five nights... this had been planned 3 weeks in advance... it was the only time we could get accommodations. It was HOT, HOT, HOT. Spent about 5 hours the first day in a hammock, under the shade... and long swims in the ocean... which was the nicest I had ever seen it... virtually no waves, no undertow, clear... perfect... but was it ever hot...even though we were in the shade, it didn't seem to matter... we all got lots of sun... the following days I was ruined... flu or heat stroke... obviously I can't take this anymore... other friends went to a different beach and they too, found it excessively hot... It will be some time before we return... I couldn't even drive back...my friend drove my car and his wife drove his car back...
It was also expensive... more than it has ever been before... even though we went Sunday through Thursday... they didn't cut us any deal...
And now for the topper: (this was bound to happen)
Lita was up for a party so she invited our neighbors from below to join her for dinner... I bowed out because I was sick but that didn't stop her... fine... I stayed in the bedroom while they carried on outside on the terrace. I heard some muffled screams, and some kerfuffle and was about to get up when the three of them were hustled in to my bedroom by three masked men, one with a gun... oh no... a robbery!!! They wanted money... not computers, jewelry, TVs or anything... only money... Lita and the other two were pretty compliant (smart)... I wasn't very smart but they pissed me off... between telling them to F...k Off, leave, I wasn't giving them any money... they found the safe... the keys were sitting next to my headboard... but they needed a combination as well. I wasn't giving it to them!!! Then they tried to remove the safe... Fat chance of that since it is embedded into concrete block with two steel straps on the other side of the block wall!! They had no other tools and finally decided that a combination from me was their only hope. F...k them!! They aren't getting it!! Around this time, two of the three left... to where I don't know... The guy with the gun tried to take my cell phone... I wasn't giving it over!!! we wrestled... I had two hands. he had one because in the other he held the gun! I kept my phone...! he kept the gun... I started hollering for help... (no one came) they got nervous and after 10 min... left empty handed. When outside, the guy with the gun fired 4 shots... presumably into the air... wow!! the gun was loaded!! I received a sore back hand where the idiot pounded me with the butt of the gun... remember, I didn't say what I did was smart... just that they pissed me off!... the phone line had been cut... we phoned 911 (they didn't answer the first three times) on my cell... The local police came in about 5 min. The OIJ (investigative police) came in about 3 hrs. There was no evidence to collect... the bad guys wore gloves, and were masked completely... The only damage was a broken front door... I have heard they tried to steal a car but couldn't figure out how to open the gate... (drive close enough and it opens -but they didn't know this). Some other rumor is that they approached some people in the rancho... but I don't know any of this for sure...
Car: now I have to pay the transfer tax for the "purchase" of the car -I was expecting this... around $600 or so... wait for this to be inputted to some data base... when it comes up, then, I might get the plates and can move forward...
Foreclosure: my friend has an offer on the house which he has accepted... he will mostly break even after all expenses having regained several months of interest which was the purpose of the investment.
News Items of the Week
Comments:
​I was a little preoccupied with other things to follow this...​
Brian, Lita, the Late Hugo IV, irreverent Vicka, the pigeon toed parrot, Chico II and Chica II