Dear friends,
When I started Residencias Los Jardines, I started writing a weekly news letter -determined to tell all the good, bad, and the ugly. I knew some readers would be interested in the construction process. I expected others might be interested in the lifestyle of two people who had decided to live outside the box. For others, the adventures of Lita, the parrot and the cat took on an entertainment saga all its own.
Residencias Los Jardines is finished. We periodically have resales and rental availability. Some readers may be interested in this information.
Brian Timmons
DEVELOPER / PROPERTY MANAGER
Residencias Los Jardines / https://www.residenciaslosjardines.com info@residenciaslosjardines.com
ResidenciasPropertyManagement@gmail.com
Featured house this week
Paradisus Condos / Rohrmoser
FOR SALE
Residencias Los Jardines
Property Management, Rentals, Re-Sales
Market Activity
Sales: 116 is pending.
Rentals: Several inquiries but all full for the foreseeable future.
FOR SALE
Unit #106A: $165,000 / See Unit
Unit #107: $205,000 /See Unit
Unit #116: $189,900 / sale pending / See Unit
Unit #123: $237,000 $215,000 / See Unit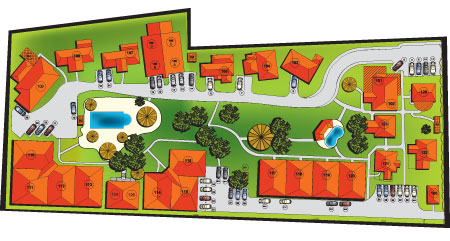 HOUSES FOR SALE
UNIT #106A
FOR SALE
$165,000
Total Area (Sq Ft): 1250
Total area (Sq M): 120
Bedrooms: 2
Bathrooms: 2
Floor(s): 1
Type: Apartment
Furnished: Yes
This is a fully furnished 2-bedroom unit situated in a 2-story building, which has two units on the ground floor and two units on the 2nd. floor. Each unit is the same size (1,250sf) divided into 800 sf of interior space and 450 sf of covered front and back terraces. Units 106A and B are on the ground floor; Units 106 C and D are on the 2nd. Floor. The solid masonry demising wall (common wall) as well as the 5" concrete slab prevent sound transference.
UNIT #107
FOR SALE
$205,000
Total Area (Sq Ft): 1716
Total area (Sq M): 158
Bedrooms: 2
Bathrooms: 2.5
Floor(s): 2
Type: Detached
Furnished: Yes
This 1,716 sf. (plus parking for one car) two story, detached house, with three terraces, two bedrooms (one on each floor) and upstairs master suite is a beautiful home. This home consists of two VERY large bedrooms (one on each floor) with en-suite bathrooms and a powder room, each with large closets with extensive built-ins for personal organization. The vaulted living room and ground floor bedroom ceilings as well as the master bedroom on the 2nd floor, provide a feeling of grandeur while allowing the warmer air to rise and exit through the ceiling ventilating system. There are three TVs (one in each bedroom and one in the living room.) This is a beautiful home. There is a rough-in for a dishwasher in the kitchen area.
UNIT #116
FOR SALE
SALE PENDING
$189,900
Total Area (Sq Ft): 1290
Total area (Sq M): 120
Bedrooms: 2
Bathrooms: 2
Floor(s): 1
Type: Semi-attached
Furnished: Yes
This 1,290 sf single floor home includes a 300 sf front terrace plus parking for one car and a separate, secure storage locker. It is and end unit and therefore attached on only one side by a 6 inch cement demising (common) wall, which prevents sound transfer.
UNIT #123
FOR SALE
$237,000
$215,000
Total Area (Sq Ft): 1516
Total area (Sq M): 140
Bedrooms: 2
Bathrooms: 2.5
Floor(s): Two story
Type: Detached
Furnished: Yes
This two story, detached 1,423 sf home + parking for one car has two bedrooms, 2 ½ bathrooms and a 2nd floor covered terrace.
The open railed wrought iron cement stair case leads to the 2nd level where the master bedroom with en-suite master bathroom as well as 2nd bedroom and en-suite bathroom are located. Also accessed from the 2nd floor hallway is the covered terrace.
This is a very nicely furnished home with a good floor plan for those wanting two floors.
Our Lives
WEATHER: hot, dry and windy... beautiful...
Health: 70's tune up: By Thursday of last week, the doc and I concluded that a concentrated approach was required so I went into CIMA hospital. Two nights there and checked out Saturday afternoon. Am currently on some medication which seems to be working. Biopsies taken but not yet ready for analysis. Private room, with bed for Lita. All routines followed... vitals, food, blood work, medication all on time. When call button pressed, attendance within a minute. Docs visited twice a day to check on progress. $3,600 later I walked out... so what caused this... current thinking is a reaction to medication... that is the only change that can be identified and the description of side effects fits... it seems to have manifested itself in the "hives" virus. I will take the meds for a couple weeks, and then we'll see what happens. This has been a bummer... as my 77 yr. old sister said before I started this... don't mess with the 70's... this caution reverberates in my ears... and I have yet to hear back from the geriatric doc... guess he is off my case... this is the tico reaction... duck and run...
Car: it appears that I have to wait for record of payment to be uploaded into a data base which allows the people issuing license plates to see payment before I can get the plates. I was told "a week" a tico week could be a calendar month. We'll see...
Foreclosure: painting is going forward on the house making it more presentable. Additional work has to be done as well but the strategy is to do the bare minimum and offer it at a rock bottom price.
News Items of the Week
Comments:
Sorry, I've been too busy focusing on my health... solving a problem for a friend, and fighting Scotiabank to follow news...
Brian, Lita, the Late Hugo IV, irreverent Vicka, the pigeon toed parrot, Chico II and Chica II