70's Tune up Gone Astray -What A Roller Coaster Ride! and What 3rd. World Banking Is Like!!
Dear friends,
When I started Residencias Los Jardines, I started writing a weekly news letter -determined to tell all the good, bad, and the ugly. I knew some readers would be interested in the construction process. I expected others might be interested in the lifestyle of two people who had decided to live outside the box. For others, the adventures of Lita, the parrot and the cat took on an entertainment saga all its own.
Residencias Los Jardines is finished. We periodically have resales and rental availability. Some readers may be interested in this information.
Brian Timmons
DEVELOPER / PROPERTY MANAGER
Residencias Los Jardines / https://www.residenciaslosjardines.com info@residenciaslosjardines.com
ResidenciasPropertyManagement@gmail.com
Featured house this week
Paradisus Condos / Rohrmoser
FOR SALE
Residencias Los Jardines
Property Management, Rentals, Re-Sales
Market Activity
Sales: 110 has closed. 105 and 116 sales are pending.
Rentals: All full for the foreseeable future.
FOR SALE
Unit #106A: $165,000 / See Unit
Unit #107: $205,000 /See Unit
Unit #116: $189,900 / sale pending / See Unit
Unit #123: $237,000 $215,000 / See Unit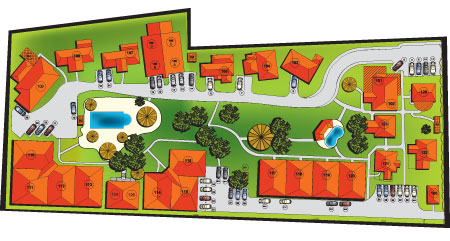 HOUSES FOR SALE
UNIT #106A
FOR SALE
$165,000
Total Area (Sq Ft): 1250
Total area (Sq M): 120
Bedrooms: 2
Bathrooms: 2
Floor(s): 1
Type: Apartment
Furnished: Yes
This is a fully furnished 2-bedroom unit situated in a 2-story building, which has two units on the ground floor and two units on the 2nd. floor. Each unit is the same size (1,250sf) divided into 800 sf of interior space and 450 sf of covered front and back terraces. Units 106A and B are on the ground floor; Units 106 C and D are on the 2nd. Floor. The solid masonry demising wall (common wall) as well as the 5" concrete slab prevent sound transference.
UNIT #107
FOR SALE
$205,000
Total Area (Sq Ft): 1716
Total area (Sq M): 158
Bedrooms: 2
Bathrooms: 2.5
Floor(s): 2
Type: Detached
Furnished: Yes
This 1,716 sf. (plus parking for one car) two story, detached house, with three terraces, two bedrooms (one on each floor) and upstairs master suite is a beautiful home. This home consists of two VERY large bedrooms (one on each floor) with en-suite bathrooms and a powder room, each with large closets with extensive built-ins for personal organization. The vaulted living room and ground floor bedroom ceilings as well as the master bedroom on the 2nd floor, provide a feeling of grandeur while allowing the warmer air to rise and exit through the ceiling ventilating system. There are three TVs (one in each bedroom and one in the living room.) This is a beautiful home. There is a rough-in for a dishwasher in the kitchen area.
UNIT #116
FOR SALE
SALE PENDING
$189,900
Total Area (Sq Ft): 1290
Total area (Sq M): 120
Bedrooms: 2
Bathrooms: 2
Floor(s): 1
Type: Semi-attached
Furnished: Yes
This 1,290 sf single floor home includes a 300 sf front terrace plus parking for one car and a separate, secure storage locker. It is and end unit and therefore attached on only one side by a 6 inch cement demising (common) wall, which prevents sound transfer.
UNIT #123
FOR SALE
$237,000
$215,000
Total Area (Sq Ft): 1516
Total area (Sq M): 140
Bedrooms: 2
Bathrooms: 2.5
Floor(s): Two story
Type: Detached
Furnished: Yes
This two story, detached 1,423 sf home + parking for one car has two bedrooms, 2 ½ bathrooms and a 2nd floor covered terrace.
The open railed wrought iron cement stair case leads to the 2nd level where the master bedroom with en-suite master bathroom as well as 2nd bedroom and en-suite bathroom are located. Also accessed from the 2nd floor hallway is the covered terrace.
This is a very nicely furnished home with a good floor plan for those wanting two floors.
Our Lives
WEATHER: hot, dry and windy... beautiful...
Health: 70's tune up: The total body rash got to be toooooo much... I went to a dermatologist... got seen at 10:30 the same morning. An 85 years young doc who seems fairly well known in my social circle. He gathered info, gave me two shots of antihistamines in my arss, a box of pills and topical cream. I returned to the house, friends dropped by, we chatted, 4 hrs later they asked how I was feeling... mmmmm?? did a body check... throat soreness gone, rash substantially abated, no itching, energy back, appetite back... wow!!!!!!!! I got this licked..!! feeling pretty smug... well, wait a minute here... Chpt. 2
Four days later (Friday morning) tongue hurts, welts return with a vengeance beginning on my face, head, neck and upper body... Friday was difficult -Friday night really difficult... I called the doc on his cell phone Sat. morning... he agreed to meet me in 15 min. at his office... he was waiting when I arrived... two more shots, stronger follow up pills... and further tests next week to determine the source of the allergy. This time the antihistamine shots were less effective... but they have worked... I consider my health tenuous at this point in time... I'll get the tests Monday, and see what they say... it seems like the antihistamines are just keeping this bugger a bay... barely... they don't seem to represent a solution.
Footnote: I wrote the doc who prescribed the changed cholesterol medication telling him the story and asking about the status of a stress test EKG... I didn't receive a reply... Is this typical tico duck and run???? I am disappointed but will try to determine the answer to my question...
Car: Success... well sort of...yes, the import taxes were able to be paid on Friday... three weeks after the amount had been determined. Now for plates -another delay of at least several days-, then safety and road permit...
Foreclosure: I inspected the property for my friend... big, ostentatious, needing cosmetic work -painting, minor repairs, cleaning -we have received two and are waiting on a third broker opinions. It seems that the market has collapsed for this size / price of house and it will have to be dumped below expected value but probably with enough room to break even... but the three parties have to decide on what they want to do, put money into a kitty, and work out how the plan to manage this now vacant house on the east side... Given that there are 3 parties, it will probably be a slow process... and with each month, the break even point increases... Two parties have, what I think is an unrealistic price which is not supported by the data gathered.
Bank of Nova Scotia: UGH!!!! I have been fighting with them since September. The 2 yr. renewal of my password was required. O.k. I tried making it but no where on the description did it say that I had to have a Capital and a numeral... so many tries later and numerous phone calls, I finally got that info... (yes, they admitted that those instructions were missing!!!!!! so why hadn't they added them??? this is CR and I think the answer becomes a little bit clearer as the story unfolds) So I now have a new password complying with their criteria... it doesn't work... nothing will make it work... several more weeks of calls... they tell me to use a different browser... too many "cookies" etc. didn't work. They offer to change my user ID which effectively wipes out my history and allows me to start again in their system... yes, that worked... I tried adding some additional on line "favorite" accounts... It couldn't be done and their response was, we don't know why... but o.k. I'll go with what I have... which is not a complete slate... But now, (January) I am frozen out of my account again. I go back to them... "we'll check it from our end" several weeks / several responses later... they finally got it working... why? They cleaned out their system of "cookies"... I am beginning to think that they have dedicated their trained IT staff to the integration of CITI banking... -Scotia bank bought the retail business of CITI in Central Am.- the people staffing Scotiabank "routine" IT are beginners and not familiar with their system. In fact, Scotia branch I deal with has had lots, and lots of trainees for the past 9 mo... o.k. but all new trainees learn at the expense of the clients... much longer time is needed for simple transactions and often times the transactions are screwed up... for example, I had to transfer $6K to a client in the US... there were three entries... a debit, a credit and then a debit...
Now comes the two year requirement to "know your customer"... which is a data gather exercise on the bank's part of all types of cover your ass information. I had received a generic list of documents I was to provide. I object to much of it... because it has no earthly relevance to what they say they have to fulfill by the government overseers SUFGE... supposedly all required to meet FACTA (read USA/IRS) requirements. Some of the info. is probably required but some is simply their interpretation of the requirements... and wanting to be lily white they go overboard... I go to the local bank..to clarify some of the documents. The list is substantially reduced. I start providing this... I supply ALL documents the local rep. said I needed... I received another request for the balance of info. I ask the rep for an explanation... several days go by... no response. I know the account will soon be frozen based on previous experience... I am now referred to the "new" manager... another trainee... I let him have it explaining that unlike ticos, gringos are direct... different culture, we try to resolve things... ticos like to ignore problems and thus never resolve them... anyway, we agreed that I didn't have to provide a certified financial statement... a year end financial statement was acceptable, and misc. copies of documents... but this isn't the end of the fight...
On Thursday, I got several phone calls from someone at Scotia bank asking when I would pay my CC account... well, when you give me a statement on line... it pay it in full in several days... I had not received a statement... they hung up... call backs, shunted around, put on hold... (kiss of death)... I go to the branch... pay it in full, ask for the statement... the statement doesn't match with the amount I paid... (one analysis later, the difference was attributable to the cut off date of the statement vs. the on line balance... o.k. understood but they had not made the connection... wow!!! they confirm the e-mail address... this is not a problem since I receive their promotional material, I have been receiving their statements for the past 8 mo (before that I had trouble)... again it comes back to -I think- running too thin on trained staff... and the result is terrible, terrible customer service... IF I could be reasonably certain that any other bank would be better, I'd be gone from these buggers in a heart beat... but comments from others say there is not much difference...
By contrast, I tell them that I have had a Scoltia Bank account in Canada for 35 years. Never frozen, never asked for more information... never had to change the password... it just works...
and
Another account in a Credit Union for 42 years... same with that...
Banking here is right up with pain and agony... take a Valium before doing anything with any bank... and take a big book... their idea of customer service it putting out more chairs and local newspapers. Wow!!!
And the manager didn't much like it when I told him that 25% of the GDP of CR was supported by laundered money and the banks efforts at my level were BS... what serious money laundering can you do with can you do with a transaction history of $8,000 mo???????? but I got the tico smile and "pura vida" on my exit.
News Items of the Week
Comments:
Sorry, I've been too busy focusing on my health... solving a problem for a friend, and fighting Scotiabank to follow news...
Brian, Lita, the Late Hugo IV, irreverent Vicka, the pigeon toed parrot, Chico II and Chica II