Dear friends,
When I started Residencias Los Jardines, I started writing a weekly news letter -determined to tell all the good, bad, and the ugly. I knew some readers would be interested in the construction process. I expected others might be interested in the lifestyle of two people who had decided to live outside the box. For others, the adventures of Lita, the parrot and the cat took on an entertainment saga all its own.
Residencias Los Jardines is finished. We periodically have resales and rental availability. Some readers may be interested in this information.
Brian Timmons
DEVELOPER / PROPERTY MANAGER
Residencias Los Jardines / https://www.residenciaslosjardines.com info@residenciaslosjardines.com
ResidenciasPropertyManagement@gmail.com
Featured house this week
Paradisus Condos / Rohrmoser
FOR SALE
Residencias Los Jardines
Property Management, Rentals, Re-Sales
Market Activity
Sales: 110 & 105 have each accepted offers.
Rentals: Last condo at Paradisus leased. Nothing available at Los Jardines
FOR SALE
Unit #106A: $165,000 / See Unit
Unit #116: $214,000 $189,900 / See Unit
Unit #123: $237,000 $215,000 / See Unit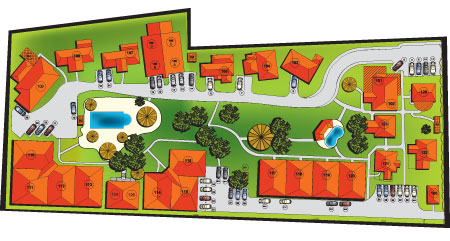 HOUSES FOR SALE
UNIT #106A
FOR SALE
$165,000
Total Area (Sq Ft): 1250
Total area (Sq M): 120
Bedrooms: 2
Bathrooms: 2
Floor(s): 1
Type: Apartment
Furnished: Yes
This is a fully furnished 2-bedroom unit situated in a 2-story building, which has two units on the ground floor and two units on the 2nd. floor. Each unit is the same size (1,250sf) divided into 800 sf of interior space and 450 sf of covered front and back terraces. Units 106A and B are on the ground floor; Units 106 C and D are on the 2nd. Floor. The solid masonry demising wall (common wall) as well as the 5" concrete slab prevent sound transference.
UNIT #116
FOR SALE
$214,000
$189,900
Total Area (Sq Ft): 1290
Total area (Sq M): 120
Bedrooms: 2
Bathrooms: 2
Floor(s): 1
Type: Semi-attached
Furnished: Yes
This 1,290 sf single floor home includes a 300 sf front terrace plus parking for one car and a separate, secure storage locker. It is and end unit and therefore attached on only one side by a 6 inch cement demising (common) wall, which prevents sound transfer.
UNIT #123
FOR SALE
$237,000
$215,000
Total Area (Sq Ft): 1516
Total area (Sq M): 140
Bedrooms: 2
Bathrooms: 2.5
Floor(s): Two story
Type: Detached
Furnished: Yes
This two story, detached 1,423 sf home + parking for one car has two bedrooms, 2 ½ bathrooms and a 2nd floor covered terrace.
The open railed wrought iron cement stair case leads to the 2nd level where the master bedroom with en-suite master bathroom as well as 2nd bedroom and en-suite bathroom are located. Also accessed from the 2nd floor hallway is the covered terrace.
This is a very nicely furnished home with a good floor plan for those wanting two floors.
Our Lives
WEATHER: hot, dry and windy... beautiful...
Health: 70's tune up: while I monitor my blood work regularly, I am now requesting a few more tests to manage my health... I don't know that I have an issue... but it is what you don't know that can get you... I'm not ready yet for my urn... so, I am now working my way into the CR government system "CAJA" geriatric hospital... and am getting set up for some normal tests... Of course, no one so far, speaks English any my medical vocabulary is definitely limited... it will be a challenge and just learning (?) the system will be a challenge... I'll be like a pinball kicked out a number of times when looking for the right door... we'll see... I have to view it as a learning experience and approach it with a sense of humor and adventure... yeah!!! you want to stick what? where? ...wow!
Car: maybe, one day, before 2020... I am still waiting for the plates, Safety Inspection, and road permit... each week has only 7 days, two of which are working days...
Purchasers: we have seen two purchasers this week... I am currently working with one who is interested and has asked me to submit offers... we'll see...
Foreclosure: My friend, along with two other parties put a loan on a principal residence 14 mos. ago. The property was appraised around $850,000 -a beautiful house and area... on the eastern side of San Jose... He wasn't able to make the payments so the property, in a trust or "fide camiso" was foreclosed on. The debtors took possession of the house about 2 mo. ago; the previous owner continued to live there. He agreed to move out Jan. 31 and was advised that if he did not, the electricity would be cut. He is moving. Now my friend and the two others have control of the ownership of the security and have ample loan to value coverage... this is the key, having good security at a good loan to value ratio. They now have to determine whether to bring the house back to pristine condition and try to get top dollar or top fire sale dollar for it or lower the price and blow it out as is... that decision will be made over the next week or so... either way I am sure they will come out o.k. and probably with a bit of profit to pay for their hassle.
Condo Association Meeting: Paradisus will hold it's first (?) condo association meeting on Tuesday. Based upon preliminary meetings of owners, 90% of the issues are BS items like we experienced for the first several years at Los Jardines. It is nice to see these in perspective and to know that it wasn't us as developers that irked some owners... it seems to come with the territory... I don't know why... and the issues seem to be common to non-expats as well... only two of the numerous items which were discussed initially, are substantive but the other items will take 90% of the time and energy...
News Items of the Week
Comments:
1. Incompetence: just another example... Incredible...
2. Cruz Roja: not a bad idea and not one that has received any or at least not much opposition.
3. Private Housing: it is saturated in the price ranges people can no longer afford...
1. Bill's text did the reverse of what lawmakers wanted
By the A.M. Costa Rica staff

Either the legislature needs a good editor or someone else is making laws.

The latest problem involves the text of a law that was designed to cap disproportionate pensions for lawmakers who served before 1992.

Lawmakers agreed to do this, and the measure passed the required two times. But what was passed is not what the lawmakers thought they approved.

A review of the document showed that rather than capping the pensions, the measure extends the same disproportionate benefits to sitting lawmakers.

President Luis Guillermo Solís is expected to veto the law as written and return it to the legislature for more action.

This is not the first time that a law did not say what lawmakers thought it did. A classic example is the 2010 rewrite of the immigration law. That was when expats pushed for a rule that would allow snowbirds and other visitors to Costa Rica to renew their tourism visa at least once by paying a fee rather than leaving the country.

The final version did not provide for this. Instead, it specifically ruled out persons who had received a 90-day visa to enter the country.

That meant most of the First World visitors.

Sandra Piszk Feinzilber, a Partido Liberación Nacional lawmaker, noted the undesirable aspects of the law that was just passed in a talk to her colleagues Monday.

She promised that there would be no turning back and that the pension law would be passed again along with measures restricting pensions in other branches of government.

She noted that the current draft that will be vetoed went through the legal staff of two of ministries.

The existing law that lawmakers want to dump provides a 30 percent annual escalation in the pension amounts.
2. New tax for Cruz Roja reported to be expedited
By the A.M. Costa Rica staff

The executive branch will be presenting another tax bill to lawmakers, according to the Cruz Roja, which will benefit from the measure.

This is the bill that was introduced in the legislature last May.

Because the executive branch controls the legislative agenda each year until April 30, the bill, No. 19.234, has to be designated specifically for action.

The Cruz Roja reported Thursday that the organization's president, Glauco Quesada, and general manager, Idalberto González, met with Second Vice President Ana Helena Chacón and received assurances that Casa Presidencial would send the bill to lawmakers next week.

As A.M. Costa Rica reported in July, the dedicated taxes has been approved by a legislative committee.

The measure would increase the cost of the Cruz Roja legal stamps that are required on most documents from 200 colons to 500. The aid agency now gets 1 percent on all the country's telephone bills. That percentage would double.

In addition, the proposal is to increase the amount that the Cruz Roja gets from traffic fines from 5 to 15 percent. The measure makes changes to existing laws that have established these percentages.
3. Costa Rica housing starts fall 15 percent

January 19th, 2016 (ICR News) Costa Rica's Central Bank reports that housing starts fell 15 percent in the last quarter of 2015 compared to the same period a year earlier, led by a decline in housing targeting the middle-class.

For its part, the non-residential sector rose by 18 percent during the same period.

Meanwhile, social housing projects – those subsidized or paid for by the government to provide housing to the poor – saw a record increase during the same period.

Experts suggest that high interest rates – even during a time of negative inflation –along with stagnant personal incomes and an over-saturated market of existing homes are responsible for the decline.
Brian, Lita, the Late Hugo IV, irreverent Vicka, the pigeon toed parrot, Chico II and Chica II