Further Price Reductions!
Dear friends,
When I started Residencias Los Jardines, I started writing a weekly news letter -determined to tell all the good, bad, and the ugly. I knew some readers would be interested in the construction process. I expected others might be interested in the lifestyle of two people who had decided to live outside the box. For others, the adventures of Lita, the parrot and the cat took on an entertainment saga all its own.
Residencias Los Jardines is finished. We periodically have resales and rental availability. Some readers may be interested in this information.
Brian Timmons
DEVELOPER / PROPERTY MANAGER
Residencias Los Jardines / https://www.residenciaslosjardines.com info@residenciaslosjardines.com
ResidenciasPropertyManagement@gmail.com
Featured house this week
Paradisus Condos / Rohrmoser
FOR SALE
Residencias Los Jardines
Property Management, Rentals, Re-Sales
Market Activity
Sales: 110 & 105 have each accepted offers.
Rentals: Last condo at Paradisus leased. Nothing available at Los Jardines
FOR SALE
Unit #106A: $165,000 / See Unit
Unit #116: $214,000 $189,900 / See Unit
Unit #123: $237,000 $215,000 / See Unit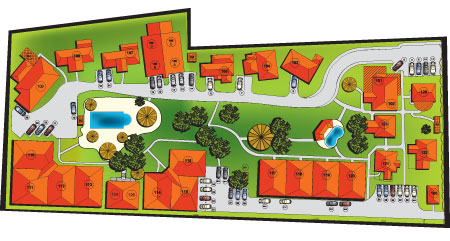 HOUSES FOR SALE
UNIT #106A
FOR SALE
$165,000
Total Area (Sq Ft): 1250
Total area (Sq M): 120
Bedrooms: 2
Bathrooms: 2
Floor(s): 1
Type: Apartment
Furnished: Yes
This is a fully furnished 2-bedroom unit situated in a 2-story building, which has two units on the ground floor and two units on the 2nd. floor. Each unit is the same size (1,250sf) divided into 800 sf of interior space and 450 sf of covered front and back terraces. Units 106A and B are on the ground floor; Units 106 C and D are on the 2nd. Floor. The solid masonry demising wall (common wall) as well as the 5" concrete slab prevent sound transference.
UNIT #116
FOR SALE
$214,000
$189,900
Total Area (Sq Ft): 1290
Total area (Sq M): 120
Bedrooms: 2
Bathrooms: 2
Floor(s): 1
Type: Semi-attached
Furnished: Yes
This 1,290 sf single floor home includes a 300 sf front terrace plus parking for one car and a separate, secure storage locker. It is and end unit and therefore attached on only one side by a 6 inch cement demising (common) wall, which prevents sound transfer.
UNIT #123
FOR SALE
$237,000
$215,000
Total Area (Sq Ft): 1516
Total area (Sq M): 140
Bedrooms: 2
Bathrooms: 2.5
Floor(s): Two story
Type: Detached
Furnished: Yes
This two story, detached 1,423 sf home + parking for one car has two bedrooms, 2 ½ bathrooms and a 2nd floor covered terrace.
The open railed wrought iron cement stair case leads to the 2nd level where the master bedroom with en-suite master bathroom as well as 2nd bedroom and en-suite bathroom are located. Also accessed from the 2nd floor hallway is the covered terrace.
This is a very nicely furnished home with a good floor plan for those wanting two floors.
Our Lives
WEATHER: hot, dry and windy... beautiful...
Birthday: the big "70": yep, I made it. Lita wanted a big "surprise" birthday party. I got wind of it, and nixed it... definitely did not want it... o.k. what to do now: go to the beach... our favorite Playa Carrillio was blocked in our two favorite hotels for our desired dates... we, changed the dates, blocked as well... tried to lease a house... great... it, too was booked. Wow!! Carrillo is getting popular... o.k. we will settle for a nice restaurant on Sunday, my birthday... nope, closed on Sunday... o.k. Monday noon... nope, don't open until 2... o.k. it's bloody difficult to get anything here at 70 on Sunday!!... Guess I'll settle for the hammock...
Finally... after 14 mo. I got the paperwork which allows me to pay the import duties ($5,155) on the car I unfortunately bought. Now I can get the license plates, pay the operating tax for the balance of the year, and get the safety inspection done... then, maybe I can drive it... In the end, I ended up with a car I wanted (I think) at market price and the process was a hassle... The whole thing was a mistake on my part... Now, I have a perfectly great car to sell... but before I do that, I am going to drive the diesel for a month before deciding which car to sell.
News Items of the Week
Comments:
1. & 4: Public Works Projects: what a miserable record. Does anyone believe this guy anymore? He has very little support and he has earned it. Look at the record... 4 projects let showed below average efficiency and the one other showed just average... and those projects planned from 2000 - 2014, only 65% of the funds have been spent... implying the projects are at best, only 65% complete. And in a country where roads and infrastructure are in various states of substantial to serious degradation... and remember, 58,000 new cars on the roads each year...
2. High Rise building: guess the price of land is getting expensive enough to built that high. Interesting. In a land where there are many earthquakes and people are nervous of high rise buildings, I find this interesting.
3. Guess the land of "pura vida" is a little more stressful than it is marketed to be...
5. Gold Mine vs. Government: this is an on-going battle. The company just got more money to pursue the government. While I am not an advocate of another gold mine, it do believe in due process and it seems that while the mine owners did what they were required to do, the government approved and then another administration cancelled their permits... at substantial expense to the mine developers.
1. President Solis promises progress in public works and infrastructure this year

January 22nd, 2016 (ICR News) Costa Rica president Luis Guillermo Solis promised to make progress in public works and infrastructure this year during an address on Thursday.

"As much as experts and more experts say that this administration will not move things forward [in terms of] infrastructure, we are going to do it and you will see," President Solis said. "I do not want delays, I want everything to move quickly."

The president said that he is seeking an engineer to appoint as the new Minister of Public Works and Transportation, after the resignation of Minister Carlos Segnini, a lawyer by trade who announced his resignation after harsh criticism of his management of public works projects.

Late last year the Solis administration pledged to invest at least US $650 million during the president's term in office toward public works and infrastructure projects.

Amongst other projects, the president promised that new work would begin "soon" on the long-troubled Virilla River Bridge, located on the General Cañas highway, which has come to be known colloquially as "La Platina." A "permanent" solution to fix the troubled bridge has been promised since at least 2013 and efforts have cost millions of dollars to no avail.

The president also promised progress on the Florencia-Naranjo highway, the start of expansion of Route 32 between San Jose and Limon, and the completion of the Cañas-Liberia expansion of Route 1.
2. US real estate developer plans to build Costa Rica's tallest building

An artist's rendering of the new Torre 40. Construction is expected to begin the first quarter of 2017.

January 20th, 2016 (ICR News) US real estate developer, Omnia plans to build what will become Costa Rica's tallest building in San Jose's Paseo Colon, the company has announced.

The 41-story office tower will stand nearly 500 feet tall and consist of more than 656,000 square feet of construction with a total investment of US $35 million.

Construction of the tower, which will be named Torre 40, is scheduled to begin during the first quarter of 2017 and will take two years to complete, according to the developers.

Currently, Costa Rica's tallest building is the 30-story Torre del Paseo Colon 2.
3. Costa Rica registers second highest in Central America for suicides

January 18th, 2016 (ICR News) Costa Rica now ranks number two in Central America – behind only El Salvador – in terms of annual suicides, according to official statistics by the Ministry of Health, which now deems suicide as a public health concern.

Despite Costa Ricans' reputation for a laid-back approach to life, epitomized in the country's famous phrase of "pura vida," the country's suicide rate has increased an astonishing 660 percent since 1999, skyrocketing from an average 60 suicides annually to some 400 in 2014, the latest statistic available.

Officials say that the most vulnerable population are those between 35 and 45 years of age, especially those who suffer from alcoholism, drug addiction, or who have trouble finding employment.

Yesenia Brenes from the University of Costa Rica (UCR)'s School of Economics told CRHoy.com that a significant "positive relationship" between unemployment and suicide is of particular concern.

According to the latest Continuing Survey of Employment, some 210,000 people remained out of work as of the third quarter of last year.

Data provided by the Ministry of Health and the Judicial Investigative Police (OIJ) indicate that while women attempt suicide more often than men, men are more likely to succeed in taking their own life.
4. Road agency blistered in report by Contraloría General de la República
By the A.M. Costa Rica staff

The nation's budget watchdog has issued a negative evaluation of the Consejo Nacional de Vialidad, the agency that builds the highways.

The Contraloría General de la República periodically reviews the work of government agencies, but only infrequently is a report so negative.

The Consejo was an agency that Luis Guillermo Solís promised to abolish when he was running for president. The Consejo is part of the Ministerio de Obras Públicas y Transportes. The minister in charge just announced his resignation.

The Contraloría noted that the construction and improvement of infrastructure was highly important for the nation's development.

The agency further said that of five construction projects evaluated, four showed levels of efficiency below global standards and one was average. Of 14 projects studied in July all included work that had not been contemplated or considered in the design, it said.

The evaluation also determined that of 49 projects designed in 2000 to 2014 some 65 percent had not been put out for construction bids. That cost the Consejo nearly $6 million, the Contraloría estimated.

The Contraloría also said that the Consejo is more interested in the price of projects and not the quality.
5. Canadian mining company reorganizes to seek damages from Costa Rica

The news last July that Canadian mining firm Infinito Gold was closing shop caused some to speculate that the company's multimillion dollar case against Costa Rica before the World Bank's arbitration court might be moot. Not so. Infinito announced last week that it has secured funding from a lender to continue pursuing damages stemming from Costa Rica's cancellation of the firm's gold mining concession in 2011.

Infinito is seeking approximately $300 million in damages and lost profits, including interest, plus attorney fees and other expenses related to the arbitration.

The sought-out amount also includes several million dollars it was ordered to pay last year by a Costa Rican court for restoration and reforestation of the mining site, located in northern Alajuela province near the border with Nicaragua.

Erich Rauguth, who in September was appointed interim president and chief executive officer of Infinito after the previous board resigned, said the company's sole purpose, for now, is to seek reparations for losses related to the never-realized Crucitas mine in Costa Rica. He said the firm has no assets.

"[The company] produced a mine that could have been in production, and right now the obligation to shareholders is to make sure they get some return on investment," he told The Tico Times in a telephone interview from Canada. Rauguth co-founded Infinito Gold, formerly Vannessa Ventures, and was a large stakeholder and a director of the company until 2006, according to an arbitration court filing. He was also president of the Costa Rican subsidiary of the company, Industrias Infinito.

Infinito's rebirth

In March 2014, after Infinito definitively lost a legal battle in Costa Rica courts that lasted more than a decade, the company filed a request for arbitration before the World Bank's International Centre for Settlement of Investment Disputes (ICSID). But just six months after the newly-formed arbitration tribunal held its first telephone conference in the case, Infinito announced that it was folding — or at least that's what it sounded like.

"Infinito Gold Ltd. (the "Company") announces that all of the directors of the Company and all of the officers of the Company have resigned from their respective positions with the Company effective immediately," a July 15, 2015 news release read. The company disclosed that it was more than $160 million dollars in debt and that because of this and the fact that the firm's principal shareholder and creditor — billionaire Canadian investor Ron Mannix — "was unwilling to advance any further funds to the Company, the Company has concluded that it will not be possible for it to continue operations."

Nine days later, Costa Rica requested that the case before the World Bank's ICSID be dropped.

Apparently, other Infinito shareholders weren't willing to give up the battle. In September, Infinito announced that a new board of directors had been approved by a British Colombia court. The board includes two shareholders and Rauguth, who was appointed to reorganize the company and get the arbitration claim back on track.

The newly-reorganized company advised the World Bank court that it wished to continue the proceedings and filed its complaint, called a Memorial on the Merits, on December 23, its deadline to do so.

Then, on January 15, the company announced that it had secured new funding to continue with its case against Costa Rica. Under the agreement, the funder, whose identity was not disclosed, would get a portion of any final settlement awarded by the arbitration court to Infinito. Infinito also announced that its secured creditors had agreed not to demand payment of the company's debt pending the outcome of the ICSID case "or certain other events."

Infinito's claim

At the heart of Infinito's claim before the ICSID is the allegation that, despite continuous controversy over the mine, the Costa Rican government made numerous assurances — across several administrations — that the project could go forward. The company argues that these assurances culminated in the 2010 decision from the Constitutional Chamber of the Supreme Court, or Sala IV, that the project was environmentally sound and could move forward.

The following year, another branch of the Supreme Court, the Administrative Chamber, annulled all of the project's permits based on a 2002 moratorium on open-pit mining. The company claims that this decision ignored several previous legal decisions by Costa Rica's high court upholding Infinito's rights to proceed with the project.

vInfinito says it spent approximately $81 million developing the Crucitas gold mine between 1993 and 2013.

In its claim, Infinito blames much of its legal woes in Costa Rica on anti-mining activists and politicians, suggesting that they unduly influenced court and government decisions. (The Costa Rican conservation community saw the end of Crucitas as a major victory for the environment and the country's green image.)

In its Memorial on the Merits, the company, which is represented in the arbitration case by Canadian legal firm Torys, argues that Costa Rica violated four of its obligations under the Costa Rica-Canada Promotion and Protection of Investments treaty. The company claims that Costa Rica:

1. Unlawfully expropriated Infinito's investment by annulling the project's approvals;

2. Breached its obligation to provide fair and equitable treatment to Infinito's investments, including the firm's "legitimate expectations that it would be treated by Costa Rica in a consistent and predictable manner";

3. Failed to provide Infinito's investments with "full protection and security"; and

4. Breached the most-favored nation clause of the bilateral investment treaty by shirking "its obligation to do 'what is necessary' to protect Infinito's investments."

The claim asks that Costa Rica be found liable for damages arising from these alleged violations "based on the fair market value of the Crucitas project as of the date of the breaches, or the date of the award, whichever is higher, assuming that the breaches had never occurred."

A consulting firm hired by Infinito estimated the damages at $321 million.

The investors

In its claim, the company says the trading price of its shares "began to free fall" right after the 2011 announcement from the Administrative Chamber of Costa Rica's Supreme Court annulling Infinito's mining concession. The price of Infinito shares reached zero in March 2013, according to the complaint, and has remained near zero ever since. (See a historical chart of Infinito's trading price here.)

Infinito claims that at least 620 individual investors lost their money because of Costa Rica's alleged investment treaty violations, many of it held in retirement savings plans. Rauguth estimated the actual number of individual investors at near 1,000 (he said it used to be closer to 2,000).

The company's current relationship with Ron Mannix, who has been identified in earlier company documents and numerous news reports as the company's biggest shareholder and financial backer through his companies Coril Holdings and Exploram Enterprises, is unclear.

Coril Holdings does, however, appear to still own the biggest chunk of Infinito shares. The Tico Times contacted Coril Holdings but was told the firm had no comment on the matter.

Another legal battle begins

Nicolás Boeglin, a University of Costa Rica international law professor, said arbitration disputes before the ICSID usually take at least four years to resolve. He said it generally costs around $8 million for a country to defend itself in such cases — before potential damages.

Costa Rica's Foreign Trade Ministry, COMEX, which is representing the country before the World Bank investment tribunal, said it couldn't comment on the renewed litigation but said it would file its counter Memorial on the Merits by the end of March.
Brian, Lita, the Late Hugo IV, irreverent Vicka, the pigeon toed parrot, Chico II and Chica II