Dear friends,
When I started Residencias Los Jardines, I started writing a weekly news letter -determined to tell all the good, bad, and the ugly. I knew some readers would be interested in the construction process. I expected others might be interested in the lifestyle of two people who had decided to live outside the box. For others, the adventures of Lita, the parrot and the cat took on an entertainment saga all its own.
Residencias Los Jardines is finished. We periodically have resales and rental availability. Some readers may be interested in this information.
Brian Timmons
DEVELOPER / PROPERTY MANAGER
Residencias Los Jardines / https://www.residenciaslosjardines.com info@residenciaslosjardines.com
ResidenciasPropertyManagement@gmail.com
Featured house this week
Paradisus Condos / Rohrmoser
FOR SALE
Residencias Los Jardines
Property Management, Rentals, Re-Sales
Market Activity
Sales: none... no inquiries.
Rentals: several inquiries.
We have two further price reductions now representing great value. If you are at all interested in living in CR, I suggest you look at House 110 and 105 below...
FOR SALE
Unit #105: $139,000 $133,500 / See Unit
Unit #106A: $165,000 / See Unit
Unit #110: $179,000 / See Unit
Unit #116: $214,000 $189,900 / See Unit
Unit #123: $237,000 $215,000 / See Unit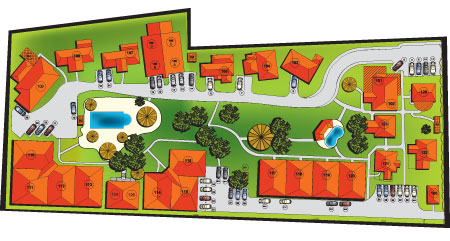 HOUSES FOR SALE
UNIT #105
FOR SALE
$139,000
NOW $133,500
Total Area (Sq Ft): 950
Total area (Sq M): 88
Bedrooms: 1
Bathrooms: 1
Floor(s): Single Floor
Type: Detached
Furnished: Yes
Detached, single story, one bedroom with den and screened terrace with bar-b-q and semi private back yard. Beautifully maintained -all furniture and furnishings are included. Cedro cabinetry throughout including kitchen, living room entertainment center, bedroom and bathroom built in closets / cupboards... Granite counters (kitchen / bathroom), SS appliances, vaulted ceiling, ceramic floors through out, leather LR furniture, flat screen TV, etc.
UNIT #106A
FOR SALE
$165,000
Total Area (Sq Ft): 1250
Total area (Sq M): 120
Bedrooms: 2
Bathrooms: 2
Floor(s): 1
Type: Apartment
Furnished: Yes
This is a fully furnished 2-bedroom unit situated in a 2-story building, which has two units on the ground floor and two units on the 2nd. floor. Each unit is the same size (1,250sf) divided into 800 sf of interior space and 450 sf of covered front and back terraces. Units 106A and B are on the ground floor; Units 106 C and D are on the 2nd. Floor. The solid masonry demising wall (common wall) as well as the 5" concrete slab prevent sound transference.
UNIT #110
FOR SALE
$210,000
$179,000
Total Area (Sq Ft): 1290
Total area (Sq M): 120
Bedrooms: 2
Bathrooms: 2
Floor(s): Single Floor
Type: Attached
Furnished: Yes
Beautiful end-unit bungalow (one floor) town home (part of 4 homes) situate at the far quiet end of Residencias Los Jardines, steps from the main pool. It includes one designated parking spot and one storage unit. The home is 120 square meters (approximately 1,300 square feet) with two bedrooms (master has king size bed and guest has queen size bed), two full bathrooms (one being an ensuite), a large open concept kitchen, living room, dining room, granite breakfast bar with stools and features vaulted ceilings and lots of windows. The home has a large covered terrace overlooking the gardens. Custom made wood blinds cover all windows throughout. Ceiling fans in bedrooms, living room and terrace.
UNIT #116
FOR SALE
$214,000
$189,900
Total Area (Sq Ft): 1290
Total area (Sq M): 120
Bedrooms: 2
Bathrooms: 2
Floor(s): 1
Type: Semi-attached
Furnished: Yes
This 1,290 sf single floor home includes a 300 sf front terrace plus parking for one car and a separate, secure storage locker. It is and end unit and therefore attached on only one side by a 6 inch cement demising (common) wall, which prevents sound transfer.
UNIT #123
FOR SALE
$237,000
$215,000
Total Area (Sq Ft): 1516
Total area (Sq M): 140
Bedrooms: 2
Bathrooms: 2.5
Floor(s): Two story
Type: Detached
Furnished: Yes
This two story, detached 1,423 sf home + parking for one car has two bedrooms, 2 ½ bathrooms and a 2nd floor covered terrace.
The open railed wrought iron cement stair case leads to the 2nd level where the master bedroom with en-suite master bathroom as well as 2nd bedroom and en-suite bathroom are located. Also accessed from the 2nd floor hallway is the covered terrace.
This is a very nicely furnished home with a good floor plan for those wanting two floors.
Our Lives
WEATHER: Dry season is definitely with us... winds are stronger and no hint of rain...
Friends return from the frozen north... and bringing goodies not available here... including mail whichusually just includes bad news.
and
a call from a friend who I last spoke with about 20 years ago... it is amazing how the brain (still functioning to some degree) can do a rapid search of it's memory banks and come up with a connection...
The colon took a bit of a fall only to recover. It continues to amaze that while the US dollar appreciates against nearly every currency in the world, it falls or remains stable against the colon... which represents an economy in desperate need of a sustainable fix and one which seems to be supported by black money...
I don't find any information on the state of tax legislation...
News Items of the Week
Comments:
Tourists keep coming... given better air line access and while most come from the US, some still come from Canada and Europe... this is despite the fall in the Canadian dollar and the Euro...​
Costa Rica tourism sets new record with 2.6 million visitors in 2015

Costa Rica tourism cruised past another milestone in 2015, attracting a record-breaking 2.66 million tourists from around the world, Tourism Minister Mauricio Ventura said Friday. That means that roughly the equivalent of half the population of the entire country of Costa Rica — 4.8 million people — visited the country last year.

Continued growth from the U.S., Costa Rica's most important tourism market, and the expansion of new airlines were among the top reasons for the continued growth, Ventura told reporters. The increasing number of tourists also helped the tourism sector swell by 9 percent in 2015, outpacing the national GDP of 2.8 percent by threefold. Ventura called the tourism sector a "motor for development" in Costa Rica, providing jobs and growing the country's international brand.

According to figures from the Costa Rican Tourism Board (ICT), the tourism sector was responsible for more than $2.8 billion in revenue during 2015 and employs roughly 600,000 people in Costa Rica through direct and indirect employment. That's a $246 million increase over 2014, Ventura said.

The United States is by far the largest single market for tourists to Costa Rica, totaling roughly 40 percent of all visitors with 1,077,044 U.S. visitors in 2015. The average U.S. visitor to Costa Rica stays for just over 11 days and spends an average of $1,340, according to ICT figures.

Nearly 400,000 tourists from Europe visited last year, including an important increase in British tourists. Thanks to new direct flights from British Airways, there was a 20 percent increase in tourists from the United Kingdom, the second largest percentage increase per country after China. China still has a relatively small number of visitors but saw 29 percent growth in 2015 over 2014.

Air traffic accounts for the largest amount of visitors. Thanks to new routes from British Airways, Southwest Airlines and other airlines, air traffic to Costa Rica grew 8 percent.

Ventura said visitors cite Tico hospitality as one of their favorite things about visiting Costa Rica. The worst? The quality of the roads. But bumpy roads didn't kept away the 30 percent of tourists who came back to Costa Rica for at least a second visit, according to ICT figures.

To maintain those numbers, Ventura said that ICT was working to update its sustainable tourism certification program and to expand cultural offerings for tourists beyond Costa Rica's world-famous wildlife and natural beauty.

"It's like the Olympics every day" when it comes to competing for tourist dollars, Ventura said. "We compete every day with the best in the world. Not just from Nicaragua and Panama but Vietnam, New Zealand, the world."
Brian, Lita, the Late Hugo IV, irreverent Vicka, the pigeon toed parrot, Chico II and Chica II