New Year... Same Old!
Dear friends,
When I started Residencias Los Jardines, I started writing a weekly news letter -determined to tell all the good, bad, and the ugly. I knew some readers would be interested in the construction process. I expected others might be interested in the lifestyle of two people who had decided to live outside the box. For others, the adventures of Lita, the parrot and the cat took on an entertainment saga all its own.
Residencias Los Jardines is finished. We periodically have resales and rental availability. Some readers may be interested in this information.
Brian Timmons
DEVELOPER / PROPERTY MANAGER
Residencias Los Jardines / https://www.residenciaslosjardines.com info@residenciaslosjardines.com
ResidenciasPropertyManagement@gmail.com
Featured house this week
Paradisus Condos / Rohrmoser
FOR SALE
Residencias Los Jardines
Property Management, Rentals, Re-Sales
Market Activity
Sales: one offer - working on the issues.
Rentals: no inquiries.
FOR SALE
Unit #105: $139,000 $133,500 / See Unit
Unit #106A: $165,000 / See Unit
Unit #110: $199,900 / See Unit
Unit #116: $214,000 $189,900 / See Unit
Unit #123: $237,000 $215,000 / See Unit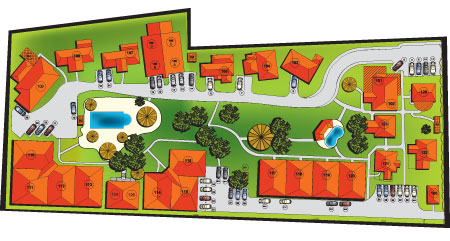 HOUSES FOR SALE
UNIT #105
FOR SALE
$139,000
NOW $133,500
Total Area (Sq Ft): 950
Total area (Sq M): 88
Bedrooms: 1
Bathrooms: 1
Floor(s): Single Floor
Type: Detached
Furnished: Yes
Detached, single story, one bedroom with den and screened terrace with bar-b-q and semi private back yard. Beautifully maintained -all furniture and furnishings are included. Cedro cabinetry throughout including kitchen, living room entertainment center, bedroom and bathroom built in closets / cupboards... Granite counters (kitchen / bathroom), SS appliances, vaulted ceiling, ceramic floors through out, leather LR furniture, flat screen TV, etc.
UNIT #106A
FOR SALE
$165,000
Total Area (Sq Ft): 1250
Total area (Sq M): 120
Bedrooms: 2
Bathrooms: 2
Floor(s): 1
Type: Apartment
Furnished: Yes
This is a fully furnished 2-bedroom unit situated in a 2-story building, which has two units on the ground floor and two units on the 2nd. floor. Each unit is the same size (1,250sf) divided into 800 sf of interior space and 450 sf of covered front and back terraces. Units 106A and B are on the ground floor; Units 106 C and D are on the 2nd. Floor. The solid masonry demising wall (common wall) as well as the 5" concrete slab prevent sound transference.
UNIT #110
FOR SALE
$199,900
Total Area (Sq Ft): 1290
Total area (Sq M): 120
Bedrooms: 2
Bathrooms: 2
Floor(s): Single Floor
Type: Attached
Furnished: Yes
Beautiful end-unit bungalow (one floor) town home (part of 4 homes) situate at the far quiet end of Residencias Los Jardines, steps from the main pool. It includes one designated parking spot and one storage unit. The home is 120 square meters (approximately 1,300 square feet) with two bedrooms (master has king size bed and guest has queen size bed), two full bathrooms (one being an ensuite), a large open concept kitchen, living room, dining room, granite breakfast bar with stools and features vaulted ceilings and lots of windows. The home has a large covered terrace overlooking the gardens. Custom made wood blinds cover all windows throughout. Ceiling fans in bedrooms, living room and terrace.
UNIT #116
FOR SALE
$214,000
$189,900
Total Area (Sq Ft): 1290
Total area (Sq M): 120
Bedrooms: 2
Bathrooms: 2
Floor(s): 1
Type: Semi-attached
Furnished: Yes
This 1,290 sf single floor home includes a 300 sf front terrace plus parking for one car and a separate, secure storage locker. It is and end unit and therefore attached on only one side by a 6 inch cement demising (common) wall, which prevents sound transfer.
UNIT #123
FOR SALE
$237,000
$215,000
Total Area (Sq Ft): 1516
Total area (Sq M): 140
Bedrooms: 2
Bathrooms: 2.5
Floor(s): Two story
Type: Detached
Furnished: Yes
This two story, detached 1,423 sf home + parking for one car has two bedrooms, 2 ½ bathrooms and a 2nd floor covered terrace.
The open railed wrought iron cement stair case leads to the 2nd level where the master bedroom with en-suite master bathroom as well as 2nd bedroom and en-suite bathroom are located. Also accessed from the 2nd floor hallway is the covered terrace.
This is a very nicely furnished home with a good floor plan for those wanting two floors.
Our Lives
WEATHER: Dry season is definitely with us... winds are stronger and no hint of rain...
New Year... Same Old... There are NO cars on the streets... driving is almost a breeze / pleasure... this is normal this time of year... weather continues to be its beautiful, perfect self... few renters in sight and even fewer buyers... normal for the past three years... More owners at Los Jardines want to sell and move on... prices are coming down... I can now count 11 houses owners would like to sell plus an additional one which will probably become available once released from probate... the asking prices have dropped and some are beginning to represent good value...
News Items of the Week
Comments:
1. AyA... one of the 5 most inefficient state companies in Central America and which looses about 25% of the water produced in transit due to leaky pipes, and which is scheduled to begin water rationing in many parts of the Central Valley, wants to raise rates... same old story, pass the costs on to the consumer, never improve the efficiency of anything...
2. / 3.: Tax Proposals: incredible... absolutely essential for the fiscal health of the country is just now being debated... and the corporate tax which was declared unconstitutional last January due to some technical irregularities, hasn't yet been fixed so it too, is not ready for levy... The government now has the legislative calendar back under it's control but... it doesn't have a majority nor near majority so it remains to be seen if anything will really be accomplished.
4. Fender Benders: supposedly, now, under a bunch of conditions, vehicles can bne moved out of the way without the presence of Transito. We'll see if it actually happens...
1. AyA asks to increase water rates 49.5 percent for conservation, protection of water resources

December 28th, 2015 (ICR News) The Costa Rican Institute of Aqueducts and Sewers (AyA) has requested permission from the Regulatory Authority for Public Services (ARESEP) to increase customers' water bills by 49.5 percent between 2016 and 2020 to create a new fund for the "management, conservation and protection of water resources," according to AyA.

The proposal seeks a 4.3 percent increase for 2016; 7.6 percent in 2017; 9.8 percent in 2018; 12.6 percent in 2019 and 15.2 percent in 2020 in order to fund the initiative.

The increases would apply to residential, business and government customers and would be in addition to regular increases that are applied periodically.

A public hearing will be held January 7th at 5pm at the ARESEP offices in Guachipelin, Escazu.
2. New year will see competing versions of finances
By the A.M. Costa Rica staff

As the new year opens, the financial stability of the country hangs in the balance.

From the executive branch perspective, only new taxes can reduce the fiscal crisis. President Luis Guillermo Solís has been clear that a 15 percent value-added tax is needed to replace the existing 13 percent sales tax. He also seeks a series of other laws, including an update to the income taxes and provisions against customs fraud.

From some in the legislature, what is needed is a demonstration that the executive branch is ready to reduce spending. That has not happened, and the current budget is higher than the previous.

In fact, every day there seems to be a new project being put forward by the executive branch. One of the latest is promoted on the presidential Web site.

This is a proposal to reduce the gap between Internet users and those who are not with a $300 million price tag.

The proposal is, in the words of the government, to democratize Internet access and service over the next three years.

This is a project that was launched in October by the Ministerio de Ciencia, Tecnología y Telecomunicaciones. Residents of some 140,000 homes will be subsidized to connect to the Internet, according to the proposal.

A key test for the president's plan will be the corporate tax that the Presidencia wants to see reinstated. This is the tax on corporations that was ruled unconstitutional for technical reasons. Casa Presidencial hoped that the measure would be passed by the legislature by the new year.

To improve chances of passage, Casa Presidencial presented a new draft that assesses a higher tax on high grossing firms.

This measure certainly will be on the agenda when lawmakers reconvene.
3. Finance minister seeking to make a deal on new taxes
By the A.M. Costa Rica staff

The country's financial minister said Monday that he is trying to make a deal with lawmakers so that the administration's tax plans are passed.

The minister, Helio Fallas, who also is first vice president, adopted a conciliatory tone in what Casa Presidencial described as an article.

The text was on the presidential Web site.

In it, Fallas, the minster of Hacienda, predicted 4 percent growth for the country this year. But he also noted that a bit more than a third of the national budget was debt service.

What he did not mention is that about half the budget itself is borrowed money.

He said his ministry has increased income and controlled expenses despite what he said was fierce opposition by certain groups opposed to measures against tax fraud introduced in July 2014. The measures still are in the legislature.

He characterized the country's financial situation as stable in terms of inflation, balance of payments and the dollar exchange rate. Still, he said, the current income is not sufficient to offset the historic deficit that has been generated over the years.

He said that he believes lawmakers of all parties except those of Movimiento Libertario understand the necessity of the financial measures.

"We urgently require a national agreement that achieves, as we plan, a more progressive system that modernizes the laws, introduces control mechanism and closes doors to evasion and avoidance to recover the financial capacity of the central government and guarantee sustainability in the long run," he said.

The Luis Guilermo Solís administration is seeking a 15 percent value-added tax and increases in income tax rates as well as increases in penalties for tax fraud and customs fraud.
4. Did you have a small accident? From today, you can Move Your Vehicle without Transitos

Since January 7, the Executive Decree 39146-MOPT allow drivers to reconcile for minor road crashes. The initiative aims to prevent dams caused by a minor traffic accident where it is not necessary to call the traffic officer.

This mechanism allows drivers to take photographs of the accident, and send them to the insurance-through an ágil- process to facilitate the process to repair affected vehicles.

Step by step: How the mechanism works?

From Thursday, all drivers must carry the Declaration Minor Traffic Accident (DAM), vital to access this option conciliatory document. To download and print the document, CLICK HERE

Yes, Victor Soto, deputy chief of management compensation National Insurance Institute (INS), explained that there is a time frame for implementation of this mechanism will be from 6:00 am to 8:00 pm as before or after that period there is little traffic congestion.

Prerequisites after the crash:

Involved must agree that this is a slight damage
One of the drivers must accept responsibility for the incident
There should not be injured after the crash
Take pictures of damage and panoramic images Truck crash
Cars involved must be able to move without crane
Move the car from the accident site and park in a place where no cause dams
Call insurance
Fill the form DAM while the insurance personnel arrive
Insurance contact affected, communicates and coordinates event number sending photographs and testimonies to support the process
Insurer to process claims and collection

Soto added that the deadline for settlement of the cars affected are subject to the availability of accredited insurance and readiness to find the necessary spare parts in the corresponding repair workshops.

In the INS they indicate that the process must take place "under the principle of good faith" of those involved.
Brian, Lita, the Late Hugo IV, irreverent Vicka, the pigeon toed parrot, Chico II and Chica II