Dear friends,
When I started Residencias Los Jardines, I started writing a weekly news letter -determined to tell all the good, bad, and the ugly. I knew some readers would be interested in the construction process. I expected others might be interested in the lifestyle of two people who had decided to live outside the box. For others, the adventures of Lita, the parrot and the cat took on an entertainment saga all its own.
Residencias Los Jardines is finished. We periodically have resales and rental availability. Some readers may be interested in this information.
Brian Timmons
DEVELOPER / PROPERTY MANAGER
Residencias Los Jardines / https://www.residenciaslosjardines.com info@residenciaslosjardines.com
ResidenciasPropertyManagement@gmail.com
Featured house this week
Paradisus Condos / Rohrmoser
FOR SALE
Residencias Los Jardines
Property Management, Rentals, Re-Sales
Market Activity
Sales: one inquiry.
Rentals: several inquiries.
FOR SALE
Unit #105: $139,000 / See Unit
Unit #110: $210,000 / See Unit
Unit #116: $214,000 $199,000 / See Unit
Unit #123: $237,000 $215,000 / See Unit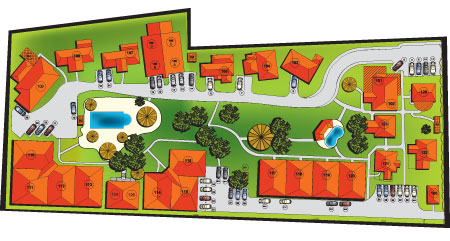 HOUSES FOR SALE
UNIT #105
FOR SALE $139,000
Total Area (Sq Ft): 950
Total area (Sq M): 88
Bedrooms: 1
Bathrooms: 1
Floor(s): Single Floor
Type: Detached
Furnished: Yes
Detached, single story, one bedroom with den and screened terrace with bar-b-q and semi private back yard. Beautifully maintained -all furniture and furnishings are included. Cedro cabinetry throughout including kitchen, living room entertainment center, bedroom and bathroom built in closets / cupboards... Granite counters (kitchen / bathroom), SS appliances, vaulted ceiling, ceramic floors through out, leather LR furniture, flat screen TV, etc.
UNIT #110
FOR SALE $210,000
Total Area (Sq Ft): 1290
Total area (Sq M): 120
Bedrooms: 2
Bathrooms: 2
Floor(s): Single Floor
Type: Attached
Furnished: Yes
Beautiful end-unit bungalow (one floor) town home (part of 4 homes) situate at the far quiet end of Residencias Los Jardines, steps from the main pool. It includes one designated parking spot and one storage unit. The home is 120 square meters (approximately 1,300 square feet) with two bedrooms (master has king size bed and guest has queen size bed), two full bathrooms (one being an ensuite), a large open concept kitchen, living room, dining room, granite breakfast bar with stools and features vaulted ceilings and lots of windows. The home has a large covered terrace overlooking the gardens. Custom made wood blinds cover all windows throughout. Ceiling fans in bedrooms, living room and terrace.
UNIT #116
FOR SALE $214,000 $199,000
Total Area (Sq Ft): 1290
Total area (Sq M): 120
Bedrooms: 2
Bathrooms: 2
Floor(s): 1
Type: Semi-attached
Furnished: Yes
This 1,290 sf single floor home includes a 300 sf front terrace plus parking for one car and a separate, secure storage locker. It is and end unit and therefore attached on only one side by a 6 inch cement demising (common) wall, which prevents sound transfer.
UNIT #123
FOR SALE $237,000 $215,000
Total Area (Sq Ft): 1516
Total area (Sq M): 140
Bedrooms: 2
Bathrooms: 2.5
Floor(s): Two story
Type: Detached
Furnished: Yes
This two story, detached 1,423 sf home + parking for one car has two bedrooms, 2 ½ bathrooms and a 2nd floor covered terrace.
The open railed wrought iron cement stair case leads to the 2nd level where the master bedroom with en-suite master bathroom as well as 2nd bedroom and en-suite bathroom are located. Also accessed from the 2nd floor hallway is the covered terrace.
This is a very nicely furnished home with a good floor plan for those wanting two floors.
Our Lives
WEATHER: Breezes have started... this means the trade winds are coming and with them, a change in the weather.
Buyers - they are not extinct but rare: for some reason, this week saw the presence of two buyers... and a claimed third buyer... he hasn't yet shown up so don't know if he is real or wishful... One USA person and one tica... both seem interested at this point in time. We'll see.
Social Life: a whirl... despite the traffic...
News Items of the Week
Comments
1. With a GDP of about $50 billion, the wash of $11.35 billion is around 23% of gdp. And there it is. The rumors and estimates 'confirmed'. And that is the reason that the colon is the strongest currency in the world! and the reason why construction is doing so well... Construction is the industry expected to higher the most new employees in the first half of next year. see article 2.
2. Hiring - first half 2016: it is positive according to the news... The two leading sectors are construction (now we know why... see article 1) and communications / transportation... probably more service / call centers...
3. The "Cuban": convicted but not yet over. There is no money and he will appeal... and might even leave the country...
4. Li and FIFA: no wonder he fought so hard not to be extradited to the USA. Looks like they have pretty solid evidence on him.
1. Costa Rica Exports More Illicit Money than Honduras and Iraq
By Jaime Lopez – December 9, 2015

WASHINGTON, DC – Illicit financial flows from developing and emerging economies surged to US$1.1 trillion in 2013, according to a study released Wednesday by Global Financial Integrity (GFI), a Washington, DC-based research and advisory organization. Authored by GFI Chief Economist Dev Kar and GFI Junior Economist Joseph Spanjers, the report pegs cumulative illicit outflows from developing economies at US$7.8 trillion between 2004 and 2013, the last year for which data are available.

Titled "Illicit Financial Flows from Developing Countries: 2004-2013″ the study reveals that illicit financial flows first surpassed US$1 trillion in 2011, and have grown to US$1.1 trillion in 2013—marking a dramatic increase from 2004, when illicit outflows totaled just US$465.3 billion. "This study clearly demonstrates that illicit financial flows are the most damaging economic problem faced by the world's developing and emerging economies," said GFI President Raymond Baker, a longtime authority on financial crime. "This year at the U.N. the mantra of 'trillions not billions' was continuously used to indicate the amount of funds needed to reach the Sustainable Development Goals. Significantly curtailing illicit flows is central to that effort."

The study ranks the countries by the volume of illicit outflows. According to the report, Costa Rica is among the 20 biggest exporters of illicit flows over the decade in question. Costa Rica is ranked in the 15th position, higher than troubled nations such as Honduras, Iraq and Syria. In fact, Costa Rica exports more illicit financial gains than any other Latin American nation except Venezuela:

China………………. US$139.23bn avg. (US$1.39tn cumulative)
Russia…………….. US$104.98bn avg. (US$1.05tn cumulative)
Mexico…………..US$52.84bn avg. (US$528.44bn cumulative)
India…………….. US$51.03bn avg. (US$510.29bn cumulative)
Malaysia……….. US$41.85bn avg. (US$418.54bn cumulative)
Brazil……………. US$22.67bn avg. (US$226.67bn cumulative)
South Africa….. US$20.92bn avg. (US$209.22bn cumulative)
Thailand…………. US$19.18bn avg. (US$191.77bn cumulative)
Indonesia……….. US$18.07bn avg. (US$180.71bn cumulative)
Nigeria…………… US$17.80bn avg. (US$178.04bn cumulative)
Kazakhstan…….. US$16.74bn avg. (US$167.40bn cumulative)
Turkey……………. US$15.45bn avg. (US$154.50bn cumulative)
Venezuela……….. US$12.39bn avg. (US$123.94bn cumulative)
Ukraine……………. US$11.68bn avg. (US$116.76bn cumulative)
Costa Rica………… US$11.35bn avg. (US$113.46bn cumulative)
Iraq………………… US$10.50bn avg. (US$105.01bn cumulative)
Azerbaijan…………. US$9.50bn avg. (US$95.00bn cumulative)
Vietnam…………….. US$9.29bn avg. (US$92.94bn cumulative)
Philippines………… US$9.03bn avg. (US$90.25bn cumulative)
Poland………………. US$9.00bn avg. (US$90.02bn cumulative)
2. Hiring outlook in Costa Rica positive for next year

The new year may bring good news on Costa Rica's job front. According to the most recent employment outlook survey from consultant company Manpower, 22 percent of employers plan to hire new staff during the first quarter of 2016. That's an 8 percentage point increase compared to hiring intentions for the same period this year, and a 3 percentage point increase compared to plans for the current quarter.

Nearly three-quarters of employers said they will maintain their current staff, while 6 percent said they plan to cut staff in the new year.

The figures indicate a positive Net Employment Outlook of 16 percent for the quarter. The Net Employment Outlook is the difference between the percentage of employers with plans to add employees and the percentage with plans to decrease employees.

Manpower recruitment manager Dahiana Arias said the results mean Costa Rica is consolidating its economic stabilization process, and that "like other countries, Costa Rica has benefited from the U.S. economic recovery, and locally it's benefitting from positive performance by local industries and the macroeconomic environment," she said.

Just like most of this year, employers in the construction sector report the strongest hiring intentions. Manpower's analysis indicates that construction firms seem to be motivated by low inflation and a general decrease in the price of construction materials.

The report also found positive expectations among employers in communications and transportation, and manufacturing.

Results by region of Costa Rica are also positive: Employers in six of the seven provinces forecast an increase in their hiring figures for next quarter.

The strongest job markets are anticipated in Alajuela, where 29 percent of employers said they planned to hire, followed by Cartago with 15 percent.

The hiring outlook in the capital San José is less rosy, at 13 percent.

Only in Guanacaste is the outlook worse: 0 percent of employers surveyed said they planned to hire there in the first quarter of 2016. Nevertheless, Manpower analysts see Guanacaste's employment situation as stable. They say that a majority of big development projects, mostly real estate, have completed their hiring process and are currently operating.

The survey was conducted with a sample of 622 companies from all seven provinces.
3. Despite conviction, Milanes case is far from over
By the A.M. Costa Rica staff

Savings Unlimited investors have won what one called a Pyrrhic victory with the conviction of Luis Milanes.

"A Pyrrhic victory is a victory that inflicts such a devastating toll on the victor that it is tantamount to defeat," the investor added in an email, quoting a Web site definition.

He was referring to the drawn out fraud case that began in November 2002 when Milanes closed his high-interest operation and fled the country.

In the decision Thursday a San José criminal court panel gave Milanes a bit more than 15 years in prison and sentenced Michael González, the office manager, to six years. José Milanes, the brother of Luis, was not convicted.

Investors and some court officials consider Milanes a flight risk, and the judicial panel ordered that he be held in preventative detention until a written sentence is issued in January.

Most investors are aware that the case is not over. An appeal is certain, and the chances that the ailing Milanes spends Christmas in prison are slim.

Lawyers are likely to cite his health and the holidays in a bid to have him freed.

Milanes seems to have divested himself of his assets over the last few years. That includes property the he posted as compensation for some of his investors in a conciliation deal.

At one time he owned a string of casinos and other ventures.

Milanes was missing after he closed his borrowing operation until he returned in June 2009. The criminal case has been going on since.

José Pablo Fernández of Global Trust Firm, S.A. quickly sent out an email to those in the conciliation deal noted that the agreement was not part of the criminal case. He said that a sale might come soon of the Hotel Europa downtown. That is part of the property that Milanes signed over as part of the agreement. The trustee firm has been trying to sell the hotel property for years, but there have been many complications.

The investors who are involved in the agreement are expected to receive money from the hotel sale, although there are substantial maintenance and legal costs that continue.

There is some question if investors will receive any money as a result of the Milanes conviction. He says that the bulk of the funds from Savings Unlimited were taken by an associate who absconded to Europe.

In addition, the court is considering money laundering allegations that may show up in the final verdict. Such a conviction, if upheld, would channel any money to the government.

González would probably serve less than three years if the conviction is upheld. Plus he gets a substantial discount for the time he served in preventative detention several years ago and the time he serves now in house arrest.

Savings Unlimited was one of those high-interest operations that flourished here at the turn of the century. Depositors received up to 3 percent a month return on their investments. Milanes claimed the money was being invested in casinos.
4. Costa Rica prosecutors investigate football official Eduardo Li after international indictments

While United States prosecutors zero in on Eduardo Li and dozens of other FIFA officials with a fury of indictments into alleged corruption in international football, Costa Rican officials say they continue to investigate possible cases of money laundering by Li within the country's borders.

When the latest indictment from the U.S. Department of Justice was released last weekend, it accused Li, the former president of the Costa Rican Football Federation (FEDEFUTBOL), of asking for a $600,000 bribe from sports media company Traffic USA for the rights to televise Costa Rican football matches during qualifying play for the 2022 World Cup.

Costa Rican prosecutors and police are currently looking into whether or not any of the alleged bribe money ended up in bank accounts within the country. "It's still too early in our investigation to affirm whether or not Li is the responsible party," a spokeswoman from the prosecutor's office said via email Wednesday.

U.S. agents, however, were much more forward with their language in the Friday indictment, where Li was one of 27 international football figures listed as defendants. They say an improper wire transfer of $42,708 was made from Traffic USA's account in Miami, Florida on Jan. 2, 2014 through a Wells Fargo account in New York to a FEDEFUTBOL account at Lafise Bank in Costa Rica.

One year later, as part of the six-figure bribe allegedly requested by Li, prosecutors say representatives from Media World, another sports media syndicate that had entered into a revenue-sharing agreement with Traffic USA in 2012, paid $300,000 of the agreed bribe to Li in two payments of $150,000. Prosecutors say that Media World used an intermediary account in Panama to eventually give the money to Li.

Between March and April of this year, the indictment alleges, Media World then wired the first installment of $150,000 from the Panama account to a Bank of America account in New York that was registered under Warrior Holding, S.A., a company located in Santa Ana, Costa Rica.

A records search done by The Tico Times reveals that Orlando Guerrero, a known friend of Li and an influential donor to the country's National Liberation Party (PLN), is listed as the treasurer of Warrior Holding. Guerrero recently told the Spanish-speaking daily La Nación that he has nothing to do with the alleged money laundering scheme and that Li deposited the money in his account to pay him a debt.

Though the country's prosecutors categorize the case against Li as an open investigation, a spokeswoman from the Judicial Investigation Police (OIJ) said Wednesday that police want to participate in the international case against Li.

"It's not as much an investigation as a process of observation," the OIJ spokeswoman said. "Police are conducting surveillance over the accounts without intervening."

Li was originally detained in Switzerland on May 27 per U.S. prosecutors' request in an initial indictment that charged him with four counts of money laundering and wire fraud conspiracy. The charges carry a maximum sentence of 20 years in jail and possible civil forfeitures of assets earned or connected to the money in question.

Li is currently appealing Switzerland's decision to extradite him to the United States to face trial there while he remains in a Swiss detention center.

His lawyer, Róger Guevara, declined comment when reached by The Tico Times on Tuesday.

The Department of Justice's latest indictment is aimed at 16 FIFA officials, including Honduras' Alfredo Hawit, president of the Confederation of North, Central American and Caribbean Association Football (CONCACAF), and El Salvador's Reynaldo Vasquez, former president of that country's football federation.

"The Department of Justice is committed to ending the rampant corruption we have alleged amidst the leadership of international soccer," said U.S. Attorney General Loretta Lynch. "It's not only because of the scale of the schemes, or the brazenness and breadth of the operation required to sustain such corruption, but also because of the affront to international principles that this behavior represents."

Contact Michael Krumholtz at mkrumholtz@ticotimes.net
Brian, Lita, the Late Hugo IV, irreverent Vicka, the pigeon toed parrot, Chico II and Chica II