Dear friends,
When I started Residencias Los Jardines, I started writing a weekly news letter -determined to tell all the good, bad, and the ugly. I knew some readers would be interested in the construction process. I expected others might be interested in the lifestyle of two people who had decided to live outside the box. For others, the adventures of Lita, the parrot and the cat took on an entertainment saga all its own.
Residencias Los Jardines is finished. We periodically have resales and rental availability. Some readers may be interested in this information.
Brian Timmons
DEVELOPER / PROPERTY MANAGER
Residencias Los Jardines / https://www.residenciaslosjardines.com info@residenciaslosjardines.com
ResidenciasPropertyManagement@gmail.com
Featured house this week
Paradisus Condos / Rohrmoser
FOR SALE
Residencias Los Jardines
Property Management, Rentals, Re-Sales
Market Activity
Sales: one inquiry.
Rentals: several inquiries.
FOR SALE
Unit #105: $139,000 / See Unit
Unit #110: $215,000 $210,000 / See Unit
Unit #116: $214,000 $199,000 / See Unit
Unit #123: $237,000 $215,000 / See Unit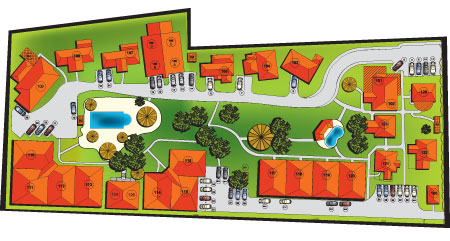 HOUSES FOR SALE
UNIT #105
FOR SALE $139,000
Total Area (Sq Ft): 950
Total area (Sq M): 88
Bedrooms: 1
Bathrooms: 1
Floor(s): Single Floor
Type: Detached
Furnished: Yes
Detached, single story, one bedroom with den and screened terrace with bar-b-q and semi private back yard. Beautifully maintained -all furniture and furnishings are included. Cedro cabinetry throughout including kitchen, living room entertainment center, bedroom and bathroom built in closets / cupboards... Granite counters (kitchen / bathroom), SS appliances, vaulted ceiling, ceramic floors through out, leather LR furniture, flat screen TV, etc.
UNIT #110
FOR SALE $215,000 $210,000
Total Area (Sq Ft): 1290
Total area (Sq M): 120
Bedrooms: 2
Bathrooms: 2
Floor(s): Single Floor
Type: Attached
Furnished: Yes
Beautiful end-unit bungalow (one floor) town home (part of 4 homes) situate at the far quiet end of Residencias Los Jardines, steps from the main pool. It includes one designated parking spot and one storage unit. The home is 120 square meters (approximately 1,300 square feet) with two bedrooms (master has king size bed and guest has queen size bed), two full bathrooms (one being an ensuite), a large open concept kitchen, living room, dining room, granite breakfast bar with stools and features vaulted ceilings and lots of windows. The home has a large covered terrace overlooking the gardens. Custom made wood blinds cover all windows throughout. Ceiling fans in bedrooms, living room and terrace.
UNIT #116
FOR SALE $214,000 $199,000
Total Area (Sq Ft): 1290
Total area (Sq M): 120
Bedrooms: 2
Bathrooms: 2
Floor(s): 1
Type: Semi-attached
Furnished: Yes
This 1,290 sf single floor home includes a 300 sf front terrace plus parking for one car and a separate, secure storage locker. It is and end unit and therefore attached on only one side by a 6 inch cement demising (common) wall, which prevents sound transfer.
UNIT #123
FOR SALE $237,000 $215,000
Total Area (Sq Ft): 1516
Total area (Sq M): 140
Bedrooms: 2
Bathrooms: 2.5
Floor(s): Two story
Type: Detached
Furnished: Yes
This two story, detached 1,423 sf home + parking for one car has two bedrooms, 2 ½ bathrooms and a 2nd floor covered terrace.
The open railed wrought iron cement stair case leads to the 2nd level where the master bedroom with en-suite master bathroom as well as 2nd bedroom and en-suite bathroom are located. Also accessed from the 2nd floor hallway is the covered terrace.
This is a very nicely furnished home with a good floor plan for those wanting two floors.
Our Lives
WEATHER: breezes have started... this means the trade winds are coming and with them, a change in the weather.
Traffic: see article below - this contributes to the horrendous traffic congestion... that along with the same number of poorly designed roads and aginaldo create chaos... several social groups I belong to have had to either cancel or modify their meeting places because of travel difficulties.
News Items of the Week
Comments
1. Lack of financing: after 5 years of delays, and a known commitment to build a 5 kl access road, which was started and now stalled, due to lack of funding. Incredible. A billion dollars is being invested by Mersk and the government is too busy giving away aginaldos and freebees...
2. Electricity rate hike: They didn't get the the full 35% requested, only 18%, and they are unhappy... electricity rates are still the highest in Central Am. and the stated cause for a number of companies to re-locate.
3. Airport Exit Tax: two more airlines are now incorporating this into the tickets. The other day, I waited in line 30 min. to pay this tax..
4. Cubans in CR: supposedly about 4,000 "in-transit" Cubans destined for the US are now trapped at the CR - Nicaraguan border. No one really cares...Nicaragua does not want to allow them in partially because countries to the north of Nic., ie Guatemala, doesn't want them either.
5. Corporate Tax: last year it was determined by the Sala the tax was illegal as written and implemented. They haven't done anything about fixing the problem. Now when it is again due, it becomes a priority...and may not get fixed again.
6. Imported Cars: Incredible!!! the economy is good... more, and more new cars... an additional 192 cars per day // 58,000 per year on existing, poorly designed roads... no wonder the roads are clogged.
7. Dec. 16... this is the day we are suppose to learn who owns a swamp land in the middle of nowhere... that CR built a road which was a financial, political and environmental disaster... woopie!!!!!!!
1. Lack of financing delays construction of Moín Port access road

In several years the Caribbean city of Limón will have one of the world's most modern container ports, but there may be no road to get to it.

According to Spanish-language daily La Nación, the Public Works and Transport Ministry (MOPT) admitted it does not have financing to complete construction of route 257, the port's access road. The government's construction of the road was one of the conditions for the $1 billion port concession with Dutch shipping company APM Terminals.

"[Public Works and Transport Minister Carlos Segnini] has already approached APM about financing the road," said Vice Minister Giselle Alfaro. "The conditions they offered weren't favorable and he declined."

Already 40 percent into the first stage of construction, the container port is expected to be completed no later than January 2018. If MOPT fails to complete the access road on time, the government could be forced to pay millions of dollars in indemnization. The road's approximate value has not been released to the public due to concerns that the amount may influence bids from contractors.

The ministry hopes to have financing in place by January, but the delays have sparked concern within APM.

"If construction on route 257 does not start by May 2016, it will be very difficult to complete the project by the time the container terminal opens," Kenneth Waught, manager of APM Terminals told La Nación.
2. CNFL considering appeal, wants full rate hike of 35.56 percent: report

November 24th, 2015 (ICR News) The Regulatory Authority for Public Services (ARESEP) on Monday approved an 18.6 percent price increase in electricity rates paid by some 520,000 customers of the National Power and Light Company (CNFL), The electric utility that provides electricity to most of the San Jose metro area, surrounding suburbs and the Central Valley.

The increase approved by regulators on Monday is only about half of the 35.56 rate hike that CNFL had requested, and the company is considering appealing the regulator's decision and seeking the full amount, according to a Tuesday report by CRHoy.com.

In deciding on a smaller increase, regulators decided to exclude some US $315 million in costs related to two wind projects as well as about US $700,000 in advertising costs that regulators determined should not be financed through a rate hike.

Regulators also said they were able to determine that the company was including costs related to its collective agreement with its workers' labor union as part of its original request. Those items, which regulators also decided should not be financed through a rate hike, included a housing loan program for workers, a union recreation center, and a cafeteria, amongst others.

CNFL had originally requested a rate hike of 35.56 percent, citing a growing debt to its parent company, the Costa Rican Electricity Institute (ICE), in its request to regulators earlier this year.
3. Air Canada and Aeromexico latest airlines to include Costa Rica's departure tax in ticket price

December 3rd, 2015 (ICR News) Air Canada and Aeromexico are the latest to include Costa Rica's mandatory departure tax in the cost of their airline tickets, saving travelers time when leaving the country.

Aeromexico began including the tax in their tickets on Wednesday, while Air Canada will follow suit beginning on Saturday.

The airlines join American Airlines, US Airways, Jet Blue, Avianca, Copa, Delta, United, and Air Panama in including the tax in their tickets.

The departure tax is currently $29 USD, though a bill presented last month seeks to increase the tax to $33 USD to fund youth sports programs.
4. Costa Rica considers flights for Cuban migrants as options shrink

Costa Rica's options for dealing with the more than 4,000 Cuban migrants marooned in the country on their way to the United States are growing fewer by the day, leaving the government to consider arranging flights for the migrants out of the country.

The latest complication in the saga comes as President Luis Guillermo Solís plans to travel to Cuba Dec. 15 and 16. Solís has said the Cuban migrant crisis will not be a main focus of his trip to the island.

Nicaragua refuses to let the Cubans cross into the country. And Guatemala also has now refused to allow Cuban migrants to pass through its territory, Costa Rica Foreign Minister Manuel González said Thursday.

González said negotiations were set to begin with Belize as an alternative route for the thousands of Cubans who have been waylaid in Costa Rica for three weeks now. A response is not expected from Belize until Tuesday, González said.

No corridor for the 'humanitarian corridor'

The news from Guatemala and Nicaragua's continued blockade of Cuban migrants at its border with Costa Rica means the "humanitarian corridor" proposed by Costa Rica at a summit of Central American leaders in El Salvador on Nov. 25 is effectively dead.

González said Guatemala — a country that sends thousands of migrants to the U.S. yearly — listed the large number of Cuban migrants, along with security and logistical concerns among its reasons for not agreeing to safe passage for the migrants.

The foreign minister mentioned that the Costa Rican government was exploring the possibility of flying the Cubans out of the country, but González had no specifics on when or how many fights could be used to move the Cubans. Migrants would be responsible for paying for their own flights, González said, but the government is in talks with airlines to explore affordable options for the migrants to leave.

President Solís' upcoming trip to Cuba was scheduled a year ago, González said. According to Casa Presidencial, Solís' trip was designed to "formalize the reestablishment of diplomatic relations" with the island, and the delegation would discuss business investment opportunities, health and sports.

According to Immigration Administration figures, more than 4,300 temporary transit visas have been issued to Cuban migrants in recent weeks. More than 3,000 Cuban migrants are living in temporary shelters across northwestern Costa Rica.

Minister González said that Cubans continue to arrive at Costa Rica's southern border with Panama at the rate of more than 100 a day.

Meanwhile, Ecuador announced on Nov. 26 that it would start requiring visas from Cubans traveling there, the first leg in an increasingly popular route through South and Central America to the U.S.

Cuban and U.S. representatives met earlier this week to discuss several issues, including migration, but no new agreements on the issue were made. The Cuban government has said that the current U.S. immigration policy for Cubans — which affords them U.S. visas after they set foot on U.S. soil — is a detriment to the recent détente between the Cold War foes.

González ruled out U.S. involvement in resolving the crisis of Cuban migrants here. Citing the U.S Cuban Adjustment Act, González noted that U.S. immigration law allows Cubans without visas to stay in the U.S. when they arrive but not to travel there legally.

"There's a certain contradiction there," González said, "but it's not my place to comment on it."
5. Government says corporate tax bite is $85.5 million
By the A.M. Costa Rica staff

The central government says that a tax on corporations collects 45 billion colons a year. That's about $85.5 million.

Casa Presidencial disclosed this as he made a pitch Thursday that the tax be renewed. The Sala IV ruled the tax to be unconstitutional due to procedural errors.

The tax is on corporations, and active ones would pay about $400 a year. Inactive corporations are assessed just half that.

This is the first time that a number has been specified for the amount raised.

Some 95 percent of the money goes to the Ministerio de Seguridad Pública, but there never has been a detailed accounting of what expenses the tax covers. At one point the ministry said that the tax money would buy new boots for police officers.

Casa Presidencial said that unless the tax were renewed there would be a black hole in governmental financing. Ministries and Casa residencial have joined together to campaign for passage.

The legislature goes into Christmas recess Dec. 18, but the law contains a paragraph that makes the law proportional when it goes into effect. So if the bill passes in January, operators of corporations would pay eleven twelfths of the full tax.

There is no guarantee that the legislature will pass the tax even though the procedural problems have been resolved. Some lawmakers are unhappy that the central government has not made budget reductions despite the mounting national deficit.

The tax bill also says that corporations cannot deduct the cost of the tax on their own annual tax returns.

The law went into effect in 2011, and the Sala IV said that corporations should still pay the 2015 tax even though the measure was unconstitutional.

Many expats keep their vehicle or home ownership in corporations.
6. Import and sale of cars achieved a strong recovery

Little fluctuation of the dollar and rates, and boost lending facility rally

Number of cars sold rose 16% in 12 months, reveal data from the Central

Import and sale of vehicles shows a strong rebound this year.

From January to October, imports of cars grew 18%, going from 49,571 units in the first 10 months of last year to 58,365 this year, according to information provided by the Ministry of Finance.

On average, this year they have entered almost 192 cars per day against 163 last year.

The majority (69%) are new.

The amount sold to the public is also growing and it shows in the increase presented by the category "cars, engines and other" of the monthly index of economic activity (IMAE) trade, which increased 16% in September over the same month the previous year.

This increase is almost double the figure for September 2014 compared to the same month of 2013.

In motorcycles, the number of imported units tripled in the last five years.

As explained by the Deputy Minister of Finance for Revenue, Fernando Rodriguez, 19 October to deliver fiscal performance, the rise in car sales it is one of the factors that led to improved tax collection.

Motorcycles grow stronger (The Nation)

Two companies confirmed that 2015 was a good year for car sales.

"We have experienced sales growth over last year and again, we are able to overcome our own record sales of Toyota vehicles," explained Allan Sime, commercial director of the company Purdy Motor Costa Rica.

"For Danissa Group brands, Audi and Nissan, has been a very positive by several factors including the introduction of new model year," said Ana Lucrecia Vargas, Director of Marketing of Danissa Group.

Dollar and credit. The stability of the exchange rate of the colon against the dollar, the reduction in prices, the income of more economic models and credit facilities are some of the factors that explain the behavior.

The consumer price index fell 2% motor between January and October.

Juan Carlos Corrales, manager of the National Bank, said the credit for this activity is very active.

"We have about three or four years to come attacking the vehicle segment and, indeed, every year, our vehicle portfolio, which is quite healthy, has grown enough; is a good product that has given us good results, "said Corrales.

He explained that the rise in influence inflation low and that companies bring smaller and cheaper cars.

The economist Jorge Guardia cited as the main factors continuity in the exchange rate and stable prices.

Remaining in the exchange rate contributes to the prices of imported vehicles rise by currency effects and also stimulates the credits in this currency for cars.

Corrales said before the National dollar paid more for cars, but now, with lower rates in colones, give more loans in local currency.
7. Dec. 16.. The Date for the International Court of Justice to Rule on the Border Dispute between CR and Nicaragua

(AFP) .- The International Court of Justice (ICJ) announced on Friday that a decision on December 16 in The Hague its ruling on two cross claims between Costa Rica and Nicaragua for their activities in border areas.

The Court held in April and May public hearings on the causes, which international lawyers defended the arguments of each country.

In the first, Costa Rica to Nicaragua sued in 2010 for allegedly military invasion of a small part of its territory called island Portillos (or island Calero), which is actually a wetland in mainland about 3 km2.

Nicaragua, however, ensures that the area has always been within its sovereign territory.

The second lawsuit was filed in 2011 by Managua, considering that environmental damage caused Costa Rica to San Juan border river by building a road that runs parallel to the waterway, which San Jose rejected.

The ICJ processes these two cases in a single file, while other processing a request for Costa Rica to define maritime boundaries between the two countries, both in the Pacific and the Caribbean.

For this third failure cause is not no date announced.

In its press release, the Court, the highest judicial body of the UN, recalls that its rulings "have binding force and are without appeal for the parties concerned".

The ruling will read its president, Ronny Abraham, at three pm (14H00 GMT) on Wednesday December 16 at the Peace Palace in The Hague, where the court is based.

The two countries said in advance to abide by the decision of the high court.
Brian, Lita, the Late Hugo IV, irreverent Vicka, the pigeon toed parrot, Chico II and Chica II