Dear friends,
When I started Residencias Los Jardines, I started writing a weekly news letter -determined to tell all the good, bad, and the ugly. I knew some readers would be interested in the construction process. I expected others might be interested in the lifestyle of two people who had decided to live outside the box. For others, the adventures of Lita, the parrot and the cat took on an entertainment saga all its own.
Residencias Los Jardines is finished. We periodically have resales and rental availability. Some readers may be interested in this information.
Brian Timmons
DEVELOPER / PROPERTY MANAGER
Residencias Los Jardines / https://www.residenciaslosjardines.com info@residenciaslosjardines.com
ResidenciasPropertyManagement@gmail.com
Featured house this week
Paradisus Condos / Rohrmoser
FOR SALE
Residencias Los Jardines
Property Management, Rentals, Re-Sales
Market Activity
Sales: no inquiries.
Rentals: one inqury / 124 leased.
FOR SALE
Unit #105: $139,000 / See Unit
Unit #110: $215,000 $199,900 / See Unit
Unit #116: $214,000 $199,000 / See Unit
Unit #123: $237,000 $215,000 / See Unit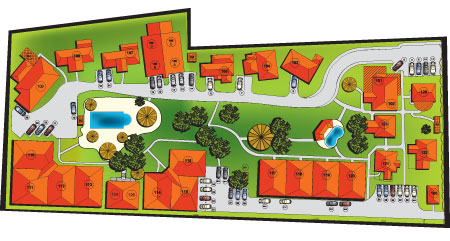 HOUSES FOR SALE
UNIT #105
FOR SALE $139,000
Total Area (Sq Ft): 950
Total area (Sq M): 88
Bedrooms: 1
Bathrooms: 1
Floor(s): Single Floor
Type: Detached
Furnished: Yes
Detached, single story, one bedroom with den and screened terrace with bar-b-q and semi private back yard. Beautifully maintained -all furniture and furnishings are included. Cedro cabinetry throughout including kitchen, living room entertainment center, bedroom and bathroom built in closets / cupboards... Granite counters (kitchen / bathroom), SS appliances, vaulted ceiling, ceramic floors through out, leather LR furniture, flat screen TV, etc.
UNIT #110
FOR SALE $215,000 $199,900
Total Area (Sq Ft): 1290
Total area (Sq M): 120
Bedrooms: 2
Bathrooms: 2
Floor(s): Single Floor
Type: Attached
Furnished: Yes
Beautiful end-unit bungalow (one floor) town home (part of 4 homes) situate at the far quiet end of Residencias Los Jardines, steps from the main pool. It includes one designated parking spot and one storage unit. The home is 120 square meters (approximately 1,300 square feet) with two bedrooms (master has king size bed and guest has queen size bed), two full bathrooms (one being an ensuite), a large open concept kitchen, living room, dining room, granite breakfast bar with stools and features vaulted ceilings and lots of windows. The home has a large covered terrace overlooking the gardens. Custom made wood blinds cover all windows throughout. Ceiling fans in bedrooms, living room and terrace.
UNIT #116
FOR SALE $214,000 $199,000
Total Area (Sq Ft): 1290
Total area (Sq M): 120
Bedrooms: 2
Bathrooms: 2
Floor(s): 1
Type: Semi-attached
Furnished: Yes
This 1,290 sf single floor home includes a 300 sf front terrace plus parking for one car and a separate, secure storage locker. It is and end unit and therefore attached on only one side by a 6 inch cement demising (common) wall, which prevents sound transfer.
UNIT #123
FOR SALE $237,000 $215,000
Total Area (Sq Ft): 1516
Total area (Sq M): 140
Bedrooms: 2
Bathrooms: 2.5
Floor(s): Two story
Type: Detached
Furnished: Yes
This two story, detached 1,423 sf home + parking for one car has two bedrooms, 2 ½ bathrooms and a 2nd floor covered terrace.
The open railed wrought iron cement stair case leads to the 2nd level where the master bedroom with en-suite master bathroom as well as 2nd bedroom and en-suite bathroom are located. Also accessed from the 2nd floor hallway is the covered terrace.
This is a very nicely furnished home with a good floor plan for those wanting two floors.
Our Lives
WEATHER: breezes have started... this means the trade winds are coming and with them, a change in the weather.
Thanksgiving: like anywhere in N. Am... (Canada in October) but otherwise the food, is the same... it is a N. Am. celebration... CR doesn't have a similar holiday. The weather was 75 degrees, sunny and beautiful....in this case, we can have our cake (turkey) and eat is as well (weather)...
News Items of the Week
Comments
1. Budget Approved: slightly more than last year which was 19% higher than the year before. Remember, half of this is paid from borrowed funds.
2. The "Cuban": at trial again... perhaps it will result in a sentencing... which will then be appealed multiple times. Don't think he has seen the inside of the jail yet. and I am sure his health will recover...
3. RETIVE: yes, again the rate increase is rejected because the method of establishing the rate has not been determined by the government agency since 2005... Wow!!! they can collect their aginaldo and performance bonuses on time...
4. Aginaldo: average per person is $1,800...non taxable. I don't know if this includes the 14th. and 15th. month aginaldos which are attached to some government positions. Also note that board of directors (wealthy and powerful) along with pensioners get the same treatment.
5. Exchange Rate Explained: I think the last two paragraphs tell the real story. The government continues to benefit because it has to pay borrowed funds in dollars when it collects in colones. (Also, the wealthy have borrowed in dollars and have the same problem... the government needs their support.) But, when the US increases the interest rate, CR will have to spend more money to defend the colon... in another article, locals are hoping the interest rate next year with decrease... doubt it...!
1. Lawmakers approve 2016 national budget at ¢8 trillion

Thanks to votes from a majority of opposition lawmakers on Thursday evening, the government of President Luis Guillermo Solís will get its requested budget for 2016, with no cuts, for the second consecutive year.

A majority of 34 members of the Legislative Assembly approved the ¢8 trillion ($15 billion) budget. The 2016 budget is 0.8 percent higher than this year's budget.

Only 10 legislators voted against the government's plan.

The proposal was passed thanks to negotiations between the ruling Citizen Action Party (PAC), National Liberation Party (PLN) and the Broad Front party (FA). The government's proposal was supported by 21 opposition lawmakers, including 14 from PLN, six from the FA and one from the Social Christian Unity Party (PUSC).

Some lawmakers, mainly from PUSC, accused PLN legislators of negotiating a "dark pact" with the government and of breaking a previous agreement among opposition parties that allowed them to secure the Assembly's directorate in May.

"It's an irresponsible budget," PUSC lawmaker Rosibel Ramos said following the final vote tally. "We feel ashamed and hurt."

Ramos, who chairs the Assembly's Financial Affairs Committee, said "the country needs a moment of silence for what you are doing here today. What you shamelessly have done to our country has no name."

PLN's Olivier Jiménez said he supported the budget because it seemed austere and mainly because it ensures funds for public education, health and security for next year.

The budget was approved in a first round of debate last Tuesday with a 32-13 vote. Costa Rica's constitution stipulates lawmakers must approve the national budget in two separate rounds of voting by Nov. 30 each year.

The approval of this year's budget in November 2014 required a serious negotiating efforts from the government as opposition parties repeatedly said they would not approve Solís' expenditure plan in the weeks before the final debate.

The second round of voting last year was held during a special legislative session on Saturday, Nov. 30, in which heated discussions and negotiations lasted five hours and ended at around 8 p.m. in a 27-22 vote, passing Solís' budget proposal without a single cut.
2. Prosecution seeks 20 years for Luis Milanes, accused of defrauding millions from American and Canadian investors in Costa Rica

November 26th, 2015 (ICR News) Costa Rica prosecutors, in their closing arguments this week in the criminal trial of alleged high-yield investment fraudster, Luis Tamayo Milanés requested that the man be sentenced to 20 years in prison for his crimes.

The trial of Luis Milanes, a now 65-year-old Cuban American accused of defrauding some 500 mostly American and Canadian investors out of $46 million when his Costa Rica-based high-yield investment program, Savings Unlimited closed down nearly 13 years ago, began in July.

Many victims lost most of their life savings, and their retirements, in what prosecutors say was a ponzi scheme.

Milanes appeared in court wearing pajamas during closing arguments this week, claiming he had spent the morning at the San Juan de Dios Hospital in San Jose.

The trial came as the result of Milanes failing to comply with a settlement agreement reached in May 2011 with his alleged victims.

At the time, Milanes agreed to turn over nine properties valued at $12 million and pay $1.8 million in cash by November 2012 in order to avoid a criminal trial.

Milanes delivered the properties and $1.2 million in cash, leaving $578,000 of the settlement agreement unpaid.

A verdict and sentencing in the case is expected soon.
3. Costa Rica regulator rejects request to more than triple vehicle inspection fees

November 23rd, 2015 (ICR News) Costa Rica's Regulatory Authority for Public Services (ARESEP) has rejected a request made last week by Riteve (RTV), the company that holds the government concession to provide annual mandatory motor vehicle inspections, to more than triple its inspection fees.

Riteve had requested an increase in its fees for the mandatory inspection from ¢9,930 to ¢30,320, arguing that such a drastic increase was necessary as regulators have not approved any increase in fees since 2005.

The decision by ARESEP marks the ninth consecutive time that regulators have rejected requests by Riteve to increase its fees, most recently in November of last year, when regulators also rejected the company's request to more than triple its fees.

The Spanish-owned company, which employs some 400 people in Costa Rica received the concession to perform the mandatory annual vehicle inspections in 2001.

As in each case prior, ARESEP, in its decision to reject the rate hike, said that the responsibility to determine a methodology for determining vehicle inspection fees is that of the Ministry of Public Works and Transport (MOPT), and with no methodology in place the regulator has no means of determining a fair price for the inspections, adding that repeated requests to MOPT to determine such a methodology since 2005 have gone unanswered.
4. Government ready to disburse Christmas bonuses
By the A.M. Costa Rica staff

The government that is very skilled in giving away other people's money will give away some of its own next week.

The national treasury will deposit an estimated $352 million in colons to the accounts of 184,154 employees and other persons. This is the 2015 aguinaldos.

Private enterprise has to make these payments, too, but the government disbursement, which averages about $1,800 a person, always is announced. This year it is 5.71 percent more than last year, according to the Ministerio de Hacienda. The money will be paid from borrowed funds because the national budget is about half borrowed money.

Aguinaldos represent a twelfth of what an employee or other persons earned since last Dec. 1. Employees love the practice, but employers do not.

Those on pensions, members of boards of directors and a long list of other persons who are not government employees also get aguinaldos.

In the private sector, some expats who are legally obligated to make support payments to children and ex-spouses are surprised that they, too, must pay aguinaldos.

Aguinaldos are not taxed or have deductions.
5. Central banker to explain exchange rate
By the A.M. Costa Rica staff

The chief economist at the Banco Central will talk to Democrats Saturday about the bank's exchange rate policy.

The U.S. dollar has strengthened against the world's major currencies, but the Costa Rican colon is now trading at a rate that is slightly lower than a year ago.

The buy/sell rate today is 526.44/538.86 colons, some four colons lower than a year ago.

The speaker is Roger Madrigal López.

Central bank officials have maintained in the past that it has been supporting the U.S. dollar.

The bank gained more control of the currency exchange market when it prohibited individuals from buying and selling currency. Now only banks participate in the daily monetary market.

The exchange rate is of importance to expats because many receive funds from outside the country. They have been mystified by some recent changes.

For example, the Banco de Costa Rica decided to limit the emissions of dollars at its automatic tellers. Banco Nacional did this some time ago.

The actions raised the suspicions of expats that the move was designed to protect the colon.

Just this week, another expat reported that Banco Nacional declined to accept a wire transfer for a large sum destined for a property transaction.

The colon will come under more pressure when the U.S. Federal Reserve finally decides to raise the base interest rate.

For now one beneficiary of the exchange rate is the central government which collects taxes and other funds in colons but has to pay for its crushing international debt in dollars.
Brian, Lita, the Late Hugo IV, irreverent Vicka, the pigeon toed parrot, Chico II and Chica II