Dear friends,
When I started Residencias Los Jardines, I started writing a weekly news letter -determined to tell all the good, bad, and the ugly. I knew some readers would be interested in the construction process. I expected others might be interested in the lifestyle of two people who had decided to live outside the box. For others, the adventures of Lita, the parrot and the cat took on an entertainment saga all its own.
Residencias Los Jardines is finished. We periodically have resales and rental availability. Some readers may be interested in this information.
Brian Timmons
DEVELOPER / PROPERTY MANAGER
Residencias Los Jardines / https://www.residenciaslosjardines.com info@residenciaslosjardines.com
ResidenciasPropertyManagement@gmail.com
Featured house this week
Paradisus Condos / Rohrmoser
FOR SALE
Residencias Los Jardines
Property Management, Rentals, Re-Sales
Market Activity
Sales: no inquiries.
Rentals: one inqury / 124 leased.
FOR SALE
Unit #105: $139,000 / See Unit
Unit #110: $215,000 $199,900 / See Unit
Unit #116: $214,000 $199,000 / See Unit
Unit #123: $237,000 $215,000 / See Unit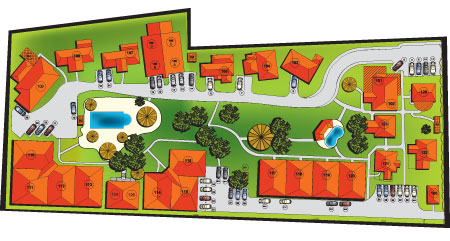 HOUSES FOR SALE
UNIT #105
FOR SALE $139,000
Total Area (Sq Ft): 950
Total area (Sq M): 88
Bedrooms: 1
Bathrooms: 1
Floor(s): Single Floor
Type: Detached
Furnished: Yes
Detached, single story, one bedroom with den and screened terrace with bar-b-q and semi private back yard. Beautifully maintained -all furniture and furnishings are included. Cedro cabinetry throughout including kitchen, living room entertainment center, bedroom and bathroom built in closets / cupboards... Granite counters (kitchen / bathroom), SS appliances, vaulted ceiling, ceramic floors through out, leather LR furniture, flat screen TV, etc.
UNIT #110
FOR SALE $215,000 $199,900
Total Area (Sq Ft): 1290
Total area (Sq M): 120
Bedrooms: 2
Bathrooms: 2
Floor(s): Single Floor
Type: Attached
Furnished: Yes
Beautiful end-unit bungalow (one floor) town home (part of 4 homes) situate at the far quiet end of Residencias Los Jardines, steps from the main pool. It includes one designated parking spot and one storage unit. The home is 120 square meters (approximately 1,300 square feet) with two bedrooms (master has king size bed and guest has queen size bed), two full bathrooms (one being an ensuite), a large open concept kitchen, living room, dining room, granite breakfast bar with stools and features vaulted ceilings and lots of windows. The home has a large covered terrace overlooking the gardens. Custom made wood blinds cover all windows throughout. Ceiling fans in bedrooms, living room and terrace.
UNIT #116
FOR SALE $214,000 $199,000
Total Area (Sq Ft): 1290
Total area (Sq M): 120
Bedrooms: 2
Bathrooms: 2
Floor(s): 1
Type: Semi-attached
Furnished: Yes
This 1,290 sf single floor home includes a 300 sf front terrace plus parking for one car and a separate, secure storage locker. It is and end unit and therefore attached on only one side by a 6 inch cement demising (common) wall, which prevents sound transfer.
UNIT #123
FOR SALE $237,000 $215,000
Total Area (Sq Ft): 1516
Total area (Sq M): 140
Bedrooms: 2
Bathrooms: 2.5
Floor(s): Two story
Type: Detached
Furnished: Yes
This two story, detached 1,423 sf home + parking for one car has two bedrooms, 2 ½ bathrooms and a 2nd floor covered terrace.
The open railed wrought iron cement stair case leads to the 2nd level where the master bedroom with en-suite master bathroom as well as 2nd bedroom and en-suite bathroom are located. Also accessed from the 2nd floor hallway is the covered terrace.
This is a very nicely furnished home with a good floor plan for those wanting two floors.
Our Lives
WEATHER: RAINS even though the reliable weather service said the dry season would arrive two weeks early, they are only reliable in being wrong. It is still raining almost every day... not a problem...
Car: another document is required... typical CR... rather than accomplishing anything, paper it over to the point of extinction!!!!!!!!!
Foreclosure: on behalf of a friend in the States, I attended a foreclosure on a secured mortgage that the borrower was unable to repay. The property was in a trust so, after advertising the sale in the government publication and waiting until the designated time (about a month), the borrower and friends met in the lawyer's office along with the lenders. The history was read aloud (I think this is a carry back to when not everyone could read so in order to not take advantage, all transaction had to be verbalized). All parties were identified and the security was also identified, an admission that the loan was in default and the debtor was unable to make good on the payments, the creditors took possession of the property. The former owner is still living in the property and he will be eased out in a couple months. If he is able to refinance or whatever, fine... if he is unable, the creditors have a $800,000 single family dwelling for $400,000. There will be room to sell it at fire sale price and all creditors will come out fine. This is not the normal course of events and one hopes this never happens but when things go south, this is the resolution. Nice to know for those interested.
News Items of the Week
Comments
1. Construction: In August the report said it would be less than last year. Now, 3 mo. later, it will be greater than last year. Typical CR... can't figure it out, don't know what is happening. My observation is that there is lots of commercial construction as well as residential in and around Santa Ana. Near us, a new building is under construction...
2. Phone Costs: phone service is incredibly inexpensive in CR. My normal monthly bill is around $14. Now I can call to the US and Canada for the same local rates... Incredible...
3. State Bank "Bonuses": Even the "new" scheme is ridiculous. Historically, everyone (80+%) receives a "performance" or "incentive" bonus... which is BS!!! and these are State banks... this comes off the "profit" so the banks are really screwing the state and the people... surprise?
4. Aguinaldo: this is the !3th. month payment required to all workers. Some Government works also get a 14 and 15th. month payment... it is totally ludicrous (my opinion). They payment system here is completely out of control... and this doesn't even count the retirement pensions... CR is a great place to be a state employee... this is why a substantial majority of university graduates want to be come state employees... totally different than N.Am.
5 / 6 / 9 Immigration and Conduit to US: CR has been used as a conduit for immigrants, now from the middle east and Cuba to enter the US via porous southern border. An organized group was arrested several weeks which had acted as cayotes... until then, these people had not shown up. Now, those in the pipeline are caught... CR never identified false passports, illegals, or a pipeline... another sign of corruption or incompetence...
7. Watson is at it again: He is a pain the the A.......s of many. Whether he is a hero or a scoundrel, he has continued to stand up to CR which purports to be environmentally conscious and turns away when confronted... Someone needs to stand up when systems are broken and here they are...
8 / 12. INS and ICE: Lingering remnants of a fight to maintain their monopoly status and to stifle competition. Those who maintain that the CAFTA (free trade agreement some say was forced on CR) was a mistake should take note...without it, these organizations would still be screwing CR in price, services, and technology. As you can see, ICE is still fighting co-generation... tooth and nail... they simply do not want private solar nor wind...
10. World Fuel Services: a different type of company expanding in CR...
11. CR Government more ineffective than the US... can you believe it? Wow... According to a University report, the current government has succeeded in passing only 2.5% of the legislation proposed at the outset..they passed only 8 out of a proposed 315... least amount in 25 years. Homicides are up 14%, unemployment is higher, public demonstrations are the highest in 22 years, and inequality is greater than previous several years.
1. Costa Rica construction sector makes surprise recovery this year

November 17th, 2015 (ICR News) After witnessing a contraction in 2014, Costa Rica's construction sector made a surprise recovery this year with positive growth, according to the Costa Rican Chamber of Construction (CCC).

After negative growth last year of -2.3 percent, the sector should close this year with positive growth of around 4 percent, CCC president Guillermo Carazo told Amelia Rueda.

The news comes as a surprise after a report in August indicated that construction activity had fallen across the board during the first half of this year compared to the first half of 2014.

A total of 6,480,574 square meters of construction were completed between October 2014 and September 2015, the most recent data available, according to the report.

While positive news, this year's growth in the sector is far from the double-digit growth witnessed in 2012. Between October 2011 and September 2012, the sector grew an incredible 26 percent versus the 12 months previous.

The sector began to contract in 2013, with positive growth of just 0.5 percent.

Growth this year was led by the housing sector, followed by commercial developments.

Housing grew by 6.6 percent between October 2014 and September 2015, reaching 3,446,626 square meters and accounting for half of all construction during the period, according to the Association of Engineers and Architects (CFIA).
2. Claro announces mobile calling to United States, Canada at same rate as local calls

November 12th, 2015 (ICR News) Attention "gringo" expats. You are probably going to want to switch to mobile carrier Claro after reading this story.

Following on the heels of Claro's announcement in April that it no longer would charge international rates or roaming fees for postpaid customers for calls or roaming in Central America, the mobile carrier has just announced that it is extending the plan, known as "Sin Fronteras," (No Borders) to the United States, Canada, and Mexico.

With the plan, which carries an additional cost of just ¢2,000 per month and can be added to any postpaid plan, customers can call the United States, Canada, Mexico as well as Guatemala, El Salvador, Honduras, Nicaragua and Panama for exactly the same rate as calling a local phone in Costa Rica.

The new plan is available immediately, a Claro spokesperson confirmed to ICR News on Thursday.

Even more, Claro customers who subscribe to the plan will not be charged roaming fees when traveling to the United States, Canada, Mexico or any Central American country included in the plan and will be able to call both locally and any of the other countries included in the plan (including calling from the US or Canada to Costa Rica) as part of their normal calling package without additional charge.

The plan even applies to data and text messages.

It should also be noted that this is not a special "app" that must be installed on a smartphone, and is not voice-over-IP. It is a standard calling plan and no particular type of phone is necessary.

If you are already a Claro postpaid customer, you can activate the plan by calling customer service at *200# and asking to activate the "Sin Fronteras" plan.

The feature is only available for postpaid customers, and there are no plans to extend the program to prepaid users.
3. Commission caps bonuses for employees of state banks at 60 percent of their salaries

November 11th, 2015 (ICR News) Costa Rica's state-owned banks – Banco Popular, Banco Nacional and Banco de Costa Rica (BCR) – must begin capping the bonuses and incentives paid to their employees at 60 percent of the employees' salaries as the result of a government directive.

The directive was issued by a special economic commission formed by the First Vice-President, the Ministry of Finance and the Central Bank.

Until now, employees could receive bonuses and incentives worth up to double their monthly base salaries.

Under the new scheme, an employee with an example monthly salary of ¢1.5 million can receive no more than ¢900,000 per month in additional bonuses and incentives.

Bonuses and incentives paid to employees must now also be based on appraisals of employees' performance.

In addition, state-owned banks must make public the methodologies, parameters and amounts of incentives paid to employees.

The measures are intended to increase the "transparency, accountability and rational use of resources" at state-owned banks, according to the Presidential economic Council.

The state-owned banks have until February to comply.
4. Costa Rica employers will spread some US $1.4 billion of "holiday cheer" this year

November 11th, 2015 (ICR News) Costa Rica employers will pay some ¢757 billion, or about US $1.4 billion, in mandatory Christmas bonuses known as aguinaldo to their employees this year, according to data published by the National Institute of Statistics and Census (INEC).

The figure represents an increase of some ¢43 billion, or about US $80.3 million versus last year.

Some 1,564,000 workers will receive an average bonus of ¢484,015, or about US $905, an average increase of ¢27,115 per worker versus last year.

By law, all employers, including the government, must pay the mandatory bonus – sometimes known as the "13th month" – between December 1st and December 20th.

For government workers, the bonus is calculated by calculating the sum of all gross wages paid to the employee between November 1st, 2014 and October 31st, 2015 and dividing by 12. For private employees, the bonus is calculated in the same manner, but using the sum of all gross wages between December 1st, 2014 and November 30th, 2015.

All gross income is included, including overtime and any other payments. No deductions are made for taxes or withholding payments when making the calculation.

This year, the central government – which typically makes up about 25 percent of the total dollar or colon value of all Christmas bonuses paid in the country – will deposit its employees' bonuses on December 3rd, according to the Ministry of Finance.

Last year, the central government alone paid some US $330 million in Christmas bonuses to some 198,000 current and former government employees, an average of about $1,600 USD each, or roughly double the national average.

Costa Ricans typically use the bonus for purchasing holiday gifts, paying off debts, and taking year-end vacations.
5. Tensions high as Nicaragua closes border to more than 1,000 Cuban migrants arriving from Costa Rica

Nicaraguan Army troops have been deployed to the Costa Rican border to repel more than 1,000 Cuban migrants arriving from Costa Rica.

Editor's note: This is an ICR news brief. Stay tuned to ICR for a full report on the Cuban migrant crisis in Costa Rica.

November 16th, 2015 (VOA) Nicaragua has sent more than 1,000 Cuban migrants, heading to the United States, back to Costa Rica, accusing San Jose of deliberately sparking a humanitarian crisis.

The diplomatic crisis began last week when Costa Rica said it would issue temporary transit visas to more than 1,000 Cubans it detained in recent days after crossing into the country from Panama.

Costa Rica's immigration chief said the government initially was deporting Cubans who arrived without proper visas, but criminal gangs began using the deportation process to facilitate the illegal transportation of migrants to the United States.

Costa Rica's Foreign Ministry chided Nicaragua for using security forces to detain the migrants, citing unconfirmed reports that soldiers used tear gas.

Nicaragua said there were some altercations when migrants stormed the Penas Blancas border post on Sunday.

In recent months there has been a surge in Cubans seeking to reach the United States, by way of Mexico and Central America, following a thawing of relations between the former Cold War foes.

The migrants now fear long standing asylum rights for Cuban immigrants in the United States will end.
6. Five with faked passports passed through Costa Rica
By the A.M. Costa Rica staff
And A.M. Costa Rica wire services

U.S. and Honduran officials are trying to determine the correct identity of five men who arrived at Toncontín airport in Tegucigalpa Tuesday night.

The five appear to have spent nearly a week in Costa Rica after having arrived here from Argentina. They are believed to be Syrian.

The five young men were traveling on what police in Honduras said were doctored passports. The Dirección Policial de Investigaciones appear to have been tipped off and were awaiting the arrivals. The men spent the night at the airport and went to the offices of investigators Wednesday.

The men appear to have passed through Costa Rican immigration controls on arrival and when they left, although those actions may have triggered the alert.

The men are believed to have told investigators that they planned to travel from Tegucigalpa to San Pedro Sula and make their way to the United States by land. Local media said that a sixth man with a doctored Greek passport had arrived in the country Friday and was detained.

Honduran investigators said that the passports had been reported stolen in Greece.

U.S. investigators are trying to determine if the men are simply refugees from the troubled Mideastern country or have other intentions.

The passports have been doctored to remove the photos of the Greek owners, and the photos of the men had been inserted. Police managed to determine that the men did not speak Greek.

The detention of the men became an international news story because of the Islamic State attacks in France Friday and the fact that one of the assailants entered that country as a Syrian refugee. There also is a political controversy in the United States over the desire by President Barack Obama to admit thousands of Syrian refugees.

A.M. Costa Rica has frequently reported that Central American intelligence agencies lack the resources to handle terrorism.
7. Watson files claim against Costa Rica
Special to A.M. Costa Rica
from the Sea Shepherd Conservation Society

Capt. Paul Watson, founder of Sea Shepherd Conservation Society, has filed a petition with the Inter-American Commission on Human Rights accusing Costa Rica of using the judicial system to violate his rights and derail his conservation efforts.

If successful, this petition could bring an end to a lengthy battle between Watson and the Costa Rican government, including potential dismissal of the Interpol red notice it issued in 2012 requesting his arrest and extradition.

Filed by Costa Rican attorney Abraham Stern Feterman, the petition alleges that the Costa Rican judicial system has deprived Watson of access to justice and violated his rights to due process and consular assistance.

Feterman says he hopes this filing will mark the beginning of the end of Watson's problems in Costa Rica.

"Captain Watson has suffered many injustices at the hands of the Costa Rican government, which for 13 years has engaged in a politically motivated campaign aimed at obstructing one of the world's foremost marine conservationists, and protecting the lucrative poaching trade in the region," Feterman said. "We look forward to seeing justice served and Captain Watson cleared of all charges."

The petition asserts that "legal proceedings against Paul Watson [in] Costa Rica are the direct result of a political maneuver to disable one of the most renowned conservationists in the world and free Costa Rica to continue the traffic of shark fins, a practice that violates environmental stability of the planet and the natural balance of the marine ecosystems."

The Costa Rican government has sought Watson's extradition based on an event that occurred in April 2002. At that time, Paul Watson was captaining the Ocean Warrior when it encountered the Varadero I, a Costa Rican vessel that was conducting illegal shark-finning operations in Guatemalan waters. Under the authority of Guatemalan law, Watson attempted to arrest the Varadero I, but the poachers broke free and fled toward Costa Rica.

Nevertheless, later that month the Costa Rican authorities filed a criminal complaint alleging that Watson and his crew threatened and attempted to murder the seven crew members of the Varadero I, as well as damaging their vessel. This complaint was based on testimony supplied by the Varadero I crew.

A local foundation offered Captain Watson local counsel, yet neither he nor his appointed counsel were provided timely notification about a preliminary hearing on the matter in December 2002. Although the allegations of attempted murder were later dropped, when Captain Watson did not appear for trial, the Costa Rican court declared him a fugitive and issued a warrant for his arrest on the charge of violation of ship traffic.

This matter escalated on May 13, 2012, when German authorities arrested Watson in Frankfurt on this charge. Six weeks later, Costa Rica submitted a modified extradition request alleging "shipwreck endangerment and aerial disaster," a far more serious offense typically associated with terrorism.

Two days after that, Japanese authorities formally requested Watson's arrest on conspiracy charges stemming from a 2010 incident involving Sea Shepherd's campaign to stop Japan's illegal whaling in the Southern Ocean. In August 2012, Interpol issued a red notice on Watson for the Costa Rican charge of shipwreck endangerment.

The petition claims that the Costa Rican courts have committed a number of serious errors in the legal proceedings against Watson, including ignoring the fact that they do not have jurisdiction because the events in question took place in Guatemalan waters, failing to inform Watson of his right to consular assistance and allowing the case to proceed to trial with inadequate evidence.

The petition follows a request for precautionary measures that Watson filed with the Inter-American Commission on Human Rights Sept. 25. It calls on the commission to open a case to allow Watson to establish Costa Rica's responsibility for violating his rights under the Hague Convention and the Vienna Convention, and to order Costa Rica to pay reparations.

The request for precautionary measures could be resolved sometime in December, while the petition to the Costa Rican government may take years to resolve.

Said Watson:

"In 2002 I intervened against a documented illegal shark finning operation in the waters of Guatemala at the request of the government of Guatemala. No one was injured and no property was damaged. I interfered with poaching profits and so I angered some well-placed individuals. We filed this case with the Inter-American Commission on Human Rights because my human rights have been violated by a politically motivated campaign to prevent my conservation efforts to defend endangered and threatened marine species," said Watson.

The encounter between the two boats was filmed and became part of a popular anti-shark finning documentary.
8. INS loses exclusivity in compulsory insurance

The National Insurance Institute (INS) lost exclusivity in marketing the Compulsory Automobile Insurance (SOA), as from next year any company could offer coverage if I was interested, and you get the mark in others.

Mapfre Quálitas Assa and Bolivar today are among the companies with the largest market vehicles. However, these companies have remained in expectation of the regulation, which was published yesterday in the Official Gazette, to indicate whether enter the new business.

The SOA provides coverage to victims of traffic accidents, in case of injury or death, and today represents the second largest component of the label with 23% of the cost.

Until now it was the only proper insurance INS, along with Labor Risks.

According to the new regulation, all duly authorized insurers should start marketing the SOA the first working day of November of each year.

It should set the limit of the amount of economic and medical benefits coverage. The government is who will define a basic amount each year and will include a table for clarity.

In that sense people can choose the medical center where they will be served, depending on the option that offer insurance and client.

The National Registry will have to give insurers the information on the vehicles that must sign the SOA.

Meanwhile, the Superintendent of Insurance (SUG) will create a public register of insured vehicles, which must be updated monthly.

And the mark?

Among the changes it includes that the mark must be numbered, but the decal is equal for all issuers, in accordance with the instructions rotate the National Highway Council (CONAVI).

This entity will deliver insurers design the first working day of March each year.

"All costs and risks associated with the manufacture, production, safety and delivery of marking are borne by insurance companies," states the policy.

OTHER COLLECTORS

Additionally, the Ministry of Public Works and Transport ordered the INS and the companies that will compete customer must submit the mark and a certificate of SOA, separately or in a single document.

As does the Institute today, private companies should act as collecting taxes, fines and timbres, already established by law, including the tax on vehicle ownership.

For this purpose, insurers should have signed agreements with the Ministry of Finance and any other institution that is collecting.

Just last year alone INS collection of about 1 million bills was around ¢ 276,000 million.

SPECIAL CONTRIBUTION CCSS

As EXTRA DAILY ahead, the full attention of the Costa Rican Social Security Fund (CCSS) in traffic accidents between January and July this year amounted to ¢ 13.171 million, including motorcycles and vehicles, among others. They would be met on average over 10 per week just for motorcyclists.

Under the new rule, when the surplus reserve insurers than 25% will have to make a contribution to the CCSS.

The balance must be delivered to the Fund in the time limit of 15 working days after the presentation of financial statements. Failure generate interest payments.
9. Costa Rica detains Syrian woman traveling on falsified Greek passport

Costa Rican authorities on Thursday detained a Syrian woman with a Greek passport, two days after five Syrian men were arrested in Honduras while attempting to travel to the United States on fake passports.

Public Security Minister Gustavo Mata told The Tico Times the woman is likely connected to the five Syrian migrants arrested in Honduras on Tuesday while carrying falsified Greek passports.

Mata said the woman was detained in a hotel in the center of San José, Costa Rica's capital. She had been staying at the hotel since arriving Tuesday.

"We received information today [Thursday] of a woman with the same physical description as a person who entered the country two days ago on a Greek passport. We have her in custody and are transferring her to the Prosecutor's Office," the minister told local Radio Monumental.

A ministry spokeswoman told AFP that police had been alerted to the woman's presence here by the owner of the San José hotel. Her name has not yet been released to the press.

She will now be questioned by Interpol and Costa Rican authorities to determine if the Greek passport in her possession is fake or stolen.
10. World Fuel Services (WFS)

A company in the marketing and financing of fuel products, will expand operations in Costa Rica next year, and is currently recruiting 70 people, the Foreign Trade Ministry reported.

The company reported that its growth is based on positive results achieved since its opening here in 2009. Currently the Miami-based company employs 130 workers and hopes to start 2016 with 200.

WFS is looking to hire staff with experience in business administration, accounting, finance or similar careers. All candidates must be fully bilingual (English and Spanish), and recruiters also are seeking people fluent in Mandarin.

The Costa Rica operation, located in Lindora, west of San José, provides services for WFS operations in Asia, Europe and the Americas. Local staff handle the company's billing services, customer service, cash applications, data managment, business relationship management for air and maritime sectors, accounting, information technologies and human resources.

Legal representative Juan Martínez said the decision to expand the Costa Rica operation was made by the parent company in the U.S. based on the qualifications of the local staff.

Foreign Trade Minister Alexander Mora welcomed the news and said the service sector now accounts for almost 72 percent of the country's gross domestic product and over 40 percent of total exports expected this year.

Those interested in applying for a job can send résumés by email to: CR-HRRecruiting@wfscorp.com.

WFS provides marketing and financing of aviation, marine and ground transportation of fuel products and related services to commercial and corporate aircraft, petroleum distributors and ships. Currently it offers its services at more than 8,000 locations around the world.
11. President Solís carries little clout with legislature, says official report

eing president of Costa Rica isn't what it used to be. The official State of the Nation Program put out a bruiser of a report Tuesday that said President Luis Guillermo Solís' administration lacks the political clout to move its priorities through a fractured legislature.

The Solís administration has been the least effective at getting new legislation passed of any government in the past 25 years, according to the report, which is put out by the leaders of Costa Rica's public universities.

The administration proposed 315 bills during the 2014 extraordinary session, when the administration sets legislative priorities, but only got eight passed – a 2.5 percent success rate. The report compared those numbers with the 1994-1995 legislative session, when José Figueres Olsen was president of Costa Rica. During that session, the legislature passed 34.6 percent of the Figueres administration's proposed bills.

The report also criticized the current legislature, calling out the Legislative Assembly and its mosaic of political parties for low performance.

Politics aside, the report said homicides, unemployment, public demonstrations and inequality were all up in 2014 compared to the last several years.

Casa Presidencial, responding to – but not denying – the assertion that the president has little sway in the legislature, said that the Solís administration was faced with "unprecedented" circumstances. "Never before has an administration had such a small ruling party faction that also happens to be in the most fragmented Assembly in the history of Costa Rica," the statement said.

The president's office also took issue with the report's statement that 2014 saw 587 public demonstrations, the highest number in the last 22 years. The administration said that the protests were in reaction to the out-going Laura Chinchilla (2010-2014) administration, and noted that Solís didn't take office until May 2014.

The report acknowledged that the majority of protests occurred during the end of the Chinchilla administration and "slightly" dropped off after Solís took office. Still, the president has struggled with several large demonstrations against his government – from public sector unions, teachers, dockworkers and private car service drivers.

Crime and poverty up

The report also addressed the spike in homicides in recent years. Homicides were up 16 precent last year, from 411 in 2013 to 477 in 2014, according to police figures cited by the report. This raised the country's homicide rate to 10 per 100,000.

The State of Nation report said the dismantling of the El Indio crime ring led to a wave of violence as criminals battled for territory in the resulting power vacuum. San José has seen the most homicides of any canton, followed by Desamparados and Limón.

Some of the report's other findings:

Poverty increased 1.7 percent between 2013 and 2014, reaching 22.4 percent of the population; Extreme poverty remained at roughly 6.7 percent.
Costa Rica's inequality measure, the GINI index, dropped 1 percent but remained at a "rather high" 0.516, according to the report.
Job growth will likely lag behind economic growth — even under ideal economic conditions — for the period 2015-2021.

But it wasn't all bad:

More young people are graduating high school, the report found. Infant morality is down.
12. Deadline approaching for Costa Rica to set distributed generation fees

Bright sunshine isn't anything new to Costa Rica, but broad, consumer-based distributed generation solar power soon will be, following the recent publication of an executive decree on the issue.

The Oct. 8 publication in the government newspaper La Gaceta of long-awaited distributed generation regulations finally has opened a legal pathway for residential homes and businesses to produce renewable power while storing excess electricity on the national grid.

Prior to the decree's signing by President Luis Guillermo Solís on Sept. 14, homeowners who generated their own solar, wind, biomass or hydro power could not send excess electricity back into the national grid to be stored and used later, nor could they pull electricity from public utilities when they were consuming more than they were producing. The new framework will enable more renewable energy alternatives into Costa Rica's electricity matrix, but some renewable energy proponents worry that hefty fees for connection and metering by the country's public utilities companies will dampen advantages for those interested in installing renewable energy systems in their homes.

Costa Rica's path to distributed generation

In 2010, the Costa Rican Electricity Institute, or ICE, launched a pilot program to allow customers to produce their own electricity while still on the grid. The program, which had some 300 participants by its end and was considered highly successful, ran through February of this year. It allowed customers to produce their own electricity and send excess power back into the grid for storage. They could then use that electricity later, when their own systems were not producing enough.

"Everyone loved the pilot program," said Cham Brownell, chief operations officer of Pura Vida Energy Systems, a company that sells solar systems. "Since then everything has gotten worse, but it is still workable."

After the pilot program closed public utilities lobbied for a number of restrictions and fees for customers who wanted to produce their own energy, claiming that distributed generation would hurt their bottom line. The proposed regulations required customers producing their own electricity to pay a per-kilowatt-hour rate not only for the electricity they used or stored on the grid, but also for electricity they produced and used. According to solar proponents, the biggest hurdle, however, was a guideline that would have required every household that wanted to sell excess back to the grid to register as a public utility, rendering it nearly impossible for any home to produce its own power without enormous costs.

The future

According to renewable energy advocates, the new regulations published in October do away with many of the problems from previous regulatory proposals, but not everything.

The decree will maintain access and connection fees requiring homeowners to pay for the meters and other equipment required to hook their system up to the grid, and it will charge for each kwh of electricity stored and redeemed from the grid. The Environment Ministry and other regulatory agencies say they no longer plan to charge homeowners for energy they produce and consume themselves without use of the grid, but they still will require homeowners to install two meters – one to measure the electricity used from the grid and another to measure their own total production.

Government officials say the double metering will allow them to monitor how much electricity is being produced by individuals in case a catastrophe wipes out these sources of energy and the national electricity grid needs to compensate. But those who favor distributed generation doubt any sort of natural disaster could have such a devastating effect without also damaging the electricity grid, and they also say there are other ways to monitor electricity use without double metering.

"We don't understand what purpose double metering could have unless the utilities want to charge us for the energy we produce," said Jorge Blanco, general secretary of the Costa Rican Association of Solar Energy, a solar energy advocacy organization. "Everything they want to accomplish with double metering can be done through other means, but setting up extra meters is more costly for the customer."

The new regulations will also maintain costly fees for commercial electricity consumers. Known as demand fees, these cost businesses a certain amount based on the maximum amount of electricity consumed within a 15-minute period for the month. The new regulations would charge commercial consumers the full demand fee regardless of how much electricity they themselves produced during those 15 minutes. Demand fees typically constitute a large chunk of a commercial business' electricity costs, and without a break on this fee, it eliminates the return on investment for installing a renewable energy system, critics say.

A small step forward

The distributed generation decree will officially go into effect once the country's regulatory authorities set the access and connection fees. The deadline to set those prices is December.

How quickly generated distribution catches on in Costa Rica will depend on this price tag, say solar companies.

"These fees are the instrument the government will use to either incentivize or slow down generated distribution," Blanco said. "We'll see which way it goes."
Brian, Lita, the Late Hugo IV, irreverent Vicka, the pigeon toed parrot, Chico II and Chica II