Dear friends,
When I started Residencias Los Jardines, I started writing a weekly news letter -determined to tell all the good, bad, and the ugly. I knew some readers would be interested in the construction process. I expected others might be interested in the lifestyle of two people who had decided to live outside the box. For others, the adventures of Lita, the parrot and the cat took on an entertainment saga all its own.
Residencias Los Jardines is finished. We periodically have resales and rental availability. Some readers may be interested in this information.
Brian Timmons
DEVELOPER / PROPERTY MANAGER
Residencias Los Jardines / https://www.residenciaslosjardines.com info@residenciaslosjardines.com
ResidenciasPropertyManagement@gmail.com
Featured house this week
Paradisus Condos / Rohrmoser
FOR SALE
Residencias Los Jardines
Property Management, Rentals, Re-Sales
Market Activity
Sales: no inquiries.
Rentals: 3 inquiries each for 2 bdrm units.
FOR SALE
Unit #105: $139,000 / See Unit
Unit #110: $215,000 $199,900 / See Unit
Unit #116: $214,000 $199,000 / See Unit
Unit #123: $237,000 / See Unit
FOR RENT
Unit #24: $850 mo. / Available Immediately / See Unit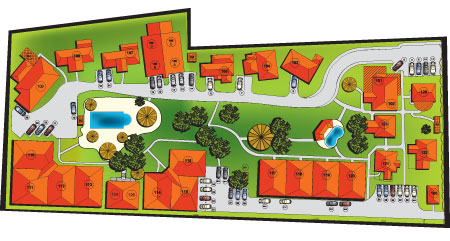 HOUSES FOR SALE
UNIT #105
FOR SALE $139,000
Total Area (Sq Ft): 950
Total area (Sq M): 88
Bedrooms: 1
Bathrooms: 1
Floor(s): Single Floor
Type: Detached
Furnished: Yes
Detached, single story, one bedroom with den and screened terrace with bar-b-q and semi private back yard. Beautifully maintained -all furniture and furnishings are included. Cedro cabinetry throughout including kitchen, living room entertainment center, bedroom and bathroom built in closets / cupboards... Granite counters (kitchen / bathroom), SS appliances, vaulted ceiling, ceramic floors through out, leather LR furniture, flat screen TV, etc.
UNIT #110
FOR SALE $215,000 $199,900
Total Area (Sq Ft): 1290
Total area (Sq M): 120
Bedrooms: 2
Bathrooms: 2
Floor(s): Single Floor
Type: Attached
Furnished: Yes
Beautiful end-unit bungalow (one floor) town home (part of 4 homes) situate at the far quiet end of Residencias Los Jardines, steps from the main pool. It includes one designated parking spot and one storage unit. The home is 120 square meters (approximately 1,300 square feet) with two bedrooms (master has king size bed and guest has queen size bed), two full bathrooms (one being an ensuite), a large open concept kitchen, living room, dining room, granite breakfast bar with stools and features vaulted ceilings and lots of windows. The home has a large covered terrace overlooking the gardens. Custom made wood blinds cover all windows throughout. Ceiling fans in bedrooms, living room and terrace.
UNIT #116
FOR SALE $214,000 $199,000
Total Area (Sq Ft): 1290
Total area (Sq M): 120
Bedrooms: 2
Bathrooms: 2
Floor(s): 1
Type: Semi-attached
Furnished: Yes
This 1,290 sf single floor home includes a 300 sf front terrace plus parking for one car and a separate, secure storage locker. It is and end unit and therefore attached on only one side by a 6 inch cement demising (common) wall, which prevents sound transfer.
UNIT #123
FOR SALE $237,000
Total Area (Sq Ft): 1516
Total area (Sq M): 140
Bedrooms: 2
Bathrooms: 2.5
Floor(s): Two story
Type: Detached
Furnished: Yes
This two story, detached 1,423 sf home + parking for one car has two bedrooms, 2 ½ bathrooms and a 2nd floor covered terrace.
The open railed wrought iron cement stair case leads to the 2nd level where the master bedroom with en-suite master bathroom as well as 2nd bedroom and en-suite bathroom are located. Also accessed from the 2nd floor hallway is the covered terrace.
This is a very nicely furnished home with a good floor plan for those wanting two floors.
HOUSES FOR RENT
UNIT #124
FOR RENT $850 mo. Available Immediately
Total Area (Sq Ft): 662
Total area (Sq M): 61
Bedrooms: 1
Bathrooms: 1
Floor(s): Second Floor
Type: Semi-Detached
Furnished: Yes
This 662 sf, + covered parking for one car, is a one bedroom home on the 2nd floor overlooking the large pool. It is ideal for a single person or couple.
Our Lives
WEATHER: It still continues to rain most every day... so far, this month is shaping up to be the same as the most recent past Novembers... wet... which is fine...
Christmas Comes Early:
Alleged Environmental Suit: it has been dismissed!!! after $2,100 paying for an environmental report and a criminal lawyer who told the court that the "investigation" was so thoroughly flawed, the court agreed and has dismissed the case... wow!!!! After five years of which only the last 8 mo. did we understand what the allegation was, someone finally realized that this was BS!
Car: The car I "bought" a year ago and which has never had plates so could never be driven, has now been deemed to exist and not be the subject of an illegal insurance transaction so it can now be appraised for import taxes. It won't end up being the bargain I thought I was going to be, but I should be o.k. Having said that, I'm not yet ready to sell my existing, perfectly working Pathfinder...When I have the plates, RITEVE, and marchamo, and a month's driving, then, and only then will I move to sell. Now I will begin trying to retrieve the various blood monies I have out.
Comment: as our social group continues to see chaos, mayhem, angst, horror, hatred, and intolerance around the world and while some have very strong opinions and stronger solutions which they would invoke to solve the problems with which not everyone amongst us agrees, we all agree that Costa Rica is a good place to be. Yes, we continue to have concerns about the government's fiscal irresponsibility, corruption, incompetence, and mostly drug related, targeted murders we continue to feel CR is a great place.
News Items of the Week
Comments
1. Public Protests: Actually this is a good news story since it is a backlash of public opposition to the organized self interest groups who have been protesting.
2. Avianca: now there are some cheap flights yes, various political dramas continue to play out, stupidity -two dump truck drivers collapse a Bailey Bridge by crossing together, CR continues to court Chinese money to pay wages, a high profile / wealthy woman on numerous boards of directorships has had her bank accounts frozen for suspected money laundering / drug related crimes- by now, none of this is "news".
Housing Market: while not robust, there does seem to be life... over the past 6 months four friends have been able to sell their single family, detached homes in gated communities and in all cases, they sold to Ticos. Prices started around $350,000 and sold for $300,000 or so.
1. Costa Ricans took to the streets in opposition of state oil company, public unions, taxes, and waste

November 9th, 2015 (ICR News) Hundreds of Costa Ricans took to San Jose's Plaza de la Democracia this weekend to call for an end to the state-owned oil company RECOPE's fuel monopoly, as well as to protest alleged abuses by public-sector labor unions, calls for new taxes by the Solis administration, government waste, and corruption.

The protest was organized by three separate groups via social media.

The main organizers, a group started on Facebook known as Referéndums por Costa Rica announced that the group would seek a national referendum in order to amend certain articles of the Constitution, including changes to the way that legislators are elected to the country's Legislative Assembly.

"We will continue to protest. A referendum where the people speak is the most democratic way to address the sort of wasteful spending that occurs today in government," said Carlos Ugalde, a spokesperson for the group.

Mauricio Sanchez, creator of the group known as No Mas Recope (No more RECOPE) that also participated in Sunday's protest, stressed the need to end the current monopoly of the state-owned oil company.

Sanchez's group says it demands that the country no longer depend on an institution that threatens to paralyze the country when its demands are not met, referring to RECOPE workers refusing to distribute gasoline, diesel and even jet fuel during a mass public sector union strike on October 26th.

Sanchez's group says it is not calling for the elimination of the state-owned company, rather only its legal monopoly on hydrocarbon sales, saying that competition would force RECOPE to "improve and become more efficient."

The third group, Costa Rica a la Calle: Ya no más Impuestos (Costa Rica to the Street: No More Taxes) said that in addition to supporting the causes of Referéndums por Costa Rica and No Mas Recope, that its members are outraged by calls for new taxes by the Solis administration amidst excesses in the collective agreements between public sector labor unions and the government and excessive compensation, benefits and bonuses paid to public employees.

Protesters also expressed their disapproval over what they consider wasteful government spending.
2. Avianca and cheap air flight

TAs part of its year-end promotions, Avianca airlines offer promotional fares of $ 399 and $ 499 tax included- -Interest and to nine destinations in North America from Costa Rica.

TAccording unveiled, starting from today until 23 this month, the airline offers special fares to Houston, Dallas and Miami, to $ 399; Los Angeles, New York, Chicago, Washington, San Francisco and Toronto, Canada to $ 499.

TThese rates apply for those buying between 9 and 23 November. Tickets can be used for travel between December 1, 2015 and June 10, 2016, except for the days between the 18 and 23 December 2015.

T"The most fashionable city, the largest city in the United States, Sun City, the Mecca of cinema, the Big Apple, the Windy City, the capital of politics, the jewel of the west or the city more multicultural world ... a menu of possibilities with rates tailored to meet one or more of the nine most attractive cities in North America, "said Danilo Correa, Avianca commercial director for Central America, Mexico and Caribbean.

TThe promotional fares are available for sale through the www.avianca.com, service centers Avianca, the airline call center or any of the travel agencies in the country.
Brian, Lita, the Late Hugo IV, irreverent Vicka, the pigeon toed parrot, Chico II and Chica II