Dear friends,
When I started Residencias Los Jardines, I started writing a weekly news letter -determined to tell all the good, bad, and the ugly. I knew some readers would be interested in the construction process. I expected others might be interested in the lifestyle of two people who had decided to live outside the box. For others, the adventures of Lita, the parrot and the cat took on an entertainment saga all its own.
Residencias Los Jardines is finished. We periodically have resales and rental availability. Some readers may be interested in this information.
Brian Timmons
DEVELOPER / PROPERTY MANAGER
Residencias Los Jardines / https://www.residenciaslosjardines.com info@residenciaslosjardines.com
ResidenciasPropertyManagement@gmail.com
Featured house this week
Paradisus Condos / Rohrmoser
FOR SALE
Residencias Los Jardines
Property Management, Rentals, Re-Sales
Market Activity
Sales: no inquiries.
Rentals: one viewing but no commitment.
FOR SALE
Unit #105: $139,000 / See Unit
Unit #110: $215,000 $199,900 / See Unit
Unit #116: $214,000 $199,000 / See Unit
Unit #123: $237,000 / See Unit
FOR RENT
Unit #24: $850 mo. / Available Immediately / See Unit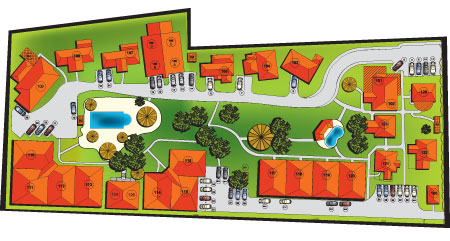 HOUSES FOR SALE
UNIT #105
FOR SALE $139,000
Total Area (Sq Ft): 950
Total area (Sq M): 88
Bedrooms: 1
Bathrooms: 1
Floor(s): Single Floor
Type: Detached
Furnished: Yes
Detached, single story, one bedroom with den and screened terrace with bar-b-q and semi private back yard. Beautifully maintained -all furniture and furnishings are included. Cedro cabinetry throughout including kitchen, living room entertainment center, bedroom and bathroom built in closets / cupboards... Granite counters (kitchen / bathroom), SS appliances, vaulted ceiling, ceramic floors through out, leather LR furniture, flat screen TV, etc.
UNIT #110
FOR SALE $215,000 $199,900
Total Area (Sq Ft): 1290
Total area (Sq M): 120
Bedrooms: 2
Bathrooms: 2
Floor(s): Single Floor
Type: Attached
Furnished: Yes
Beautiful end-unit bungalow (one floor) town home (part of 4 homes) situate at the far quiet end of Residencias Los Jardines, steps from the main pool. It includes one designated parking spot and one storage unit. The home is 120 square meters (approximately 1,300 square feet) with two bedrooms (master has king size bed and guest has queen size bed), two full bathrooms (one being an ensuite), a large open concept kitchen, living room, dining room, granite breakfast bar with stools and features vaulted ceilings and lots of windows. The home has a large covered terrace overlooking the gardens. Custom made wood blinds cover all windows throughout. Ceiling fans in bedrooms, living room and terrace.
UNIT #116
FOR SALE $214,000 $199,000
Total Area (Sq Ft): 1290
Total area (Sq M): 120
Bedrooms: 2
Bathrooms: 2
Floor(s): 1
Type: Semi-attached
Furnished: Yes
This 1,290 sf single floor home includes a 300 sf front terrace plus parking for one car and a separate, secure storage locker. It is and end unit and therefore attached on only one side by a 6 inch cement demising (common) wall, which prevents sound transfer.
UNIT #123
FOR SALE $237,000
Total Area (Sq Ft): 1516
Total area (Sq M): 140
Bedrooms: 2
Bathrooms: 2.5
Floor(s): Two story
Type: Detached
Furnished: Yes
This two story, detached 1,423 sf home + parking for one car has two bedrooms, 2 ½ bathrooms and a 2nd floor covered terrace.
The open railed wrought iron cement stair case leads to the 2nd level where the master bedroom with en-suite master bathroom as well as 2nd bedroom and en-suite bathroom are located. Also accessed from the 2nd floor hallway is the covered terrace.
This is a very nicely furnished home with a good floor plan for those wanting two floors.
HOUSES FOR RENT
UNIT #124
FOR RENT $850 mo. Available Immediately
Total Area (Sq Ft): 662
Total area (Sq M): 61
Bedrooms: 1
Bathrooms: 1
Floor(s): Second Floor
Type: Semi-Detached
Furnished: Yes
This 662 sf, + covered parking for one car, is a one bedroom home on the 2nd floor overlooking the large pool. It is ideal for a single person or couple.
Our Lives
WEATHER: It still continues to rain most every day... so far, this month is shaping up to be the same as the most recent past Novembers... wet... which is fine...
Traffic-Chaos in the Streets: it continues to be horrendous... bad drivers, broken down cars and trucks, bad roads and intersections, local traffic resulting in frequent stops to talk, to turn to??????? who knows what... it all results in crazy, crazy driving and very dangerous... lots of near misses.
Car: the saga and lies continue... and the car sits... I lost it today when I was asked for another $500 for reasons which make no sense unless it is just another pealing which I felt it was... my message, not so diplomatically delivered was... show me some progress!!!!!
Accountant: I'm still looking for an replacement to Krysia... she was the KEY person for me, and for Doneste.
News Items of the Week
Comments
1. Airlines: getting here, especially from the west coast of the US, midwest, and Europe is now getting easier and more affordable.
2. Morin Container Port: the successful company (Mersk) will now be able to select the people they want and train them... this is what the dock workers union was afraid of... and what Mersk insisted on... for good reason.
3. Higher Interest Rates and CR: it seems pretty certain now that the US FED will raise interest rates..perhaps as early as December / January. This is bound to have an affect on CR and all developing economies... the effect will not be positive...
4. Borrowing form mainland China: the pending interest rate hike and the fact that issuing US denominated bonds requires legislative approval, CR is hoping to give China a worthless pledge of colones for a billion... if it happens, it will, of course, come with strings... some of which might be know, most will not be known but the strings will entitle China to a preferential treatment on the things they want...
RECOPE has been knocked back a bit but not enough to lessen the bloat which it has--the Christmas party will be less extravagent, but the benefits will mostly continue. The MOPT, road construction group is way behind on 50% or s of their projects despite having 4% more resources...
1. Three airlines inaugurate flights to Costa Rica

Alaska Airlines, Thomson Airways and Southwest Airlines between inaugurated new routes to and from Costa Rica's international terminals in recent days.

On Saturday, Alaska made its first flight to Costa Rica on its Los Angeles-San José route, which is now operating four times a week. On Sunday, the airline launched its first flight between Los Angeles and Liberia, Guanacaste. Four flights a week will also be offered on that route.

Another U.S. carrier, Southwest Airlines, also launched the first flight of its daily route between Houston and Liberia on Sunday. On Nov. 7 the carrier will begin its route between Baltimore and Liberia, which will operate every Saturday.

On Monday, the U.K.'s Thomson Airways made its first weekly flight on the Gatwick-Liberia route using a B787-800 Dreamliner with a capacity for 291 passengers.

Tourism Minister Mauricio Ventura said authorities are pleased that the new airlines and new routes benefit both of the country's international terminals.

Costa Rica now has 70 connections to destinations worldwide, according to ICT data. A total of 17 airlines operate to and from Juan Santamaría International Airport, allowing direct connections with flights to 46 destinations. Ten airlines operate flights to and from Daniel Oduber International Airport, providing connections to 24 destinations.

Ventura said attracting new airlines is daily work, and that there should be more new routes and airlines to announce in the near future.
2. APM container firm makes deal to train workers
By the A.M. Costa Rica staff

The massive container terminal in Moin is expected to go into operation in January 2018, and the company operating the concession has made an agreement to train new workers.

The Dutch company, APM Terminals, and the Instituto Nacional de Aprendizaje announced the agreement Thursday. Those who wish to work at the terminal are able to take a year-long course in port operations.

The agreement also gives APM the opportunity to bring new blood into the industry and sidestep those employees who now work on the inefficient public docks in Moín and Limón.

The central government sees the agreement as a major step in reducing poverty in Limón province. The Dutch firm operates terminals all over the world, so employees in Moín will have the possibility of advancement.

Kenneth Waugh, general manager of APM Terminals Moín, said in a release that the agreement reflects the need for a new generation of trained port technicians who use the latest security technologies. The courses will be given in Limón.

Workers at the public docks are at least troublesome, and the union there has used every legal maneuver to block the arrival of the Dutch firm. Most of the nation's agricultural products pass through Moín, and frequent work stoppages and strikes have cost producers millions.

Still the central government has agreed to beef up the Moín facilities so that public workers can compete with the private concession.
3. How are we affected the rise in interest rates in the US?

The Federal Reserve of the United States (Fed for short) announced that it would raise interest rates monetary policy in December and this will cause economists, four negative effects on the pockets of Costa Ricans.

Among them stand out, Melvin explained Garita:

An increase in the cost of borrowing in dollars to start gradually increasing, in particular the people and businesses that are currently on the floor, so no doubt will report a change in their quotas.
Less attractive investments in Costa Rica, both in dollars and colones.
Upward pressure on interest rates in the country in both currencies in the medium term.
Downward pressure on the exchange rate of the colon against the dollar.

According to the analyst, the likelihood of increased rates rose from 35% who were 27 to 50% last October the December 16, 2015, this because a new set of economic variables were included in the announcement They could demonstrate a lower deceleration.

The Fed is looking at several factors to raise interest rates: behavior of US inflation, employment numbers, growth objectives; however, we always have an eye on the markets watching the performance of global stock markets, exchange rates and emerging markets.

In addition, they say in a statement that the risks to the outlook for economic activity and the labor market are broadly balanced, so they will continue to monitor economic and financial developments occurring globally.

General manager Acobo Group, Orlando Soto, agrees Garita that an increase in interest rates could negatively impact Costa Rica, as it certainly would drive up interest in dollars in the country.

The authorities discussed other economic indicators to raise rates. CRH.

"The activity of the US economy has expanded moderately in recent months, expenditure in the housing sector has been moderate and these are aspects that without doubt the Federal Reserve of the United States must be taken into account" he said.

Hernán Varela, head of Strategy brokerage firm Aldesa, said that people should take this into account if they are to make dollar loans, called "stress analysis" assuming that interest will rise and determines whether you can pay the fee or not.

"This is to make calculations about how increase the monthly loan payment if interest rates rise and if that fee could be covered with your current salary, especially for those earning in colones" he said.
4. Costa Rica government wants to print ¢540 billion, sell it to China without lawmakers' approval
By Timothy Williams, ICR News Editor-in-Chief

November 5th, 2015 (ICR News) Costa Rican president Luis Guillermo Solis is set to welcome Sun Chunlan, a high-level representative of China's Communist Party on Thursday, and on the agenda is the Solis administration's Christmas wish: a US $1 billion sale of public debt to the communist country.

Costa Rican foreign minister, Manuel Gonzalez said it would be the highest-level meeting between Costa Rica and China since the visit of Chinese president Xi Jinping to Costa Rica in 2013.

Gonzalez said that there was an "extensive agenda" that would be discussed, without mentioning specifics. "We have a real connection with this country (China)," Gonzalez said.

Despite Gonzalez's vague statement, however, analysts agree that the top priority in the discussion for the Solis administration will be securing some USD $1 billion in debt financing from China to help fill a significant government shortfall in its 2016 budget.

The Solis administration has stated previously that it hopes to have the financing in place by the end of the year.

But this time things will be a bit different, according to statements by Costa Rican finance officials in recent days – this won't be the typical financing arrangement between the Asian giant and Costa Rica that has typically been seen in the past.

Finance officials said late last week that if a successful deal is reached with China, that the transaction would occur in the local market, in the form of bonds denominated in Costa Rican colones (CRC) – about ¢540 billion of them, that would be sold to China.

By selling bonds in the local market, denominated in colones, the Solis administration would not require the approval of lawmakers in Costa Rica's Legislative Assembly in order to issue the bonds, which is normally the case when entering into debt with a foreign country.

Costa Rica would – essentially – "fire up its printing presses," printing colones out of thin air, and China would purchase the newly-minted colones – effectively buying public debt – through a local intermediary and would also hold the funds locally through some sort of fiduciary.

A Costa Rican finance official told CRHoy.com recently that this "mechanism" has already been used in other countries in the region such as Ecuador and Argentina.

The Solis administration is also seeking another US $1 billion in debt financing – half from the Inter-American Development Bank (IDB) and half from the World Bank – in order to further plug its budget shortfall for 2016.

Those debt issues, however would require the approval of Costa Rica's Legislative Assembly.
Brian, Lita, the Late Hugo IV, irreverent Vicka, the pigeon toed parrot, Chico II and Chica II