Dear friends,
When I started Residencias Los Jardines, I started writing a weekly news letter -determined to tell all the good, bad, and the ugly. I knew some readers would be interested in the construction process. I expected others might be interested in the lifestyle of two people who had decided to live outside the box. For others, the adventures of Lita, the parrot and the cat took on an entertainment saga all its own.
Residencias Los Jardines is finished. We periodically have resales and rental availability. Some readers may be interested in this information.
Brian Timmons
DEVELOPER / PROPERTY MANAGER
Residencias Los Jardines / https://www.residenciaslosjardines.com info@residenciaslosjardines.com
ResidenciasPropertyManagement@gmail.com
Featured house this week
Paradisus Condos / Rohrmoser
FOR SALE
Residencias Los Jardines
Property Management, Rentals, Re-Sales
Market Activity
Sales: the offer on 105 is not going ahead. The purchaser has problems independent of the deal and feels it is not the time for him to make this commitment... it's complicated but that is the bottom line. This is a disappointment for the owner.
Rentals: I had one viewing, conflicted messages and the RE agent got perturbed...
FOR SALE
Unit #105: $139,000 / See Unit
Unit #110: $215,000 $199,900 / See Unit
Unit #123: $237,000 / See Unit
FOR RENT
Unit #24: $850 mo. / Available Immediately / See Unit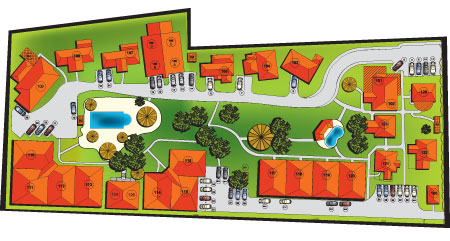 HOUSES FOR SALE
UNIT #105
FOR SALE $139,000
Total Area (Sq Ft): 950
Total area (Sq M): 88
Bedrooms: 1
Bathrooms: 1
Floor(s): Single Floor
Type: Detached
Furnished: Yes
Detached, single story, one bedroom with den and screened terrace with bar-b-q and semi private back yard. Beautifully maintained -all furniture and furnishings are included. Cedro cabinetry throughout including kitchen, living room entertainment center, bedroom and bathroom built in closets / cupboards... Granite counters (kitchen / bathroom), SS appliances, vaulted ceiling, ceramic floors through out, leather LR furniture, flat screen TV, etc.
UNIT #110
FOR SALE $215,000 $199,900
Total Area (Sq Ft): 1290
Total area (Sq M): 120
Bedrooms: 2
Bathrooms: 2
Floor(s): Single Floor
Type: Attached
Furnished: Yes
Beautiful end-unit bungalow (one floor) town home (part of 4 homes) situate at the far quiet end of Residencias Los Jardines, steps from the main pool. It includes one designated parking spot and one storage unit. The home is 120 square meters (approximately 1,300 square feet) with two bedrooms (master has king size bed and guest has queen size bed), two full bathrooms (one being an ensuite), a large open concept kitchen, living room, dining room, granite breakfast bar with stools and features vaulted ceilings and lots of windows. The home has a large covered terrace overlooking the gardens. Custom made wood blinds cover all windows throughout. Ceiling fans in bedrooms, living room and terrace.
UNIT #123
FOR SALE $237,000
Total Area (Sq Ft): 1516
Total area (Sq M): 140
Bedrooms: 2
Bathrooms: 2.5
Floor(s): Two story
Type: Detached
Furnished: Yes
This two story, detached 1,423 sf home + parking for one car has two bedrooms, 2 ½ bathrooms and a 2nd floor covered terrace.
The open railed wrought iron cement stair case leads to the 2nd level where the master bedroom with en-suite master bathroom as well as 2nd bedroom and en-suite bathroom are located. Also accessed from the 2nd floor hallway is the covered terrace.
This is a very nicely furnished home with a good floor plan for those wanting two floors.
HOUSES FOR RENT
UNIT #124
FOR RENT $850 mo. Available Immediately
Total Area (Sq Ft): 662
Total area (Sq M): 61
Bedrooms: 1
Bathrooms: 1
Floor(s): Second Floor
Type: Semi-Detached
Furnished: Yes
This 662 sf, + covered parking for one car, is a one bedroom home on the 2nd floor overlooking the large pool. It is ideal for a single person or couple.
Our Lives
WEATHER: It continues to rain most every day... one article below indicates we are moving into the dry season... of course, this is November... it doesn't take a climatoligist to tell us...
News Items of the Week
Comments
1. Boating Accident: now you have it... no one is negligent... no responsibility...
2. CR Exports: a mixed bag with the government putting the best spin it can on the figures it presents. If one reads it without thinking too much, it sounds o.k. but if you really think about it, not all is great...
3. General Strike: This happened last week and was billed as the Mother of all strikes, designed to bring the government to it's knees. Well the government collapsed before the strike ever happened by signing a 5 point agreement (the story now comes out) and the strike itself, was a miserable failure... few people turned out and not much was disrupted... however, the government caved as it always does... three strikes and I'll give you want you want... based on 15 years of observation...
4. Weather: yes, nature is taking i s course... but so far, we have had only 64% of normal... this is the third (?) year of below normal rainfall..
1. Investigation finds 'no negligence' in deadly Costa Rica catamaran accident

Bob Patterson and a group of friends from Chilliwack, British Columbia, were four days into a two-week vacation in Costa Rica on Jan. 8 when the catamaran they and at least 90 others were on sank. The capsizing of the Pura Vida Princess, one of the worst maritime accidents in recent Costa Rican history, claimed the lives of three foreign tourists including Patterson's friend, Sharon Johnson.

"Her loss has been devastating for her husband and our group. It's a day that changed our lives forever," Patterson told The Tico Times. "The government told us they would get to the bottom of what happened."

More than nine months later, the government has, at least, eliminated one possible cause of the tragedy.

After several months of investigation with the assistance of the U.S. Coast Guard and the U.S. National Transportation Safety Board, the Judicial Investigation Police (OIJ) has determined that negligence is not to blame.

"The conclusion that the OIJ gave to the prosecutor in Garabito [a Pacific coast canton that includes Jacó, near where the Pura Vida Princess sank] was that there was no indication, evidence or witnesses indicating that the cause of the shipwreck was negligence or damages to the ship," OIJ spokeswoman Paola Madrigal told The Tico Times in an email. Rather, she said, it was due to "natural causes."

The Pura Vida Princess, owned by Global Crust Firm S.A., left Herradura Bay on Jan. 8 on its way across the Gulf of Nicoya for a day trip to Tortuga Island. Reports indicated that the sea was calm when the vessel set sail, but within 30 minutes the catamaran found itself in rough seas with waves as high as 2 meters and winds up to 45 knots. Before the ship's captain could return to port, the catamaran started taking on water. The ship tipped on its starboard side and capsized, killing three passengers, one each from Canada, the United Kingdom and the United States.

The OIJ investigation was delivered to the Prosecutor's Office sometime in June or July, according to Madrigal. The Tico Times requested the full report but the OIJ declined to provide it.

Although the OIJ determined there was no negligence in the accident, the case remains open, according to Prosecutor's Office spokeswoman Tatiana Vargas. Vargas would not comment on the ongoing investigation but said the prosecutor in Garabito is waiting for the results of two pending private investigations paid for by the victims before deciding whether to pursue a criminal case.

Steven Ferris, a former prosecutor and a board member of The Tico Times' parent company, said that if the OIJ does not find cause it would be unlikely the Prosecutor's Office would file criminal charges. Prosecutors have the legal right to pursue a case without the assistance of an OIJ investigation but "it would have to be an enormous effort to collect evidence on its own," Ferris said. He added that the OIJ's report of no wrongdoing would bolster the defense's case.

Recommended: Tragic boat accidents renew calls for navigation law Patterson, who was on the Pura Vida Princess that fateful day, said he was disappointed to learn of the OIJ's report.

"I find that hard to fathom," Patterson said. "We would like to see someone take accountability for this. There had to be errors on someone's part for us to be in that situation to begin with."

The 100-foot Pura Vida Princess catamaran that sunk on Thursday, Jan. 8, 2015. Patterson also said that neither he nor his group had received any word on the status of their insurance claims since June. He is not alone. Another passenger from the catamaran, Todd Olson, told The Tico Times in September that he and others he knew from the accident have yet to collect on their claims.

Calls to Álvaro Masis, the lawyer who was in contact with Patterson and other claimants on behalf of the Pura Vida Princess, were not answered by close of business Friday. Any response will be added to this article.

More than 10 months after the accident, Patterson said that he and his wife are still trying to recover emotionally from the experience. His wife continues to have nightmares about the capsizing, and he said they both think often of Sharon Johnson, who was 70 years old when she drowned in the accident.

"Yes, we'd like to be reimbursed for the stuff we lost, but is that the biggest thing?" Patterson asked. "How do you pay for a loss of life?"

If you have an insurance claim pending or fulfilled from the Pura Vida Princess accident, let us know. Contact Zach Dyer at zdyer@ticotimes.net
2. Costa Rica exports show slight growth in 2015

Exports of goods from Costa Rica rose 2.3 percent in the first nine months of 2015 compared with the same period of 2014, the Foreign Trade Ministry (COMEX) reported Monday. If, that is, you leave out electronic components.

The so-called "Intel effect," which refers to the sharp decline in Costa Rica's electronics exports caused by last year's closure of chip manufacturer Intel's Costa Rica plant, still influences the country's overall export figures. If exports of electronic components are included in comparisons between this year and last, there's been an overall 16.7 percent decline in exports.

Foreign Trade Minister Alexander Mora Delgado said that the country's export performance is not a surprise. Rather, he said, it confirms the government's forecast following Intel's exit.

Mora said Costa Rican exports follow what's happening in the region and the world. "Actually, if this behavior continues, we will meet at least 96 percent of our export goal for this year," he noted.

The COMEX report states that exports of goods rose from $6.53 billion recorded in the January-September 2014 period, to $6.68 billion in the same period this year, if excluding exports of electronic components.

If including them, export figures dropped from $8.73 billion in the first nine months of 2014 to $7.27 billion this year. Total export figures in the electrical and electronic devices sector are down by 73 percent, according to the report.

Agricultural exports down

Export figures declined in other sectors as well. Sales abroad of livestock and fish fell 6 percent, from $269 million in 2014 to $251 million this year.

Agricultural exports overall dropped slightly from $2 billion in the first nine months of 2014 to $1.88 billion this year. Results, however, were cushioned by good coffee sales, which were up by 17 percent, mostly to the U.S., Belgium and Australia. Coffee exports to Australia grew by 80 percent.

The medical device sector continues to lead positive export figures, showing an increase of 24 percent so far this year over last. Ministry officials attribute the growth largely to increased exports to the U.S., Belgium and Japan.

Results were also positive in exports of chemical products, which were up 7 percent, and in the food sector, which grew by 4 percent.

Services maintain positive figures

COMEX also reported that exports of services between July 2014 and June 2015 reached $6.45 billion — 4.4 percent higher than during the same period the previous year (2013-2014).

Ministry officials say this is thanks to a sustained growth in the tourism, IT and business services sectors. The tourism services sector recorded the greatest growth, from $2.73 billion last year to $2.93 billion during the same time period this year.

The COMEX analysis states that exports of services have trended upwards over the past four years, although the pace of growth has slowed recently as a result of lower exports in sectors such as transport and financial services.
3. Underwhelming Costa Rica strike mostly affects health service access

The government and union leaders reached an agreement in the early hours of Tuesday morning, ending the strike. Among the agreements, the Solís administration will introduce a living wage bill in December's extraordinary legislative session, and will prepare to introduce to the legislature Convention 184 of the International Labour Organization on adequate conditions for agricultural workers. The sides also agreed to establish a working group to discuss the present and future finances of the public pension system. The union umbrella group, Patria Justa, agreed to urge its members not to initiate another strike while negotiations are ongoing.

Original story continues here:

While the call for a nationwide strike by public service unions on Monday had only moderate support, it did cause the cancellation of at least 86 surgeries at three hospitals, according to a report from the Social Security System, or Caja.

According to the Caja, 40 surgeries were rescheduled at San Juan de Dios Hospital in downtown San José; 28 at San Vicente de Paul Hospital in Heredia; and 18 at the National Children's Hospital.

Caja officials reported that 745 employees – just 1 percent of total staff – joined the strike. There was no need to reschedule appointments at public clinics.

Workers from other public agencies demonstrated in several provinces, but the largest group marched along the capital's Second Avenue.

Other groups of demonstrators staged blockades on roads in San José, Alajuela, Cartago and Heredia in the early hours of Monday, but National Police officers quickly removed them.

Public Security Minister Gustavo Mata said officials launched an operation to block disruption of public services at midnight on Sunday. Those efforts focused mostly on preventing demonstrators from blocking roads and access to public offices.

Mata reported that a total of 400 police officers prevented blockades at several locations, mainly in Limón and San José.

The minister said officers were sent to Caribbean docks and to several fuel distribution plants run by the National Oil Refinery, including those at Juan Santamaría and Daniel Oduber international airports.

Gas station owners on Monday evening reported that they likely would run out of fuel on Tuesday, mostly because many motorists bought large quantities of fuel throughout the day.

The Costa Rican Electricity Institute reported that 1,053 of its 15,041 employees – less than 7 percent – joined the strike. The protest affected customer service departments at only a few branches, ICE said.

The secretary general of the National Association of Public and Private Employees, Albino Vargas, addresses protesters in front of the Finance Ministry in San José, on Oct. 26, 2015.

Costa Rica strike demands

Demonstrators in the capital gathered mainly outside the Finance Ministry in downtown San José, demanding the government withdraw a series of proposals currently under discussion that unions believe would affect their salaries.

At about 3 p.m. on Monday, union leaders met with Presidency Ministry officials at Casa Presidencial to negotiate an end to the strike. At about 8 p.m. the meeting was still at a stalemate.

Public workers urged the government to remove proposals aimed at eliminating a number of extra wage benefits granted during collective agreements decades ago.

Unions also want the Legislative Assembly to withdraw a bill that would set salaries for all public employees using the same parameters, therefore eliminating special perks exclusive to some agencies.

They also are asking the Public Services Regulatory Authority to overturn a recent change in formulas used for setting utility rates and fuel prices that eliminated costs for extra wage benefits.

President Luis Guillermo Solís in a message on national television Sunday said that he would take all necessary steps to prevent the disruption of public services.

"The majority of citizens have the right to access public services. The people of this country deserve to live and work in peace," he said.
4. Transition to dry season in Costa Rica begins this week

The effects of the rainy season in Costa Rica will start decreasing slightly starting this week, the National Meteorological Institute (IMN) said Monday.

The transition to the country's dry season is expected to last just over a month. Meteorologists estimate the last showers of the current rainy season will fall in early December in the southern Pacific area.

But don't put your umbrella away yet. A low-pressure system located in the Pacific Ocean will increase moist and unstable atmospheric conditions during the first days of this week and likely will cause showers and electrical storms across most of the country, IMN reported.

Afternoons will be cloudy throughout the week, and moderate to heavy rains with thunderstorms are expected in the Central Valley, Pacific region, Northern Zone and the mountainous areas of the Caribbean region.

Still, rainfall levels for most of the country so far this year are only 64 percent of normal. Drier-than-usual conditions are due mainly to an El Niño weather phenomenon, according to IMN.
Brian, Lita, the Late Hugo IV, irreverent Vicka, the pigeon toed parrot, Chico II and Chica II