Dear friends,
When I started Residencias Los Jardines, I started writing a weekly news letter -determined to tell all the good, bad, and the ugly. I knew some readers would be interested in the construction process. I expected others might be interested in the lifestyle of two people who had decided to live outside the box. For others, the adventures of Lita, the parrot and the cat took on an entertainment saga all its own.
Residencias Los Jardines is finished. We periodically have resales and rental availability. Some readers may be interested in this information.
Brian Timmons
DEVELOPER / PROPERTY MANAGER
Residencias Los Jardines / https://www.residenciaslosjardines.com info@residenciaslosjardines.com
ResidenciasPropertyManagement@gmail.com
Featured house this week
Paradisus Condos / Rohrmoser
FOR SALE / FOR RENT
Residencias Los Jardines
Property Management, Rentals, Re-Sales
Market Activity
Sales: no inquiries.
Rentals: I had two viewings but no rentals...
FOR SALE
Unit #110: $215,000 $199,900 / See Unit
Unit #123: $237,000 / See Unit
FOR RENT
Unit #24: $850 mo. / Available Immediately / See Unit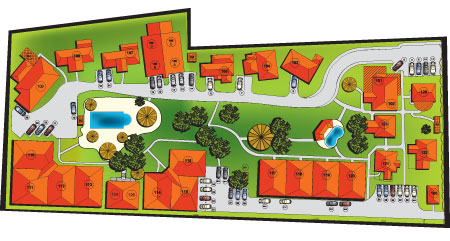 HOUSES FOR SALE
UNIT #110
FOR SALE $215,000 $199,900
Total Area (Sq Ft): 1290
Total area (Sq M): 120
Bedrooms: 2
Bathrooms: 2
Floor(s): Single Floor
Type: Attached
Furnished: Yes
Beautiful end-unit bungalow (one floor) town home (part of 4 homes) situate at the far quiet end of Residencias Los Jardines, steps from the main pool. It includes one designated parking spot and one storage unit. The home is 120 square meters (approximately 1,300 square feet) with two bedrooms (master has king size bed and guest has queen size bed), two full bathrooms (one being an ensuite), a large open concept kitchen, living room, dining room, granite breakfast bar with stools and features vaulted ceilings and lots of windows. The home has a large covered terrace overlooking the gardens. Custom made wood blinds cover all windows throughout. Ceiling fans in bedrooms, living room and terrace.
UNIT #123
FOR SALE $237,000
Total Area (Sq Ft): 1516
Total area (Sq M): 140
Bedrooms: 2
Bathrooms: 2.5
Floor(s): Two story
Type: Detached
Furnished: Yes
This two story, detached 1,423 sf home + parking for one car has two bedrooms, 2 ½ bathrooms and a 2nd floor covered terrace.
The open railed wrought iron cement stair case leads to the 2nd level where the master bedroom with en-suite master bathroom as well as 2nd bedroom and en-suite bathroom are located. Also accessed from the 2nd floor hallway is the covered terrace.
This is a very nicely furnished home with a good floor plan for those wanting two floors.
HOUSES FOR RENT
UNIT #124
FOR RENT $850 mo. Available Immediately
Total Area (Sq Ft): 662
Total area (Sq M): 61
Bedrooms: 1
Bathrooms: 1
Floor(s): Second Floor
Type: Semi-Detached
Furnished: Yes
This 662 sf, + covered parking for one car, is a one bedroom home on the 2nd floor overlooking the large pool. It is ideal for a single person or couple.
Our Lives
WEATHER: normal rainy season for this time of year... several hours a day or night and sunny for most of the rest. It is a wonderful time of year in the Central Valley... the rain is usually not heavy or for long periods of time... sometimes, we have heavy thunderstorms but they pass over...
Happy Garden--Happy Life: the garden loves this weather... plants are happy, everything is green and growing, -- my main disappointment is that for the past three years, this state is not maintained during the dry season... We can never do as well as nature but we can do MUCH, MUCH better than we have been doing. This is the biggest source of frustration amongst the owners.
Back on Line -AGAIN: it appears the oomputer repairs were done completely... I am pleased with APPLE service... they honored their product without a hassle...
Car: promises, promises... mostly BS I believe but I have to work through this and take Lita's beatings...
Alledged Environmental Damage: this continues to remain silent. At best, I'll die before any acknowledgement of this BS accusation is uttered...
News Items of the Week
Comments
I am not sure what to make of the articles ?, ??, ???... government initiatives on borrowed money. It doesn't make a lot of sense to me. Quite frankly, I do not see how the building of a convention center next to an existing private facility which can serve the same purpose, adds any value to the ailments of the country. It seems to me that if one is going to invest in the country expecting a payback, that the investment would be in areas identified as critical... infrastructure being one.
The IMF article is simply another in a series of assessments and warnings to a country which isn't listening. While I don't know what the future holds, I do think I will keep my savings in US $ and only some of that in CR banks...
The Beach: Our favorite is Playa Carrillo... a 4 hr. drive. We actually reunited with a person we had met over the years and it was interesting to see what he is now doing... he took over a failing development and is moving it along. The beach itself continues to be beautiful. There were perhaps a few more tourists there an in previous years. But the hotels were mostly empty. I tried to negotiate a special rate with our favorite hotel which had NO clients... but couldn't. I simply wanted some benefit to paying directly vs. booking through Trip Advisor / Booking.Com, the equivalent... the hotel has to pay 15% to these guys. I was willing to go to the booking agency in Santa Ana, pay them directly and asked for some relief... say 50-50... nope, they wouldn't do it. I also wanted to add two meals per day... (breakfast was included in the price)... and then I said I wanted only one meal... not two... the price was the same... I gave up and walked... which is exactly what I did the last time and they could have had 15 room nights as others were going with us. One of us is missing something... I see this as one example of how it is difficult to do business here and why the tourist industry is hurting... they shoot themselves in the foot time and time again... I have no sympathy...
1. ? Rate cut to boost economy does not seem immediate
By the A.M. Costa Rica staff

President Luis Guillermo Solís did not make the afternoon press conference Monday where more details of his Impulso program to boost the economy were supposed to be given.

In fact, the information provided was identical to what the president said in his Sunday speech, but there were photos. Sergio Alfaro Salas, the minister of the Presidencia, outlined the proposals, but reporters had more interest in questioning Olivier Castro Pérez, president of the Banco Central.

Among other statements, he repeated his warning against Costa Ricans accepting loans in dollars when their income is in colons. But a key statement was that there was a possibility that interest rates would decline two points.

Solís said Sunday that the Banco Central had told Casa Presidencial that it had taken steps that would result in a reduction in the base interest rate to benefit producers.

He said he hoped that as a result of these methods, the interest would drop about two points.

That appeared to be something immediate. But when a reporter challenged Alfaro about the president's statement, the minister said that the reduction in the interest rate would be something that would take place as a result of the methods to boost the economy.

The Spanish-language press had seized on the rate reduction as a key part of the president's plan and headlined the concept Monday.

Casa Presidencial had said earlier that Solís would be tied up Monday due to a scheduled health checkup.
2. ?? Solís seeks to boost the economy with borrowing
By the A.M. Costa Rica staff

The president proposed a series of steps Sunday night that are designed to improve the national economy. Nearly half of the proposals are based on borrowed money.

The president, Luis Guilermo Solís, appeared upbeat and smiling as he spoke to the nation on the weekly Cadena Nacional. Major stations did not air the nearly seven minute presentation. Instead there was soccer and dancing on channels 6 and 7.

Solís said that the economy already was improving and cited statistics that showed unemployment was 9.5 percent. He cited a Banco Central statistic that said national production had increased 2.1 percent.

Eliminating the production of free zones, the increase is 3 percent in the last four months, said the president.

The president promised this major statement on the economy Thursday. He plans to amplify the 10 proposals at a press conference today.

Top on the list were two projects that would benefit tourism. The president said that as of January a ferry service would begin between the Puerto Caldera in Costa Rica and Puerto La Libertad in El Salvador. This would cut transportation time by trucks from three days to 20 hours and reduce the cst by a half, he said.

Second on the list was the $35 million convention center in Barreal de Heredia. Bids for construction would be sought before the end of the year, he said, adding that the center was expected to boost tourism by 4 percent.

He also said that the Consejo Nacional de Producción would increase purchases from small and medium producers by 10 billion colons ($19 million) this year and in 2016.

In nine months the Banca para el Desarrollo will double to 200 billion colons ($379 million) the amount allocated for loans to small business operators, he said. This would benefit 70,000 persons, he added.

Next year the Instituto Nacional de Aprendizaje will create some 21,648 new spots for the institute's training classes, Solís added.

The government in 2016 will make an effort to begin work on some $650 million in infrastructure based on external financing, he said.

He also promised that paperwork would be simplified and that the Secretaría Técnica Nacional Ambiental would have a group of professionals designated before the end of the year to give priority to public works project plans. Before the end of the year, the same Secretaría Técnica Nacional Ambiental would begin a system of certification of those involved in the creation of private projects, he added.

The president also promised to speed up within 90 days the system of granting sanitary permits to activities of low risk and that the permits would have automatic renewal for five years, he said.

The final proposal was to simplify the paperwork in registering products of low risk, cosmetics and foods to reduce the processing time from 30 days to only five. Such approval is required for new products and the importation of products from abroad.
3. ??? Two key presidential proposals seem to lack certainty
By the A.M. Costa Rica staff

Two proposals by President Luis Guillermo Solís might not be as sure as he suggested.

Both the $35 million convention center and a ferry service between Puerto Caldera and El Salvador have been in the works for years.

The ferry service was supposed to start last January. This is a $14 million project of Naviera Odiel, a Spanish shipping company. The initial approval was given in 2000. El Salvador's vice president, Óscar Ortiz, has been promoting the plan since he took office. He sees a ferry route as a tourism draw.

The shipping firm has been hard to pin down, according to local press reports. One early report promised a ferry that would include restaurants and even a casino.

The convention center has been promised for years. The Solís administration has been trying to resurrect the project. Plans already have been prepared, and the government owns the land. The center is supposed to accommodate 4,500 persons.

The convention center is a business, not just a public work. Feasibility studies are said to exist. A.M. Costa Rica has reported that to justify the $35 million debt, the center would have to have a continuous flow of income.

In addition, the government would be in competition with its own Estadio Nacional and private venues such as the nearby Centro de Eventos Pedregal.

For international conventions there are competitors in other countries who have locations close to beaches and other attractions.
4. ???? IMF warns of increased risk of an abrupt adjustment in country

External credit market could close and force the changes, said Chief of Mission Agency expects inflation of 2% to 3% for 2016 and further growth.

The high fiscal deficit that drags Costa Rica can cause the international credit markets will close their doors and force a disorderly financial adjustment, which would affect the weakest sectors.

So warned Figliuoli Lorenzo, head of mission of the International Monetary Fund (IMF) that visited the country this week. He gave this Friday, a press conference with Mario Garza, regional representative of the IMF; Olivier Castro, president of the Central Bank of Costa Rica, and Helio Fallas, Minister of Finance, among others.

Figliuoli explained that when the deficit is so large and public debt to output grows so fast and exceeds levels of 40% or 50% of production, increase the risks for the economy.

For this year, the central government deficit (excess of expenditure over income arising mainly from taxes) will reach 5.9% of production. Meanwhile, the amount of government debt relative to production reached last July, 41.5%, and the entire public sector, 60.4%.

"What is the danger of not making the fiscal adjustment?

For the delegate, it is that the markets are closed and force an adjustment in a disorderly manner, too abrupt and urgently. "In these conditions, fiscal adjustment is not well designed, is not done with gradual and has a negative impact on the economy and, especially in the weaker sectors of society, those who can least defend when things will go wrong, "he said.

According Figliuoli, this risk rises with the possible rise in interest rates in the United States.

A year ago, the IMF envoy said that an adjustment equivalent to 3.75% of production, which should be done, with 2.50% through increased tax collection and other 1.25% is required measures to reduce spending. This time he repeated the recipe.

The former Minister of Finance, Francisco de Paula Gutierrez, recognized the validity of the chief concerns of the Fund. "We are relatively quiet with a deficit to be around this year 6% of GDP, largely because we are not (yet) see their full impact on interest rates, although we feel them in the appreciation and growth" said Gutierrez.

"I think we are not going to force problem due. More that seek financing in China, to kick the ball a little more, we should be negotiated between the various political groups to attack triggers viable public spending and new taxes, "he added.

The former deputy minister of Finance, Edna Camacho, explained that when a country reaches a level that is considered unsustainable debt, investors may lose confidence in government's ability to pay.

"Unfortunately, this distrust is related to confidence in the colon and therefore there is a risk of a disorderly adjustment in the exchange market," he said.
Brian, Lita, the Late Hugo IV, irreverent Vicka, the pigeon toed parrot, Chico II and Chica II