Dear friends,
When I started Residencias Los Jardines, I started writing a weekly news letter -determined to tell all the good, bad, and the ugly. I knew some readers would be interested in the construction process. I expected others might be interested in the lifestyle of two people who had decided to live outside the box. For others, the adventures of Lita, the parrot and the cat took on an entertainment saga all its own.
Residencias Los Jardines is finished. We periodically have resales and rental availability. Some readers may be interested in this information.
Brian Timmons
DEVELOPER / PROPERTY MANAGER
Residencias Los Jardines / https://www.residenciaslosjardines.com info@residenciaslosjardines.com
ResidenciasPropertyManagement@gmail.com
Featured house this week
Paradisus Condos / Rohrmoser
FOR SALE / FOR RENT
Residencias Los Jardines
Property Management, Rentals, Re-Sales
Market Activity
Sales: no inquiries.
Rentals: the market is again DEAD so says every agent I've spoken with just to see if they are still alive...
FOR SALE
Unit #110: $215,000 $199,900 / See Unit
Unit #114: $235,000 / See Unit
Unit #116: $214,000 / See Unit
FOR RENT
Unit #24: $850 mo. / Available Immediately / See Unit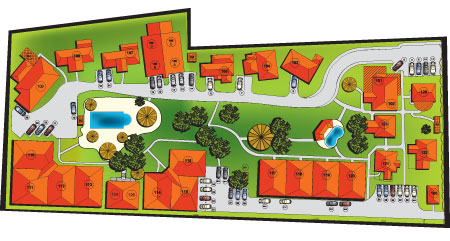 HOUSES FOR SALE
UNIT #110
FOR SALE $215,000 $199,900
Total Area (Sq Ft): 1290
Total area (Sq M): 120
Bedrooms: 2
Bathrooms: 2
Floor(s): Single Floor
Type: Attached
Furnished: Yes
Beautiful end-unit bungalow (one floor) town home (part of 4 homes) situate at the far quiet end of Residencias Los Jardines, steps from the main pool. It includes one designated parking spot and one storage unit. The home is 120 square meters (approximately 1,300 square feet) with two bedrooms (master has king size bed and guest has queen size bed), two full bathrooms (one being an ensuite), a large open concept kitchen, living room, dining room, granite breakfast bar with stools and features vaulted ceilings and lots of windows. The home has a large covered terrace overlooking the gardens. Custom made wood blinds cover all windows throughout. Ceiling fans in bedrooms, living room and terrace.
UNIT #114
FOR SALE $235,000
Total Area (Sq Ft): 1290
Total area (Sq M): 120
Bedrooms: 2
Bathrooms: 2
Floor(s): Single Floor
Type: Attached
Furnished: Yes
This 1,290 sf. (plus covered parking for one car and two lockers 67 sf.) single story, semi detached house, with garden terrace, two bedrooms is a beautiful executive style home. This home consists of two large bedrooms one with six piece en-suite bathroom with additional access to separate full shower. Each bedroom has large closets with extensive built-ins for personal organization. The vaulted living room and bathroom ceilings provide a feeling of grandeur while allowing the warmer air to rise and exit through the ceiling ventilating system. There are four TVs (one in each bedroom, one in the living room and one in breakfast / dinning room.) This is a beautiful well appointed home.
UNIT #116
FOR SALE $214,000
Total Area (Sq Ft): 1290
Total area (Sq M): 120
Bedrooms: 2
Bathrooms: 2
Floor(s): Single Floor
Type: Semi-Attached
Furnished: Yes
This 1,290 sf single floor home includes a 300 sf front terrace plus parking for one car and a separate, secure storage locker. It is and end unit and therefore attached on only one side by a 6 inch cement demising (common) wall, which prevents sound transfer.
HOUSES FOR RENT
UNIT #124
FOR RENT $850 mo. Available Immediately
Total Area (Sq Ft): 662
Total area (Sq M): 61
Bedrooms: 1
Bathrooms: 1
Floor(s): Second Floor
Type: Semi-Detached
Furnished: Yes
This 662 sf, + covered parking for one car, is a one bedroom home on the 2nd floor overlooking the large pool. It is ideal for a single person or couple.
Our Lives
WEATHER: even though October is one of the two wetest months, so far, it hasn't shown itself to be that way this year. Yes, we had a lot of (Normal) rain in September but so far, October is proving to be dryer and the weather guessers are predicting an early dry season by two weeks...
Back on Line -AGAIN: Back on Line--AGAIN. The last 6 weeks has been frustrating. The first symptoms were attributed to a bug in my operating software. Solution is to save all content, wipe off the existing operating systems, re-install newer versions. That was done and it never works out well since newer operating systems have changes which are frustrating to re-learn how to do what you have been doing with easy for the previous XX years. I never got through that learning curve before the computer started to crash repeatedly. I was told to get a fan device on which to place my laptop because the computer was overheating... I didn't believe it but had to go through this useless exercise to show that it wasn't the solution. O.K. The solution was to wipe off the content, take to the iMac store. They "fixed it" by cleaning it... I said I didn't think that was the problem--and it wasn't but I used it for month end and then returned it under repair warranty explaining in no uncertain terms that if they were to use the computer's own self diagnostic system they would understand the problem... with no embarrassment, they did and checked with APPLE and discovered that the batch of MacBook Pro that I have had some bad chips. They ended up replacing the motherboard and a few other things...all done on warranty from the repair shop and from APPLE. I was pleased with the final product. Mac doesn't usually have these quality control issues and I had just read an article comparing repairs of all computers... APPLE was head and shoulders above all the other brands.
Car: I am not working on a third initiative... I have limited faith in it but have to exhaust this option before moving on to something which is more difficult but which may lead to a more predicable outcome.
Alledged Environmental Damage: this remains in silence again.
News Items of the Week
Comments
I haven't been able to save any recent news articles but one recurring issue can be summarized: there continues to be evidence of a debate between government and the Central Bank re. the exchange rate of the colon. The government continues to say the colon will be devalued and rumor has it that any devaluation would be done would be done over a period of time with staged amounts and the Central Bank saying it is not contemplating any such action...
1. Gas Prices: yes the went down big time... for us... I just filled up and noticed about a $10 savings.
2. Eduardo Li--CR's FIFA representative lost his immunity to extradition to the US where he definitely did not want to go.
3. ICE has successfully reduced it reliance on fossil fuels saying that hydrolic and renewables have provided substantially all the energy requirements. ICE has always said that the most expensive generation is fossil... now that they haven't been using it and since many of the areas of the country now have substantial rainfall and full resovoirs, they have still requested from the government regulators, a 39% increase... they just don't give up regardless of the story...
4. Water rationing: yes, it will be back in force in some areas of the country because AYA hasn't developed the capability to manage the resource.
5 & 6: CR has been really cut off from the world financial markets because of the junk status of it debt. So they are now trying to borrow from the Chinese... I guess Solis doesn't realize that this will come with caveates, and that when CR tries to renig on paying it, there will be further strings and pressures brought... CR doesn't think these things through... Solis and group will be long gone when it's time to pay the piper.
7. CAJA... the wait time is horrific but according to the government stats, the backlog is being whittled down... it now stands at 88,000 waiting.
1. Costa Rica gasoline prices to drop by more than 10 percent for October

September 29th, 2015 (ICR News) Gasoline prices will drop more than 10 percent beginning in October after regulator ARESEP approved the lower prices on Monday.

The price of premium ("super") gasoline will fall ¢72 per liter from ¢635/liter (about $4.49/gal) to ¢ 563/liter (about $3.98/gal), while regular gasoline will fall ¢63/liter from ¢603/liter (about $4.29/gal) to ¢540/liter ($3.82/gal).

Unfortunately for those who drive diesel vehicles, however, the cost of diesel will actually increase slightly by ¢7/liter.

Regulators said that the price reductions are the result of a fall in international fuel prices and a stable exchange rate.

The new prices are expected to take effect Thursday or Friday, the day after the prices are published in the official La Gaceta.

*Dollar price estimates based on an average exchange rate of ¢535 to $1.
2. Swiss approve extradition to US of Costa Rica's Eduardo Li

Basel, Switzerland (dpa) - Switzerland's justice ministry has granted a US request to extradite former Costa Rican football federation president Eduardo Li on bribery charges.

Li was one of the senior football administrators arrested on May 27 in a dawn raid at a hotel in Zurich, two days before the FIFA congress which elected Joseph Blatter for a fifth term as head of world football's ruling body.

Li is accused "of taking bribes in connection with the sale of marketing rights for World Cup 2018 qualifiers to a US sports marketing company," the Swiss ministry said.

The ministry said all conditions for extradition are fulfilled, specifically that "the facts laid down in the US extradition request are also punishable under Swiss law."

Li had been elected in April by the confederation of North, Central America and Caribbean football associations CONCACAF to join the FIFA executive committee at the May congress.

After his arrest he was one of 11 members provisionally suspended by FIFA from all football-related activities.

Li has 30 days to lodge an appeal at Switzerland's federal criminal court.

Swiss justice authorities have already agreed extradition requests for two senior administrators arrested in Zurich, the former FIFA vice-president Eugenio Figueredo of Uruguay, and former Venezuelan football federation president Rafael Esquivel.

One of the seven detainees, fellow former FIFA vice-president Jeffrey Webb, had already agreed to his extradition.
3. Costa Rica's ICE slashes use of fossil fuels by a remarkable 94 percent

September 28th, 2015 (ICR News) The Costa Rican Electricity Institute (ICE) slashed its use of fossil fuels for electric generation a remarkable 94 percent during the first eight months of this year compared to the same period in 2014, according to purchase records provided by the Costa Rican Oil refinery (RECOPE).

Between January and August 2014, ICE purchased 262 million liters of fuel oil for electric generation, compared to just 15 million liters during the same period this year.

Besides the environmental benefits of burning less fuel oil, ICE has saved millions of dollars this year. The company spent US $219 million to purchase fuel oil during the first eight months of last year, compared to just US $5 million during the same period this year, a cost savings of $214 million.

The decrease in the use of fossil fuels has been the result of unusually intense rainfall this year, especially in areas where ICE needs it for its hydroelectric reservoirs.

Despite significant drought in some areas of the country, especially northwest Guanacaste, other areas have seen a significant increase in rainfall, both the result of the ongoing El Niño weather phenomenon, according to climatologists.

Lake Arenal – the country's largest hydroelectric reservoir, was nearly 30 feet deeper in August than ICE had previously forecast it to be. The bulging reservoir has meant a lot of spare generating capacity, which ICE has been using to generate electricity for export on the regional grid to Panama and Nicaragua.

ICE set a new record in August, having generated 100 percent of Costa Rica's electricity needs using only renewable energy sources for 94 straight days.

Some 77.6 percent of the electricity generated during the period came from hydroelectric power plants; 12.34 percent was from geothermal sources; 10.05 percent came from wind power; and 0.01 percent from solar panels.

Clean sources will account for nearly 93 percent of the electricity generated this year, ICE predicted last month.

Despite the excess capacity and the cost savings from not needing to burn fossil fuels, however, ICE requested a rate hike of 13.7 percent to regulator ARESEP last month.

In addition, ICE last week requested an 8.17 percent rate hike as part of its standard annual rate adjustment for 2016.

ICE has also significantly increased its wholesale rates at which it sells energy to other utilities, including its subsidiary, the National Power and Light Company (CNFL).

The increased wholesale rates forced CNFL – which provides power to most of the San Jose metro area – to request this month a whopping 35.56 percent increase in the rates paid by its customers that would take effect in December. Regulators are currently reviewing the request.
4. Low rainfall conditions prompt water rationing until mid-2016

At least half a million residents of Costa Rica's Greater Metropolitan Area will suffer water shortages and rationing until next year due to low rainfall levels recorded during the current rainy season, the Water and Sewer Institute (AyA) reported Monday.

The agency's Executive President Yamileth Astorga said authorities are currently working on improving aqueduct systems and other tasks to mitigate the effects of the drought affecting most of the country. However they estimate that at least 37 percent of the Greater Metropolitan Area's population, or just over 1.3 million inhabitants, will face supply problems until next June.

Astorga noted that AyA's reports are consistent with those from the National Meteorological Institute (IMN), which state that precipitation levels during the current rainy season (May – November) show deficits from 50 to 75 percent in most areas of the country. The INM has reported that drought conditions are severely affecting surface water sources.

Experts from both agencies agree that drought intensity will gradually increase in the coming months, therefore they expect conditions to be even more severe during the first six months of 2016.

IMN Director Juan Carlos Fallas said that drought conditions driven by effects of an El Niño weather phenomenon during August and September already match the record extreme conditions experienced in 1997.

Fallas said that, considering current weather conditions, he believes the effects of El Niño likely will extend at least until May.

Recommended: El Niño in Costa Rica: We haven't seen the worst of it yet, say experts.

Water rationing will depend on the state of the aquifers that supply the Greater Metropolitan Area. The number of hours and days during which AyA will enforce rationing will vary according to water reserve levels and demand, Astorga said.

Rationing will be enforced on three levels depending on the severity of the deficit: households in areas slated for high rationing could have their water cut for more than 12 hours per day; those in areas slated for medium rationing could be without water for six to 12 hours a day; and homes in areas slated for low rationing will face supply cuts of less than 6 hours per day.

AyA's current provisions state that only communities in the highest elevation areas of the Alajuelita canton, south of San José, will face high rationing measures. (See the full list of communities slated for rationing.)

Astorga asked the population to help reduce the need for rationing by fixing leaks and implementing water-saving measures such as washing cars less frequently and watering gardens with buckets instead of hoses.

"There are other small examples that also help such as turning the shower off while soaping, turning the tap off while brushing your teeth, and doing laundry only when you have a full load," Astorga said.

Laundry consumes the most water of any domestic activity in Costa Rican homes, according to AyA. On average, Tico homes use 7,000 liters each month to wash clothes. Toilet flushing is the second biggest water suck, consuming an average of 6,700 liters per home per month, and showering is third with an average of 4,500 liters consumed monthly in Costa Rican households.

AyA experts believe that the effects of the drought will also hit areas outside the GAM. The most-affected areas likely will be along the Pacific coast in the provinces of Guanacaste and Puntarenas.

In Guanacaste the drought is mostly affecting residents of Liberia, Santa Cruz, Abangares and Cañas, while in Puntarenas it mostly affects Central Pacific communities such as Cóbano, Santa Teresa, Malpaís and Arío, the agency reported.
5. From the US, President Solis talks colón devaluation, tax reform, China

October 1st, 2015 (ICR News) As part of his week-long visit to the United States for the United Nations General Assembly and a visit with lawmakers in Washington, D.C., Costa Rica president, Luis Guillermo Solis took the time for an English-language interview with Bloomberg TV this week in which the president briefly discusses his administrations efforts at tax and fiscal reform, the call by some sectors in Costa Rica to devalue the colón, as well as a potential bond sale to China.

On devaluing the colón

Speaking to Bloomberg's Joe Weisenthal and Alix Steel, Solis warns of unexpected consequences that could result from devaluing Costa Rica's currency, adding that Costa Rica's Central Bank "has all the studies saying that's how much the money [the colon] is worth," and that "if the currency is devaluated it would be for political reasons."

A weaker colon would make the country cheaper for visiting tourists carrying dollars, as well as foreign residents who have savings or earnings in dollars. A weaker colón would also be welcome by the country's export sector, as it would make their goods cheaper for their overseas customers. A weaker colón could also make the country more attractive for multinationals and foreign investment.

But Solis said that sectors in the country pushing for devaluation of the currency – namely, the tourism and export sectors – should realize that devaluation could have "unexpected impacts."

Last month, acting Minister of Finance, Jose Francisco Pacheco told reporters that the Central Bank and finance officials were considering a devaluation of the colón.

Within hours, however, The Central Bank itself sent an official statement to ICR News stating that the Bank "has no plans, nor has it discussed" the possibility of artificially affecting the exchange rate since the Bank adopted a system of "managed float" of the currency versus the US dollar in February, and does not believe an artificial devaluation of the currency would promote economic recovery nor reduce unemployment.

The Bank said that Pacheco's statements were made in "general terms," in regards to issues discussed within the Presidential Economic Council, but that any decisions regarding foreign exchange rates fall under the exclusive authority of the Bank's Board of Directors, thus limiting the possible influence of the Executive.

On China and tax reform

While confirming that the country is seeking to sell public debt to China – reportedly US $1 billion – in the form of a bond offer, Solis conceded that selling debt to China "is not the fundamental way" to deal with the country's widening fiscal deficit, saying that fiscal reform and cost-cutting are more "reliable" measures than bond sales "to anybody, including the Chinese."

Solis also expressed some optimism that his administration's sweeping tax reform package would be passed by the country's Legislative Assembly in full.

"The political conditions are there" to get the fiscal reform package "passed in total" in a "few months," Solis said.
6. Costa Rica hopes to sell $1 billion in public debt to China to help plug fiscal deficit

September 30th, 2015 (ICR News) The government of Costa Rica, faced with the need to obtain external financing to cover its 2016 budget, is hoping that China will fill in the gap by purchasing $1 billion in Costa Rican public debt in the form of a bond offer.

"We're in the initial stages of negotiations," Costa Rican president Luis Guillermo Solís told the Financial Times in New York this week.

José Francisco Pacheco, acting finance minister, told the Financial Times that he hopes for a response from the Chinese within six weeks as "2016 is just around the corner and we'd like to have the funds to start the year."

Pacheco also said that talks were also under way to secure a further $1 billion in "contingency funds" — half from the Inter-American Development Bank (IDB) and half from the World Bank.

President Solis told the Financial Times that a bond sale could help give "a very strong boost to the economy."

He also said that the Chinese financing could be very important in case his administration's sweeping tax reforms – intended to help tackle the government's soaring fiscal deficit – are only partially approved, or not approved at all, in the country's Legislative Assembly.

President Solis last week promised "full transparency" with the public surrounding the negotiations with the Chinese.
7. Average wait time for surgery in Costa Rica's public hospitals is 1 year, 3 months

September 16th, 2015 (ICR News) The average wait time for general surgery in Costa Rica's public hospitals is 452 days, and in nearly all cases patients must wait at least 90 days, according to the latest data released by Costa Rica's public health and social security administration, known as CCSS or "La Caja," based on figures from 2014.

Under legal pressure, CCSS has however made some headway in reducing the number of people on its waiting lists. As of December 31st, 2014 there were 120,682 patients awaiting some sort of surgical procedure. That number has been reduced to about 88,000 currently.

The report blames an aging population, an increase in chronic diseases, as well as an increase in the types of surgical procedures available through CCSS.

More than half of all surgeries are conducted at the San Juan de Dios, Calderon Guardia, San Rafael de Alajuela, Mexico, and San Vincente de Paul hospitals.
Brian, Lita, the Late Hugo IV, irreverent Vicka, the pigeon toed parrot, Chico II and Chica II