Dear friends,
When I started Residencias Los Jardines, I started writing a weekly news letter -determined to tell all the good, bad, and the ugly. I knew some readers would be interested in the construction process. I expected others might be interested in the lifestyle of two people who had decided to live outside the box. For others, the adventures of Lita, the parrot and the cat took on an entertainment saga all its own.
Residencias Los Jardines is finished. We periodically have resales and rental availability. Some readers may be interested in this information.
Brian Timmons
DEVELOPER / PROPERTY MANAGER
Residencias Los Jardines / https://www.residenciaslosjardines.com info@residenciaslosjardines.com
ResidenciasPropertyManagement@gmail.com
Featured house this week
Paradisus Condos / Rohrmoser
FOR SALE / FOR RENT
Residencias Los Jardines
Property Management, Rentals, Re-Sales
Market Activity
Sales: one inquiry.
Rentals: this past week has seen an uptick in interest in Paradisus.
FOR SALE
Unit #110: $215,000 / See Unit
Unit #114: $235,000 / See Unit
Unit #116: $214,000 / See Unit
FOR RENT
Unit #24: $850 mo. / Available Immediately / See Unit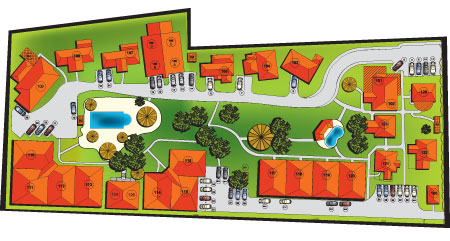 HOUSES FOR SALE
UNIT #110
FOR SALE $215,000
Total Area (Sq Ft): 1290
Total area (Sq M): 120
Bedrooms: 2
Bathrooms: 2
Floor(s): Single Floor
Type: Attached
Furnished: Yes
Beautiful end-unit bungalow (one floor) town home (part of 4 homes) situate at the far quiet end of Residencias Los Jardines, steps from the main pool. It includes one designated parking spot and one storage unit. The home is 120 square meters (approximately 1,300 square feet) with two bedrooms (master has king size bed and guest has queen size bed), two full bathrooms (one being an ensuite), a large open concept kitchen, living room, dining room, granite breakfast bar with stools and features vaulted ceilings and lots of windows. The home has a large covered terrace overlooking the gardens. Custom made wood blinds cover all windows throughout. Ceiling fans in bedrooms, living room and terrace.
UNIT #114
FOR SALE $235,000
Total Area (Sq Ft): 1290
Total area (Sq M): 120
Bedrooms: 2
Bathrooms: 2
Floor(s): Single Floor
Type: Attached
Furnished: Yes
This 1,290 sf. (plus covered parking for one car and two lockers 67 sf.) single story, semi detached house, with garden terrace, two bedrooms is a beautiful executive style home. This home consists of two large bedrooms one with six piece en-suite bathroom with additional access to separate full shower. Each bedroom has large closets with extensive built-ins for personal organization. The vaulted living room and bathroom ceilings provide a feeling of grandeur while allowing the warmer air to rise and exit through the ceiling ventilating system. There are four TVs (one in each bedroom, one in the living room and one in breakfast / dinning room.) This is a beautiful well appointed home.
UNIT #116
FOR SALE $214,000
Total Area (Sq Ft): 1290
Total area (Sq M): 120
Bedrooms: 2
Bathrooms: 2
Floor(s): Single Floor
Type: Semi-Attached
Furnished: Yes
This 1,290 sf single floor home includes a 300 sf front terrace plus parking for one car and a separate, secure storage locker. It is and end unit and therefore attached on only one side by a 6 inch cement demising (common) wall, which prevents sound transfer.
HOUSES FOR RENT
UNIT #124
FOR RENT $850 mo. Available Immediately
Total Area (Sq Ft): 662
Total area (Sq M): 61
Bedrooms: 1
Bathrooms: 1
Floor(s): Second Floor
Type: Semi-Detached
Furnished: Yes
This 662 sf, + covered parking for one car, is a one bedroom home on the 2nd floor overlooking the large pool. It is ideal for a single person or couple.
Our Lives
WEATHER: It continues to rain normally... for September... the garden is happy.
Back on Line: My computer got sick and I was unable to produce last week's newsletter. I have no confidence that it is fixed completely but it will work for this purpose. One of the consequences is that I was not able to save news articles. However, my general read is that the economy is beginning to show signs of life... Companies continue to move to CR or to expand existing operations. Some quality jobs are being developed. Foreign direct investment continues to arrive. Real estate development continues regardless of the existing over capacity... I can count three large scale mixed use commercial developments currently under construction...two in Santa Ana and one in Escazu as well as countless condominium developments. I know two people who, after years of trying, have sold their houses... they are now leaving. Last week, the Vice Minister of ?? said the government was considering devaluing the colon. The next day the Central Bank stated that the government does not have this authority, the Central Bank does, and they are not considering devaluation... These guys are not singing from the same song book....
Car: it continues to sit with no apparent resolution.
Alledged Environmental Damage: this has gone into silence again.
"DORIS": For our wedding anniversary, we went with friends to this restaurant in Santa Ana. It is an expensive steak house, On Tuesday night, it was full. Our friends thought it was mostly expense account entertaining.
Observations from an Investment Club Traveler: (this person does a lot of traveling. In a previous life, he was well placed in CITI bank Brazil.)
We are in eastern Sicily, the city of Siracusa on Ortigia island. A splendid place to visit. Sicilians are huge fans of America. They express this feeling whenever they can. As opposed to plucking French, Germans, Austrians, Spaniards, Danes, etc. One observation. We stayed in Palermo in Grand Hotel Igeia, one of the best hotels in Sicily. Dinner at the hotel on a terrace overlooking the Tyrrhenian Sea, linens, white glove service, lobster, shrimp, home made pastas, desert, and 2 bottles of Sicilian wine for 4 people $240, tax and service included. Just try doing this in Costa Rica. At the shitty Marriott in Los Suenos the same meal would be about $350-$400. Clothing- Hugo Boss for real- men's golf shirts $54 in real Hugo Boss store.
Something is very wrong in CR with the currency, pricing, expectations, and politics. Hotel rooms in Ortigia per night are $300 for two including free wine, breakfast, taxes, free WiFi, and calls to the USA.
I will not make the meeting on Wednesday at Henry's as we will be traveling to Taormina for another week.
Sicily and most of Italy are suffering economically with 20% unemployment, no new jobs being created, lack of innovation, very high taxes, mismanaged government on every level, African refugee swarms, and declining productivity among other intractable problems. Which include declining real estate values, decreasing retail sales, and more regulations on labor than even Obama and his cadre of plucking idiots could come up with.
Most Sicilians I have talked with would prefer the Lira again over the Euro.
Interest rates in the US are likely to stay low for the end of the year. Crude will not rise above $50 a BBL for the rest of this year. God will not intervene in the Euro economy.
Other than Germany, and maybe Switzerland, Europe is stalled or declining with no end of the decline in sight.
Brazil is more than phucked. The locals in Rio, from the favelas are seeing service cuts along with even lower incomes (if even possible) and rising prices for basics like rice, beans, chicken and bus fares. Very dangerous.
Maybe in a year good time for my grand children ( 2 1/2 years old) to buy property in Rio.
News Items of the Week
Comments
Articles 1 & 2: both indicate a resurgence of economic activity and confidence in CR's future.
1. Bosch opens business outsourcing company in Costa Rica

German outsourcing services supplier Bosch Service Solutions on Wednesday opened its first business service center in Costa Rica.

The center will provide business support for the company's operations in North America in the area of finance for general accounting and financial reporting, as well as accounts payables and receivable management, travel and expense management, general ledger and fixed assets accounting, and technical support for its external customers.

The business center currently employs 100 workers but Bosch expects to add up to 200 more jobs by the end of 2016, the company stated in a news release.

Robert Mulatz, senior VP of Bosch Service Solutions, said at an opening ceremony that the first branch in Costa Rica will expand the company's international reach to four locations across the Americas, "a strategic growth market in which we want to establish ourselves among the leading international suppliers of business process solutions."

The new service center is located in Heredia province, at the America Free Zone and initially will offer services for Spanish- and English-speaking employees and customers.

Costa Rican President Luis Guillermo Solís said he is pleased with Bosch's decision to establish operations here.

"Bosch's decision is a recognition of the investment opportunities companies can find in our country and it will translate not only into quality jobs but also into benefits for both parties," Solís said.

According to the Costa Rican Investment Promotion Office (CINDE), Bosch is now part of some 120 companies in the area of corporate services. It also is the fourth German company in this sector operating here.

CINDE data show that free zone exports related to information technology in 2014 accounted for $2.2 billion, representing 65 percent of total service exports.
2. Companies offering 2,000 jobs this week in Costa Rica

Costa Rica's American University (UAM) will host a job fair this week that will offer more than 1,500 jobs at some 15 companies.

Entrance is free and open to the public and will take place on Wednesday at the UAM campus in Barrio La California, east of downtown San José. On Thursday, the fair will move to the UAM campus in Cartago province. On both days, the job fair will run from 9 a.m. to 5 p.m.

Recruiters are looking to hire accountants, lawyers, business administrators, systems engineers and industrial engineers. Some companies also will be looking for technical staff in various areas, UAM spokeswoman María Fernanda Cordero said.

Participating companies include IBM, Joven360, Multivex, Akamai, Unión de Empresas San Pedro, GFT, CORVEC, Cartago Chamber of Commerce, Cartago Municipality, Mega Soluciones and Letsgointernship, among others.

Those interested in applying for a job must be over 18 and should bring both print and digital résumés.

400 posts for bilingual staff

Business services company Concentrix this week announced the opening of 400 posts for people with a high-level command of two or more languages.

The company seeks professionals in human resources and business administration. Recruiters also are looking for staff for their technical support and customer service departments.

Candidates should be fluent in two or more languages, specifically English, French, Italian, Portuguese or German.

Posts are available for the company's operations in Heredia province and in Pavas, west of San José.

Those interested can apply directly on the company's website: careers.concentrix.com, or by making an appointment by phone at: 2519-6730.
Brian, Lita, the Late Hugo IV, irreverent Vicka, the pigeon toed parrot, Chico II and Chica II