Dear friends,
When I started Residencias Los Jardines, I started writing a weekly news letter -determined to tell all the good, bad, and the ugly. I knew some readers would be interested in the construction process. I expected others might be interested in the lifestyle of two people who had decided to live outside the box. For others, the adventures of Lita, the parrot and the cat took on an entertainment saga all its own.
Residencias Los Jardines is finished. We periodically have resales and rental availability. Some readers may be interested in this information.
Brian Timmons
DEVELOPER / PROPERTY MANAGER
Residencias Los Jardines / https://www.residenciaslosjardines.com info@residenciaslosjardines.com
ResidenciasPropertyManagement@gmail.com
Featured house this week
Paradisus Condos / Rohrmoser
FOR SALE / FOR RENT
Residencias Los Jardines
Property Management, Rentals, Re-Sales
Market Activity
Sales: no inquiries.
Rentals: two inquiries but mostly tire kickers...
FOR SALE
Unit #110: $215,000 / See Unit
Unit #114: $235,000 / See Unit
Unit #116: $214,000 / See Unit
FOR RENT
Unit #24: $850 mo. / Available Immediately / See Unit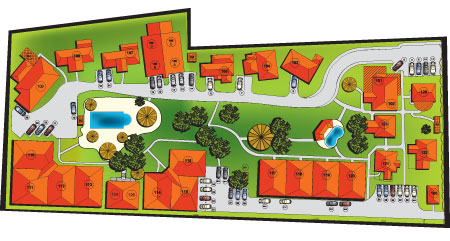 HOUSES FOR SALE
UNIT #110
FOR SALE $215,000
Total Area (Sq Ft): 1290
Total area (Sq M): 120
Bedrooms: 2
Bathrooms: 2
Floor(s): Single Floor
Type: Attached
Furnished: Yes
Beautiful end-unit bungalow (one floor) town home (part of 4 homes) situate at the far quiet end of Residencias Los Jardines, steps from the main pool. It includes one designated parking spot and one storage unit. The home is 120 square meters (approximately 1,300 square feet) with two bedrooms (master has king size bed and guest has queen size bed), two full bathrooms (one being an ensuite), a large open concept kitchen, living room, dining room, granite breakfast bar with stools and features vaulted ceilings and lots of windows. The home has a large covered terrace overlooking the gardens. Custom made wood blinds cover all windows throughout. Ceiling fans in bedrooms, living room and terrace.
UNIT #114
FOR SALE $235,000
Total Area (Sq Ft): 1290
Total area (Sq M): 120
Bedrooms: 2
Bathrooms: 2
Floor(s): Single Floor
Type: Attached
Furnished: Yes
This 1,290 sf. (plus covered parking for one car and two lockers 67 sf.) single story, semi detached house, with garden terrace, two bedrooms is a beautiful executive style home. This home consists of two large bedrooms one with six piece en-suite bathroom with additional access to separate full shower. Each bedroom has large closets with extensive built-ins for personal organization. The vaulted living room and bathroom ceilings provide a feeling of grandeur while allowing the warmer air to rise and exit through the ceiling ventilating system. There are four TVs (one in each bedroom, one in the living room and one in breakfast / dinning room.) This is a beautiful well appointed home.
UNIT #116
FOR SALE $214,000
Total Area (Sq Ft): 1290
Total area (Sq M): 120
Bedrooms: 2
Bathrooms: 2
Floor(s): Single Floor
Type: Semi-Attached
Furnished: Yes
This 1,290 sf single floor home includes a 300 sf front terrace plus parking for one car and a separate, secure storage locker. It is and end unit and therefore attached on only one side by a 6 inch cement demising (common) wall, which prevents sound transfer.
HOUSES FOR RENT
UNIT #124
FOR RENT $850 mo. Available Immediately
Total Area (Sq Ft): 662
Total area (Sq M): 61
Bedrooms: 1
Bathrooms: 1
Floor(s): Second Floor
Type: Semi-Detached
Furnished: Yes
This 662 sf, + covered parking for one car, is a one bedroom home on the 2nd floor overlooking the large pool. It is ideal for a single person or couple.
Our Lives
WEATHER: It actually rained several times this week. September and October are normally the wettest months of the year for the Central Valley and it may be the case this year as well but remember, we are starting from a very low base... we are still way under normal rainfall.
Paradisus: We understand that the developer is beginning to market the final phase of the development... towers C and D. I am sure construction will be dependent on pre-sales. I will be surprised if construction starts within a year ...more likely two years before it will be completed.
Chapter 1-20 -I'm Stuck... This is a story which has been in the makings since November 2014... fully 9 months ago. It is not yet finished and I have no idea how it will end nor when it will end.
I was offered a Hyunda "Santa Fe", 2008, diesel, 4 wheel drive, automatic, with all the bells and whistles. It was the car it wanted and is newer than my current car which runs beautifully but is gas. I paid the asking price which was really, really good (that should have been my first clue), got the bill of sale and proceeded to have the deficiencies fixed. The car had been in an accident and I was buying it from the mechanic who bought it from the original importer / owner. The car came with all the missing parts; they just had to be installed. I added tires an a battery... Great, now I have a great car... I just had to get license plates for it and to do that, I needed a safety inspection and to pay the annual road tax. Well, that is when the story started to come out that the car was originally imported as a "handicapped" car... I knew what this meant... it means that the importer did not pay taxes on it but was obligated to pay them when it was sold. Well it was sold to the insurance company for parts... thus, the car no longer exists. I tried asking the government the amount of duty owing on the car... I am prepared to pay that as a used car, which it is. However, the car does not exist but is sitting in my driveway. The last 9 months has been trying to resolve the fact that the car does exist (but the guy I bought it from and have the bill of sale from) rebuilt it illegally (a criminal offense) so now that has to be resolved. Meanwhile, I drive the other car which is perfectly good... waiting to resolve issues in CR.... I've only got at best, 10 more driving years so... I hope it make it... Sure, I can try to get my money back from the guy I bought it from...(fat chance); I can sue him... 10 years from now I might get a judgement but he will have disappeared and / or have no money so... I may have a perfectly good car available for parts...
News Items of the Week
Comments
1. Public Workers Strike Call: They are particularly upset about the divulgence of outrageous salaries and benefits and have taken particular umbrance at media who have divulged outlandish excesses. The real truth about excesses is frightening; it is also very, very sad that these were not public knowledge long ago. Given the current legal and legislative structure in CR, it is highly unlikely that an orderly non-violent method will found. I had a long conversation with a middle class Tico who was / is very afraid of the future. On Sunday, we are having an old time Tico lawyer who knows many, many of the current government people for lunch. I am expecting a very, very interesting conversation through his insights...
2 Tourists at Turtle Nesting: pictures of this are disgusting. There were so many tourists on the beach it blocked the turtles. CR and these idiots ought to be put on raft with no orrs and set adrift...
3. Patton: Is the ordeal over? She was found not guilty again. The government is considering if it will appeal the third time. I doubt it. Whether she is guilty or not, I don't know but the judges have again spoken...let it rest.
4. Hiring in CR. some firms are planning on increasing employees although it is only a few number.
5. CAJA and Hospital Mexico: the administrators are probably some of those political appointees drawing fat salaries and bonuses who have no clue as to what is going on and what is more, probably don't really care... I don't know this but I'd be willing to wager on it.
1. Public worker unions announce strike in October, threaten media

Fabio Chaves, the leader of a coalition of seven public worker unions from the Costa Rican Electricity Institute (ICE), threatened reporters Tuesday to "abide by the consequences" of what they report about job perks and benefits received by public employees.

Chaves made his remarks at a news conference where he said public workers will stage a nationwide strike in October in order "to defend public employees and the negotiations that granted [our] benefits."

Costa Rican media have published numerous reports in recent weeks about public workers' salaries, special schedules, bonuses and other perks. Union leaders say these reports are intended to turn the population against them and even "criminalize them," Chaves said.

Leaders of the Costa Rican Oil Refinery union (SITRAPEQUIA) and Atlantic Port Authority union (SINTRAJAP), the National Association of Public and Private Employees and the National Union of Nurses also said they will join the protest.

A date for the strike and public demonstration hasn't been set but union leaders assured that it will take place.

"We've had it up to here with these disgusting campaigns against public workers. You [the press] will be responsible, as well as all those right-wing leaders, for whatever happens," a visibly upset Chaves told reporters. He also reiterated his argument that most media are "criminalizing public employees and their fights for their rights."

Following his remarks reporters asked Chaves to further explain his words. "You can interpret them as you want," he said.

Chaves also said the media would be responsible if violent incidents were to occur during the public demonstration. "If we are attacked [by the media] we will respond, legally, but also on the streets," he said.

Following the news conference SINTRAJAP's Secretary General Ronaldo Blear and SITRAPEQUIA's leader Manuel Rodríguez said they would not back any kind of aggression against members of the press.

Threats to reporters 'unacceptable'

The Institute of Press and Freedom of Expression (IPLEX) condemned Chaves' threats in a public statement, and said the union leader's speech represented a clear, and unacceptable, message of intimidation.

IPLEX president Alejandro Delgado Faith said any call to violence against those who are doing their job to keep society informed cannot be tolerated.
2. Mob of tourists at Costa Rica's Ostional Beach prevents sea turtles from nesting

Last weekend hundreds of tourists crowded the beach at Ostional Wildlife Refuge in Guanacaste, preventing several olive ridley sea turtles from nesting along the coastline, as they do every year.

The Environment Ministry's Workers Union (SITRAMINAE) reported on its Facebook page that hundreds of tourists stood in the way of the turtles, causing many of them to return to the sea without laying their eggs.

Refuge administrator Carlos Hernández, told the daily La Nación he had never seen that many people at the beach, located in the canton of Santa Cruz. Some tourists touched the turtles, others stood on top of the nests, and parents placed their children on top of the turtles to take photographs, the group reported.

Ostional receives massive turtle arrivals, known as arribadas, almost every month. But September and October are the peak months of the season, and tourism companies increase tours to watch the turtles' arrival and nesting.

This particular arribada occurred during a weekend, increasing the number of visitors, SITRAMINAE members said.

The lack of rainfall affecting the northern region also helped attract more visitors. September and October usually register the most rainfall of the year, and rains at Ostional can cause large river swells that prevent visitors from reaching the beach.

The refuge is guarded by only two park rangers, and last weekend they received help from only three National Police officers, who were unable to control the situation.

Hernández said that although visitors may only enter the beach with a licensed tour guide, many entered the refuge via unauthorized access points from nearby locations. He said that in coming days officials will meet with National Police officers, local tour guide associations and community leaders to better implement control.

Community benefit

Ostional is among the top four most important sites in the world for nesting of olive ridley sea turtles (Lepidochelys olivacea). Hundreds of thousands arrive each year along this 7-kilometer stretch of beach.

The number of turtles during September and October and the amount of eggs they lay at each arribada is so high that when new groups of turtles arrive, they often end up destroying the eggs from earlier nesting.

Residents of this small community are the only people legally allowed to harvest turtle eggs for consumption and sale. They can take only eggs deposited within the first 72 hours of the arribadas.

Turtle nesting observation tours are regulated by national law at Ostional and other popular destinations, both on Pacific and Caribbean beaches.

Regulations state that tourists may only enter the beach with a licensed guide in small groups, carrying only special flashlights and following guide instructions at all times to avoid disturbing the turtles.

Contact L. Arias at larias@ticotimes.net
3. Costa Rica appeal of Patton 'not guilty' verdict would have little to stand on, legal experts say

Hours after a three-judge panel in Pérez Zeledón found U.S. expat Ann Patton not guilty on Monday of murdering her husband, the prosecutor said the government would appeal the verdict — for the second time. If the prosecutor's appeal were to be successful it would lead to Patton's fourth trial for the same crime.

"This isn't over," Prosecutor Edgar Ramírez told The Tico Times.

But some criminal lawyers doubt that Patton will face another trial in the 2010 shooting death of her late husband John Bender.

A 2014 ruling by the Constitutional Chamber of the Supreme Court, or Sala IV, precludes another trial for Patton now that she has been found not guilty twice by different courts, according to criminal lawyer and University of Costa Rica law professor Javier Llobet. Costa Rica does not have a prohibition against double jeopardy, but Llobet said there are limits on the state's ability to continue appealing a case.

A 2006 reform to the criminal code included an article prohibiting the Prosecutor's Office from appealing a second acquittal. In 2010, a law was passed that struck that article from the criminal code. But in 2014, Sala IV ruled that the 2010 law was unconstitutional.

Sala IV then reconstituted the 2006 language limiting prosecutor appeals. Sala IV justices said there should be a "reasonable limit" on the state's ability to continue pursuing appeals with which it does not agree. Without these limits, the justices wrote, defendants could not be guaranteed their right to a speedy trial and would be left in perpetual legal limbo that also could become disproportionately expensive.

"The state cannot act as a persecutor ad infinitum," the justices wrote in their resolution.

Former prosecutor Steven Ferris — who is a Tico Times board member — said that Ramírez's pledge to appeal the ruling in the Patton case before the full verdict had been released was a "bold" move. After three trials and two acquittals, Ferris said a fourth was not possible.

Ramírez said his office would review the full sentence — expected on Sept. 14 — before crafting the government's appeal. He said the Prosecutor's Office would not be satisfied "until justice is done for John Bender's death."

The initial verdict released Monday afternoon by the court in Pérez Zeledón found Patton not guilty of murder charges in the 2010 shooting death of her husband. Patton has always maintained her innocence and said that her husband, John Felix Bender, shot himself.

Patton told The Tico Times after her acquittal Monday that she hoped "the verdict will be strong enough so that an appeal cannot be written or won't be accepted and that it can end now and John can finally rest."

Contact Zach Dyer at zdyer@ticotimes.net
4. Costa Rica employers optimistic about hiring in Q4

Employers in Costa Rica reported cautious optimism in their hiring plans for the fourth quarter of this year, according to the latest Employment Outlook Survey released Tuesday by consultant group Manpower.

Nineteen percent of employers said they expected to increase their staff in the coming months, while 6 percent said they planned to reduce their staff. That represents a Net Employment Outlook of 13 percent for the quarter (12 percent when adjusting for seasonal differences). Net Employment Outlook is the difference between the percentage of employers with plans to add employees and the percentage with plans to decrease employees.

The Net Employment Outlook is down 1 percentage point from the previous quarter, but up 8 percentage points compared to the same period last year.

Two-thirds of employers surveyed said they planned to maintain their staff at current levels. "As they have throughout most of this year, employers in the construction sector reported the strongest hiring intentions," Ana Gabriela Chaverri, Manpower's Costa Rica manager, said at the study presentation.

Compared to the previous quarter, hiring expectations improved in two of the six productive sectors — construction, and communications and transportation — while expectations decreased in four sectors. In an annual comparison, however, five sectors show improved figures.

The study noted that opportunities for job seekers should grow by the end of the year, as employers, mostly in the tourism sector, are anticipating a boost in hiring. "This likely is caused by recent news of upcoming openings and expansion of air routes from Mexico, Canada, the U.S. and Europe," Chaverri said.

Employers in all regions of the country predict an increase in hiring during the quarter, and current hiring prospects are improved over the same time last year in all regions.

The strongest hiring market for the rest of this year is anticipated to be in Heredia, where employers reported a Net Employment Outlook of 18 percent. The province has maintained that lead in recent years.

The Net Employment Outlook in Alajuela and in the Puntarenas-Limón region —comprising two coastal areas — is 17 percent. Employers in Cartago also reported good figures with a positive expectation of 16 percent. On the flip side, San José and Guanacaste recorded the lowest Net Employment Outlooks, at 9 and 5 percent, respectively.

Heredia's positive figures come mainly from the export manufacturing sector while prospects for the mega-port project in Limón are driving the growth in hiring intentions in the coastal region.

A recent boost in the construction of malls and housing developments is responsible for improving the hiring outlook in Alajuela, which recorded an 8 percent of hiring expectation.

Chaverri said large companies continue to dominate the positive hiring outlook, "however, employers in medium, small and micro-sized enterprises are also increasing their [hiring] intentions and are catching up with large companies," said Chaverri.
5. Caja union endorses call for personnel shakeup at Hospital México
By the A.M. Costa Rica staff

The union that represents public health workers has endorsed a legislative call for the removal of seven officials at Hospital México.

The report that urged firing the top officials came from a special commission that was set up to investigate the hospital and, by extension, the entire Caja Costarricense de Seguro Social.

The controversy grew out of revelations by cardiologist Sofía Bogantes Ledezma, who said the waiting list was so long patients were dying.

The union is the Unión Nacional de Empleados de la Caja y la Seguridad Social. It said that for years it has been making complaints about the grave problems of infrastructure, personnel, equipment, negligence and inattention to duties.

Among the seven the legislative commission said should be let go are Douglas Montero, the hospital director, and the chief of medicine and the person in charge of the waiting list.
Brian, Lita, the Late Hugo IV, irreverent Vicka, the pigeon toed parrot, Chico II and Chica II