We Complain But Most Agree -The Alternatives are Worse... for Now Anyway
Dear friends,
When I started Residencias Los Jardines, I started writing a weekly news letter -determined to tell all the good, bad, and the ugly. I knew some readers would be interested in the construction process. I expected others might be interested in the lifestyle of two people who had decided to live outside the box. For others, the adventures of Lita, the parrot and the cat took on an entertainment saga all its own.
Residencias Los Jardines is finished. We periodically have resales and rental availability. Some readers may be interested in this information.
Brian Timmons
DEVELOPER / PROPERTY MANAGER
Residencias Los Jardines / https://www.residenciaslosjardines.com info@residenciaslosjardines.com
ResidenciasPropertyManagement@gmail.com
Featured house this week
Paradisus Condos / Rohrmoser
FOR SALE / FOR RENT
Residencias Los Jardines
Property Management, Rentals, Re-Sales
Market Activity
Sales: no inquiries.
Rentals: two inquiries / one rental.
FOR SALE
Unit #110: $215,000 / See Unit
Unit #114: $235,000 / See Unit
Unit #116: $214,000 / See Unit
FOR RENT
Unit #24: $850 mo. / Available Immediately / See Unit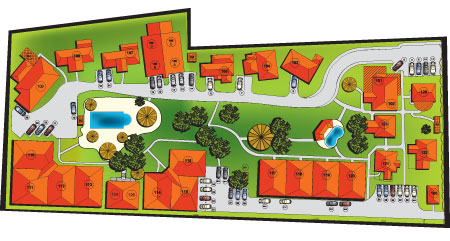 HOUSES FOR SALE
UNIT #110
FOR SALE $215,000
Total Area (Sq Ft): 1290
Total area (Sq M): 120
Bedrooms: 2
Bathrooms: 2
Floor(s): Single Floor
Type: Attached
Furnished: Yes
Beautiful end-unit bungalow (one floor) town home (part of 4 homes) situate at the far quiet end of Residencias Los Jardines, steps from the main pool. It includes one designated parking spot and one storage unit. The home is 120 square meters (approximately 1,300 square feet) with two bedrooms (master has king size bed and guest has queen size bed), two full bathrooms (one being an ensuite), a large open concept kitchen, living room, dining room, granite breakfast bar with stools and features vaulted ceilings and lots of windows. The home has a large covered terrace overlooking the gardens. Custom made wood blinds cover all windows throughout. Ceiling fans in bedrooms, living room and terrace.
UNIT #114
FOR SALE $235,000
Total Area (Sq Ft): 1290
Total area (Sq M): 120
Bedrooms: 2
Bathrooms: 2
Floor(s): Single Floor
Type: Attached
Furnished: Yes
This 1,290 sf. (plus covered parking for one car and two lockers 67 sf.) single story, semi detached house, with garden terrace, two bedrooms is a beautiful executive style home. This home consists of two large bedrooms one with six piece en-suite bathroom with additional access to separate full shower. Each bedroom has large closets with extensive built-ins for personal organization. The vaulted living room and bathroom ceilings provide a feeling of grandeur while allowing the warmer air to rise and exit through the ceiling ventilating system. There are four TVs (one in each bedroom, one in the living room and one in breakfast / dinning room.) This is a beautiful well appointed home.
UNIT #116
FOR SALE $214,000
Total Area (Sq Ft): 1290
Total area (Sq M): 120
Bedrooms: 2
Bathrooms: 2
Floor(s): Single Floor
Type: Semi-Attached
Furnished: Yes
This 1,290 sf single floor home includes a 300 sf front terrace plus parking for one car and a separate, secure storage locker. It is and end unit and therefore attached on only one side by a 6 inch cement demising (common) wall, which prevents sound transfer.
HOUSES FOR RENT
UNIT #124
FOR RENT $850 mo. Available Immediately
Total Area (Sq Ft): 662
Total area (Sq M): 61
Bedrooms: 1
Bathrooms: 1
Floor(s): Second Floor
Type: Semi-Detached
Furnished: Yes
This 662 sf, + covered parking for one car, is a one bedroom home on the 2nd floor overlooking the large pool. It is ideal for a single person or couple.
Our Lives
WEATHER: We had several showers this past week but that does not make up for the drought. One of the articles below documents what is going on. Like elsewhere in the world, CR is having it's troubles as well.
Best Summary I've Seen:
An A.M. Costa Rica news analysis
Stories about the president's budget are boring and very important
By the A.M. Costa Rica staff

A lot of expats must wonder why Spanish-language newspapers and this one write lengthy stories on the president's budget.

Even for reporters and editors, these are tedious efforts that generate the need for a nap. In addition, the budgets are not easy to write about in language that generates reader interest.

As one Washington politician is reported to have said "What's a billion dollars one way or the other."

Times have changed. Budgets used to generate fights over what program should get money. Now the entire future of the country is at stake. President Luis Guillermo Solís has presented a $15.1 billion budget without any significant cuts.

The Spanish-language La Nación printed a blistering editorial Wednesday on the topic. But Solís is doing exactly what presidents who preceded him have done.

They take care of the short-term problems and ignore the long-time impact. After all they are only in office for four years, and both Solís and former president Laura Chinchilla have scant chances of ever being elected again.

Solís is pushing for approval of a value-added tax to replace the current sales tax. Such a tax generally takes in much more money. He also wants higher income tax rates. La Nación noted that even with new taxes, the country's financial situation will be grim.

Expats can expect to see many more tax band aids, like the luxury home tax and the tax on corporations. They also probably will see more strikes, social unrest and perhaps even an authoritarian regime. That is what happened in Venezuela as the electorate turned to Hugo Chávez, who had all the answers.

Certainly such protest will disrupt tourism. Already there have been marches by teachers and telecom workers who said they were defending their salaries. A general cut of public employee salaries would provoke chaos.

Although there has been grumbling in the legislature, there is a good chance that lawmakers eventually will approve the Solís budget that consists of 46 percent borrowed money. Lawmakers only have a couple of years left to serve.

The situation is complex, and the politics of the situation pretty much tie the president's hands. There appears to be no clear way out of the dilemma.
News Items of the Week
Comments
Articles 1, 7, 8: all have to do with the drought and it's consequences...
Articles 2 & 3: Spend baby Spend!!! The normal, normal... tomorrow will never come...
Article 4: Tourism by air is up and tourists are staying longer. Tourism by land and boat is down... after all, who wants to come to CR via Limon... many cruise ships have stopped landing there...
Article 5: IF the VAT tax gets passed this year, it will hurt many but will not increase state revenues by the projected / needed amount... Ticos will find a way around it... more and more, transactions will simply go underground -like many are now.
Article 6: Simulation... they said 60,000 were involved but I don't believe it... pictures show only a few and the article is very confusing re. the actual number. I know a person using the bus system in the area and it was not affected so no way were 60,000 evacuated...
1. No break seen in El Niño conditions until mid-2016
By the A.M. Costa Rica staff

America always has been vulnerable to droughts.

A prolonged drought from 800 to 1000 A.D. destroyed the classical Mayan civilization. Whole cities were abandoned.

Sometime in the last quarter of the 13th century similar weather conditions destroyed the Anasazi civilization in the U.S. Southwest.

Costa Rica is reeling today under a drought that is unprecedented in historical times. The Anasazi and the Mayas did not know the cause, but today scientists point to El Niño, an unusual slug of warm water in the distant Pacific.

The World Meteorological Organization expects El Niño to strengthen and peak by the end of the year. "Typically El Niño events peak late in the calendar year," said the U.N. agency in a summary Tuesday.

Surface water temperatures in the east-central tropical Pacific Ocean are likely to exceed 2 degrees C above average, potentially placing this El Niño event among the four strongest even since 1950, the agency said, listing other strong events as those in 1972-73, 1982-83 and 1997-98.

For Costa Ricans El Niño means that Guanacaste has received rainfall this year that is from 85 to 40 percent less than normal, according to the Instituto Meteorológico Nacional. The impact on agriculture is devastating in a province that is generally dry anyway.

And the outlook does not appear to be any better. In Guanacaste, the weather institute says that the rainfall shortage will be between 40 to 70 percent and from 10 to 50 percent down the Pacific coast. The central government last year declared a state of emergency. Some towns are having their water trucked in.

By contrast, the northern zone and the Caribbean coast have been wetter. And that is expected to continue with rainfall from 30 to 60 percent above normal over the rest of the year.

El Niño has other impacts. The Atlantic hurricane season is expected to be among the mildest while the Pacific season has hit a record: There are three full-blown hurricanes in the Pacific now.

The El Niño phenomenon is expected to last through the first quarter of next year and then begin to decay, said the World Meteorological Organization, which based its estimate on previous El Niño events.
2. Solís budget gets expected responses
By the A.M. Costa Rica staff

The president's budget met with the type of receptions that could be expected. Supporters in the central government praise it as a bare bones, austere spending plan. Opponents are talking about Greece.

The Poder Judicial said, for example, that the part of the budget that relates to the judiciary is the most austere in the last 11 years. The Poder Judicial section proposes an increase of 5.48 percent over last year. The judicial budget is about $804 million.

That is not a big part of the $15.1 billion president's budget. Of that amount, the central government plans to borrow 46 percent, about $7 billion, to pay bills.

President Luis Guillermo Solís said on a speech Sunday that the budget would have just a .5 percent increase. Some analysts say the increase is about .54 percent or maybe even 2.5 percent on how the math is done and whether the original budget of last year is used as a base. That budget had a 19 percent increase until lawmakers balked and the spending proposals were cut slightly.

Antonio Alvarez Desanti, a leader in the Partido Liberación Nacional was the lawmaker who compared the country's situation to approaching that of struggling Greece. He said the country's fiscal situation was not faced seriously.

The party itself issued a statement saying that the people cannot be expected to pay more unless there is an effort to cut expenses by the central government. That was in reference to the president's proposal for a value-added tax to replace the current sales tax and increases in the income tax rate.

Of course, Liberación has run the country for eight of the last 10 years and has contributed to the soaring debt.

The budget now goes to a legislative committee for discussion. Like last year, lawmakers probably will respond with a lot of rhetoric and some request for cuts in the budget, but in the end, most observers say that the budget probably will be passed along with the tax proposals.
3. Costa Rica's fiscal deficit to reach 6.9 percent of GDP in 2016

Costa Rica's 2016 budget is set to see the smallest percentage increase in 10 years, but the deficit continues to rise, according to comments from acting Finance Minister José Francisco Pacheco on Tuesday. The Solís administration's "austere" â'¡8 trillion ($15 billion) budget did not propose any cuts to services or benefits, focusing its cuts almost exclusively on the executive branch.

Next year's budget proposal was presented to Legislative Assembly President Rafael Ortiz and lawmaker Rosibel Ramos, both of the opposition Social Christian Unity Party, during a ceremony at the Assembly in San José. Officials used words like "crisis" and "precarious" to describe the country's fiscal situation after years of legislative gridlock that have been unable to rein in Costa Rica's deficit, despite several downgrades from international ratings agencies.

Costa Rica's fiscal deficit is set to reach 6.9 percent of gross domestic product during the next budget cycle – 0.5 percent higher than in 2015. The country's total debt is equivalent to 49 percent of the GDP, Pacheco told reporters.

Members of the Solís administration said they would not propose any tax legislation during the first year in power, but that is certainly not the case this go-round. The executive branch has been pushing eight different bills designed to improve tax collection, from new taxes to improving collection under existing laws. Since 2009, Costa Rica's tax collection as a percentage of GDP has been essentially flat at roughly 14 percent of GDP, according to figures from the Finance Ministry. Meanwhile, spending has steadily increased during the last six years.

Pacheco said that the government's hands were tied when it came to tackling the fastest growing parts of the budget. Servicing the country's debt accounts for 31 percent of the 2016 budget proposal followed by 30 percent for education spending, which is constitutionally mandated to be 8 percent of GDP. Pensions account for another 11 percent, leaving the remaining 28 percent to run the rest of the Costa Rican government for the 2016 calendar year.

"What room to we have to address these areas?" Pacheco asked, repeating the government's call for fiscal reform and new tax collection measures.

During the past several years, Costa Rica was able to auction tranches of $4 billion in Eurobonds to help close its budget gap but the last of that sovereign debt was issued during the first half of this year. "We're going to have to look elsewhere" to address the shortfall, said Pacheco.

The bill now goes to the Legislative Assembly, which has until Nov. 29 to approve it. Once approved, the new budget will go into effect on Jan. 1, 2016.
4. Costa Rica's international arrivals by air increase in first half of 2015

The official number of international arrivals by air to Costa Rica in the first six months of 2015 was 4.4 percent higher than the same period last year, the Costa Rican Tourism Board (ICT) reported Tuesday.

Analyzing data from the Immigration Administration, the ICT said 41,698 more travelers arrived by air this year, for a total during the six-month period of 987,801. In a projected profit analysis, the ICT said the country's tourism sector pulled in about $1.6 billion during the period – about $161 million more than the first half of 2014.

Juan Santamaría International Airport (SJO) outside San José remains the country's main air terminal, but the Daniel Oduber International Airport (LIR) in Liberia, Guanacaste, registered the highest percentage of growth in the number of air travelers during the period, at 8.5 percent. SJO airport registered a 3.2 percent increase.

Tourism Minister Mauricio Ventura said the numbers reflect positive results obtained by airlines and new route strategies, as well as more promotional efforts abroad.

"These results complement an increase in the number of flights by six airlines so far this year, as well as other efforts that are generating significant revenue for the sector," Ventura said.

The total number of international arrivals, taking into account air, sea and land, increased by 1.7 percent. That figure excludes the arrivals of Ticos and foreign citizens with valid work permits from the Labor Ministry, the ICT stated.

The report indicates that the total figure could have been higher but was affected by a slowdown in arrivals by land and sea, which decreased by 4 and 13 percent, respectively.

The U.S. is still the main source of tourists to the country, although Mexico registered the highest percentage of growth during the period of study. The entry of travelers from Mexico on a tourist visa increased by 9 percent, while those from the U.S. increased by 4.2 percent. Canada was third, at 1.7 percent growth.

European markets with the best increases were the U.K. with 15.5 percent, Germany with 8.9 percent and France with 8.3 percent. ICT officials believe the U.K. numbers likely will continue to increase following the recent announcement of direct London-San José flights by British Airways.

The ICT also reported an increase in the average spending by travelers. Those entering at SJO on average spent $1,635 while here, while those who arrived via the northwestern province of Guanacaste spent an average of $802.

Travelers in the first half of this year stayed on average 12.4 nights – one of the highest figures in the world of travel, the ICT reported.
5. VAT would mean higher electric, water, and rent bills for many in Costa Rica

September 1st, 2015 (ICR News) A controversial new Value-Added Tax (VAT) being pushed by the Solis administration would mean higher electric, water, and rental payments for many in Costa Rica, should the reform package be approved.

The VAT would be 14 percent during its first year, increasing to 15 percent by the second year of its implementation, and would apply to nearly every good or service sold in the country.

However, the Ministry of Finance has proposed exemptions to a handful of goods and services, including electricity, water, and rent, which the ministry says would exempt the majority of Costa Ricans from paying VAT on their basic housing needs.

Still, the VAT would hit home for many residents.

In the case of potable water, an exemption to the tax would be made for households that consume 30 cubic meters or less, which the ministry said is 78 percent of households. That leaves 22 percent of households that would ultimately see their water bills increase by 15 percent.

For electricity, the ministry proposes an exemption for households that use less than 250 Kwh, which the ministry said is 71 percent of households. That leaves 29 percent of households that would ultimately see their electric bills increase by 15 percent.

Meanwhile, landlords who lease their properties for more than ¢403,400 (about US $764) per month would be required to collect VAT from their tenants, while tenants paying less than this amount would be exempt from the tax. According to the ministry, some 40 percent of tenants would be required to pay the tax while 60 percent would be exempt.

Concerns and opposition to reform package

The Solis administration is pushing a far-reaching tax reform package in an attempt to tackle the government's soaring fiscal deficit.

In addition to the VAT, other reforms included in the plan include doubling the transfer tax on real estate from 1.5% to 3%, doubling the transfer tax on motor vehicles from 2.5% to 5%, big increases in the income tax (for those required to pay it), and a 15% tax on all forms of capital gains.

The reforms have faced strong opposition in the Legislative Assembly, with lawmakers from seven out of nine political parties opposing the reforms as of early August, though reports would suggest that the opposition is weakening.

Opposition lawmakers have repeatedly called on the administration to make significant cuts to public spending – including "mega salaries" paid to public servants – before asking the country's citizens for more tax revenue.
6. Simulation today is a reminder of what may happen
By the A.M. Costa Rica staff

The emergency simulation this morning will take some 60,000 persons away from their jobs, but the scenario is a common one: An earthquake of some magnitude that rattles a few metro area buildings.

Such events are common here, and Costa Ricans pretty well know how to act: They go racing into the streets.

The 1991 Limón earthquake jostled some buildings in the downtown, but none fell. The Sept. 5, 2012, Nicoya quake was of the same magnitude, 7.6, but there was no major damage reported in the Metro Area.

By contrast, the 1972 Managua, Nicaragua, quake had just a 6.2 magnitude but devastated that city.

The most damaging earthquake in historical times here was the one May 4, 1910, in Cartago. From 600 to 1,200 persons died, and many structures were destroyed. The ruins there of the Templo de Santiago Apóstol are a reminder of that day. That quake was just slightly stronger than the one in Managua later.

Costa Rica has made a lot of progress since the unreinforced masonry buildings collapsed in Cartago. Today buildings can withstand earthquake shock, and business owners who remodel have a shock of their own when inspectors require them to make the building earthquake resistant.

The Cartago quake was well documented, and an anniversary story is HERE!

The simulation today has as a goal to save lives. The national emergency commission and the Municipalidad de San José certainly will be getting the attention of the thousands of workers who participate.
7. Power company wants a big rate hike
By the A.M. Costa Rica staff

The Compañía Nacional de Fuerza y Luz has asked the rate regulating agency for a 35.56 percent increase, the agency said.

The agency, the Autoridad Reguladora de Servicios Públicos said that the company wants a 25.8 percent increase to cover future power purchases, and it wants 7.71 percent more to cover purchases it already made from its parent, the Instituto Costarricense de Electricidad.

The Compañía Nacional de Fuerza y Luz provides power to much of the Central Valley except Heredia and Cartago, which have municipal companies.

The regulating agency noted that prior requests by the power company have been rejected.

In the filing the company also said it seeks a rate for generating power that is 250 percent greater than that of its parent. The company maintains some wind generating systems that have been the subject of criticism of their operation and cost.

If the regulating agency decides that the rates should be raised, a public hearing will be held. Representatives of industry and other big power users are sure to protest.

The Costa Rican Electricity Institute (ICE) said Thursday that the lack of rains in August forced it to fire up one of its thermal plants on the Pacific coast, ending a clean energy streak that attracted worldwide attention.

In fact, it was the country's second green streak this year. In August Costa Rica broke its own record by running 94 consecutive days exclusively on renewable energy. It set its previous record in March when it ended 75 days of renewables, ICE reported.

During the second streak, between May and August, some 78 percent of the country's electricity came from hydroelectric power plants; 12 percent from geothermal sources, 10 percent from wind power; and 0.01 percent from solar.
8. Costa Rica ends clean energy run due to low rainfall

But low water levels in the country's reservoirs, mainly caused by drought in much of the territory, ended the green energy run. Hydroelectric plants supply some 72 percent of Costa Rica's electricity needs, according to ICE.

"The drop in rainfall forced us to use the Garabito thermal plant to meet peaks in electricity needs in late August," ICE's director of electricity generation Alberto Ramírez said Thursday in a public statement.

Ramírez said reservoirs at Pirrís, south of San José, and Ventanas-Garita in Alajuela are the most affected by the lack of rainfall. ICE recorded a 74 percent decrease in the flow of the Pirrís River while an 80 percent decrease in the Virilla River is to blame for low levels at the Ventanas-Garita plant.

Both ICE and National Meteorological Institute officials attribute this deficit to extreme weather conditions caused by the El Niño phenomenon that often produces drought in one part of the country and intense showers in another.

ICE hopes reservoir levels will start to recover this month in order to avoid using thermal plants, which could lead to electricity rate hikes for its customers.

But Ramírez said the country has enough fuel reserves to use thermal plants again, if necessary. "It will depend on the behavior of rainfall patterns during the rest of the year," he said. "Then we will evaluate the need to buy more fuel to support thermal generation for the next dry season."

The state-owned National Power and Light Company last week requested an increase in electricity rates that, if approved, would raise basic rates for customers in the San José greater metropolitan area by 36 percent.

ICE's hydrology department forecasts a slight increase in rainfall levels during September and October.
Brian, Lita, the Late Hugo IV, irreverent Vicka, the pigeon toed parrot, Chico II and Chica II