Dear friends,
When I started Residencias Los Jardines, I started writing a weekly news letter -determined to tell all the good, bad, and the ugly. I knew some readers would be interested in the construction process. I expected others might be interested in the lifestyle of two people who had decided to live outside the box. For others, the adventures of Lita, the parrot and the cat took on an entertainment saga all its own.
Residencias Los Jardines is finished. We periodically have resales and rental availability. Some readers may be interested in this information.
Brian Timmons
DEVELOPER / PROPERTY MANAGER
Residencias Los Jardines / https://www.residenciaslosjardines.com info@residenciaslosjardines.com
ResidenciasPropertyManagement@gmail.com
Featured house this week
Paradisus Condos / Rohrmoser
FOR SALE / FOR RENT
Residencias Los Jardines
Property Management, Rentals, Re-Sales
Market Activity
Sales: one inquiry.
Rentals: two inquiries.
FOR SALE
Unit #110: $215,000 / See Unit
Unit #114: $235,000 / See Unit
Unit #116: $214,000 / See Unit
FOR RENT
Unit #24: $850 mo. / Available Immediately / See Unit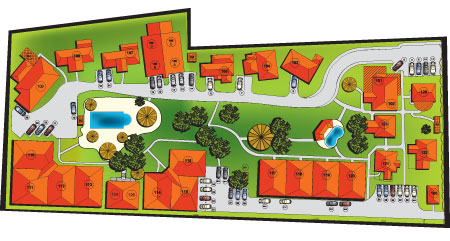 HOUSES FOR SALE
UNIT #110
FOR SALE $215,000
Total Area (Sq Ft): 1290
Total area (Sq M): 120
Bedrooms: 2
Bathrooms: 2
Floor(s): Single Floor
Type: Attached
Furnished: Yes
Beautiful end-unit bungalow (one floor) town home (part of 4 homes) situate at the far quiet end of Residencias Los Jardines, steps from the main pool. It includes one designated parking spot and one storage unit. The home is 120 square meters (approximately 1,300 square feet) with two bedrooms (master has king size bed and guest has queen size bed), two full bathrooms (one being an ensuite), a large open concept kitchen, living room, dining room, granite breakfast bar with stools and features vaulted ceilings and lots of windows. The home has a large covered terrace overlooking the gardens. Custom made wood blinds cover all windows throughout. Ceiling fans in bedrooms, living room and terrace.
UNIT #114
FOR SALE $235,000
Total Area (Sq Ft): 1290
Total area (Sq M): 120
Bedrooms: 2
Bathrooms: 2
Floor(s): Single Floor
Type: Attached
Furnished: Yes
This 1,290 sf. (plus covered parking for one car and two lockers 67 sf.) single story, semi detached house, with garden terrace, two bedrooms is a beautiful executive style home. This home consists of two large bedrooms one with six piece en-suite bathroom with additional access to separate full shower. Each bedroom has large closets with extensive built-ins for personal organization. The vaulted living room and bathroom ceilings provide a feeling of grandeur while allowing the warmer air to rise and exit through the ceiling ventilating system. There are four TVs (one in each bedroom, one in the living room and one in breakfast / dinning room.) This is a beautiful well appointed home.
UNIT #116
FOR SALE $214,000
Total Area (Sq Ft): 1290
Total area (Sq M): 120
Bedrooms: 2
Bathrooms: 2
Floor(s): Single Floor
Type: Semi-Attached
Furnished: Yes
This 1,290 sf single floor home includes a 300 sf front terrace plus parking for one car and a separate, secure storage locker. It is and end unit and therefore attached on only one side by a 6 inch cement demising (common) wall, which prevents sound transfer.
HOUSES FOR RENT
UNIT #124
FOR RENT $850 mo. Available Immediately
Total Area (Sq Ft): 662
Total area (Sq M): 61
Bedrooms: 1
Bathrooms: 1
Floor(s): Second Floor
Type: Semi-Detached
Furnished: Yes
This 662 sf, + covered parking for one car, is a one bedroom home on the 2nd floor overlooking the large pool. It is ideal for a single person or couple.
Our Lives
WEATHER: The Central Valley drought continues. Normally, September and October are the wettest months of the year and in the past several years, November has also been wet. We'll see this year but we are way, way under the normal rainfall here in the Central Valley. The Caribbean coast got wiped out in June which caused lots of agricultural damage. (see article below)
Computer Woes: I'm back to 95% but still missing my history of bookmarks and one feature which I really found useful.
This is the Former El Dodrado land: The link below is currently being developed on land which was to be Hacienda El Dorado. As you can see, the new owner is building out the project now titled San Nicolas de Bari... the patron saint of the poor. The market we had defined died wiith the financial chaos of September 2008. The target market for San Nicolas de Bari is the first time buyer, one / two bedroom units, $125K - $150K. The density is higher than we had planed but that is now what is required for the market.
Good Used Car: -- it sold...
Wine Club: A group of people have banded together for the past several years. The group meets on the last weekend of each month. Usually around 30-35 people gather at a rotating group of restaurants for a fixed price lunch and various wines. Today, Lita and I are hosting the event at the Taj Mahal in Escazu.
News Items of the Week
Comments
1. Credit Card Fraud: to be phased in over a 4 yr. time frame... We'll see.
2. Latin American Currencies sink against US Greenback: except in Costa Rica... WOW!!
3. Electricity Rates--Industrial: increased 240% since 2005.
4. Higher Taxi and gas prices: again CR is out of step with the world. But it is a good make work project since high priced people will lower the prices next month.
5. Consumer Confidence: no surprise but very worrisome. If people don't feel confident about the future, they tend to hoard money.
6. Pineapples and banana exports: heavy damage due to excessive rains in the Carribean side. Remember, this is the sector which was going to make up for Intel leaving...
1. Costa Rican banks to replace credit, debit cards to improve security

All banks in Costa Rica will have to incorporate into their debit and credit cards a chip with the client's personal and security information, according to a recent directive issued by Costa Rica's Central Bank (BCCR).

The central bank's order, which the Costa Rican Banking Association (ABC) announced Tuesday, aims at enhancing security by encrypting information currently only stored in the cards' magnetic band.

International card companies Visa and Mastercard issued directives last year to incorporate chips into all their cards to curb card-cloning, which allows criminals to copy a card-owner's bank account and personal information onto another card for use. The magnetic band typically found on cards has proven to be very vulnerable to cloning cards using devices commonly known as ATM skimmers.

ABC spokesman José Ignacio Cordero said banks here will maintain the magnetic band technology since there are several countries that have yet to incorporate chip technology into cards.

The bank's directive also orders chips to include contactless payment technology, an additional payment method that allows businesses to charge a customer without swiping the card through a machine.

"This method allows for faster and more efficient transactions, which is key for certain types of business such as supermarkets, fast food restaurants, public transportation, among others," Cordero said.

The central bank set Jan. 1, 2016 as the mandatory date for all banks to start replacing their customers' cards, however it did not set a deadline for completing the change.

A survey conducted by the ABC found that 95 percent of banks in the country have already started changing out the 7 million credit and debit cards currently circulating in Costa Rica. Several of these banks have issued a total of around 500,000 new cards with chip technology, the group reported.

Banks also will begin issuing cards with chips in exchange for those that expire this year, and those that have been lost or confiscated when banks detect a suspicious transaction. ABC officials say replacing all cards could take some four years to complete. Each bank will have to decide whether to charge customers for the replacement.

There are currently some 120,000 card machines throughout Costa Rica, according to the ABC. About 80 percent of them are equipped to charge customers via both chip and magnetic band technology.
2. Latin American currencies sink to 22-year low as stocks tumble

SÃO PAULO — Latin American currencies slid to a 22-year low and stocks joined a global selloff Monday on speculation that the region's economic contraction will deepen as Chinese growth slows down.

The Bloomberg JP Morgan Latin America Currency Index sank to the lowest since at least November 1992 as Colombia's peso fell the most since 2008. The MSCI gauge for the region's shares fell 4.1 percent, led by Brazilian miner Vale and oil producer Petroleo Brasileiro.

More than half of the companies in the Ibovespa, which is in a bear market, have dropped to at least one-year lows in the past week. Mexico's peso weakened to a record, and the nation's shares are at a so-called technical correction after plunging more than 10 percent from their September peak.

"It is a bloodbath," said Bernd Berg, a London-based strategist at Societe Generale. "We see panic selling due to global growth fears and uncertainty about the next Fed move."

Stocks and currencies in developing nations have plummeted amid a rout in global markets spurred by concern that Chinese growth is slowing faster than expected just as the Federal Reserve prepares to increase interest rates. Corruption scandals from Brazil to Mexico and a collapse in commodities have also contributed to the selloff at a time when Latin America is already forecast to contract for the first time since 2009.

The Ibovespa slid 3 percent to 44,336.47 at the close of trading in São Paulo, while the iShares MSCI Brazil Capped exchange-traded fund sank to a decade low. The real dropped 1.5 percent to 3.5526 per dollar. Brazil's bond risk, as measured by credit-default swaps, surged to the highest in six years. Colombia's peso retreated 4 percent to a record low of 3,237.38 per dollar.

Traders are turning bearish on Latin America as Brazil, the region's largest economy, heads toward the longest recession since the 1930s amid a political crisis and a sweeping graft scandal at the state-run oil company. Rising borrowing costs have slowed down consumer purchases, pushing President Dilma Rousseff's approval rating to record lows and dimming prospects for corporate earnings.

See also: Brazil in crisis means 93 company downgrades just the beginning

It's not much better elsewhere on the continent. The world's highest inflation rate has left Venezuela struggling with shortages of food and medicine, while Argentina is battling with hold-out creditors following last year's default, and Mexico tries to revive growth. Chile and Peru, which are among the biggest producers of copper and zinc, have seen export revenue tumble as prices for the metals have fallen.

The plunge in stocks has pushed valuations across Latin America to below historical levels. Colombia's Colcap index is now trading at 12 times estimated earnings, or 24 percent lower than its five-year average, according to data compiled by Bloomberg. Brazil's Ibovespa is at the cheapest level since January.

"We can't say we've reached the bottom yet," Jason Vieira, the chief economist at Infinity Asset Management, said from São Paulo. "It's not the time to buy anything, because both the domestic and international scenarios are so uncertain. Investors are moving away from riskier assets."

Brazil's Vale, the world's largest iron-ore producer, sank to an 11-year low after plunging as much as 12 percent Monday. Mobile-phone company Oi tumbled 9.7 percent to a record. Steelmaker Metalurgica Gerdau led the Ibovespa's losses, falling as much as 16 percent.

Trading patterns that measure the velocity of price moves indicate that currencies in Mexico, Chile and Colombia are all oversold, according to data compiled by Bloomberg based on relative-strength indexes.

Colombia's peso tumbled the most among 31 global major currencies. Central bank Governor Jose Dario Uribe said in an interview with Caracol Radio Monday that the nation has received a very strong shock from oil, which accounts for half of its exports. The Colcap stock index slumped to the lowest level since 2009 as Grupo Aval Acciones y Valores SA, the nation's biggest banking group, plunged.

Fomento Economico Mexicano, the owner of Latin America's biggest convenience store chain, helped spur a five-day slide in the IPC index. Mexico's peso fell for a fourth day, weakening beyond 17 pesos for the first time since its 1993 revaluation.

Swings with Brazil's real were the biggest among 16 global major currencies over the past month. While the government is working on its own macroeconomic stability, there's nothing yet to say about any potential coordinated action with other emerging markets to reduce volatility, Planning Minister Nelson Barbosa told reporters Monday.
3. Industrial chamber backs bill to cut electrical rates
By the A.M. Costa Rica staff

Expats grumble when they have to pay the monthly electrical bill. But those in industry have bills in the thousands of dollars.

That is why Enrique Egloff, president of the Cámara de Industrias de Costa Rica, was before a legislative committee Wednesday in support of a bill that would lower the rates. The bill in discussion would reform the law that set up the Autoridad Reguladora de los Servicios Públicos, the rate regulating agency.

A summary of the bill, No. 19.644, said that since 2005 electrical rates have gone up 240 percent.

The bill would adjust the way the Instituto Costarricense de Electricidad pays for its large projects, such as five giant generating plants. The company now pays $123 million on the debts assumed by constructing these projects, said the summary. The regulating agency considers these costs when rates are set.

By lengthening the payback time, the annual cost would be lower, the summary says.

Egloff told the Comisión de Asuntos Económicos that the current electrical rates are causing unemployment and having a negative effect on attracting investment to the country.

He said the major challenge of the country is to recover the competitivity lost through the electrical rates, according to an account of his appearance.

Several lawmakers seemed to agree with him.
4. Higher gas prices, taxi fares in Costa Rica start Friday

A decree setting higher taxi fares and gas prices appeared Thursday in the official newspaper La Gaceta, meaning the hikes will take effect starting Friday.

The Public Services Regulatory Authority (ARESEP) approved a ¢15 hike in taxi fares that will apply both to the first kilometer and to each additional one. The basic fare will rise from ¢630 to ¢645 ($1.17 to $1.19), while all kilometers beyond the first will go from ¢610 to ¢625 ($1.13 to $1.16).

The agency also authorized a ¢20 increase in fares for special taxi service to and from Juan Santamaría International Airport.

The approved increase resulted from an evaluation ARESEP conducts every six months which takes into consideration variations in fuel prices, exchange rate, driver's salaries and taxes.

Fuel hikes

The approved increase in fuel prices means a liter of Super gasoline will rise from ¢676 to ¢679 ($1.25 to $1.26), Plus gasoline from ¢639 to ¢642 ($1.18 to $1.19) and Diesel from ¢477 to ¢479 ($0.88 to $0.89).

The National Oil Refinery (RECOPE) had requested a higher increase but ARESEP rejected several of the expenses cited to justify the increase, saying they were not related to fuel costs. These included some ¢20,000 million ($37 million) for RECOPE employee benefits, scholarships for children of employees, and food services, among others.

Nevertheless, the new, higher prices could be short lived. On Thursday ARESEP reported that it is currently evaluating a decrease in fuel prices that, if approved, would lower per-liter prices by ¢43 for Super gasoline, ¢39 for Plus gasoline and ¢28 for Diesel.
5. Costa Rica consumer confidence takes biggest quarterly nosedive in 14 years

August 28th, 2015 (ICR News) Consumer confidence in Costa Rica has taken the biggest quarterly nosedive seen in 14 years, falling 8.3 points since May of this year alone, and 18.2 points since May of 2014, according to the most recent Consumer Confidence Index (ICC), developed by the University of Costa Rica (UCR), released on Thursday..

Consumer confidence now stands at 31.6 points on a scale of zero to 100, worse than it was during the 2008-2009 global economic crisis..

"This result demonstrates that consumers are currently experiencing significant levels of pessimism toward the economy," the report states..

The ICC had been holding relatively steady – though pessimistic – at about 40 points for nearly a year but fell sharply this month..

When asked about their perception of the current administration's economic policies, only 5 percent of respondents believed the Solis administration was doing a good job of handling the economy, while 75% said that the administration was doing a "poor job," marking the lowest approval rating of the Solis administration's handling of the economy since coming to office..

The report shows that Costa Ricans increasingly believe that unemployment, poverty, and interest rates will all increase in the coming months while their purchasing power will decrease..

The ICC was conducted between August 3rd and 21st.
6. Costa Rica pineapple growers expect losses of $100 million this year, blame climate change

August 24th, 2015 (ICR News) Costa Rica's National Chamber of Pineapple Producers (Canapep) expects to end the year with $100 million worth of lost pineapple exports, and growers are blaming climate change which they say has been affecting the country's agriculture sector since 2013 but has led to an especially significant increase in extreme weather in recent months.

Canapep said it expects pineapple exports will end the year with a decline of some 25 million boxes due to floods and extreme weather that swept through the entire Atlantic region this year, affecting 28,000 hectares out of 38,000 hectares of the country's pineapple plantations.

In June, extreme rainfall in the region left hundreds of people displaced and forced President Luis Guillermo Solis to declare a state of emergency.

Worse still, the situation could continue and even worsen throughout the remainder of the year, according to experts who convened at the Central America Climate Forum held in Honduras recently.

Pineapple growers currently provide some 27,000 direct jobs in the country.

Costa Rica's Central Bank revised down its growth forecast for this year late last month, citing falling pineapple and banana exports as one of the significant causes of the slowdown.

Pineapple exports fell by 14 percent while banana exports fell by 23 percent during the first quarter of the year, Costa Rica's foreign trade promotion agency, PROCOMER, reported in April.
Brian, Lita, the Late Hugo IV, irreverent Vicka, the pigeon toed parrot, Chico II and Chica II