Dear friends,
When I started Residencias Los Jardines, I started writing a weekly news letter -determined to tell all the good, bad, and the ugly. I knew some readers would be interested in the construction process. I expected others might be interested in the lifestyle of two people who had decided to live outside the box. For others, the adventures of Lita, the parrot and the cat took on an entertainment saga all its own.
Residencias Los Jardines is finished. We periodically have resales and rental availability. Some readers may be interested in this information.
Brian Timmons
DEVELOPER / PROPERTY MANAGER
Residencias Los Jardines / https://www.residenciaslosjardines.com info@residenciaslosjardines.com
ResidenciasPropertyManagement@gmail.com
Featured house this week
Paradisus Condos / Rohrmoser
FOR SALE / FOR RENT
Residencias Los Jardines
Property Management, Rentals, Re-Sales
Market Activity
Sales: one inquiry.
Rentals: two inquiries.
FOR SALE
Unit #110: $215,000 / See Unit
Unit #114: $235,000 / See Unit
Unit #116: $214,000 / See Unit
FOR RENT
Unit #24: $850 mo. / Available Immediately / See Unit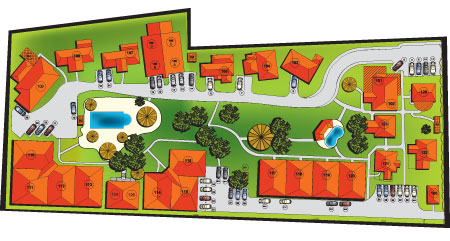 HOUSES FOR SALE
UNIT #110
FOR SALE $215,000
Total Area (Sq Ft): 1290
Total area (Sq M): 120
Bedrooms: 2
Bathrooms: 2
Floor(s): Single Floor
Type: Attached
Furnished: Yes
Beautiful end-unit bungalow (one floor) town home (part of 4 homes) situate at the far quiet end of Residencias Los Jardines, steps from the main pool. It includes one designated parking spot and one storage unit. The home is 120 square meters (approximately 1,300 square feet) with two bedrooms (master has king size bed and guest has queen size bed), two full bathrooms (one being an ensuite), a large open concept kitchen, living room, dining room, granite breakfast bar with stools and features vaulted ceilings and lots of windows. The home has a large covered terrace overlooking the gardens. Custom made wood blinds cover all windows throughout. Ceiling fans in bedrooms, living room and terrace.
UNIT #114
FOR SALE $235,000
Total Area (Sq Ft): 1290
Total area (Sq M): 120
Bedrooms: 2
Bathrooms: 2
Floor(s): Single Floor
Type: Attached
Furnished: Yes
This 1,290 sf. (plus covered parking for one car and two lockers 67 sf.) single story, semi detached house, with garden terrace, two bedrooms is a beautiful executive style home. This home consists of two large bedrooms one with six piece en-suite bathroom with additional access to separate full shower. Each bedroom has large closets with extensive built-ins for personal organization. The vaulted living room and bathroom ceilings provide a feeling of grandeur while allowing the warmer air to rise and exit through the ceiling ventilating system. There are four TVs (one in each bedroom, one in the living room and one in breakfast / dinning room.) This is a beautiful well appointed home.
UNIT #116
FOR SALE $214,000
Total Area (Sq Ft): 1290
Total area (Sq M): 120
Bedrooms: 2
Bathrooms: 2
Floor(s): Single Floor
Type: Semi-Attached
Furnished: Yes
This 1,290 sf single floor home includes a 300 sf front terrace plus parking for one car and a separate, secure storage locker. It is and end unit and therefore attached on only one side by a 6 inch cement demising (common) wall, which prevents sound transfer.
HOUSES FOR RENT
UNIT #124
FOR RENT $850 mo. Available Immediately
Total Area (Sq Ft): 662
Total area (Sq M): 61
Bedrooms: 1
Bathrooms: 1
Floor(s): Second Floor
Type: Semi-Detached
Furnished: Yes
This 662 sf, + covered parking for one car, is a one bedroom home on the 2nd floor overlooking the large pool. It is ideal for a single person or couple.
Our Lives
WEATHER: We have had VERY little rain in the past month. While I have not seen any stats on this, it seems to me to be the driest rainy season I have experienced in 15 years. We are watering every day... we still have clouds but they are not very threatening... and it has been hot, hot here... I'm sure it is unbearable at the beach or lower areas...
Computer Woes: Google notified me that someone had tried to hack my e-mail. After that, my computer started to not work right. I played with it for a day and finally admitted I needed my tech support person to fix it. His efforts led to a wipe out and re-installation of the current operating system. Whenever this happens, despite all assurances, changes are made and it takes me a month or so to get it back to how it operated before. I don't enjoy this... but it is part of computer life...
This is the Former El Dodrado land: The link below is currently being developed on land which was to be Hacienda El Dorado. As you can see, the new owner is building out the project now titled San Nicolas de Bari... the patron saint of the poor. The market we had defined died wiith the financial chaos of September 2008. The target market for San Nicolas de Bari is the first time buyer, one / two bedroom units, $125K - $150K. The density is higher than we had planed but that is now what is required for the market.
Good Used Car: Owner leaving the Country Early Sept... MUST SELL Hyundai, "Santa Fe", 2012... 63,000 kl -- $18,000 I know the car and the seller... If I didn't have two now, I'd buy it...
$18000... a Santa Fe for less than a comparable Tucson!
Excellent condition
Only 64,000k
Automatic
Specialized gearshift with downshift feature
4x2
Fog lights
Dashboard storage unit
Aftermarket blue tooth
Full media center
With usb,cd player, and auxillary w/ 6 speakers
Burled wood inserts
Electric mirrors
Electric door locks
Electric windows
Locking gas tank access
Uses regular gas
Dual exhaust
Full trip odometor incl.
Monitor of k/liter, miles till empty, etc.
Privacy shade in trunk
Storage units under trunk floor
Hidden full size spare
Full tool package and manuals; agency maintained
Rtv up to date
Double compartment center console
Two compartments for sun glasses
Lighted vanity mirrors
Folding rear seats
Comparable cars for sale from $23,000 to $29,000: this is the least expensive 2012 santa fe in costa rica!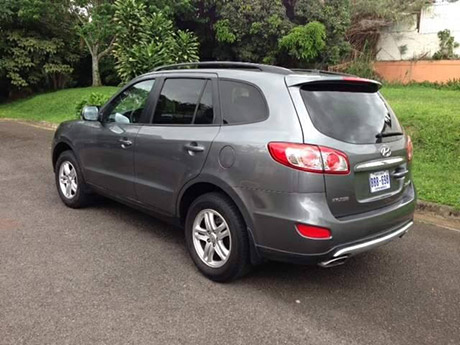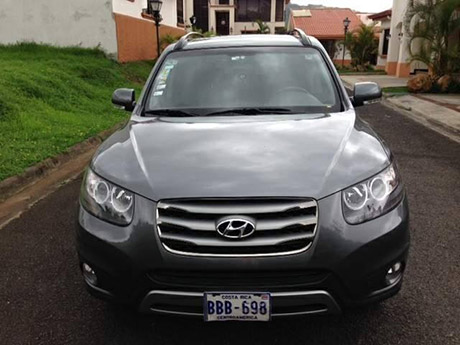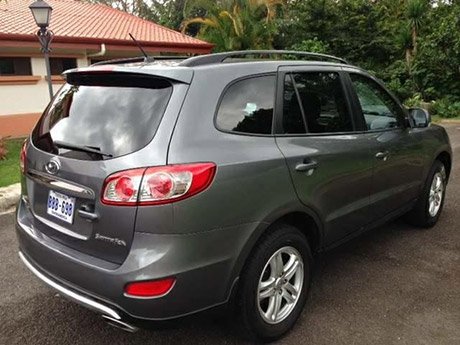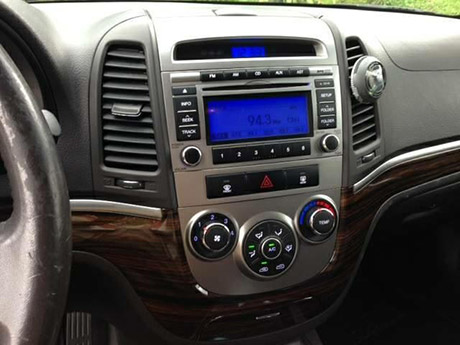 No Good Deed.... Update: met with the forester and lawyer on site--about time. The story has changed a little... it seems that the Municipalidad de Santa Ana filed a complaint to MINEAT that we had dumped the dirt. Why? Because it was our land? In fact, it clearly not our land. We had our property surveyed, then built a fence around the perimeter. A corner post and chain link fence clearly demarcates our land from the dumped area. The lawyer said that the Muni's map must be wrong... Now he will approach it from that perspective. Wow!!!!!!!!! We deal in a world of ignorance and incompetence... where stories change with the wind....
Colon vs dollar: the colon continues is slow accent over the dollar... up from 529 to 527 at last look.
News Items of the Week
Comments
1 and 2: Goverment Protests: Just about every organization is upset with the government for some reason or other and it makes no difference if they agree on what the issues are, many have their own grievances and simply take advantage of a protest to add to the event.
3. Company Relocating: red tape and capricious, opaque and slow decision making is driving a company to relocate.
4. Tamarindo and lack of water: getting building permits anywhere in the country is now very difficult due to water shortages. Tamarindo is an established tourist destination and it is short of water... however, those with influence seem to continue.
1. Government under fire from many sides over finances
By the A.M. Costa Rica staff

The Solís administration is being characterized as a ship adrift. Politicians and news outlets are zeroing in on the administration, perhaps motivated by distaste for the proposed new taxes.

Repretel, the news channel, reported Wednesday on salaries of up to 13 million colons a month that are being paid to top state bank officials. That's about $24,500 a month. Members of the boards of directors of some state institutions get up to 220,000 colons a meeting, some $417, and there are a handful of meetings every months.

Bank spokespersons reply that the money is not public funds but generated by the bank operations.

Politicians from two political parties, including Ottón Solís of the president's own Partido Acción Ciudadana, have joined in the criticism. The politicians say that salaries of this magnitude are disproportionate to Costa Rica's standard of living. Bank officials also get health annual bonuses, and both bank officers and members of boards of directors receive the aguinaldo at Christmas representing a month's pay.

Rolando González Ulloa, a Partido Liberación Nacional lawmaker, raised the issue on the floor of the legislature when he cited what he said were a sea of contradictions in the way the government is navigating the country. Continuing the marine analogy, he said the government lacked direction and a course.

The online financial publication Central American Data tore into the government Wednesday with an editorial that said the agency involved in a failed oil refinery project with China continues to spend significant funds.

"The board of the company can not even agree on the 2015 budget, yet they are still paying international salaries, traveling backwards and forwards across the world, and paying the cost of materials and contracts to third parties," the publication said of Soresco, the joint venture between local Costa Rican Petroleum Refinery and the Chinese national petroleum company.

La Nación, a leading Spanish-language daily, reported today that the refinery project spent $30.5 million over the last six years.

Ottón Solís has been the leader in a mostly unsuccessful effort to have the central government make substantial budget cuts.
2. Unions fill the city's streets with their protests
By the A.M. Costa Rica staff

Thousands of union members,(2) mainly teachers and health workers, filled the streets of San José Thursday.

Anyone who missed the march need not worry. Union leaders said they would be back in October.

The protest is designed to defend the employees of public salaries, which are being scrutinized by lawmakers. The marchers are also upset by a tiny 0.08 percent pay raise approved by the central government.

And then there are issues of legislation, including a failed measure that would give public employees the right to strike.

In a separate protest Thursday, porteadores, sometimes called pirate taxi drivers, continued their display of unhappiness over the government reduction in the number of permits that would make them legal.

A stern warning from the government is being credited for the unlicensed taxi drivers leaving their vehicles elsewhere. Instead, they stood on the streets dressed in white shirts, along with family members. Traffic police promised to impound any vehicle that blocked traffic. Blockades are the usual method of protest by this group.

The protest march was by the Bloque Unitario Sindical y Social Costarricense, an organization that contains some 50 unions, including the teachers in the Asociación de Profesores de Segunda Enseñanza and health workers in the Unión de Trabajadores de la Caja Costarricense del Seguro Social.

Public health services all over the country were heavily affected by the absence of workers Thursday.
3. Flower export company relocates to Guatemala

Costa Rican flower company Flores de Exportación (Florexpo) announced in a public statement that it will move its operations to Guatemala in March 2016. The company will be dismissing all of its 400 employees in the coming months.

Company manager Fernando Altmann Weston said that complications with Costa Rican agencies regarding legal requirements and local regulations made the company's owners decide to leave.

"It's not just a cost issue," Altmann said, adding praise for Costa Rica's workforce. "It is a matter of excessive red tape and frequent delays by government agencies responsible for issuing permits."

He said permits are quicker to get and valid for longer time periods in Guatemala.

The Costa Rican Chamber of Exporters (CADEXCO) lamented Florexpo's decision in a public statement, confirming company exec's problems with red tape.

The Cartago-based company will deliver its last shipment of unrooted cuttings from Costa Rica on April 1, 2016, which Altmann hopes will give employees enough time to find new jobs.
4. Tamarindo will get trucked water to supplement local sources
By the A.M. Costa Rica staff

The water supply in Playa Tamarindo in Guanacaste is not sufficient, and the state water company will be sending two tankers there a day as a short-term solution.

In the meantime, experts from the company, the Instituto de Acueductos y Alcantarillados, will be testing existing water wells that are not being used to see if they can be brought into service.

The supplies of imported water result from an agreement between the institute, politicians in the Canton of Santa Cruz and the Cámara de Comercio y Turismo de Tamarindo.

Tamarindo is a major tourism destination, and the water emergency could have an impact on the business. All of Guanacaste and some parts of the central Pacific coast are experiencing a prolonged drought.

Hernán Imhoff, president of the chamber, called the water shortage a serious threat to the economy and production.

The water trucks will arrive between 6 a.m. and 6 p.m., according to the agreement. The water will go into the local distribution system.
Brian, Lita, the Late Hugo IV, irreverent Vicka, the pigeon toed parrot, Chico II and Chica II