Dear friends,
When I started Residencias Los Jardines, I started writing a weekly news letter -determined to tell all the good, bad, and the ugly. I knew some readers would be interested in the construction process. I expected others might be interested in the lifestyle of two people who had decided to live outside the box. For others, the adventures of Lita, the parrot and the cat took on an entertainment saga all its own.
Residencias Los Jardines is finished. We periodically have resales and rental availability. Some readers may be interested in this information.
Brian Timmons
DEVELOPER / PROPERTY MANAGER
Residencias Los Jardines / https://www.residenciaslosjardines.com info@residenciaslosjardines.com
ResidenciasPropertyManagement@gmail.com
Featured house this week
Paradisus Condos / Rohrmoser
FOR SALE / FOR RENT
Residencias Los Jardines
Property Management, Rentals, Re-Sales
Market Activity
Sales: no inquiries.
Rentals: the two week flury has blown through... back to normal nothing.
FOR SALE
Unit #110: $215,000 / See Unit
Unit #114: $235,000 / See Unit
Unit #116: $214,000 / See Unit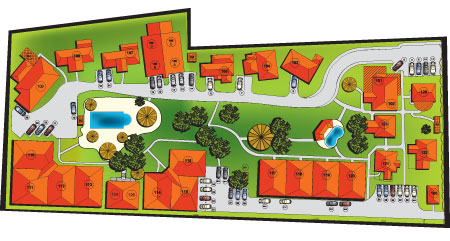 HOUSES FOR SALE
UNIT #110
FOR SALE $215,000
Total Area (Sq Ft): 1290
Total area (Sq M): 120
Bedrooms: 2
Bathrooms: 2
Floor(s): Single Floor
Type: Attached
Furnished: Yes
Beautiful end-unit bungalow (one floor) town home (part of 4 homes) situate at the far quiet end of Residencias Los Jardines, steps from the main pool. It includes one designated parking spot and one storage unit. The home is 120 square meters (approximately 1,300 square feet) with two bedrooms (master has king size bed and guest has queen size bed), two full bathrooms (one being an ensuite), a large open concept kitchen, living room, dining room, granite breakfast bar with stools and features vaulted ceilings and lots of windows. The home has a large covered terrace overlooking the gardens. Custom made wood blinds cover all windows throughout. Ceiling fans in bedrooms, living room and terrace.
UNIT #114
FOR SALE $235,000
Total Area (Sq Ft): 1290
Total area (Sq M): 120
Bedrooms: 2
Bathrooms: 2
Floor(s): Single Floor
Type: Attached
Furnished: Yes
This 1,290 sf. (plus covered parking for one car and two lockers 67 sf.) single story, semi detached house, with garden terrace, two bedrooms is a beautiful executive style home. This home consists of two large bedrooms one with six piece en-suite bathroom with additional access to separate full shower. Each bedroom has large closets with extensive built-ins for personal organization. The vaulted living room and bathroom ceilings provide a feeling of grandeur while allowing the warmer air to rise and exit through the ceiling ventilating system. There are four TVs (one in each bedroom, one in the living room and one in breakfast / dinning room.) This is a beautiful well appointed home.
UNIT #116
FOR SALE $214,000
Total Area (Sq Ft): 1290
Total area (Sq M): 120
Bedrooms: 2
Bathrooms: 2
Floor(s): Single Floor
Type: Semi-Attached
Furnished: Yes
This 1,290 sf single floor home includes a 300 sf front terrace plus parking for one car and a separate, secure storage locker. It is and end unit and therefore attached on only one side by a 6 inch cement demising (common) wall, which prevents sound transfer.
Our Lives
WEATHER: we haven't had any rain for the past three weeks... we are again watering and wondering when the rainy season will start anew.
No Good Deed Goes Unpunished:
The forrester's report has been filed; we wait.
The Parrot Saves Itself: in a twist, the parrot picked the lock on it's cage door and flew the coop. We hope he is strong enough to survive... I suspect we will never know and always wonder. While we had him/her, it never bit us while cleaning or feeding her... unlike the moron Lita has tended for 10 years or so.
News Items of the Week
Comments
The first four articles, if taken together, offer the perfect venue for a John Stewart Dailey Show. The government is planning on spending up to $300 mil of money it doesn't have and hasn't figure out how to raise except by increasing the taxes on motels! (For those not familiar with "motel" in CR, it is a place rented by the hour or so for sex.) Meanwhile, the tax base moves elsewhere because doing business here it too expensive... and while probably needed, a law enforcing the rights of minority shareholders... which, in reality, will most likely not be enforced or enforced in a timely way such that it is useful for minority shareholders is being proposed. Not to worry, however, Great Britain and Europe will come to CR finacial support via increased travel access... perhaps the motel business will increase enough to float the government...
and that is the happy news for this past week.
1. Ministerio de Obras Públicas tower is first of $300 million project
By the A.M. Costa Rica staff

The $11 million tower for the public works ministry is just the first step. The central government plans to accommodate 11 public agencies in the same high-traffic area of Plaza Víquez.

That was reaffirmed Monday by the presidential news sheet GobiernoCR that is produced weekly at Casa Presidencial.

The report said that the area would be called Ciudad Gobierno.

These agencies are expected to relocate there, according to Casa Presidencial publication:

Ministerio de Planificación Nacional, Ministerio de Hacienda, Ministerio de Vivienda, Instituto Nacional de Estadística y Censos, Instituto de Vivienda y Urbanismo, Ministerio de Educación Pública, Ministerio de Gobernación y Policía, Imprenta Nacional, Dirección de Migración y Extranjería, Dirección Nacional de Desarrollo Comunal and Dirección Nacional del Servicio Civil. Those are in addition to the Ministerio de Obras Públicas y Transportes, which already has awarded a contract for its prefabricated concrete tower.

The government said it plans to save 32 billion colons a year that it now pays in rents. That is about $60.6 million. The total project is expected to cost $300 million.

The government announcement said that putting the agencies all in one place will benefit the public. The immigration agency is now in La Uruca along the General Cañas Autopista. There was no indication from where the government expected to get the money for these towers.

The plan seems to eliminate that of the Ministerio de Hacienda that was seeking to purchase an eight-story building northwest of the Universidad de Costa Rica in San Pedro.

There also was a plan to relocate Casa Presidencial from its rented quarters in Zapote to the east side of Parque Nacional.

The state already owns the land on which the government city would be erected. Meanwhile, the legislature is planning to build its own tower.
2. President has few options to solve financial dilemma
By the A.M. Costa Rica staff

The country's fiscal deficit could be brought down drastically by cutting the public payroll, reducing existing and future pensions and capping salaries.

None of this appears to be possible despite promises by central government officials to take action.

President Luis Guillermo Solís made some public proposals Tuesday, but the best he could offer was to set up a discussion over salaries in the public sector. After that, he said the government would come up with a plan to make public employees more efficient and evaluate the results. Then legislation will be presented to continue the effort.

The president's plan immediately received attacks from supposed political allies and opposition politicians who saw the proposals as trivial.

The only people who should be happy about the current situation are lawyers because any action by the central government to cut salaries, pension or jobs will most certainly result in lengthy court actions. The general legal theory here is that once given, the government cannot then reclaim any benefit. They are derechos adquiridos.

If Solís engineers big layoffs, employees are due severance pay based on their years of employment, not to mention the Christmas bonus and other accrued benefits. Some long-time employees will qualify for several years of salary.

These are the same rules private employers must follow, and these laws that heavily favor workers are the reasons, in part, why companies are reducing their presence here in favor of other countries.

Rawlings de Costa Rica in Turrialba announced Tuesday that it would cut its workforce by 200 by the end of the year and move its textile operation to El Salvador. Snack food maker Jack's also is moving part of its operation. And Intel decided to move chip production to Vietnam.

Private companies have more flexibility, and they do not have unions paying close attention to every detail. Public employees already have taken to the streets in a protest they said was to protect their wages.

The bad guys from their point of view are lawmakers Ottón Solís of the president's own Partido Acción Cuidadana and Otto Guevara of Movimiento Libertario, who have made public some astronomical salaries and pension, and the news media for reporting what they said and showed.

Any attempt to cut salaries certainly will bring immediate responses from the Asociación Nacional de Empleados Públicos y Privados and allied unions that believe in what they call democracy of the street. These organizations are capable of shutting down the country for an extended time.

hen there are the elections. Rough times cause voters to make bad choices. The country of Greece is an example. Here in lieu of lower pay and fewer public jobs, a politician could win the presidency promising to repudiate the country's international debt.

International credit agencies are already flirting with the idea of putting Costa Rican bonds in junk status.

International organizations such as the International Monetary Fund want to see government action here in increasing taxes. Such measures probably will not get through the legislature because there are politicians there who want to see Solís fail.

Expected increase in the available interest rates are likely to cause even more of a financial squeeze because nearly half the annual government budget is borrowed money.

The U.S. Federal Reserve is expected to increase interest rates soon, and this will cause an increase in the value of the dollar that Costa Rica has to use to pay international debts.

To say the government is sending mixed signals is an understatement. Officials talk about the fiscal deficit which may soon reach 6 percent of gross national product. But then they are promoting a $35 million convention center and a ciudad gobierno that will cost $300 million.

The government reported Tuesday that overtime had been reduced, plus some other expenditures were cut. Still the gap between income and expenses continues to grow.

The best the government could do so far is a bill that is designed to make public salaries reasonable and proportional. The bill, No. 19.156 is just one page, and it would cap salaries for the eight lowest employment levels in government and tie higher salaries to increases based on the rate of inflation.
3. Lawmakers vote to double the tax on motels to 60%
By the A.M. Costa Rica staff

Lawmakers overwhelmingly voted Tuesday to approve an increase in tax on motels, the name of places here for sexual liaisons. Operators will be hit with an 83 percent tax.

Some 40 lawmakers approved on first reading the bill, No. 18.718, that doubles the 30 percent tax to 60 percent. The Instituto Mixo de Ayuda has said that this would bring in 700 million colons a year. That would be about $1.33 million and 200 percent more than the agency gets now from the tax.

The bill specifically lists the Instituto Mixto de Ayuda Social as the recipient of the tax and gives the government agency the power to close down operations that fail to pay the tax.

The tax also covers massage parlors, night clubs, pensions and hotels that are not listed with the Instituto Costarricense de Turismo. These operations, too, are those designed for sexual encounters.

Such places already pay an additional 23 percent tax, so the final tax bill will be 83 percent on top of their own fees.

Some 133 businesses are believed to be subject to the proposed tax.

The bill needs one more vote in the legislature before being sent to President Luis Guillermo Solís.
4. Rawlings lays off 200 employees at its Costa Rica apparel operation
Sarah Blaskey/The Tico Times

Sporting goods manufacturer Rawlings Costa Rica is laying off 200 employees at its plant in Turrialba, east of Cartago province, the company's local GM, Alejandro Cotter Penón, confirmed on Tuesday.

Cotter said the company's apparel manufacturing division will move to El Salvador in coming weeks, and all Costa Rica workers from that production line will be let go.

The employees were notified last Thursday, and the layoffs will be completed by the second half of September. Rawlings operations in Costa Rica will drop from 650 workers to 450.

"Our top market is baseball and softball manufacturing, and these divisions will remain here. We will even boost that operation," Cotter said. "Apparel manufacturing currently is a very competitive global market. Unfortunately, it is mostly dominated by Asian factories, and we can't compete here. El Salvador has extensive local factories that produce yarn, fabric and all of the necessary materials, therefore costs are lower there."

Cotter said Rawlings is working with the Costa Rican Investment Promotion Agency (CINDE) to help those workers find a new job.

"CINDE has helped us build a database of profiles of all workers, with all their skills and experience. We will help them relocate to companies in this area or in neighboring areas," Cotter said.

Rawlings launched operations in Costa Rica in 1986, and last year exported 2.4 million baseballs and 300,000 softballs, Cotter said.
5. Measure to protect minority investors advances
By the A.M. Costa Rica staff

Lawmakers are moving to provide more protection for minority investors in the nation's business enterprises. The measure is being characterized as a way to improve the investment climate in the country.

The measure is an initiative of the Ministerio de Economía, Industria y Comercio. The minister, Welmer Ramos, outlined the measure before the Comisión Permanente de Asuntos Económicos. The members for the committee then voted to send the bill to the full legislature for possible passage.

The measure defined a minority investor as holding 10 percent or less of the company stock. The bill would give such investors access to company books, financial documents and similar.

The measure, No. 19.530, also requires company managers to notify minority shareholders whenever there is a possible conflict of interest. And minority shareholders have the right to examine and deal that involved 10 percent or more of the company's assets.

Company managers are required to use diligence and loyalty to act in the best interest of the company keeping in mind the interest of shareholders, employees and the public good, according to a summary of the bill.

If company managers do not provide essential information at the request of minority shareholders, a judge can order that to be done. There also is a provision for minority shareholders to seek an outside audit of the company.

The bill changes civil law, although company managers usually would be liable under criminal law for violating the trust of shareholders.

The summary to the bill notes that the World Bank "Doing Business 2015" puts Costa Rica in 181st place among 189 nations in relation to protection of investors. Panamá is in 76th place and Colombia is 10th, said the summary. Ramos told lawmakers in his appearance that the measure would encourage growth of the nation's businesses because it provides transparency and accountability.

The bill also would seem to cover real estate projects where ownership is expressed in shares of stock.

Some of these projects have continuing battles between the management, which maintains control, and individual residents.

The bill is likely to pass because it has moved through the legislature quickly. It was filed in early April.

The measure also would be a boon to expats who want to add investors to their business or real estate projects.
6. British Airways to fly direct London-Costa Rica in 2016

British Airways on Wednesday announced the opening of a non-stop flight between Gatwick airport in London and Juan Santamaría International Airport in Costa Rica starting May 4, 2016.

Two flights will be offered weekly, on Saturday and Wednesday, during the UK summer. During the winter, three flights will be offered, on Tuesday, Thursday and Saturday.

This will be carrier's first route to Central America, said Colm Lacy, the airline's commercial director at Gatwick.

President Luis Guillermo Solís made the announcement at Casa Presidencial, saying that "negotiations to add a new direct route to Europe took various years." Currently only Spanish carrier Iberia has a direct route to Costa Rica from the old continent.

"The confirmation of this new connection to the European market allows us to further develop the tourism industry for economic growth that will generate more employment and other benefits," Solís said.

The Costa Rica Tourism Board estimates that the new route could move some 30,000 passengers per year. It could also attract more visitors from British Airways connections: to 130 destinations worldwide.

The route will be operated using Boeing 777 with capacity for 275 passengers, "with three categories of seats, opening the opportunity to different segments of travelers from the UK," Lacy said.

Europe is the second largest source market of tourists to Costa Rica after the U.S., according to data from the Costa Rica Tourism Board. Last year, more than 370,000 European visitors arrived in Costa Rica on a tourist visa.

The new British Airways route could also boost foreign trade, as the aircraft have a high capacity for cargo, Tourism Minister Mauricio Ventura said.

"This announcement was highly anticipated by the Costa Rican tourism sector and by our country in general," Ventura said. "This new opportunity challenges us to continue working on improving the quality of our customer service to ensure that European tourists stay longer and enjoy a great travel experience."
Brian, Lita, the Late Hugo IV, irreverent Vicka, the pigeon toed parrot, Chico II and Chica II