Dear friends,
When I started Residencias Los Jardines, I started writing a weekly news letter -determined to tell all the good, bad, and the ugly. I knew some readers would be interested in the construction process. I expected others might be interested in the lifestyle of two people who had decided to live outside the box. For others, the adventures of Lita, the parrot and the cat took on an entertainment saga all its own.
Residencias Los Jardines is finished. We periodically have resales and rental availability. Some readers may be interested in this information.
Brian Timmons
DEVELOPER / PROPERTY MANAGER
Residencias Los Jardines / https://www.residenciaslosjardines.com info@residenciaslosjardines.com
ResidenciasPropertyManagement@gmail.com
Featured house this week
Paradisus Condos / Rohrmoser
FOR SALE / FOR RENT
Residencias Los Jardines
Property Management, Rentals, Re-Sales
Market Activity
Sales: one inquiry and showing; no follow through
Rentals: This past week saw a "normal" number of inquiries / showings. I have leased two units and have only 124 and Paradisus remaining.
FOR SALE
Unit #110: $215,000 / See Unit
Unit #114: $235,000 / See Unit
Unit #116: $214,000 / See Unit
FOR RENT
Unit #124: $850 mo. / Available August 15 / See Unit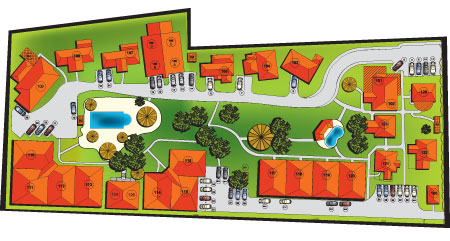 HOUSES FOR SALE
UNIT #110
FOR SALE $215,000
Total Area (Sq Ft): 1290
Total area (Sq M): 120
Bedrooms: 2
Bathrooms: 2
Floor(s): Single Floor
Type: Attached
Furnished: Yes
Beautiful end-unit bungalow (one floor) town home (part of 4 homes) situate at the far quiet end of Residencias Los Jardines, steps from the main pool. It includes one designated parking spot and one storage unit. The home is 120 square meters (approximately 1,300 square feet) with two bedrooms (master has king size bed and guest has queen size bed), two full bathrooms (one being an ensuite), a large open concept kitchen, living room, dining room, granite breakfast bar with stools and features vaulted ceilings and lots of windows. The home has a large covered terrace overlooking the gardens. Custom made wood blinds cover all windows throughout. Ceiling fans in bedrooms, living room and terrace.
UNIT #114
FOR SALE $235,000
Total Area (Sq Ft): 1290
Total area (Sq M): 120
Bedrooms: 2
Bathrooms: 2
Floor(s): Single Floor
Type: Attached
Furnished: Yes
This 1,290 sf. (plus covered parking for one car and two lockers 67 sf.) single story, semi detached house, with garden terrace, two bedrooms is a beautiful executive style home. This home consists of two large bedrooms one with six piece en-suite bathroom with additional access to separate full shower. Each bedroom has large closets with extensive built-ins for personal organization. The vaulted living room and bathroom ceilings provide a feeling of grandeur while allowing the warmer air to rise and exit through the ceiling ventilating system. There are four TVs (one in each bedroom, one in the living room and one in breakfast / dinning room.) This is a beautiful well appointed home.
UNIT #116
FOR SALE $214,000
Total Area (Sq Ft): 1290
Total area (Sq M): 120
Bedrooms: 2
Bathrooms: 2
Floor(s): Single Floor
Type: Semi-Attached
Furnished: Yes
This 1,290 sf single floor home includes a 300 sf front terrace plus parking for one car and a separate, secure storage locker. It is and end unit and therefore attached on only one side by a 6 inch cement demising (common) wall, which prevents sound transfer.
HOUSES FOR RENT
UNIT #124
FOR RENT $850 mo.
Available August 15
Total Area (Sq Ft): 662
Total area (Sq M): 61
Bedrooms: 1
Bathrooms: 1
Floor(s): 2nd Floor
Type: Semi-dettached
Furnished: Yes
This 662 sf, + covered parking for one car, is a one bedroom home on the 2nd floor overlooking the large pool. It is ideal for a single person or couple.
Our Lives
WEATHER: normal rainy season weather... wonderful and while the east coast has had torrential rains, in the central valley, we have not had any such rains...
No Good Deed Goes Unpunished:
Before I paid the $600 invoice for the Forrester's report to MINEAT, I read the report -nice they would let me have it... the report said, in essence, that there has been no environmental damage... look at the site 4 1/2 years later... and then there was a bunch of technical things to support the conclusion... If this doesn't back them off, then we will proceed with the complete non-involvement defense. Wow!!! I'm thinking a whole lot of nasty things but I just have to work my way through it.
Lita Saves A Parrot: We have a substantial flock of parrots inhabiting Los Jardines for the past 8 months. They leave around 5:30 am and return around 4:30- 6pm... depending on the weather it seems. One was found on the ground with a broken wing... a resident collected it and took it to a vet.. the vet confirmed that it could not be mended... the resident knew Lita's love for birds so we inherited it... The wing was broken mid way... not at the sholder so it can fly but not well enough to survive... it would never keep up with the others and would probalby have difficulty feeding itself. When placed outside in the cage, his mates came buy to have a look-see and chat.. one guy keeps hanging around... probably the mate. It's sad but Lita will be a good nurse and benevolent warden.
Turnover: I've had a lot lately as people leave and have done some short term fill-ins (6 wks)... I'm working my way out of those and will shoot myself if I again do it... way too much work and complications for the owners and me. Our long term rates are way too low for short term rentals short term rentals for what we offer.
News Items of the Week
Comments
1. CR is on a list it shouldn't be on: this was sent to me from a reader. It was not generated CR... surprise, surprise...
2. Perhaps the $40 million designated for the home office building might be better spent on infrastructure than than their livingroom. Flooding and washouts happen every rainy season as well as frequent road closures...but that's o.k, the beauracrats will by dry, warm, not inconvenienced, etc...
Note: I didn't find much interesting news this past week.
1. The Bankruptcy Of The Planet Accelerates – 24 Nations Are Currently Facing A Debt Crisis
By Michael Snyder of The Economic Collapse

There has been so much attention on Greece in recent weeks, but the truth is that Greece represents only a very tiny fraction of an unprecedented global debt bomb which threatens to explode at any moment. As you are about to see, there are 24 nations that are currently facing a full-blown debt crisis, and there are 14 more that are rapidly heading toward one. Right now, the debt to GDP ratio for the entire planet is up to an all-time record high of 286 percent, and globally there is approximately 200 TRILLION dollars of debt on the books. That breaks down to about $28,000 of debt for every man, woman and child on the entire planet. And since close to half of the population of the world lives on less than 10 dollars a day, there is no way that all of this debt can ever be repaid. The only "solution" under our current system is to kick the can down the road for as long as we can until this colossal debt pyramid finally collapses in upon itself.

As we are seeing in Greece, you can eventually accumulate so much debt that there is literally no way out. The other European nations are attempting to find a way to give Greece a third bailout, but that is like paying one credit card with another credit card because virtually everyone in Europe is absolutely drowning in debt.

Even if some "permanent solution" could be crafted for Greece, that would only solve a very small fraction of the overall problem that we are facing. The nations of the world have never been in this much debt before, and it gets worse with each passing day.

According to a new report from the Jubilee Debt Campaign, there are currently 24 countries in the world that are facing a full-blown debt crisis...

Armenia, Belize, Costa Rica, Croatia, Cyprus, Dominican Republic, El Salvador, The Gambia, Greece, Grenada, Ireland, Jamaica, Lebanon, Macedonia, Marshall Islands, Montenegro, Portugal
2. June flooding emergency is costing the government about $20 million
By the A.M. Costa Rica staff

The national emergency commission said Thursday that government entities have invested 10.5 billion colons, some $20 million, in repairs from heavy rains in June in the northeastern part of the country. Two thirds of that amount were to fix roads and bridges, according to the summary issued by the agency.

The commission said that 185 stretches of road, 59 bridges, 16 dikes, 47 waterlines, 2,500 homes and 547 schools suffered damage. And the impact still is being calculated.

The most emergency money was spent in the canton of Matina. Also suffering major damage were Limón, Sarapiquí de Heredia and Turrialba de Cartago. The Comisión Nacional de Prevención de Riesgos y Atención de Emergencias coordinates the repair efforts.

The damage estimate only includes that which was spend by the government. There were major losses in structures and agriculture that are being born by private individuals. In addition, the Cuz Roja maintains shelters, conducted rescues and spent money for other reasons connected with the flooding.

The rains that began June 20 were produced by a wave of low-pressure troughs that swept in from the Caribbean. Another trough, called a tropical wave, is being tracked now off the African coast. It is expected to develop into at least a tropical depression that will reach Costa Rica in about a week.
Brian, Lita, the Late Hugo IV, irreverent Vicka, the pigeon toed parrot, Chico II and Chica II