Dear friends,
When I started Residencias Los Jardines, I started writing a weekly news letter -determined to tell all the good, bad, and the ugly. I knew some readers would be interested in the construction process. I expected others might be interested in the lifestyle of two people who had decided to live outside the box. For others, the adventures of Lita, the parrot and the cat took on an entertainment saga all its own.
Residencias Los Jardines is finished. We periodically have resales and rental availability. Some readers may be interested in this information.
Brian Timmons
DEVELOPER / PROPERTY MANAGER
Residencias Los Jardines / https://www.residenciaslosjardines.com info@residenciaslosjardines.com
ResidenciasPropertyManagement@gmail.com
Featured house this week
Paradisus Condos / Rohrmoser
FOR SALE / FOR RENT
Residencias Los Jardines
Property Management, Rentals, Re-Sales
Market Activity
Sales: one inquiry.
Rentals: LOTS AND LOTS OF INQUIRIES / SHOWINGS.
FOR SALE
Unit #110: $215,000 / See Unit
Unit #114: $235,000 / See Unit
Unit #116: $214,000 / See Unit
FOR RENT
Unit #107: $1.450 mo. / Available IMMEDIATELY / See Unit
Unit #124: $850 mo. / Available August 15 / See Unit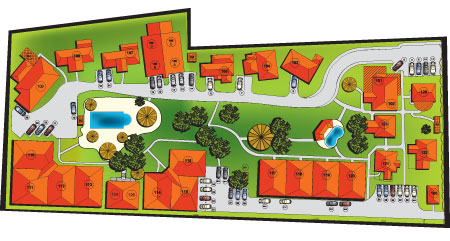 HOUSES FOR SALE
UNIT #110
FOR SALE $215,000
Total Area (Sq Ft): 1290
Total area (Sq M): 120
Bedrooms: 2
Bathrooms: 2
Floor(s): Single Floor
Type: Attached
Furnished: Yes
Beautiful end-unit bungalow (one floor) town home (part of 4 homes) situate at the far quiet end of Residencias Los Jardines, steps from the main pool. It includes one designated parking spot and one storage unit. The home is 120 square meters (approximately 1,300 square feet) with two bedrooms (master has king size bed and guest has queen size bed), two full bathrooms (one being an ensuite), a large open concept kitchen, living room, dining room, granite breakfast bar with stools and features vaulted ceilings and lots of windows. The home has a large covered terrace overlooking the gardens. Custom made wood blinds cover all windows throughout. Ceiling fans in bedrooms, living room and terrace.
UNIT #114
FOR SALE $235,000
Total Area (Sq Ft): 1290
Total area (Sq M): 120
Bedrooms: 2
Bathrooms: 2
Floor(s): Single Floor
Type: Attached
Furnished: Yes
This 1,290 sf. (plus covered parking for one car and two lockers 67 sf.) single story, semi detached house, with garden terrace, two bedrooms is a beautiful executive style home. This home consists of two large bedrooms one with six piece en-suite bathroom with additional access to separate full shower. Each bedroom has large closets with extensive built-ins for personal organization. The vaulted living room and bathroom ceilings provide a feeling of grandeur while allowing the warmer air to rise and exit through the ceiling ventilating system. There are four TVs (one in each bedroom, one in the living room and one in breakfast / dinning room.) This is a beautiful well appointed home.
UNIT #116
FOR SALE $214,000
Total Area (Sq Ft): 1290
Total area (Sq M): 120
Bedrooms: 2
Bathrooms: 2
Floor(s): Single Floor
Type: Semi-Attached
Furnished: Yes
This 1,290 sf single floor home includes a 300 sf front terrace plus parking for one car and a separate, secure storage locker. It is and end unit and therefore attached on only one side by a 6 inch cement demising (common) wall, which prevents sound transfer.
HOUSES FOR RENT
UNIT #107
FOR RENT $1,450 mo.
Available Immediately
Total Area (Sq Ft): 1716
Total area (Sq M): 158
Bedrooms: 2
Bathrooms: 2.5
Floor(s): 2 Story
Type: Detached
Furnished: Yes
This 1,716 sf. (plus parking for one car) two story, detached house, with three terraces, two bedrooms (one on each floor) and upstairs master suite is a beautiful home. This home consists of two VERY large bedrooms (one on each floor) with en-suite bathrooms and a powder room, each with large closets with extensive built-ins for personal organization. The vaulted living room and ground floor bedroom ceilings as well as the master bedroom on the 2nd floor, provide a feeling of grandeur while allowing the warmer air to rise and exit through the ceiling ventilating system. There are three TVs (one in each bedroom and one in the living room.) This is a beautiful home. There is a rough-in for a dishwasher in the kitchen area.
UNIT #124
FOR RENT $850 mo.
Available August 15
Total Area (Sq Ft): 662
Total area (Sq M): 61
Bedrooms: 1
Bathrooms: 1
Floor(s): 2nd Floor
Type: Semi-dettached
Furnished: Yes
This 662 sf, + covered parking for one car, is a one bedroom home on the 2nd floor overlooking the large pool. It is ideal for a single person or couple.
Our Lives
WEATHER: normal rainy season weather... wonderful and while the east coast has had torrential rains, in the central valley, we have not had any such rains...
What's Happening? I have had more calls and showings this past week than in the past 4 months combined. Why? I have no idea. The clients run the total gamut of age, backgrounds, reasons... etc. I do not see any common thread except that: they do not have big budgets, are not prepared to make decisions, shop and shop and shop around... we did lease one unit the old way... he viewed, he decided, he provided a deposit. wow!!! that is a novelty these days.
I had some repairs done on new drapes... why it was needed I don't know but... the drapry guy I've used for 7+ years... he really great... fast, honorable, reasonable, and does a great installation and follow up... if needed. He also cleans existing drapes... In addition, he is a very nice guy; he's worked for the Puriscal company for 20+ years... I had a conversation with him about CR: in essensece this is what he said: His business is virtually zero... he replies on home purchases and remodeling... his clients​ ranged from Guanacastae / Pacific coast throughout the Central Valley. That is now virtually dead. The company he works for used to have 55 employees, they are now down to 30 and struggling. Material that used to cost C20,000 m, now costs C28,000. His wife runs a beauty salon... she used to have 50 clients a week--now, in a good week, she has 10. He and his friends are finding it difficult to make ends meet... they have to watch their spending very carefully. He has no use for the government here; he feels it is completely inadequate in dealing with issues; he sees the maintenance of the powerful and priviledged. This is from a salt of the earth middle class Tico seeing the effect on discretionary income.
No Good Deed Goes Unpunished: A Whopper in Progress!!! Chpts 1-20; Chpts 20 to infinity to follow... sometime...
Around January of this year, I received a phone call from the gate of Los Jardines saying someone wanted to deliver some papers to me. I received them... they were from MINEAT --one of the environmental agencies... this one seems focused on rivers and streams... I had no idea what it was about... gave it over to the lawyer... he said it was the same issue as before... that made no sense to me since we had resolved all those issues in our favor bacause what we did, was the right thing to do and we did it correctly... ie. cover up an open sewer running through El Dorado... if it had gone to court, many agencies would have been shown to not have done their jobs and we had the proof to make our case... the issue went away after several years or wrangling. As info. began to trickle out of the most recent allegation... it seems we are now co-defendents in a case involving dumping rubble in some creek someplace. The alleged time was January 2011. We were implicated by the dump truck driver who was caught. Why? good question unless we were the bigger lambchop and he could blame us... The fine was for $200,000 alleging that we had affected 80m2 of land... wow!!!!!!!!! that is pretty expensive dirt... Since this was a criminal act we were told that we needed to hired a criminal lawyer who, unbenown to us, hired a forester to make a counter proposal to the MINEAT... Wait a minute, I don't think we should be invovoled... I don't yet know when, where, or what was done and how I should be involved... None of the lawyers or forester consulted us... it seems we were assumed to be guilty because MINEAT has charged us... It took us until two weeks ago to get all (?) the information. We had allowed a dump truck driver to park his bosses truck on our property... as a good neighbor act... we also had allowed the neighborhood to have their annual Christmas part for kids there in December... for the same reasons. We weren't using the land, parking the truck wouldn't hurt the land, and his presence would help showing the land was actively monitored. We had no business dealings with him, never spoke with him other than to say "hi"... what dump truck work we had in the early stages was to IMPORT clean fill... about 1,300 loads. We never built anything other than concrete / steel structures / fences and any rubble from that would be used by us as fill. Once we knew (?) what the allegation was, we denied any involvement and explained why. The forester has now filed that report with MINEAT asking that we should be dismissed from the allegation. We'll see.... I got an invoice without any copy of any report filed with MINEAT... I requested a copy of the report... wow... problem solving in the country is difficult... and getting thrown under the bus seems very easy... moral... don't do good deeds!!!!!!!!!!
News Items of the Week
Comments
1. Road Agency needs $40 mil. building: while I don't pretend to know if this is necessary or not, I do remember the government wanting to disband this ministry. In addition, the ministry wants to dispense with the normal bidding procedure (very complex and usually fraught with endless legal wrangles from the unsuccessul bidders). This is from a ministry which cannot find funds to maintain roads and bridges needs a new headquarters... wow!!!
2. VAT tax: it is still being considered as a replacement for the 13$ sales tax. I got news for you, those who are suppose to be taxed under the VAT proposal will side step it... many do not now issue legal receipts or in fact, any receipts...
3. Milanes "The Cuban" another delay has he claims health issues. The court is researching this... it isn't over but the defrauded will die before they see a cent.
4. Scotiabank buys Citi Branches... from last week's comments but I found an article describing it.
5. Lawyer Thief Goes to Jail: what a brazen thief... I wonder how many other people he defrauded?
6. Miguel Rodriguez: in court again... look at the number of times he's been charged over the years and count the number of days he's spent in jail... mmmmmm! I guess he's not guilty... mmmm!
1. Road agency plans a new $40 million headquarters
By the A.M. Costa Rica staff

The transport ministry has set Aug. 4 as the date to pick a contractor to erect a new $40 million building.

The site is in Plaza Víquez where the ministry, the Ministerio de Obras Públicas y Transportes., already owns land where driving tests are administered.

The project is not without critics because of the state of the nation's roads and bridges.

The new building will be eight stories and include a number of environmentally progressive aspects, including solar and recycling of water for an efficient air conditioning system, said the ministry.

The ministry now occupies a sprawling complex of buildings to the west of Plaza Víquez, but the property is owned by Liceo de Costa Rica, which has won a court case to recover the structures, said the ministry.

One of two firms, Productos de Concreto or the Eurobau-Escosa consortium, is expected to win the contract for a prefabricated concrete structure. The action today will be to further define the bidding period in the Comprared purchasing system.

The ministry says it will save large amounts of money with the new, more efficient building.

After the bid is awarded, the design process starts. Construction is supposed to take eight months, said the ministry.
2. Defensoría urges adoption of a value-added tax
By the A.M. Costa Rica staff

The Defensoría de los Habitantes once again has warned that the country's tax system is unequal because the sales tax is the same for rich and poor alike.

The agency issued a message of support Monday for a value-added tax instead of the current 13 percent sales tax. It said that the sales tax was regressive for those of limited resources.

The agency said that the tax system should shift to more direct levies such as income taxes.

Also suggested was a global tax system that covered income for any place in the world instead of the current system that is territorial.

Until now such a system would have been impossible to verify, but the country has negotiated a number of tax treaties so that information about income earned by Costa Ricans and residents in other countries would be available.

President Laura Chinchilla issued a directive during her term in office that removed the sales tax from food items that might be purchased by those on an economical budget.
3. Fraud trial hinges on health of Milanes
By the A.M. Costa Rica staff

Luis Milanes arrived in court Monday late and in the company of an oxygen tank.

Expats who expected the start of a fraud trial expressed dissatisfaction that the three-judge panel delayed the case until Wednesday so Milanes, the casino owner, can receive a medical examination.

Expats who were victims of his failed Savings Unlimited high interest operation expressed suspicion, but the larger than life Milanes, who is in his 60s, might well be ailing.

Expats probably will be disappointed Wednesday even if Milanes is found fit to stand trial. The case has been complicated by conciliation agreements entered into by Milanes and his former investors in 2011.

His legal team, headed by Hugo Navas, is likely to argue that even though one of the agreements failed that Milanes is exposed unjustly by the agreements. He already admitted guilt by agreeing to the conciliations.

Milanes has a long history of using the law cleverly for his personal advantage. He also is believed to have launched civil suits against a committee set up as a result of a conciliation agreement.

The second conciliation failed when a few of the affected investors declined to accept steep discounts in what they said they were owed.

Although Milanes has admitted fraud, he also has said that an associate fled to Europe with the money.

Milanes, a Cuban American, closed his Paseo Colón office in November 2002 and fled. Milanes returned to Costa Rica in June 2008 and has been involved with the legal process and his former investors since.

The complicated case has been delayed frequently, sometimes by factors like a pregnancy leave for a judge and repeated changes in the prosecutors. One conciliation agreement included the surrender of the Hotel Europa downtown. Former investors still have not been able to obtain full control of the business from Milanes.

Savings Unlimited was one of those too-good-to-be-true investment deals that proliferated in Costa Rica in the 1990s. More than 500 took advantage of the high monthly interest rates and gave money to Savings Unlimited with the expectation that the cash would be used for casino development. In fact, the casinos were maintained in corporations separate from Savings Unlimited and are not involved in the current action. Milanes is believed to have sold most of them.

If Milanes is found unfit for trial, the case will be in limbo again.
4. SCOTIABANK BUYS OUT CITI RETAIL BRANCHES

TORONTO - With a deal Tuesday to acquire 27 bank branches in Panama and Costa Rica from Citigroup Inc., Bank of Nova Scotia will rebalance its Latin American portfolio to gain exposure to countries more reliant on exports to the United States than China.

Financial terms of the deal, which will make Scotia the second-largest player in credit cards in both markets with market share in the mid-to-high teens, were not disclosed. But Peter Routledge, an analyst at National Bank Financial, estimates a price-to-book-value ratio of 1.7 times.

The estimated price tag is "not cheap but not a ridiculous over-payment either," the analyst said in a note sent to clients. He estimated Scotia would add $2.2 billion in assets with the acquisition of the retail and commercial banking businesses.

"This acquisition will nearly triple Scotiabank's customer base in these two countries from approximately 137,000 to 387,000, providing significant opportunities to leverage leading regional loyalty programs and key strategic alliances," the bank said in a statement.

The credit card assets acquired by Scotia "will not perform well in the next down cycle in Costa Rica and Panama," Routledge predicted, citing consumer credit risk as the key worry underlying the transaction.

However, the analyst said he likes the transaction because it "rebalances" the Canadian bank's Latin American portfolio by reducing the impact of countries such as Chile and Peru.

Scotia faces the risk of a slowing Chinese economy "via its subsidiaries in Chile and Peru – countries in which exports to China make up a substantial share of total exports," Routledge wrote.

China takes in about 22 per cent of exports from those two countries, versus about three per cent from Panama and Costa Rica, he said.

On the flip side, those two countries ship about 37 per cent of their exports to the United States. That compares to about 13 per cent shipped to the U.S. from Chile and Peru.

"We like the fact that this transaction will modestly re-balance (Bank of Nova Scotia's) exposure towards countries more reliant on the United States than on China," the analyst wrote.

After years of stellar growth, China's gross domestic product grew at a rate of about seven per cent in the first quarter, the slowest in six years.

The United States, on the other hand, has been one of the bright spots this year in the view of many economists. However, recent indicators, such as an unexpected decline in retail sales in June, have tempered that view.

Scotia has operations in the Caribbean, Central America and parts of Asia, in addition to its businesses in North America and Latin America.
5. Lawyer convicted of scamming seven US investors out of $626k gets 10 years

July 9th, 2015 (InsideCostaRica.com) A Puntarenas trial court has sentenced attorney Arcelio Hernandez Mussio to the maximum sentence of 10 years in prison on Tuesday after convicting the man of defrauding seven U.S. investors out of $626,000 USD.

According to prosecutors, Hernandez accepted a deposit of $626,000 from the investors in May 2010, whose aim was to purchase a hotel located in Samara, Guanacaste.

Instead, Hernandez distributed the funds to a number of his personal bank accounts and then declared his law firm bankrupt over a period of about one week, according to the prosecution.

In August 2014, Hernandez won a criminal defamation case against the newspaper Al Dia that inaccurately reported that Hernandez defrauded the investors by "posing" as an attorney.

Hernandez was, in fact an attorney at the time. Judges ordered the newspaper to pay Hernandez ¢3 million in damages.
6. Former Costa Rica president Miguel Angel Rodriguez to face embezzlement trial

June 24th, 2015 (InsideCostaRica.com) The Criminal Court of Finance announced on Tuesday that it would set a trial date in the case of former Costa Rica president, Miguel Angel Rodriguez and eight codefendants charged with embezzlement of public funds.

The announcement came after a hearing earlier this year, the result of an appeal filed by prosecutors after judges in 2013 decided to dismiss a motion to put the former president on trial.

Rodriguez is charged with an embezzlement scheme involving a European insurance firm and the National Insurance Institute (INS).

An investigation revealed that British reinsurance firm PWS paid more than $2 million in bribes to three Costa Rican officials between 1998 and 2002 in exchange for a reinsurance contract with INS to ensure the Costa Rican Electricity Institute (ICE). One of those officials was allegedly Rodriguez.

Allegedly, PWS inflated the premiums in order to create a discretionary fund of some $2 million for the benefit of the defendants. The funds were allegedly squandered by the defendants on travel, leisure and personal enrichment.

Rodriguez is no stranger to corruption scandals. In 1997, while Rodríguez was a candidate for the Presidency of Costa Rica, he met Mexican politician and businessman, Carlos Hank González. He reportedly accepted campaign contributions from Hank, which is forbidden by Costa Rican law.

Later, news reports claimed that Rodríguez had also received $1.4 million from the government of Taiwan. The funds were deposited to a bank account in Panama controlled by the firm Inversiones Denisse S.A., which allegedly belonged to Rodríguez.

Rodríguez was also tried in Costa Rica for allegedly receiving more than $800,000 in payments from French telecom company Alcatel, in exchange for helping the company receive a government contract to provide 400,000 cell phone lines.

Rodriguez served as President of Costa Rica from 1998 to 2002 and was briefly Secretary General of the Organization of American States (OAS) in 2004, before stepping down to return to Costa Rica and face allegations of financial wrongdoing during his time as president.
Brian, Lita, the Late Hugo IV, irreverent Vicka, the pigeon toed parrot, Chico II and Chica II