Dear friends,
When I started Residencias Los Jardines, I started writing a weekly news letter -determined to tell all the good, bad, and the ugly. I knew some readers would be interested in the construction process. I expected others might be interested in the lifestyle of two people who had decided to live outside the box. For others, the adventures of Lita, the parrot and the cat took on an entertainment saga all its own.
Residencias Los Jardines is finished. We periodically have resales and rental availability. Some readers may be interested in this information.
Brian Timmons
DEVELOPER / PROPERTY MANAGER
Residencias Los Jardines / https://www.residenciaslosjardines.com info@residenciaslosjardines.com
ResidenciasPropertyManagement@gmail.com
Featured house this week
Paradisus Condos / Rohrmoser
FOR SALE / FOR RENT
Residencias Los Jardines
Property Management, Rentals, Re-Sales
Market Activity
Sales: no inquiries.
Rentals: two rental inquiries.
FOR SALE
Unit #110: $215,000 / See Unit
Unit #114: $235,000 / See Unit
Unit #116: $214,000 / See Unit
FOR RENT
Unit #107: $1.450 mo. / Available August 15 / See Unit
Unit #116: $1.300 mo. / Available August 1 / See Unit
Unit #124: $850 mo. / Available August 15 / See Unit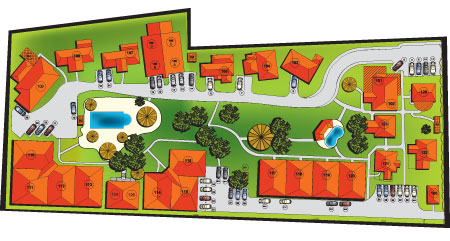 HOUSES FOR SALE
UNIT #110
FOR SALE $215,000
Total Area (Sq Ft): 1290
Total area (Sq M): 120
Bedrooms: 2
Bathrooms: 2
Floor(s): Single Floor
Type: Attached
Furnished: Yes
Beautiful end-unit bungalow (one floor) town home (part of 4 homes) situate at the far quiet end of Residencias Los Jardines, steps from the main pool. It includes one designated parking spot and one storage unit. The home is 120 square meters (approximately 1,300 square feet) with two bedrooms (master has king size bed and guest has queen size bed), two full bathrooms (one being an ensuite), a large open concept kitchen, living room, dining room, granite breakfast bar with stools and features vaulted ceilings and lots of windows. The home has a large covered terrace overlooking the gardens. Custom made wood blinds cover all windows throughout. Ceiling fans in bedrooms, living room and terrace.
UNIT #114
FOR SALE $235,000
Total Area (Sq Ft): 1290
Total area (Sq M): 120
Bedrooms: 2
Bathrooms: 2
Floor(s): Single Floor
Type: Attached
Furnished: Yes
This 1,290 sf. (plus covered parking for one car and two lockers 67 sf.) single story, semi detached house, with garden terrace, two bedrooms is a beautiful executive style home. This home consists of two large bedrooms one with six piece en-suite bathroom with additional access to separate full shower. Each bedroom has large closets with extensive built-ins for personal organization. The vaulted living room and bathroom ceilings provide a feeling of grandeur while allowing the warmer air to rise and exit through the ceiling ventilating system. There are four TVs (one in each bedroom, one in the living room and one in breakfast / dinning room.) This is a beautiful well appointed home.
UNIT #116
FOR SALE $214,000
Total Area (Sq Ft): 1290
Total area (Sq M): 120
Bedrooms: 2
Bathrooms: 2
Floor(s): Single Floor
Type: Semi-Attached
Furnished: Yes
This 1,290 sf single floor home includes a 300 sf front terrace plus parking for one car and a separate, secure storage locker. It is and end unit and therefore attached on only one side by a 6 inch cement demising (common) wall, which prevents sound transfer.
HOUSES FOR RENT
UNIT #107
FOR RENT $1,450 mo.
Available August 15
Total Area (Sq Ft): 1716
Total area (Sq M): 158
Bedrooms: 2
Bathrooms: 2.5
Floor(s): 2 Story
Type: Detached
Furnished: Yes
This 1,716 sf. (plus parking for one car) two story, detached house, with three terraces, two bedrooms (one on each floor) and upstairs master suite is a beautiful home. This home consists of two VERY large bedrooms (one on each floor) with en-suite bathrooms and a powder room, each with large closets with extensive built-ins for personal organization. The vaulted living room and ground floor bedroom ceilings as well as the master bedroom on the 2nd floor, provide a feeling of grandeur while allowing the warmer air to rise and exit through the ceiling ventilating system. There are three TVs (one in each bedroom and one in the living room.) This is a beautiful home. There is a rough-in for a dishwasher in the kitchen area.
UNIT #116
FOR RENT $1,300 mo.
Available August 1
Total Area (Sq Ft): 1290
Total area (Sq M): 120
Bedrooms: 2
Bathrooms: 2
Floor(s): 1
Type: Semi-Attached
Furnished: Yes
This 1,290 sf single floor home includes a 300 sf front terrace plus parking for one car and a separate, secure storage locker. It is and end unit and therefore attached on only one side by a 6 inch cement demising (common) wall, which prevents sound transfer.
UNIT #124
FOR RENT $850 mo.
Available August 15
Total Area (Sq Ft): 662
Total area (Sq M): 61
Bedrooms: 1
Bathrooms: 1
Floor(s): 2nd Floor
Type: Semi-dettached
Furnished: Yes
This 662 sf, + covered parking for one car, is a one bedroom home on the 2nd floor overlooking the large pool. It is ideal for a single person or couple.
Our Lives
WEATHER: normal rainy season weather... wonderful and while the east coast has had torrential rains, in the central valley, we have not had any such rains...
Jurgens --an established restaurant on the east side of San Jose... I had heard about it but had never been... Thursday night on a rather impulsive call, we went with friends who had been there once before and knew where it was... This is what we experienced:
Perhaps 15 tables, nicely furnished with contemporary decor and nice lighting. The tables were very attractively made up with beautiful china. The leather arm chair on rollers was comfortable and easy to position. Ice water was poured before we realized we wanted it... a small hourdurve arrived... one for each... then the menues followed just in time... in fact the "just in time" wait service was to continue throughout the meal... what a wonderful change from the norm here. The menu was extensive... hot / cold starters, soups, salads, and then the complete array of main dishes and desserts. We chose... three soups --all the same--lentil--and one salad. A variety of warm bread / roles arrived... instead of just olive oil, I also wanted balsamic viniger and butter... both were brought promply... following the bread, the soups / salad arrived... hot and a full bowl... a meal in itself... this was followed by a sorbet of guanabana... we're ready for the main couse... I had pasta and sea food / Lita mixed sea food in fresh tomato sauce with saffron rice... both were delicious and were as described on the menu. I two glasses of house wine --both were delicious... this was followed by an assortment of deserts --gift of the house-- and coffee for Lita and I. On the way out the door, a mint to go... Total Cost: C37,000 ($64) including the 23% tax and gratuity...
I was so impressed with the total experience, I sought out the various people who made it happen... chef and wait staff to give them my assessment re. service, presentation, quality of food, and ambience... (my believe is that most feedback restaurants get is negative... I could honestly say what I said...) I ended up speaking with the owner (a woman) --if I can find the place again, I will return.
Scotiabank: I missed the article but I am not surprised by what it reported. Scotiabank is buying out the retail business of Citi bank which has decided to restructure it's operations worldwide. Scotiabank grew significantly when it bought Banex and now will take another leap... their profit margins are higher in Central America than elsewhere in the world. I still hate them but when I tell stories to friends, they tell me one of theirs... conclusion --there is no reason to change... unfortunately that is the way life is here.
Future: I have two stories developing... a car purchase gone bad and a "no good deed goes unpunished story"... they each have to play out and I don't yet know what the moral will be...
News Items of the Week
Comments
1. Infinito files for bancruptcy: this is the gold mine which followed all the rules and after substantial investment had it's license revoked under a different administration... they lost millions... they sued various different places and were / are now at one of the international levels... they ran out of money... just what CR was hoping for...
2 and 3: ICE--on the defensive... remember unions here and in bed with management... all are in the game for their own self agrandizement and usually against the government... first they are upset that the government is forcing them to accept co-generation (ie-- from private gemeration, solar and/or wind... usually ICE sets the buy rate so low that it is not economical to produce / sell but that is being contested) // ICE was found guilty of predetory pricing in wireless telephone rates to drive out competition... and more recently, someone got hold of their wage schedule and some of the rates are absolutely scandalous... In my opinion, and based on my experience, ICE is a throughly disgusting organization... like MINEAT, SETENA, RECOPE, CAJA, etc//you name it... they seem all the same.
4. Low Cost Central Am. airline start-up... great... Avianca and Copa now have competition...
5. Personal Financial Advice... whither Greece goes, so follows CR ???--look at the history here... it is difficult not to compare CR to Greece... our probable future in a few years.
6. FIFA --the entrails of a thoroughly corrupt organization...
7. CR and Tourism: We lag even in Central and South America... but the reasons are somewhat different, this time...
8. Two New Low Cost Charter flights from the US midwest --an area historically under served with good flights to CR.
9. Pump and Dump --I didn't recognize any names... just more bad gringos located here... this is not a new situation... CR is known as the land of the wanted and unwanted... think about that and you realize that one has to sort through your countrymen before befriending any...
10. CR-Mexico Avadado War: A few weeks ago CR banned the import of Haas avacados... ostensibly because of a disease... However, it was shown that the disease was not transported by the fruit itself, but by other means... in reality, my suspicion is that the CR avacado growers... of a different and less desireable type of avacados... wanted the competition blocked... that story may come out... or may not... or my suspicions may be wrong...
1. Infinito Gold announces it is going out of business
By the A.M. Costa Rica staff

Infinito Gold, Ltd., said today that it is going out of business because it cannot get any more financing. This is the firm that is involved in an international arbitration case with Costa Rica. The company, based in Calgary, Canada, issued an announcement that said all directors and officers had resigned.

Infinito, through a Costa Rican subsidiary, planned to operate the Las Crucitas open pit gold mine in northern Costa Rica. The plan was opposed strongly by environmentalists and some government officials even though the company had been granted all necessary permissions.

Last month Infinito announced that it had accepted an offer of a loan for up to $500,000 from Exploram Enterprises, Ltd., its major shareholder, and that $115,000 has been advanced to the company under the loan to date.

The money was to bankroll Infinito's legal battle against Costa Rica.

However, today the firm said that the company's major shareholder and creditor has advised the company that it is unwilling to advance any further funds. A key figure in the company has been is Ronald Mannix, operator of Exploram and a wealthy Canadian.

The company said today that it owes $90.1 million. The announcement came over the PR Newswire.

The decision by the company leaves the status of the arbitration case in doubt. The case is in the World Bank's International Centre for Settlement of Investment Disputes, and an arbitration panel already has been formed.
2. ICE ON THE DEFENSIVE

Workers unions at the Costa Rican Electricity Institute (ICE) plan to go on a one-day strike on July 27 to protest against privatization and recent, perceived public insults.

The strike and a demonstration on the capital's streets were announced at a press conference Monday by Fabio Chaves, coordinator of the Internal Workers Front, a coalition of seven ICE unions, and Albino Vargas, the leader of Patria Justa, a collective of several public sector unions.

The unions are protesting the "Electric Contingency Bill," a plan under discussion in the Legislative Assembly that would allow increased participation of private electricity generators in the country's energy market. Currently private generators supply some 17 percent of the country's electricity needs.

They're also angry about the ¢2.2 billion ($4 million) fine issued by the Telecommunications Superintendency against ICE for unfair competition in its mobile services marketing strategies.

Finally, ICE workers will march to show their rejection of what they call "Otto Guevara's campaign" against them, referring to the Libertarian Movement Party lawmaker who last week denounced what he said were excessively high salaries paid to several ICE employees.

The public protest will begin at 7 a.m. at ICE facilities in front of La Sabana park. At 10 a.m. demonstrators will begin marching to the Legislative Assembly in downtown San José.

Chaves said they expect some 10,000 ICE employees to join the demonstration. He said it would have minimal affect on ICE customers, "mainly reduced staff in customer service and at some regional ICE branches," he said.

The street protest was originally scheduled for July 20, but union leaders decided to postpone it because of the national flooding emergency affecting several communities across the country in the past weeks, Chaves said.
3. ICE files court case over employee salary disclosures
By the A.M. Costa Rica staff

The state telecom company said it filed a Sala IV appeal Wednesday to defend the rights of its workers. The case stems from publication of the salaries the workers receive.

The court appeal is against the Caja Costarricense de Seguro Social and Otto Guevara Guth, a Moviemento Libertario lawmaker.

The company, the Instituto Costarricense de Electricidad, is in the news because it has lost many mobile telephone customers and some of its subsidiaries, like Radiográfica Costarricense S.A. are deeply in debt.

Basically the company known as ICE said that the figures provided by Guevara that ended up in newspapers and on television were incorrect and that the Caja should not have made the salaries available.

Guevara seems to have gotten ahold of a monthly filing by ICE that listed its employees and the most recent salaries.

This is a document that employers have to file each month.

ICE said that there were 2,000 signatures affixed to the court appeal. It also said that the salary figures were incorrect because they represented a month with three paydays instead of the usual two.

Spanish-language newspapers reported that a construction worker was making 1.4 million colons (some $2,650) a month and that a cook was making the same amount.

ICE issued a statement that contains a number of what the firm said were corrections. In the case of the construction worker, the individual is actually an operator of a tunnel digging machine who makes 564,000 colons ($1,068) a month. And the cook who was mentioned is really a supervisor of the large dinning hall at the Proyecto Hidroeléctrico Reventazón where 4,000 persons are fed each day, the company said.

The company did not say what it sought to accomplish with the Sala IV appeal, which the announcement called a habeas data. It suggested that salaries of public employees should not be made public.

The disclosure subjected the workers to personal attacks, criticism and jokes, it said. The data included the name, the position held, the individual cédula number and the salary.

The company said that the disclosure by the Caja was not legitimate. However, such salary information usually is available on credit reports and similar.

The disclosure invaded the employees' intimate sphere and their private life, the announcement said.

There have been a series of such disclosures. La Nación reported Wednesday that a Universidad de Costa Rica traffic officer makes 2.7 million colons a month, a bit more than $5,100.

The rector of the university, Henning Jensen, quickly held a press conference in which he said the data the newspaper received was imprecise and that the traffic officer's salary also reflected an extra payment for sick days.

The rector also said that the Caja's list of job categories does not fit well with the actual jobs at the university. ICE made the same argument.

Earlier in the week, employees of the Refinadora Costarricense de Petróleo, the fuel monopoly, held a protest to defend their salaries.

A.M. Costa Rica has editorialized that all salary payments and other government expenses should be made public as a matter of routine.
4. Low Cost Air Service within Central America Comes to CR

Air carrier group Viva will expand its operations in the region with the opening of a low-cost airline that will offer regional flights out of Costa Rica.

In Central America the carrier will be known as Viva CAN. During its first year the company plans to hire 200 people in Costa Rica, including pilots, cabin crew and maintenance staff.

The company currently is in the process of obtaining approval from the Costa Rica Civil Aviation Authority.

Viva CAN will start by offering flights within the Central American region. It expects to launch later this year.

The carrier plans to offer rates at half the cost of its competitors. General manager of Viva, Joe Mohan, told daily La Nación that the carrier will offer rates as low as $100 for flights between regional destinations.

Routes during the first year will be operated using two Airbus 320-type aircraft and the company projects to be transporting some 250,000 passengers in that period.

Future plans include adding at least six more planes and expanding routes to North and South America and to the Caribbean. The company is part of a conglomeration that also includes Viva carriers in Mexico and Colombia. Operations in those two countries started in 2006 and 2012 respectively.

Its investors include the financial backers of low-cost European air carrier Ryan Air.
5. Expat money experts advise getting hard assets
By the A.M. Costa Rica staff

Many expats struggle here with limited financial resources and unexpected expenses.

Yet there are a few independent individuals who have brought their business knowledge and cash from elsewhere and say they have profitable situations here.

None wishes to be named, They fear extortion, kidnapping or worse. They have become critical observers of the financial scene, and a few even talk to reporters to share opinions.

What they say they believe is no secret:

• the colon is way overvalued.

• the national debt and government spending sooner or later will push the country to the wall.

• the commercial real estate market, including apartment and condo projects are in trouble due to low occupancy and low rents.

• Banks are vulnerable because their mortgages are based on eroding property values that are based on project income.

• The financial disaster that is the country of Greece is seen as a poster child of what Costa Rica could become unless the government does the unexpected and reins in expenses.

• The disproportionate government salaries, as has been featured this week in news outlets, are a major barrier to tax reform.

• A world interest rates increase will put Costa Rica with its massive foreign debt in a bind.

One individual with extensive experience in the U.S. capital markets notes that the colon is the only world currency that has not devalued against the U.S. dollar. The reason is because the Banco Central de Costa Rica is maintaining an artificial price by controlling the currency exchange market, he said.

When the bank is forced to accept economic reality, the dollar will soar above 600 colons in a short period, he predicted. This will be good for exporters who are paid in dollars and for the tourism industry because it will make their services less expenses for foreigners. The colon is now at 540 to the U.S. dollar

This individual advises the use of the daily mini-devaluations that the central bank imposed for years. With such a system those in business could make predictions of currency values for reasonable times in the future, he said.

"Uncertainty is the worst tax of all," he said. "The most simple solution in Costa Rica is to go back to the mini-devaluation, so over time Costa Rica becomes more attractive to expats who can again say Costa Rica is somewhat of a bargain to retire to."

Another individual, also with extensive experience in world finance, is a bit more gloomy. He was caught in the 1982 financial crisis in México and more recently in Venezuela. He believes in hard assets and keeps a stash of gold coins handy.

This investor's concern is that cash-strapped governments might actually steal the money of bank depositors. Inflation does this slowly already, but he said he has seen governments freeze accounts.

His advice to expats is to acquire hard assets to protect against rapid inflation and to put bank accounts out of the reach of Latin governments. He encourages buying with the use the use of mortgage instruments denominated in colons. That is an echo of the Costa Rican financial crisis in the 1980s when the value of the colon dropped by half in a short period. This is what is happening in Venezuela now.

Older Costa Ricans still remember the financial crisis under the administration of Rodrigo Carazo, who held office from 1978 to 1982. Inflation approached 100 percent.

The mini-devaluations were imposed in 1987 in response to the rapid inflation of the Carazo government. Economists sometimes call this system a crawling peg exchange rate. The central bank eliminated this system in 2006 and created a system in which the dollar would float between an upper and lower band.

Central bank officials disagree strongly with the idea that the colon is overvalued. They insist that the government, instead, has been subsidize exporters by keeping the U.S. dollar higher than it should be.

The advice of these individuals for expats is simple.

"Pay attention to the news and the subtle political shifts. Invest in hard assets, perhaps real estate, and be prepared to shift strategies if the situation warrants."

And also: "Buy dollars with the overvalued colon!"
6. Soccer federation's Webb extradited
By the A.M. Costa Rica wire services

Former soccer federation vice president Jeffrey Webb has been extradited from Switzerland to the United States to face racketeering and bribery charges.

Webb, who is from the Cayman Islands, was president of the soccer's governing body for North and Central America and the Caribbean, and a Fédération Internationale de Football Association vice president at the time of his arrest.

A U.S. indictment issued in May charges nine federation officials and five corporate executives with offenses that include racketeering, wire fraud and money laundering. Among them was former vice president Jack Warner, who is resisting extradition from Trinidad and Tobago.

Eduardo Li, head of the Costa Rican federation, remains jailed in Switzerland fighting extradition.

Webb was one of seven people, all from South America or Webb's countries, arrested in a dawn raid on a Zurich hotel in May. The men are accused by U.S. authorities of involvement in more than $150 million worth of bribes given for marketing deals for football tournaments in North and South America.

A separate Swiss investigation has been looking into allegations of mismanagement and money laundering connected to the awarding of the 2018 and 2022 World Cups to Russia and Qatar.

Swiss prosecutors are investigating 53 possible money-laundering incidents involving the bidding process for the two World Cups.

The international federation has suspended the bidding process for the 2026 World Cup because of the controversy.

The host of the 2026 world football championship was set to be chosen by federation members during a 2017 meeting in Malaysia. It is not clear when the decision now will be made.

A week ago, the federation expelled former executive committee member Chuck Blazer, who admitted accepting massive bribes and became an informant in a U.S. government investigation that has shaken the world football body.

The federation's ethics committee said Blazer "committed many and various acts of misconduct continuously and repeatedly" while serving in senior positions at the Fédération Internationale de Football Association and the Confederation of North, Central American and Caribbean Association Football.

The 70-year-old, well-known for his opulent lifestyle and larger-than-life personality, is now wheelchair-bound and seriously ill from cancer in a New York hospital. He was an ally of federation President Sepp Blatter, who has agreed to step down in the wake of the scandal.
7. COSTA RICA AND THE TOURISIM INDUSTRY COMPTETIVENESS

Costa Rica received a mediocre grade, to stand at 42 in the 2015 report on tourism, prepared by the World Economic Forum.

As for the countries of Latin America and the Caribbean, Costa Rica occupies the number four box from 24 countries; however, we are not even the leader in the isthmus of Panama to meet behind.

Among the strengths are Costa Rican security, prioritization of tourism and natural resources.

Costa Rica also lost competitiveness to be part of an inefficient area in several ways, including the need to deal with several borders within the region and constantly changing currencies.

In contrast, in Europe the visitor can move from one country to another without formalities of visa and passport even once having entered the continent.

In addition, you can use the same currency, the euro in 19 of the 28 members of the European Union.

Europe is the world's most successful for tourism continent, with six countries in the top ten, even Spain is a global leader.

Likewise, visiting the United States, Canada or Australia, which are also among the ten leading countries, explore vast territories with different attractions, without the need to present travel documents or change currency.

Japan is another country that ranks among the ten most attractive.

Agility to cross borders, security, investment in transport infrastructure, and developing the skills needed for the sector, are the essential elements for transforming the tourism sector, which in recent years has grown in economic importance level world.

The sector grew at an average annual rate of 5.3% between 1995 and 2012, compared with 4.1% in relation to the growth of the value of global production, according to the Forum.
8. Two new charter flights will arrive in Guanacaste

U.S. travel agency Apple Vacations will add two new charter operations to the Daniel Oduber Quirós International Airport in Liberia, Guanacaste, Costa Rica Tourism Minister Mauricio Ventura reported Friday.

Flights will be seasonal and will be scheduled within dates that allow U.S. travelers to take full advantage of holiday periods, Ventura said.

XTRAirways will offer a charter flight from Chicago once a week on an aircraft with a capacity for 168 passengers. The route will operate between December 25 and August 5 starting next year.

The same carrier plans to launch a seasonal charter next year between St. Louis, Missouri and Liberia, from March 18 to August 5.

The tourism minister also confirmed that Sun Country Airlines will offer flights on the Minneapolis-Liberia route from December 19 to April 9. This will be the fourth weekly flight on that route and will offer seats for 168 passengers.

"Attraction of charter flights is part of the country's strategy to attract new airlines," Ventura said. "These flights last year moved nearly 70,000 passengers to Daniel Oduber Quirós International Airport, and they also help facilitate the process for an airline to open a permanent route to Costa Rica," he added.
9. U.S. files fraud charges against stock brokerages and individuals here By the A.M. Costa Rica staff

The U.S. Securities and Exchange Commission has charged Costa Rican stock brokerage companies and individual listed as living here with fraud, manipulative trading, touting, and with registration violations.

The criminal allegations say that the companies and individual engaged in a pump-and-dump operations to boost the price of stock shares with the purpose of selling them. It said they made many millions of dollars.

The complaint alleges that Costa Rica-based Moneyline Brokers and its founder Harold Bailey "B.J." Gallison II unlawfully operated as a broker-dealer for U.S.-based customers who engaged in pump-and-dump schemes to artificially inflate a stock's price and then sell their own shares, said the federal agency. According to the complaint, Moneyline and certain of its employees routinely accepted transfers of stocks from the U.S. customers and had stock certificates reissued in Moneyline's name to conceal the true owners of the shares, the agency said.

In addition to Moneyline, the complaint alleges that two Costa Rica-based firms, Sandias Azucaradas CR, S.A. and Vanilla Sky, S.A., and three Nevada-based firms, Bastille Advisors, Inc., Club Consultants, Inc., and Jurojin, Inc., operated as unregistered broker-dealers. Employees of the firms who were charged are: Roger G. Coleman, Sr., of Las Vegas, Ann M. Hiskey of Costa Rica, Robin M. Rushing and David K. Rushing, both of Costa Rica and Spokane, Wash., and Michael J. Randles, of Costa Rica, said the agency.

The case involves the sale of what are known as microcap stocks, which sometimes are referred to as penny stocks.

The Security and Exchange Commission said that the over-the-counter market for securities, often referred to the microcap market, is designed for and comprised of companies with small amounts of assets and low stock prices. More than 10,000 companies have shares that trade on the over-the-counter market, including what is known as the pink sheet. While companies that trade their stocks on major exchanges undergo a formal application process and must meet minimum listing standards, companies quoted on over-the-counter markets do not have to apply for listing or meet any minimum financial standards, the agency noted.

In all, 14 individuals and 19 entities were charged by the Securities and Exchange Commission. Some of the individuals appear to have had prior involving with the agency's enforcement division.

Carl H. Kruse Sr. and Carl H. Kruse Jr., both of Miami, conspired with Moneyline and others to manipulate trading in Warrior Girl, a former shell company that the Kruses controlled, said the allegation. Warrior Girl's purported business changed from hydroelectric power in 2008 to extracting oil from tar sands in 2009 to online education in 2010, and the Kruses engaged in multiple manipulations to profit from promotions to inflate the stock's price, said the agency. As a result of the various campaigns the Kruses are alleged to have obtained illegal profits estimated to total $2.3 million, the agency said.

Another scheme involved trading in Everock, Inc., a Canada-based mining company that relocated to Nevada and sold sandwich spreads after reorganizing itself with Nature's Peak in 2008, said the Security and Exchange Commission.

A concerted campaign promoting the mining-turned condiment company included videos and Facebook postings and produced more than $2.5 million in profits for defendants, the agency said.

The case is in the federal district court in Manhattan, New York.

The activities of the Costa Rican companies were well known to some who follow the microcap market. There were reports about Moneyline Brokers going back to 2009 and listing the prior activities of the principals.

The Securities and Exchange Commission is seeking to bar the individuals from working in stock sales and also to require them to surrender money.

Usually in cases like this the U.S. Justice Department steps in and files additional charges.
10. The CR-Mexico Avacado War

Costa Rica's two-month long ban on avocados from the world's largest producer has moved on to the World Trade Organization.

The Mexican Embassy in San José and the Costa Rican Foreign Trade Ministry (COMEX) confirmed that representatives were meeting at the WTO's headquarters in Geneva to review the technical criteria Costa Rica's Plant Health Service (SFE) applied when it banned avocados from Mexico and eight other countries because of the "sunblotch" virus in May.

The case is being presented before the WTO's Sanitary and Phytosanitary Committee for discussion. If Mexico is not satisfied with the criteria discussed at the Phytosanitary Committee, the dispute could move on to arbitration.

The two countries met on June 25 to discuss the criteria for reestablishing Mexican avocado imports, but Costa Rica rejected Mexico's proposal, said Óscar Holguín, spokesman for the Mexican Embassy in San José, in an email.

Mexican authorities claimed that they did not receive prior warning from Costa Rica about the ban.

Besides Mexico, eight other countries affected by the sunblotch virus were listed as part of the initial ban.

"From the Mexican perspective, Costa Rica has not met the technical elements necessary to support its decision and could have violated provisions in international agreements," Holguín said.

Mexico is evaluating options besides the WTO to resolve the dispute, he said. COMEX and its Mexican counterpart, the Secretary of the Economy, are also in discussions to resolve the impasse.

Costa Rica's Foreign Trade Minister Alexander Mora said in an email that the two countries have an "excellent friendship and commercial relationship," noting that Costa Rica's first free trade agreement was established with Mexico in 1995.

"Costa Rica is acting in agreement with the available tools under the Sanitary and Phytosanitary measures of the WTO. All countries have the right to protect their plant health conditions and establish pertinent measures to do so," Mora said.

The ban has irritated Mexican producers and local importers of the luscious green fruit. The business dispute escalated into a bizarre media circus when Costa Rica's Communications Minister staged a publicity stunt at a Subway restaurant in June after the chain announced it would stop serving avocados as long as the ban was upheld. He handed the manager a small bag of Costa Rican avocados that he bought on his way over, then narrated the stunt — complete with photos — on his Facebook page.

In a statement this week, a collection of Costa Rican food importers including the Chamber of Exporters and Importers of Perishable Products and the Costa Rican Food Industry Chamber (CACIA) renewed their call for the government to reach an agreement with Mexican producers. CACIA President José Manuel Hernando said that the plant health risks to importing Mexican avocados was "minimal" considering that the produce has been entering Costa Rica without issue for more than 20 years.

The vast majority of the 12,563 metric tons of avocados Costa Rica imported in 2014 come from Mexico, according to figures from Costa Rica's Foreign Trade Promotion Office. Costa Rica's approximately 900 avocado producers top out at just 2,000 metric tons, according to the Agriculture Ministry.
Brian, Lita, the Late Hugo IV, irreverent Vicka, the pigeon toed parrot, Chico II and Chica II