Dear friends,
When I started Residencias Los Jardines, I started writing a weekly news letter -determined to tell all the good, bad, and the ugly. I knew some readers would be interested in the construction process. I expected others might be interested in the lifestyle of two people who had decided to live outside the box. For others, the adventures of Lita, the parrot and the cat took on an entertainment saga all its own.
Residencias Los Jardines is finished. We periodically have resales and rental availability. Some readers may be interested in this information.
Brian Timmons
DEVELOPER / PROPERTY MANAGER
Residencias Los Jardines / https://www.residenciaslosjardines.com info@residenciaslosjardines.com
ResidenciasPropertyManagement@gmail.com
Featured house this week
Paradisus Condos / Rohrmoser
FOR SALE / FOR RENT
Residencias Los Jardines
Property Management, Rentals, Re-Sales
Market Activity
Sales: no inquiries.
Rentals: two rental inquiries.
FOR SALE
Unit #110: $215,000 / See Unit
Unit #114: $235,000 / See Unit
Unit #116: $214,000 / See Unit
FOR RENT
Unit #124: $850 mo. / Available July 7 / See Unit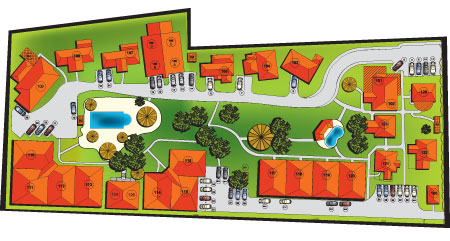 HOUSES FOR SALE
UNIT #110
FOR SALE $215,000
Total Area (Sq Ft): 1290
Total area (Sq M): 120
Bedrooms: 2
Bathrooms: 2
Floor(s): Single Floor
Type: Attached
Furnished: Yes
Beautiful end-unit bungalow (one floor) town home (part of 4 homes) situate at the far quiet end of Residencias Los Jardines, steps from the main pool. It includes one designated parking spot and one storage unit. The home is 120 square meters (approximately 1,300 square feet) with two bedrooms (master has king size bed and guest has queen size bed), two full bathrooms (one being an ensuite), a large open concept kitchen, living room, dining room, granite breakfast bar with stools and features vaulted ceilings and lots of windows. The home has a large covered terrace overlooking the gardens. Custom made wood blinds cover all windows throughout. Ceiling fans in bedrooms, living room and terrace.
UNIT #114
FOR SALE $235,000
Total Area (Sq Ft): 1290
Total area (Sq M): 120
Bedrooms: 2
Bathrooms: 2
Floor(s): Single Floor
Type: Attached
Furnished: Yes
This 1,290 sf. (plus covered parking for one car and two lockers 67 sf.) single story, semi detached house, with garden terrace, two bedrooms is a beautiful executive style home. This home consists of two large bedrooms one with six piece en-suite bathroom with additional access to separate full shower. Each bedroom has large closets with extensive built-ins for personal organization. The vaulted living room and bathroom ceilings provide a feeling of grandeur while allowing the warmer air to rise and exit through the ceiling ventilating system. There are four TVs (one in each bedroom, one in the living room and one in breakfast / dinning room.) This is a beautiful well appointed home.
UNIT #116
FOR SALE $214,000
Total Area (Sq Ft): 1290
Total area (Sq M): 120
Bedrooms: 2
Bathrooms: 2
Floor(s): Single Floor
Type: Semi-Attached
Furnished: Yes
This 1,290 sf single floor home includes a 300 sf front terrace plus parking for one car and a separate, secure storage locker. It is and end unit and therefore attached on only one side by a 6 inch cement demising (common) wall, which prevents sound transfer.
HOUSES FOR SALE
UNIT #124
FOR RENT $850 mo.
Available July 7
Total Area (Sq Ft): 662
Total area (Sq M): 61
Bedrooms: 1
Bathrooms: 1
Floor(s): 2nd Floor
Type: Semi-dettached
Furnished: Yes
This 662 sf, + covered parking for one car, is a one bedroom home on the 2nd floor overlooking the large pool. It is ideal for a single person or couple.
Our Lives
WEATHER: We've had a lot of rain and overcast this week - Not unusual for this time of year and it hasn't affected life style.
Could CR follow Greece?
Following the developments in Greece and recaping the history and cause of the current situation, a number of people I've spoken with and one article I noted in La Repulica" drew parallels with CR: The government over the past 10+ years has refused to make the hard political decisions they needed to make such that CR could compete and live within it means... Government spending has outpaced revenue, government pensions are completely unrealistic, labor market reforms are badly needed to make CR wage competetive, cost of operating --electricity, water, social benefits, transportation due to poor infrastructure (roads / ports, fuel)... are very high; refusal to cut spending... the current budget is 19% higher than last year when 50% of the cost was made up of borrowed money... the day for sovereigns to borrow and not pay back may be over with Greece...CR has relied upon a ponzi scheme of debt forgiveness, direct foreign investment, gifts, etc for the past 20 years --it has become a way of life-- and it could be that this is no longer feasible... the government has lost it's mandate to the coalition of competing parties; the upstart Communist party is waiting in the wings and building ground support, tax reform, infrastructure investment, labor market reform, and private property reform is lagging or non-existent; beaucracy continues to stiffle progress and development; government social institutions--CAJA, INS, ICE, AyA, RECOPE,--are hoplessly inefficient, bloated, and indebted with debt which is separate and usually not included with soverign debt figures... The cost of living continues to increase... the government CAJA system doesn't work well, private medical costs are no longer inexpensive, despite government propaganda, the public educational system is awful,
Meanwhile, residential and commercial construction in this area continues unabated with the finished product sometimes sitting vacant for months and sometimes even years... people ask how this can be if it is not drug money being washed? I don't know... when I was building, using my own money, I needed to have the finished product rented or sold ASAP... there has been no capital appreciation for the past 3 years so that reason is out...
With Greece, the thinking is that the days of other governments bailing out those governments / societies which have failed to make the reforms required, are over... and social / political transition is usually confusing and forced by social unrest... despite Costa Ricans' alleged docility, those who have driven and lived here know that docility may be confused for passive aggressiveness...
News Items of the Week
Comments
1. Amazon expands: this company came from nothing in the past 5 years and now employs 2,500 people... great.
2. Taxi protest: brought the government to it's knees and after three years of not resolving this, the government is loosing patience... they have banned further protests.
3. Government Projects for Chinese Cash: actually some worthwhile and value added investments... if they actually happen.
4. Starwood Hotels: a new one to be built and others to follow... it seems that many of these may share the desalination plant planned since AyA has not been able to supply communities in the area with water...
5. Nicaragua Canal: not much on CR but for those following the story..I have included it.
6. Government mid-year private sector wage increases: While only 0.94% this term, what is interesting is how job title upgrades and seemingly strange priorities for some wage rates make the system crazy... again, this is an area where structural reform in the labor market is due.
7. Tax evasion... rampant...
8. Illegal Logging: in and of itself, not news worth..it goes on all the time...often times from government protected areas..which aren't policed due to lack of funds.
9. Consulting Service -- new jobs... interesting... I don't know the company.
1. Amazon Expands in CR

Amazon Costa Rica announced that it will hire 400 new employees for its support services centers in the provinces of San José and Heredia.

The U.S. online retail giant will be hiring staff for management positions in administration and human resources, and will be looking to recruit technical staff for customer service.

Candidates should be proficient in a second language including English, Portuguese, German, French or Italian.

Amazon Costa Rica currently employs some 2,500 people who provide technical and administrative support to customers and distributors in the U.S., Spain, Mexico and Brazil.
2. Solís orders traffic police to end protest blockades
By the A.M. Costa Rica staff

President Luis Guillermo Solís blamed blockading taxi drivers for forcing a helicopter ambulance flight Wednesday.

The president did not go far enough. The security ministry said that two persons died Wednesday afternoon when the driver tried to avoid a taxi blockade and pulled in front of a tractor trailer. The two women in the front seats of the car died, and two children suffered injuries.

Solís took to the airwaves Wednesday night to explain why he has ordered traffic police to break up any future blockades by so-called informal taxi drivers, the porteadores.

The drivers blocked roads all over the country Wednesday protesting a decision by the Procuraduría General de la República.

They are calling on the central government to ignore the ruling, something Solís said he could not do.

This is the latest in a long-running conflict between licensed taxi drivers and porteadores that began when a long-ago government declined to enforce the licensing laws.

The Procuraduría General, basically the government's lawyer, ruled that just 30 percent of the existing porteador vehicles, some 1,324, could remain in service.

Solís made a quickly arranged television speech in which he deplored the actions by the drivers. He noted that the country is facing two weather emergencies, heavy rain on the Caribbean coast and drought along the Pacific. And, he noted, more rain is coming.

Despite the emergencies, the porteadores blockaded routes to hospitals, ports and workplaces even in the areas affected by the rain or the drought, he said.

Principal blockades were on the Circunvalación in San José, on the Costanera Sur on the Pacific coast, on the Bernardo Soto highway west of Juan Santamaría airport and at Casa Presidencial in Zapote. It was on the Bernardo Soto where the fatal accident happened about 3 p.m. in Villa Bonita in Alajuela.

Drivers of emergency vehicles had trouble getting to the crash scene. The security ministry sent a helicopter from the Servicio de Vigilancia Aérea to carry the most seriously injured child to Hospital Nacional de Niños in San José.

The craft landed in the middle of Paso Colón.

The blockades lasted about 12 hours, and central government officials spent much of the day in discussions with the driver union, the Servicio Especial Estable de Taxi.

Solís in his talk said the central government would not give in to pressure or fail to enforce the law. He left the door open to discussions but asked the porteadores to refrain from more blockades.

Licensed taxi drivers see the porteadores as unfair competition. The government has set up a system to legalize the informal taxi drivers, but the Procuraduría General's ruling partly reversed this plan. Licensed taxi drivers also have been known to set up blockades to protest the porteadores.
3. Government says it has figured out what to do with Chinese cash
By the A.M. Costa Rica staff

When President Luis Guillermo Solís visited Chia, his hosts offered $24 million in aid.

Now the central government has come up with six projects for which it will use the money. The government said that the selected projects were ones already planned and ready to be set up, mostly in rural areas.

The first is a network of education institutions, mainly technical schools in various parts of the country. The second is storage facilities for water in the parts of the country that are being ravaged by drought. The third is a metropolitan park in los Diques de Cartago.

The remaining three relate to the country's fishing industry. The proposals are for building a market, setting up a laboratory and developing outlets for fish in several parts of the country.

Personnel from the Chinese embassy have considered the proposals and forwarded them to their country. They have proposed starting by the end of the year, Costa Rican officials said.
4. New Starwood Hotel planned

A 151-room hotel with restaurants, bar and lounge, infinity pool, spa and convention center is the latest tourism development planned for the Pacific province of Guanacaste. It's a project of Desarrollos Hoteleros Guanacaste, a subsidiary of local corporation Florida Ice and Farm (FIFCO).

The group announced this week that the new W hotel complex Reserva Conchal Costa Rica has a projected opening date for the second quarter of 2019. The project will be operated by the U.S. company Starwood Hotels & Resorts, FIFCO reported in a press release.

The resort will be located in Cabo Velas, Santa Cruz, some 45 minutes from the Daniel Oduber International Airport in Liberia. The project includes the construction of a desalination plant to supply the new hotel with fresh water.

Businesses and residents in Guanacaste have faced drought conditions in recent years, causing losses in the agriculture and livestock industry.

Despite water supply problems, the tourism industry in Guanacaste has seen a boom. FIFCO currently owns another hotel at Reserva Conchal, the Westin Golf Resort & Spa Playa Conchal, also operated by Starwood since 2011.

International hotel chains plan to open a number of new hotels in the area in the coming years, including Paradisus Papagayo Bay Resort, Marriott Papagayo and the Wyndham Papagayo YU Resort.
5. Canal's impact on Costa Rica called devastating
By the A.M. Costa Rica staff

The proposed Nicaraguan canal is completely within that country, but Costa Ricans are beginning to realize that the project has a direct impact on this country, too.

Nicaraguan opponents of the canal also look to Costa Rica for support in their confrontation with President Daniel Ortega and their central government

In the words of Salvador Montenegro Guillén, former director of the Centro para la Investigación en Recursos Acuáticos de Nicaragua, the canal will have a devastating impact on both countries. He was quoted on a summary of a panel discussion on the topic that was held last month.

The written summary of the comments at the Universidad de Costa Rica were released Thursday.

One Nicaraguan participant, Octavio Ortega Arana, noted that 66 of the 153 municipalities in Nicaragua have come out in opposition to the law creating the canal project. He is coordinator of the Consejo Nacional por la Defensa de Nuestras Tierras, Lago y Soberanía.

A principal concern voiced at the panel session was that Nicaragua and Costa Rica share the same underground source of water, the aquifer.

The proposed canal not only will affect Lake Nicaragua but also the water sources shared by both countries, according to Nicolás Boeglin of the university. Both countries feed the Río San Juan and share the underground water, he noted.

The lake is the headwaters of the river and the largest source of fresh water in Central America.

The political implications in Nicaragua are enormous. There have been at least 46 separate protests, and 300 communities will be destroyed, according to Ortega Arana. He estimated that 119,000 persons would be displaced.

Then there is the concern of pollution of Lake Nicaragua by petroleum from shipping as well as the agitation of the water and possible intrusions of sea water.

Many landowners in Nicaragua have said in the past that they believe that expropriations for the canal are just a way to steal their land.

The Nicaraguan panel speakers also noted that the canal deal gives the Chinese construction company 116 years of absolute dominion over the lake and seven currently protected areas.

They also are unhappy that the entire deal was negotiated in secret.

Boeglin pointed out that after two years environmental impact studies still are secret. "Water does not respect borders," he was quoted as saying.

Nicaraguan residents are not the only persons concerned. Rice University in the United States reported in March on a study of the canal impact by a consortium of environmental scientists.

This plan will force the relocation of native populations and impact a fragile ecosystem, including species at risk of extinction, according to Rice University environmental engineer Pedro Alvarez and other members of the consortium.

Alvarez is co-corresponding author of an article that includes 21 co-authors from 18 institutions in the United States and Central and South America who gathered at a multidisciplinary international workshop in Managua, Nicaragua, last November to discuss the project. The paper, titled "Scientists Raise Alarms About Fast Tracking of Transoceanic Canal Through Nicaragua," was published by the American Chemical Society journal Environmental Science and Technology.

A private company, the Hong Kong Nicaragua Canal Development Group, is building the 172-mile, $50 billion canal in collaboration with the Nicaraguan government, which granted the concession 13 months ago.

Preparation for the project has begun with the construction of roads to move heavy equipment and supplies into place, with the first ships scheduled to pass through the canal in late 2019. It will be longer, wider and deeper than the 51-mile Panama Canal to the south.

The canal company is believed by many to be a proxy for the Chinese government, which basically would create a colony in Central America.

Up until now there has been little public concern expressed by Costa Ricans.
6. New minimum salaries are online as first pay day approaches
By the A.M. Costa Rica staff

The Ministerio de Trabajo has published the new minimum salaries for the second half of 2015.

The list by job category reflects a .94 percent raised that was negotiated last month as well as a special 1.04 percent increase for low-paid domestic help. A domestic worker is now supposed to make 170,901.34 colons a month, some $324.

Some employers have complained about the salaries of university graduates who may need months of training. A university graduate is supposed to receive 512,552.17 colons a month, according to the new schedule. That's about $971.

Those who studied longer and obtained a licenciado should get 615,083.69 colons or about $1,165.

Heading the list are graduate journalists or periódistas who are supposed to make 757,535.85 colons a month. That's about $1,434.35. A number of public relations workers at state institutions call themselves periódistas to take advantage of that job category.

The new salaries went into effect July 1, so the July 15 pay day will be the first that many employees see the increase.

Employers point out that in addition to the salaries, they must pay to the Caja Costarricense de Seguro Social each month an amount based on the new figures. In addition, riesgo de trabajo or workplace insurance also is based on salary amounts. And then there is the year-end aguinaldo that usually is the equivalent of a month's pay.
7. Tax agency finds many merchants who are failing to follow the law
By the A.M. Costa Rica staff

The tax agency and the tax police went shopping during June and the early days of this month and found 2,500 cases of merchants who were violating the law in some ways.

Nearly 1,000 failed to provide the appropriate receipts, facturas, for purchases. Some 45 firms were just not enrolled as taxpayers.

The agency, the Dirección General de Tributación, said that 40 percent of the establishment in some way were violating the law. The businesses visited were in Puntarenas, Guanacaste, Heredia, Alajuela and the northern zone.

The penalties for these violations are relatively modest.

Failing to provide facturas results in a fine. A second offender's business may be closed for up to five days, the agency said.

The receipts or facturas are a way that the agency has to check if a business is filing an honest tax return. Professionals soon will be asked to issue their facturas electronically by use of a central computer under the control of the tax agency.

The tax police also were on the lookout for retail items that may have been smuggled. The agency reported that in 19 cases there was confiscation of a product.

The tax agency has even set up a lottery that individuals can enter by providing copies of their facturas. The idea is that the tax agency will compare the factures with the existing records to check up on the firm that issued them.
8. Another load of suspicious wood snagged by police in La Cruz
By the A.M. Costa Rica staff

How likely is it that police will stop a trucker whose vehicle is carrying more than 300 planks of wood. A good guess would be very likely.

And that is what happened Wednesday in La Cruz, Guanacaste. The truck had 339 planks of what is called here cocobolo. The name in English is rosewood, one of the most desirable species. The Fuerza Pública said that the driver produced a receipt for the wood, but that it was inconsistent.

Police agencies in rural areas are very sensitive about wood cargos because there is so much pilfering from trees on public land.
9. U.S. consulting firm GEP to open Costa Rica operation

Consulting, outsourcing and software services company GEP began recruiting Thursday for its first employees in Costa Rica.

The New Jersey-based company will open a services center in Costa Rica in the second half of this year at Lindora Park, west of San José, Costa Rican officials reported.

GEP plans to hire some 80 people within the next 12 months. The new employees will be responsible for operating a specialized procurement services center for its customers in Latin America and the U.S.

"Costa Rica will be the hub of the company's operations in Latin America," GEP's Costa Rica director, Roberto Pérez, said. The company is currently seeking multilingual professionals with background and experience in business administration and engineering. Recruiters are looking mainly for professionals with an advanced command of English, Portuguese, French or German.

"GEP's service center extends the range of options available to current and future professionals in the country to find quality, well-paid jobs in multinational companies," Foreign Trade Ministry (COMEX) Vice Minister Jhon Fonseca said Thursday.

Data from the Costa Rican Investment Promotion Agency (CINDE) indicates that the service sector remains the most dynamic in job creation in Costa Rica. The sector currently provides some 50,000 direct jobs.

CINDE's director of investment promotion, Irving Soto, said Costa Rica is now openly competing worldwide to attract these type of businesses "and it is remarkable that there are just over 120 foreign investment projects in the field of corporate services here."

GEPhas 11 offices and operations centers in Europe, Asia and the Americas. The company currently provides procurement services and software for spend analysis, strategic sourcing and sourcing support, category and tail-spend management and procurement outsourcing.
Brian, Lita, the Late Hugo IV, irreverent Vicka, the pigeon toed parrot, Chico II and Chica II