Dear friends,
When I started Residencias Los Jardines, I started writing a weekly news letter -determined to tell all the good, bad, and the ugly. I knew some readers would be interested in the construction process. I expected others might be interested in the lifestyle of two people who had decided to live outside the box. For others, the adventures of Lita, the parrot and the cat took on an entertainment saga all its own.
Residencias Los Jardines is finished. We periodically have resales and rental availability. Some readers may be interested in this information.
Brian Timmons
DEVELOPER / PROPERTY MANAGER
Residencias Los Jardines / https://www.residenciaslosjardines.com info@residenciaslosjardines.com
ResidenciasPropertyManagement@gmail.com
Featured house this week
Paradisus Condos / Rohrmoser
FOR SALE / FOR RENT
Residencias Los Jardines
Property Management, Rentals, Re-Sales
Market Activity
Sales: no inquiries.
Rentals: two rental inquiries.
FOR SALE
Unit #110: $215,000 / See Unit
Unit #114: $235,000 / See Unit
Unit #116: $214,000 / See Unit
FOR RENT
Unit #124: $850 mo. / Available July 7 / See Unit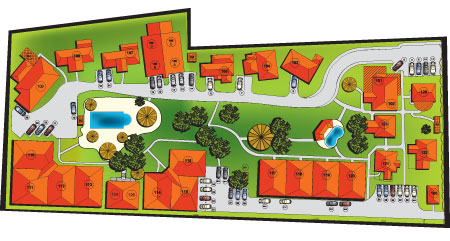 HOUSES FOR SALE
UNIT #110
FOR SALE $215,000
Total Area (Sq Ft): 1290
Total area (Sq M): 120
Bedrooms: 2
Bathrooms: 2
Floor(s): Single Floor
Type: Attached
Furnished: Yes
Beautiful end-unit bungalow (one floor) town home (part of 4 homes) situate at the far quiet end of Residencias Los Jardines, steps from the main pool. It includes one designated parking spot and one storage unit. The home is 120 square meters (approximately 1,300 square feet) with two bedrooms (master has king size bed and guest has queen size bed), two full bathrooms (one being an ensuite), a large open concept kitchen, living room, dining room, granite breakfast bar with stools and features vaulted ceilings and lots of windows. The home has a large covered terrace overlooking the gardens. Custom made wood blinds cover all windows throughout. Ceiling fans in bedrooms, living room and terrace.
UNIT #114
FOR SALE $235,000
Total Area (Sq Ft): 1290
Total area (Sq M): 120
Bedrooms: 2
Bathrooms: 2
Floor(s): Single Floor
Type: Attached
Furnished: Yes
This 1,290 sf. (plus covered parking for one car and two lockers 67 sf.) single story, semi detached house, with garden terrace, two bedrooms is a beautiful executive style home. This home consists of two large bedrooms one with six piece en-suite bathroom with additional access to separate full shower. Each bedroom has large closets with extensive built-ins for personal organization. The vaulted living room and bathroom ceilings provide a feeling of grandeur while allowing the warmer air to rise and exit through the ceiling ventilating system. There are four TVs (one in each bedroom, one in the living room and one in breakfast / dinning room.) This is a beautiful well appointed home.
UNIT #116
FOR SALE $214,000
Total Area (Sq Ft): 1290
Total area (Sq M): 120
Bedrooms: 2
Bathrooms: 2
Floor(s): Single Floor
Type: Semi-Attached
Furnished: Yes
This 1,290 sf single floor home includes a 300 sf front terrace plus parking for one car and a separate, secure storage locker. It is and end unit and therefore attached on only one side by a 6 inch cement demising (common) wall, which prevents sound transfer.
HOUSES FOR SALE
UNIT #124
FOR RENT $850 mo.
Available July 7
Total Area (Sq Ft): 662
Total area (Sq M): 61
Bedrooms: 1
Bathrooms: 1
Floor(s): 2nd Floor
Type: Semi-dettached
Furnished: Yes
This 662 sf, + covered parking for one car, is a one bedroom home on the 2nd floor overlooking the large pool. It is ideal for a single person or couple.
Our Lives
WEATHER: This last week saw Central Valley's "mini verano" or little summer... a period of no rain during the rainy season. Timing varies as does duration but usually lasting from several days up to a couple weeks. Friday night saw the beginning of a soft rain which carried over into Saturaday morning...
Lately we have had a number of clients looking for short term accommodations during their late stage pregnancies. It seems that many expats want to come to the San Jose area to be close to medical facilities to either give birth or in the case of home birthing, to be near medical facilities if something doesn't go right. I had three inquiries for the same time frame; I was able to accommodate two; two other units at Los Jardines have similar clients. In my case, Los Jardines was a referral from previous clients. This is not the long term business we prefer but it fills vacancies and has always worked out well in the past.
The US Embassy and expats sponsor a 4th of July celebration today. They finally allowed US citizens to invite "1" tico. This is a major step forward. Canada Day and England's celebretory day / festival, welcomes all nationalities.
News Items of the Week
Comments
I didn't find anything interesting in the news sources this week... perhaps I was focusing on Greece and elsewhere as well as trying to move three issues along which just done want to move forward easily... There's a story developing... and I suspect the butt of the story will be me...
Brian, Lita, the Late Hugo IV, irreverent Vicka, the pigeon toed parrot, Chico II and Chica II