Dear friends,
When I started Residencias Los Jardines, I started writing a weekly news letter -determined to tell all the good, bad, and the ugly. I knew some readers would be interested in the construction process. I expected others might be interested in the lifestyle of two people who had decided to live outside the box. For others, the adventures of Lita, the parrot and the cat took on an entertainment saga all its own.
Residencias Los Jardines is finished. We periodically have resales and rental availability. Some readers may be interested in this information.
Brian Timmons
DEVELOPER / PROPERTY MANAGER
Residencias Los Jardines / https://www.residenciaslosjardines.com info@residenciaslosjardines.com
ResidenciasPropertyManagement@gmail.com
Featured house this week
Paradisus Condos / Rohrmoser
FOR SALE / FOR RENT
Residencias Los Jardines
Property Management, Rentals, Re-Sales
Market Activity
Sales: no inquiries.
Rentals: two rental inquiries.
FOR SALE
Unit #110: $215,000 / See Unit
Unit #114: $235,000 / See Unit
Unit #116: $214,000 / See Unit
FOR RENT
Unit #124: $850 mo. / Available July 7 / See Unit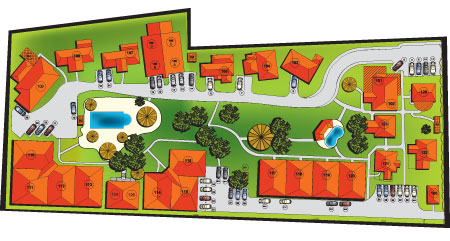 HOUSES FOR SALE
UNIT #110
FOR SALE $215,000
Total Area (Sq Ft): 1290
Total area (Sq M): 120
Bedrooms: 2
Bathrooms: 2
Floor(s): Single Floor
Type: Attached
Furnished: Yes
Beautiful end-unit bungalow (one floor) town home (part of 4 homes) situate at the far quiet end of Residencias Los Jardines, steps from the main pool. It includes one designated parking spot and one storage unit. The home is 120 square meters (approximately 1,300 square feet) with two bedrooms (master has king size bed and guest has queen size bed), two full bathrooms (one being an ensuite), a large open concept kitchen, living room, dining room, granite breakfast bar with stools and features vaulted ceilings and lots of windows. The home has a large covered terrace overlooking the gardens. Custom made wood blinds cover all windows throughout. Ceiling fans in bedrooms, living room and terrace.
UNIT #114
FOR SALE $235,000
Total Area (Sq Ft): 1290
Total area (Sq M): 120
Bedrooms: 2
Bathrooms: 2
Floor(s): Single Floor
Type: Attached
Furnished: Yes
This 1,290 sf. (plus covered parking for one car and two lockers 67 sf.) single story, semi detached house, with garden terrace, two bedrooms is a beautiful executive style home. This home consists of two large bedrooms one with six piece en-suite bathroom with additional access to separate full shower. Each bedroom has large closets with extensive built-ins for personal organization. The vaulted living room and bathroom ceilings provide a feeling of grandeur while allowing the warmer air to rise and exit through the ceiling ventilating system. There are four TVs (one in each bedroom, one in the living room and one in breakfast / dinning room.) This is a beautiful well appointed home.
UNIT #116
FOR SALE $214,000
Total Area (Sq Ft): 1290
Total area (Sq M): 120
Bedrooms: 2
Bathrooms: 2
Floor(s): Single Floor
Type: Semi-Attached
Furnished: Yes
This 1,290 sf single floor home includes a 300 sf front terrace plus parking for one car and a separate, secure storage locker. It is and end unit and therefore attached on only one side by a 6 inch cement demising (common) wall, which prevents sound transfer.
HOUSES FOR SALE
UNIT #124
FOR RENT $850 mo.
Available July 7
Total Area (Sq Ft): 662
Total area (Sq M): 61
Bedrooms: 1
Bathrooms: 1
Floor(s): 2nd Floor
Type: Semi-dettached
Furnished: Yes
This 662 sf, + covered parking for one car, is a one bedroom home on the 2nd floor overlooking the large pool. It is ideal for a single person or couple.
Our Lives
WEATHER: normal rany season weather... partly sunny in the mornings, clouds mid day, possible rain for several hours followed by clearing... In fact, there has been little rain this past week; it could be out "mini-summer" time here in the Central Valley. Light breezes.. 75 / 23 degrees +/- 3 degrees F.
Newsletter:
I only found two newsitems of moderate interest... I'm either not looking very hard or there's nothing new happening.
News Items of the Week
Comments
1. Taxes: they may not have fogotten them but they are not high on the priority list either...
2. Highway Upgrade: it will be nice when it is finished; this has been in progress for a number of years... when it is borrowed money financing it coupled with poor planning, of course there will be cost overruns.
1. Government three-step plan shows news taxes have not been forgotten
By the A.M. Costa Rica staff

Although the central government is now seeking quick passage of bills that would fight tax fraud and smuggling, more taxes have not been forgotten.

Vice President Helio Fallas outlined a three-stage effort over the remainder of the current administration to resolve the country's financial woes.

He noted that the government's deficit has become larger in the last six years.

He cited elevated evasion and fraud, import duties lost because of free trade treaties, the creation of new obligations without resources to pay for them and an increase in interest on the nation's debt.

None of this is new, but the vice presdient, who also serves as minister of Hacienda, used the situation to call on lawmakers to pass the fraud and customs bills.

He said the road map for the administration is in three phases that include gradual reforms, new legislation and modernization of tax collecting technology.

The tax fraud bill and the bill that increases penalties against smuggling make up the first step. The bills already are in the current legislature, although they are subject to revision.

The second step is approval of a value-added tax and increases in the tax rate, he said. There also is a bill to reduce exonerations from taxes and import duties. All of these have been submitted to lawmakers, he noted.

He said that the executive branch has done its part by issuing rules about travel, food and overtime as well as freezing 85 percent of the vacant government positions.

There also is a bill to adjust downward some pensions.

The third phase includes a number of technical legal changes to control the growth of the deficit. Also included are suggestions from other political parties, he said.

He said the government has been in the red every years except two since 1980.

In his presentation Tuesday he also called on lawmakers to refrain from creating more financial obligations without ways to pay for them.

He noted that in 2014 the deficit was 5.7 percent of the gross domestic product, the total of all goods and services.
2. Cañas-Liberia Highway expansion faces yet another delay

The expansion from two to four lanes of the highway between Cañas and Liberia, Guanacaste, originally scheduled to be ready in May of last year, will take up to six more months past the previous July 2015 deadline set by the Public Works and Transportation (MOPT) earlier this year.

MOPT in April 2014 announced the project would be delayed a full year due to changes requested by the government in the original specifications of the contract awarded in a public bid to Spanish construction company FCC.

Last March the ministry set a new completion date for July 20, citing delays in the project. This week MOPT issued a statement with an update on the project's progress, reporting that it would be ready "during the second half of this year."

National Roadway Council Executive Unit Manager Carlos Villalta told The Tico Times that a definitive date for finishing the project is still yet to be defined, as situations outside the contractor's control are affecting the project's timetable.

"The most important of those is the relocation of public utilities infrastructure that is still under development. Our most recent projection is that the highway could be completed by the end of this year," Villalta said.

According to MOPT's report, work on the $133 million project currently is 75 percent advanced, meaning the completion of 45 of 50.5 kilometers. The project also includes the construction of 11 pedestrian bridges, three intersections, 18 new bridges and the rehabilitation of 18 existing ones.

Construction of new bridges, however, is expected to conclude in February 2016, according to MOPT's estimates from March.

Among the changes to the original plan, the government last year requested additional improvements to safety conditions on the road. Those changes required a contract extension for $41 million on the project that is being financed by a loan from the Inter-American Development Bank.
Brian, Lita, the Late Hugo IV, irreverent Vicka, the pigeon toed parrot, Chico II and Chica II