Dear friends,
When I started Residencias Los Jardines, I started writing a weekly news letter -determined to tell all the good, bad, and the ugly. I knew some readers would be interested in the construction process. I expected others might be interested in the lifestyle of two people who had decided to live outside the box. For others, the adventures of Lita, the parrot and the cat took on an entertainment saga all its own.
Residencias Los Jardines is finished. We periodically have resales and rental availability. Some readers may be interested in this information.
Brian Timmons
DEVELOPER / PROPERTY MANAGER
Residencias Los Jardines / https://www.residenciaslosjardines.com info@residenciaslosjardines.com
ResidenciasPropertyManagement@gmail.com
Featured house this week
Paradisus Condos / Rohrmoser
FOR SALE / FOR RENT
Residencias Los Jardines
Property Management, Rentals, Re-Sales
Market Activity
Sales: one inquiry.
Rentals: no rental inquiries.​
FOR SALE
Unit #110: $215,000 / See Unit
Unit #114: $235,000 / See Unit
Unit #116: $214,000 / See Unit
FOR RENT
Unit #124: $850 mo. / Available July 7 / See Unit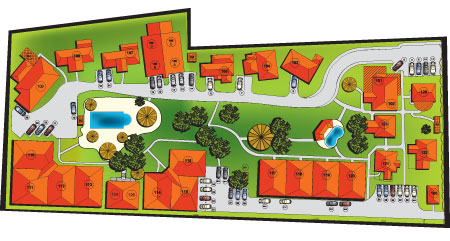 HOUSES FOR SALE
UNIT #110
FOR SALE $215,000
Total Area (Sq Ft): 1290
Total area (Sq M): 120
Bedrooms: 2
Bathrooms: 2
Floor(s): Single Floor
Type: Attached
Furnished: Yes
Beautiful end-unit bungalow (one floor) town home (part of 4 homes) situate at the far quiet end of Residencias Los Jardines, steps from the main pool. It includes one designated parking spot and one storage unit. The home is 120 square meters (approximately 1,300 square feet) with two bedrooms (master has king size bed and guest has queen size bed), two full bathrooms (one being an ensuite), a large open concept kitchen, living room, dining room, granite breakfast bar with stools and features vaulted ceilings and lots of windows. The home has a large covered terrace overlooking the gardens. Custom made wood blinds cover all windows throughout. Ceiling fans in bedrooms, living room and terrace.
UNIT #114
FOR SALE $235,000
Total Area (Sq Ft): 1290
Total area (Sq M): 120
Bedrooms: 2
Bathrooms: 2
Floor(s): Single Floor
Type: Attached
Furnished: Yes
This 1,290 sf. (plus covered parking for one car and two lockers 67 sf.) single story, semi detached house, with garden terrace, two bedrooms is a beautiful executive style home. This home consists of two large bedrooms one with six piece en-suite bathroom with additional access to separate full shower. Each bedroom has large closets with extensive built-ins for personal organization. The vaulted living room and bathroom ceilings provide a feeling of grandeur while allowing the warmer air to rise and exit through the ceiling ventilating system. There are four TVs (one in each bedroom, one in the living room and one in breakfast / dinning room.) This is a beautiful well appointed home.
UNIT #116
FOR SALE $214,000
Total Area (Sq Ft): 1290
Total area (Sq M): 120
Bedrooms: 2
Bathrooms: 2
Floor(s): Single Floor
Type: Semi-Attached
Furnished: Yes
This 1,290 sf single floor home includes a 300 sf front terrace plus parking for one car and a separate, secure storage locker. It is and end unit and therefore attached on only one side by a 6 inch cement demising (common) wall, which prevents sound transfer.
HOUSES FOR SALE
UNIT #124
FOR RENT $850 mo.
Available July 7
Total Area (Sq Ft): 662
Total area (Sq M): 61
Bedrooms: 1
Bathrooms: 1
Floor(s): 2nd Floor
Type: Semi-dettached
Furnished: Yes
This 662 sf, + covered parking for one car, is a one bedroom home on the 2nd floor overlooking the large pool. It is ideal for a single person or couple.
Our Lives
WEATHER: normal.
Newsletter:
​I didn't write last week; I felt that two letters in the previous week ​​was certainly more than enough punishment for my readers.​
Rainy or Dry Season... Which is Better... this is obviously a matter of personal preference and the seasonal characterisitics vary somewhat by your location... My comments are from Santa Ana area:
The dry season (December-May): tends to be windy, sometimes quite strong, lower humidity, very few clouds, normally 75-78F / 23- 26C... Plants take a beating; dust around.
Rainy Season: usually a couple hours of rain 3-4 times an aftrnoon / evening. It is usually quite still, humidity is higher than during the dry season, cloudy in the afternoons. Temperature about the same as during the dry season... but the pool is a couple degrees warmer... yes, warmer... plants are happy, dust is gone. Plan on taking an umbrella... but if you get wet, not big deal... it's warm and it dries...
I don't know which I prefer better... both beat the alternatives with which I am familiar. ​
Construction: continues unabated in this area... both commercial and residential. There is a hugh commercial development going in along Lindora Blvd. across from McDonalds... three cranes, a stead stream of cement trucks... what it will be... signage is the last thing to be put up...
Santa Ana City Center Phase II is underway. Excavation is happening. Phase 1 is largely built out... Who will occupy it?? It is suppose to be mixed use... commercial, residential condos, offices... Various smaller commercial and residential development continues to spring up and be finished off. Lots of vacancies... The most common small business is restaurants, beauty salons, vetenarians, pharmacies... followed by bakeries and banks...​
News Items of the Week
Comments
1. New Taxes... forget about them... again, they will not make it through the legislature.
2. Cultural Fiasco... at least some people lost their jobs for wasting government money and disappointing a lot of people...
3. Employment: increases in construction and free trade zone areas...
4. Elecricity Rates to Decrease... maybe!
1. New taxes probably will not win legislative approval
By the A.M. Costa Rica staff

Leadership elections at the legislature a month ago put a snag in the Solís administration plans for new taxes.

Expats and foreign residents were concerns by rumors that new taxes would apply to income from foreign sources.

With anti-tax lawmakers in leadership roles and heading committees, the central government has little alternative than to push bills that do not contain new taxes.

Helio Fallas, the first vice president who also heads the Ministerio de Hacienda, has presented four measures that lawmakers might consider. One measure would fight tax evasion. Another would reduce the many ways certain organization are exempt from some taxes. Another would strengthen the powers of the customs agency over imported merchandise.

As far as taxing the pension payments for foreign expats, Costa Rica maintains tax treaties with most First World nations that would exempt income on which taxes already has been paid even if such a bill were to be presented.

At the legislature, anti-tax lawmakers are trying to force the central government and President Luis Guillermo Solís to make substantial cuts in public spending.
2. FIAsco continues: Culture Ministry cancels rescheduled international concerts

Costa Rica's Culture Ministry in a press release confirmed the definitive cancellation of all concerts suspended during the failed edition of this year's International Arts Festival (FIA 2015).

The cancellations include concerts by Chilean pop band La Ley and Argentine stars Miguel Mateos and León Gieco originally scheduled to take place from April 23 to May 3 and rescheduled for June 20-22 during the Switch Festival, a private event that was to take place at the Antigua Aduana facilities in San José.

The concerts were part of several events that were cancelled or postponed as a result of several planning delays and scandals that ended up costing former Culture Minister Elizabeth Fonseca, vice ministers Alfredo Chavarría and Luis Carlos Amador, and festival director Inti Picado their jobs.

Temporary Culture Ministry Sylvie Durán has now terminated all contracts, which may trigger claims for damages on the part of producers.

Durán said officials did not consider a private festival to be the appropriate solution for the bands in question.

"We made the rescheduling proposal in good faith, but procedures were not conducted properly," she said.

Moving forward with these concerts would have meant an additional expenditure of up to ¢50 million ($93,000) for taxpayers, Durán said.

The ministry's statement also said that the government already has paid producer Decent Showtec 50 percent of the ¢49 million ($91,000) contract for La Ley.

Costa Rica also owes ¢36 million ($67,000) to another production company, Alma Productions, which was to bring six international artists: Miguel Mateos, León Gieco, No te va a Gustar, La Zimbabwe, Majareta Campo and Compañía La Tal.
3. Employment Expectations Rise

Employers in Costa Rica reported slightly optimistic hiring plans for the next three months, according to the latest Employment Outlook Survey released Tuesday by consulting firm Manpower.

The country's Net Employment Outlook increased from 11 to 14 percent from the previous quarter, although it decreased by 2 percent compared to the same quarter last year.

According to the study 17 percent of employers expect to increase their hiring in the next three months, 7 percent anticipate cuts and 75 percent said they do not plan any changes in staff.

As in Q1-2015, hiring expectations in the construction sector show the most positive outlook at 20 percent. Costa Rica's construction sector has remained at the top of hiring expectations since Q4-2012, according to Manpower.

"Much of this optimism may be the result of various infrastructure programs currently being developed," Manpower's country manager for Costa Rica Ana Gabriela Chaverri said.

Employers from the transport and telecommunications sector showed the second most positive outlook at 17 percent, while those from manufacturing and commerce followed with 11 percent each.

The lowest hiring expectations were among employers from the agriculture, fisheries and mining sector, as only 9 percent expect to hire staff in the next three months. On Monday, representatives of the agriculture sector asked the Labor Ministry's National Wages Council to suspend all wage increases for the next six months citing "the tragic situation" they are currently facing.

The Manpower study also found that the best job opportunities likely will be in the province of Heredia, with a net employment expectation of 22 percent, followed by Cartago with 20 percent, while Guanacaste and Alajuela showed the lowest expectations at 7 and 6 percent, respectively.

Heredia has maintained the strongest hiring expectations for nearly four years, while figures for Cartago are the highest for that province in the last five years.

Manpower's survey was conducted among 620 companies across the country's seven provinces.
4. Electricity Rates May Decrease 8.5%

The Regulatory Authority for Public Services (Aresep) filed a reduction of 14% in rates of power generation ICE, implying a decrease of 2.5% and 8.5% rates of eight electricity distributors from the country.

Thus, the rates for subscribers of the Costa Rican Electricity Institute (ICE) would fall by 8%, while the National Power and Light Company would fall by 8.5%, as the Company of Public Utilities Heredia (ESPH). Jasec, meanwhile, apply discounts of 8.3%.

The proposal involves ARESEP 2.5% cheaper for customers Coopelesca; 5.2% for Coopesantos; Coopeguanacaste 6.1% to 7.4% and for Coopealfaro.

This price change was subject to public consultation and, if approved, would apply from 1 July until September.

Why low? This setting is relevant to the methodology of the Variable Cost of Fuel (CVC), which depends on the fuel costs that made the ICE thermal generation during the previous quarter.

In this case, the thermal reduction is reflected in lower cost of generation of ICE and therefore must result in a lowering of the energy the Institute sells to distribution companies.

Juan Manuel Quesada, mayor of Energy ARESEP said that the proposal also affected imports of cheaper energy from the Regional Electricity Market (MER), made by ICE during the study period.

"ARESEP has a tariff methodology which allows users to timely transfer the benefits resulting from reduced use of fuels for electricity generation and to ensure continuity of service," said Quesada this afternoon, by a press release.
Brian, Lita, the Late Hugo IV, irreverent Vicka, the pigeon toed parrot, Chico II and Chica II