Dear friends,
When I started Residencias Los Jardines, I started writing a weekly news letter -determined to tell all the good, bad, and the ugly. I knew some readers would be interested in the construction process. I expected others might be interested in the lifestyle of two people who had decided to live outside the box. For others, the adventures of Lita, the parrot and the cat took on an entertainment saga all its own.
Residencias Los Jardines is finished. We periodically have resales and rental availability. Some readers may be interested in this information.
Brian Timmons
DEVELOPER / PROPERTY MANAGER
Residencias Los Jardines / https://www.residenciaslosjardines.com info@residenciaslosjardines.com
ResidenciasPropertyManagement@gmail.com
Featured house this week
Paradisus Condos / Rohrmoser
FOR SALE / FOR RENT
Residencias Los Jardines
Property Management, Rentals, Re-Sales
Market Activity
Sales: one inquiry.
Rentals: no rental inquiries.​
FOR SALE
Unit #110: $215,000 / See Unit
Unit #114: $235,000 / See Unit
Unit #116: $214,000 / See Unit
FOR RENT
Unit #124: $850 mo. / Available July 7 / See Unit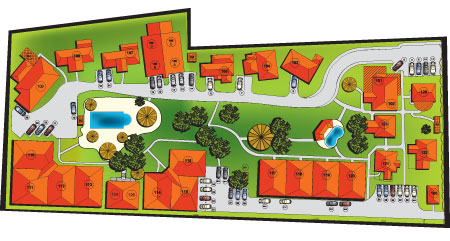 HOUSES FOR SALE
UNIT #110
FOR SALE $215,000
Total Area (Sq Ft): 1290
Total area (Sq M): 120
Bedrooms: 2
Bathrooms: 2
Floor(s): Single Floor
Type: Attached
Furnished: Yes
Beautiful end-unit bungalow (one floor) town home (part of 4 homes) situate at the far quiet end of Residencias Los Jardines, steps from the main pool. It includes one designated parking spot and one storage unit. The home is 120 square meters (approximately 1,300 square feet) with two bedrooms (master has king size bed and guest has queen size bed), two full bathrooms (one being an ensuite), a large open concept kitchen, living room, dining room, granite breakfast bar with stools and features vaulted ceilings and lots of windows. The home has a large covered terrace overlooking the gardens. Custom made wood blinds cover all windows throughout. Ceiling fans in bedrooms, living room and terrace.
UNIT #114
FOR SALE $235,000
Total Area (Sq Ft): 1290
Total area (Sq M): 120
Bedrooms: 2
Bathrooms: 2
Floor(s): Single Floor
Type: Attached
Furnished: Yes
This 1,290 sf. (plus covered parking for one car and two lockers 67 sf.) single story, semi detached house, with garden terrace, two bedrooms is a beautiful executive style home. This home consists of two large bedrooms one with six piece en-suite bathroom with additional access to separate full shower. Each bedroom has large closets with extensive built-ins for personal organization. The vaulted living room and bathroom ceilings provide a feeling of grandeur while allowing the warmer air to rise and exit through the ceiling ventilating system. There are four TVs (one in each bedroom, one in the living room and one in breakfast / dinning room.) This is a beautiful well appointed home.
UNIT #116
FOR SALE $214,000
Total Area (Sq Ft): 1290
Total area (Sq M): 120
Bedrooms: 2
Bathrooms: 2
Floor(s): Single Floor
Type: Semi-Attached
Furnished: Yes
This 1,290 sf single floor home includes a 300 sf front terrace plus parking for one car and a separate, secure storage locker. It is and end unit and therefore attached on only one side by a 6 inch cement demising (common) wall, which prevents sound transfer.
HOUSES FOR SALE
UNIT #124
FOR RENT $850 mo.
Available July 7
Total Area (Sq Ft): 662
Total area (Sq M): 61
Bedrooms: 1
Bathrooms: 1
Floor(s): 2nd Floor
Type: Semi-dettached
Furnished: Yes
This 662 sf, + covered parking for one car, is a one bedroom home on the 2nd floor overlooking the large pool. It is ideal for a single person or couple.
Our Lives
WEATHER: more rumblings than rain in the Central Valley.
Newsletter: Something happened last week... for some reason --which I'm still investigating-- the newsletter Issue #561 "Holiday Cruise" didn't get distributed. We'll see what happens with this one...
FIFA and Costa Rica: CR has a representative on the governing board of FIFA and he has been indicted. While I don't follow soccer or any sport, it is hard to miss the FIFA story. It seems that no one is surprised, a few are delighted he was charged, and I haven't read any defenses or claims of "innocense". This will play itself out and CR will probably run and duck... we'll see. In fact, most of the indictmennts went to Latin Americans... and probably more to come all around.
News Items of the Week
Comments
1. CR Is the Most Expensive Destination in Central America: Government propaganda explains that it offers best value... Expensive yes... value ????? I don't know.
2. Gasoline Going Up: yep... and another hike has already been requested.
3. Weather Patterns: East coast is getting flooded; Central Valley and West Coast are severely under average rainfall...
4.Zoning Law Proposals: the proposals are not dead but I suggest might as well be since they are controversial and the government is dysfunctional...
5. Li and FIFA: yes, he is CR's person who has been indicted. Subsequent articles don't protray CR as being shocked. They just don't like seeing their country being associated with this.
6. Most FIFA Suspects Are From The Americas: who is surprised? Perhaps most of the FIFA members are from this area of the world. But the culture might contribute a bit as well.
1. Costa Rica Is the Most Expensive Destination in Central America

Costa Rica might be relatively expensive but the World Economic Forum's Travel and Tourism Competitiveness Index 2015 said the land of "pura vida" was worth the money.

The report released in May showed that Costa Rica is the most expensive destination on the isthmus but also one of its best values. Costa Rica ranked 42nd in the world on the global ranking, behind Mexico (30) and Panama (34) in the region.

Security, business environment and natural resources were all strong suits for Costa Rica. Ticolandia was one of the safest destinations in North America and the Caribbean, outscoring the United States (5.32), Panama (5.03), and Nicaragua (5.14).

Despite concerns from many Costa Ricans in the tourism sector about their ascendant neighbors poaching tourists — especially Nicaragua — the WEF reported that these countries still have a ways to go. Honduras, El Salvador and Nicaragua ranked 90th through 92nd, in that order.

Meanwhile, price competitiveness and infrastructure left something to be desired.

Costa Rica (4.4) was the most expensive option in Central America and ranked in the most expensive six countries out of the 15 surveyed in North America and the Caribbean, scoring slightly better than the United States (4.27).

WEF ranked Costa Rica's ground and port infrastructure (2.86) as the second worst in North America and the Caribbean, ahead only of Haiti (2.13). Airport infrastructure was relatively strong compared to its Central American rivals but did not fare well compared to Mexico and Caribbean destinations, like Trinidad and Tobago or Barbados.

Where Costa Rica fell behind in physical infrastructure, the country made up for in tourism services. The country was fifth best in the region and significantly more advanced in tourism services than its neighbors.

The region as a whole did very poorly when it came to promoting its cultural resources for visitors. The report noted that many countries over rely on their beaches and wildlife instead of culture heritage. In March, Vice President Ana Helena Chacón announced an executive decree to promote Costa Rican cuisine as an avenue to attract foodies to the country along with beach bums and hikers.

Spain topped the 2015 list, followed in descending order by France, Germany, the United States and the United Kingdom. Angola, Guinea and Chad were the lowest scoring countries this year.
2. Price of Gas / Diesel Increasing

May 25th, 2015 (InsideCostaRica.com) Costa Rica's Regulatory Authority for Public Services (ARESEP) announced the approval of a significant increase in the price of gasoline and diesel on Friday.

The new pricing will come into effect this week after being published in the official government newspaper, La Gaceta. Super gasoline will increase in price from ¢600/liter to ¢643/liter; regular gasoline from ¢575 to ¢610; while diesel will increase from ¢478/liter to ¢514/liter.

ARESEP said in a press release that the increases are the result of falling stocks of the refined products in the United States and increased demand in that country.
3. Weather extremes are found on country's two coasts
By the A.M. Costa Rica staff

A good reason exists why farmers and ranchers along the Pacific coast are struggling. Rain there from Jan. 1 through Wednesday was about 85 percent lower in Guanacaste than normal.

The situation was a little better further to the south with deficits of rain ranging from 45 percent in the central Pacific to 25 percent in the south Pacific, based on statistics from the Instituto Meteorológico Nacional.

The situation was the reverse on the Caribbean coast where rainfall was about triple the annual average. The weather is expected to remain like this at least through August.

A representative of ranchers was at the legislature Tuesday urging rapid disbursement of promised aid. He said that cows were dying of thirst and lack of food in the canton of Santa Cruz in Guanacaste, The culprit, of course, is El Niño in the far Pacific which causes such disruptions of normal climate.

The Central Valley also has been dry with an estimated 65 percent deficit of rainfall.

The weather for the rest of the year depends on the progress of El Niño.

The U.S. National Weather Service said that there is an approximately 90 percent chance that El Niño will continue through the Northern Hemisphere summer and a greater than 80 percent chance it will last through 2015.

The weather service here also noted in a report released Wednesday that El Niño is intensifying.

The U.S. agency noted that there were weak to moderate El NIño conditions in early May and that sea surface temperatures across the equatorial Pacific were above average.
4. Restrictive land-use plan appears to be far from dead
By the A.M. Costa Rica staff

A proposal to impose major restrictions on land development may be down but the concept is not out.

President Luis Guillermo Solís has only said that he will raise the issue with Sonia Mon#te#ro, the head of the Instituto Nacional de Vivienda y Urbanismo, the agency that put forth the idea as a proposed regulation.

The agency withdrew the 51-page proposal Friday after news stories about the plan, including one in A.M. Costa Rica, alerted the public.

The proposed regulations would have restricted development of vacant land and allowed construction only if population pressures showed a need. The measure also would open up internal streets and public areas in condominium projects and gated communities. The proposal gave vast powers to the central government agency.

Farmers and other non-urban land owners would be prohibited from subdividing their land and would be required to keep it as agricultural, forest or vacant, said the proposal.

President Luis Guillermo Solís has not acted decisively on the project, suggesting that he might favor some or all of the measure.

He told reporters that he would seek an explanation from Ms. Montero and made the excuse that he was out of the country when the controversy developed. However, the proposal was posted to the agency Web site May 5.

In an interview Friday with Channel 6 Repretel, Ms. Montero said that to honor Mother Earth persons should not be able to do with the land what they want.

The Spanish-language newspaper CR Hoy found that so interesting that editors declared it the phrase of the day.

That was because the woman used the term Gaia, the short form of the Gaia hypothesis which sees the earth and living things as a unified part of a system.

The concept has been adopted and even altered by radical environmentalists.

Some lawmakers and development interests oppose the proposal. Some say the concept, if it becomes a regulation, would kill investments.
5. Arrest of Li shocks Costa Ricans
By the A.M. Costa Rica staff

Costa Ricans, who take their soccer very seriously, were stunned Wednesday to find out that Eduardo Li, president of the Federación Costarricense de Fútbol, was one of the suspects grabbed in a U.S.-inspired sweep in Zurich.

Li still is in jail in Switzerland and is believed to be fighting extradition on U.S. money laundering and conspiracy charges. He also is a member of the executive committee of the Fédération Internationale de Football Association, soccer's ruling organization.

He is vulnerable to U.S. law because investigators say he used banks in Miami and New York to hold money they say came from bribes.

Law enforcement in Costa Rica said they would launch an investigation of Li and his 28 registered companies. The Costa Rican consul in Switzerland is trying to contact him.

Some Costa Ricans said they were relieved that the allegations involve bribes for media coverage and not allegations against players.

Li would have been protected against extradition if he remained in Costa Rica.

Federal agents said they have a very strong case, and that some of the suspects already have pleaded guilty and are giving them information as part of the plea deals. Agents also managed to obtain tape recordings of meetings they say are incriminating.
6. Bulk of suspects are from the Americas
By the A.M. Costa Rica wire services

The high-ranking world soccer officials arrested Wednesday come mainly from the Americas and cut at the heart of the governing entity of the sport.

Here's a look at their backgrounds:

Jeffrey Webb, 50, of the Cayman Islands, current Fédération Internationale de Football Association vice president and executive committee member, Confederation of North, Central American and Caribbean Association Football president, Caribbean Football Union executive committee member and Cayman Islands Football Association president.

Eduardo Li, 56, of Costa Rica, current federation executive committee member-elect, Confederation of North, Central American and Caribbean Association Football executive committee member and Costa Rican soccer federation president.

Julio Rocha, 64, of Nicaragua, current federation development officer; former Central American Football Union president and Nicaraguan soccer federation president.

Costas Takkas, 58, of United Kingdom, current attaché to the Confederation of North, Central American and Caribbean Association president.

Eugenio Figueredo, 83, of the U.S. and Uruguay, current federation vice president and executive committee member; former Uruguayan soccer federation president.

Rafael Esquivel, 68, of Venezuela, Venezuelan soccer federation president.

José Maria Marin, 83, of Brazil, current member of the federation organizing committee for the Olympic football tournaments and former Brazilian federation president.

Two others charged in the indictment Wednesday:

Jack Warner, 72, of Trinidad and Tobago, former federation vice president and executive committee member, Confederation of North, Central American and Caribbean Association president and Trinidad and Tobago Football Federation special adviser.

Nicolas Leoz, 86, of Paraguay, former federation executive committee member.

Four of the defendants were sports marketing executives:

Alejandro Burzaco, 50, of Argentina, controlling principal of Torneos y Competencias S.A., a sports marketing business based in Argentina, and its affiliates.

Aaron Davison, 44, of the U.S., president of Traffic Sports USA, Inc.

Hugo and Mariano Jinkis, controlling principals of Full Play Group S.A., a sports marketing business based in Argentina, and its affiliates. Hugo Jinkis, 70, and Mariano Jinkis, 40, are both from Argentina.

And one of the defendants was in the broadcasting business but allegedly served as an intermediary to facilitate illicit payments between sports marketing executives and soccer officials: Jose Margulies, 75, of Brazil, controlling principal of Valente Corp. and Somerton, Ltd.

The guilty pleas of four individual and two corporate defendants were also unsealed Wednesday.
Brian, Lita, the Late Hugo IV, irreverent Vicka, the pigeon toed parrot, Chico II and Chica II