Dear friends,
When I started Residencias Los Jardines, I started writing a weekly news letter -determined to tell all the good, bad, and the ugly. I knew some readers would be interested in the construction process. I expected others might be interested in the lifestyle of two people who had decided to live outside the box. For others, the adventures of Lita, the parrot and the cat took on an entertainment saga all its own.
Residencias Los Jardines is finished. We periodically have resales and rental availability. Some readers may be interested in this information.
Brian Timmons
DEVELOPER / PROPERTY MANAGER
Residencias Los Jardines / https://www.residenciaslosjardines.com info@residenciaslosjardines.com
ResidenciasPropertyManagement@gmail.com
Featured house this week
Paradisus Condos / Rohrmoser
FOR SALE / FOR RENT
Residencias Los Jardines
Property Management, Rentals, Re-Sales
Market Activity
Sales: no inquiries.
Rentals: one rental inquiry.​
FOR SALE
Unit #110: $215,000 / See Unit
Unit #114: $235,000 / See Unit
Unit #116: $214,000 / See Unit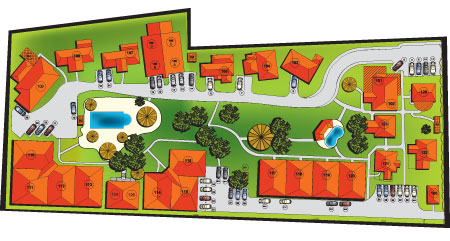 HOUSES FOR SALE
UNIT #110
FOR SALE $215,000
Total Area (Sq Ft): 1290
Total area (Sq M): 120
Bedrooms: 2
Bathrooms: 2
Floor(s): Single Floor
Type: Attached
Furnished: Yes
Beautiful end-unit bungalow (one floor) town home (part of 4 homes) situate at the far quiet end of Residencias Los Jardines, steps from the main pool. It includes one designated parking spot and one storage unit. The home is 120 square meters (approximately 1,300 square feet) with two bedrooms (master has king size bed and guest has queen size bed), two full bathrooms (one being an ensuite), a large open concept kitchen, living room, dining room, granite breakfast bar with stools and features vaulted ceilings and lots of windows. The home has a large covered terrace overlooking the gardens. Custom made wood blinds cover all windows throughout. Ceiling fans in bedrooms, living room and terrace.
UNIT #114
FOR SALE $235,000
Total Area (Sq Ft): 1290
Total area (Sq M): 120
Bedrooms: 2
Bathrooms: 2
Floor(s): Single Floor
Type: Attached
Furnished: Yes
This 1,290 sf. (plus covered parking for one car and two lockers 67 sf.) single story, semi detached house, with garden terrace, two bedrooms is a beautiful executive style home. This home consists of two large bedrooms one with six piece en-suite bathroom with additional access to separate full shower. Each bedroom has large closets with extensive built-ins for personal organization. The vaulted living room and bathroom ceilings provide a feeling of grandeur while allowing the warmer air to rise and exit through the ceiling ventilating system. There are four TVs (one in each bedroom, one in the living room and one in breakfast / dinning room.) This is a beautiful well appointed home.
UNIT #116
FOR SALE $214,000
Total Area (Sq Ft): 1290
Total area (Sq M): 120
Bedrooms: 2
Bathrooms: 2
Floor(s): Single Floor
Type: Semi-Attached
Furnished: Yes
This 1,290 sf single floor home includes a 300 sf front terrace plus parking for one car and a separate, secure storage locker. It is and end unit and therefore attached on only one side by a 6 inch cement demising (common) wall, which prevents sound transfer.
Our Lives
WEATHER: many of us have remarked on how hot it has been this April... none of us remember it being like this before... in the central valley, it's been around 90F / 30C.
Rains Come: this past week, we have had several afternoon showers... some like, others provided a good soaking... in all cases, the rain has ended within 30 min. It has helped to cool off temperatures.
Long time owners left, probably for good. Why? Health reasons... Their beautiful house is up for sale.
This past week saw a holiday --Labor Day-- Friday. There has been little traffic...as so many people are at the beach--roasting I'm sure.
News Items of the Week
Comments
1. Call center expansions
2. Medical devices exports up. Agricultural exports drop.
3. Arts Festival Flop: the government spent $1.5 mil and got nothing but embarrassment--note the chaos and incompetence as reported in this article...
1. Company Expansions

According to the latest report from Costa Rica's Foreign Trade Ministry (COMEX), the service sector is showing a slight but steady recovery this year. And following that trend, two outsourcing service companies announced expansions of their operations here this week, including plans to hire 550 new employees in the coming months.

Between May and August, business services company Concentrix will hire 400 new employees in its customer service, technical support, human resources and administrative departments.

The company's human resources manager for Latin America, Mónica Obando, said "new hirings reflect confidence in the Costa Rican talent and the strength of the local operation."

Concentrix's operation in Costa Rica offers pre-sales services, technical support and customer service for most of its business partners across North and South America and in some European countries. It offers services in seven languages, ​​including Spanish, English, Portuguese, French, German, Dutch and Italian.

The full list of available jobs is on the company's website under the Careers section.

On Monday, GlaxoSmithKline (GSK) also announced an expansion of its business in Costa Rica, which will now provide services for its U.S. operations. The expansion means the company will hire 150 new employees over the next 18 months.

GSK recruiters will seek professionals in the areas of business administration, accounting, information technology and various engineering specialties.

Esteban Coronado, director of GSK's service center, said the company's Costa Rica operation has grown 300 percent in the past two years. Local staff provides support in financial and accounting services to most of the company's offices in Latin America.

The expansion will allow GSK to offer global services in information technologies and in its Systems, Applications, and Products in Data Processing department.

"Our plan is to gradually increase the number of services provided and the geographic scope of them," Coronado said.

Those interested in applying for vacant posts can submit their applications through GSK's website.

Service exports from Costa Rica showed an increase of 4.8 percent in 2014 over the previous year, reaching a record figure of $6.3 billion, COMEX reported Monday. The figure exceeds by 15 percent the average value of service exports for the previous three years.

Financial services showed the best performance during the last quarter of 2014, with a 47 percent increase. Business services and tourism grew 18.9 and 9.8 percent, respectively, during the last three months of 2014.
2. Exports Drop

Despite 40 percent growth in sales of medical devices during the first three months of 2015, overall exports from Costa Rica dropped 17 percent, the Foreign Trade Ministry (COMEX) and Foreign Trade Promotion Office (PROCOMER) reported Monday.

Sales of medical devices during the first quarter of 2014 reached $364 million, while this year the figure was $519 million. The gain was driven mainly by higher sales to the U.S., Belgium and Japan.

The medical device industry still leads Costa Rica's export sector.

But exports of all goods from the country dropped from $2.8 billion in the first quarter of 2014 to $2.3 billion this year, according to the latest report.

The exit of technology giant Intel still is the main factor negatively affecting export figures. If electronic components are excluded from the total sales, the export figure is actually up 2 percent compared with the same period last year.

Still, negative figures in the agriculture and food sectors also affected the quarterly results, driven mainly by lower exports of pineapple and banana. Pineapple sales fell by 14 percent and bananas by 23 percent.

In total the agricultural sector was down 7 percent and the food industry decreased 3 percent compared to the same time period last year.

Foreign Trade Minister Alexander Mora Delgado said that, according to local producers, unstable climatic factors are affecting agricultural productivity.

"We expect business in these two sectors to be back to normal by mid-year and the negative impact to start decreasing," he said.

Mora said the quarterly figures were on par with the ministry's projections. The government's export goal for 2015 is $10.2 billion.

Among the sectors that showed growth were the chemical and pharmaceutical sectors, which each grew by 5 percent. Rubber exports rose 2 percent.

On Monday PROCOMER's General Manager Pedro Beirute Prada said the government was working hard to reverse the overall downward trend.

"Costa Rica maintains a diverse, dynamic and growing export model," he said. "We are addressing the competitiveness challenges with a sense of urgency. We are offering training to new exporters, identifying new international buyers, we also are simplifying export procedures and expanding the platform for trade promotion abroad," Beirute said.
3. How Costa Rica's 2015 International Arts Festival flopped

This year's International Arts Festival has been plenty entertaining so far — just not in the way the Costa Rican government intended. Instead of people mapping out a schedule to squeeze in as much music and culture as possible, they're gossiping indignantly about how the festival's organizers could have possibly messed it up quite this badly.

The Culture Ministry announced Monday evening on its Facebook news page that all major headliners for the rest of the festival were cancelled, including Chilean band La Ley and the Argentine rock icon Miguel Mateos.

The ministry said that the artisan fairs scheduled along with the major events were cancelled as well.

The announcement came on the heels of the first disastrous week of the 2015 International Arts Festival (FIA), during which most events were cancelled or reprogrammed. One major venue, in the town of Acosta, was completely abandoned by the organizers.

The extensive arts festival, which has traditionally been a major source of pride for the Costa Rican government — and a hugely popular event among residents of the Central Valley and beyond — massively flopped this year in the midst of major planning flubs and conflicts with contractors and artists.

The Ministry of Culture finally issued an apology on Sunday, three days after cancelling dozens of concerts, workshops and performances with only vague notice to the public.

In a news release, Minister of Culture Elizabeth Fonseca apologized to the communities of Aserrí, Desamparados, Alajuelita and Acosta for FIA's failures. She also apologized to the artists and performers who were, or still are, part of the festival — after blaming them for some of the festival's problems last week.

The minister promised the show would go on through May 3 as planned, with an adjusted schedule, part of which the Ministry shared on Sunday. Finally, Fonseca promised to form a commission to investigate why FIA turned into a fiasco and who's responsible.

But that was before Monday evening's announcement that all major acts were cancelled. Fonseca was absent from the press conference where two of her vice ministers made the announcement, La Nación reported.

According to the daily, the vice ministers said Fonseca wasn't there because "she felt exhausted from attending to the press all day." Vice Ministers Alfredo Chavarría and Luis Carlos Amador also said they had suggested to Fonseca in March that she push back the festival to June, but she didn't take the advice. They said it was unclear whether the government will still need to shell out compensation for the cancelled international acts — La Ley was to receive approximately $200,000 for their appearance — or face lawsuits from the bands.

Lights? Sound?

News of the festival's troubles started to trickle out early last week when artists began complaining about the lack of contracts and limited communication with organizers. A wider public got wind of the problems when, on Wednesday, April 22, two days before the festival inauguration, the company chosen to provide lighting and sound at the major venues pulled out.

The company, LuzArt S.A., said it would be impossible to fulfill the contract since the company hadn't gotten word that it won the bid until 6 p.m. that same day. A review of documents on the government's open contracting website, Comprared, confirms that the contract wasn't awarded until Tuesday April 22.

In a letter to the Ministry of Culture, LuzArt reminded the minister that the government's original bid offer required the winning company to start setting up the venues on April 19. The company said it would be "materially impossible" to comply with the contract's equipment demands and timeline given the truncated timeframe.

LuzArt has a thorny history with this administration. In July 2014, newly-appointed Minister Fonseca asked the Prosecutor's Office to investigate several programs put on by the Culture Ministry throughout the previous year, including FIA. She said budgets for the events had skyrocketed during the previous administration, under the leadership of Culture Minister Manuel Obregón (2010-2014). She also questioned the fairness of the bidding process.

In a subsequent investigation, La Nación singled out LuzArt as one of the contractors included in the government's investigation. The paper also noted that the company had worked for nearly a decade for Malpaís, the band that counts among its members former Culture Minister Obregón and former Vice Minister Iván Rodríguez.

The investigation also showed that, for some of the jobs the government employed LuzArt to do, the bidding process was only open for a few days, and in some cases, only a few hours.

While that's not necessarily illegal, last year current Minister Fonseca indicated that she would run a more democratic bidding process, and one that cut costs for the government. FIA 2015 was her first big shot to do so.

Even though LuzArt wasn't officially invited to bid, the company won the contract for this year's festival after bids from another two companies were rejected: one because it was incomplete and another because it was well over budget. The Culture Ministry set this year's FIA budget for lighting and sound at ¢55,000,000 (about $110,000). That's also the amount LuzArt offered in its bid.

Last year LuzArt won the contract for ¢99,500,000 ($199,000).

LuzArt also took action this year that, while within its rights, added to the delays in the bidding process: it filed an official complaint about the contract and three subsequent requests for clarification on aspects of the contract. The government modified the contract as a result of the complaint.

LuzArt certainly wasn't the only would-be collaborator to complain about the pre-festival chaos. Artists, musicians and show technicians complained that they hadn't received contracts and that communication with festival organizers was severely lacking. Many quit out of frustration.

Don't ask us

After the proverbial caca hit the fan, the ministry and FIA failed to inform the public, via its Facebook page, about the schedule changes until after several events had already been cancelled.

On the second day of the festival, La Nación reported that a group of disabled adults was left waiting for a puppet show in Acosta that had been cancelled the day before. No one from FIA bothered to show up to tell the public that all shows at the venue had been called off.

Meanwhile, some of the country's top culture gurus, artists and musicians, including former minister Obregón, have blasted the Culture Ministry — and especially Inti Picado, the man in charge of FIA — for ineptitude.

Critics have lambasted Picado's lack of experience in producing events, especially major international festivals. Picado, himself a musician with the 22-year-old band El Parque, has publicly said very little about the fiasco in recent days. He was not named in the list of top Culture Ministry officials who officially apologized Sunday for the problems with this year's FIA.

Angry Costa Ricans have taken to social media to ask Fonseca and Picado to resign. Fonseca has thus far skirted questions from reporters on whether she'll consider the suggestion, saying she had to concentrate on getting the festival back on track.

Other government entities have tried to distance themselves from the Culture Ministry's festival flop. ICE, the state-owned telecommunications company and one of the festival's patrons, said Monday that it was holding off on handing out free tickets to festival concerts at its Kölbi cell phone stores until the Culture Ministry officially announced a revised schedule.

Some shows have gone on

Despite the last-minute schedule and venue changes, some concerts and other events have gone on, and people have shown up to enjoy them. Bands originally scheduled to play in Alajuelita played instead over the weekend at the National Cultural Center (CENAC) in downtown San José. (The Tico Times will continue to monitor the situation in the coming days and provide information about events available for the fair's second weekend.)

At some venues, artists took to self-promoting their shows in the absence of official help, La Nación reported.

In Acosta, despite being abandoned by FIA, a local group, Colectivo Acosteño, stepped in to put on events there last Friday and over the weekend. They called it a "Cultural Tantrum."

Still, the damage that's been done — to the Culture Ministry's image, to the festival's reputation, to the artists who had planned to share their work and to the artisans who had counted on selling theirs — won't be easily fixed.

Opting to move the festival out of central San José and into town and neighborhoods on the city's margin was a laudable plan. However, the spectacular failure in the execution of that plan seems worse than not having tried in the first place.
Brian, Lita, the Late Hugo IV, irreverent Vicka, the pigeon toed parrot, Chico II and Chica II