Dear friends,
When I started Residencias Los Jardines, I started writing a weekly news letter -determined to tell all the good, bad, and the ugly. I knew some readers would be interested in the construction process. I expected others might be interested in the lifestyle of two people who had decided to live outside the box. For others, the adventures of Lita, the parrot and the cat took on an entertainment saga all its own.
Residencias Los Jardines is finished. We periodically have resales and rental availability. Some readers may be interested in this information.
Brian Timmons
DEVELOPER / PROPERTY MANAGER
Residencias Los Jardines / https://www.residenciaslosjardines.com info@residenciaslosjardines.com
ResidenciasPropertyManagement@gmail.com
Featured house this week
Paradisus Condos / Rohrmoser
FOR SALE / FOR RENT
Residencias Los Jardines
Property Management, Rentals, Re-Sales
Market Activity
Sales: no inquiries.
Rentals: one rental inquiry.​
FOR SALE
Unit #110: $215,000 / See Unit
Unit #114: $235,000 / See Unit
Unit #116: $214,000 / See Unit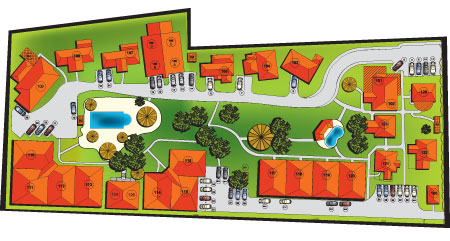 HOUSES FOR SALE
UNIT #110
FOR SALE $215,000
Total Area (Sq Ft): 1290
Total area (Sq M): 120
Bedrooms: 2
Bathrooms: 2
Floor(s): Single Floor
Type: Attached
Furnished: Yes
Beautiful end-unit bungalow (one floor) town home (part of 4 homes) situate at the far quiet end of Residencias Los Jardines, steps from the main pool. It includes one designated parking spot and one storage unit. The home is 120 square meters (approximately 1,300 square feet) with two bedrooms (master has king size bed and guest has queen size bed), two full bathrooms (one being an ensuite), a large open concept kitchen, living room, dining room, granite breakfast bar with stools and features vaulted ceilings and lots of windows. The home has a large covered terrace overlooking the gardens. Custom made wood blinds cover all windows throughout. Ceiling fans in bedrooms, living room and terrace.
UNIT #114
FOR SALE $235,000
Total Area (Sq Ft): 1290
Total area (Sq M): 120
Bedrooms: 2
Bathrooms: 2
Floor(s): Single Floor
Type: Attached
Furnished: Yes
This 1,290 sf. (plus covered parking for one car and two lockers 67 sf.) single story, semi detached house, with garden terrace, two bedrooms is a beautiful executive style home. This home consists of two large bedrooms one with six piece en-suite bathroom with additional access to separate full shower. Each bedroom has large closets with extensive built-ins for personal organization. The vaulted living room and bathroom ceilings provide a feeling of grandeur while allowing the warmer air to rise and exit through the ceiling ventilating system. There are four TVs (one in each bedroom, one in the living room and one in breakfast / dinning room.) This is a beautiful well appointed home.
UNIT #116
FOR SALE $214,000
Total Area (Sq Ft): 1290
Total area (Sq M): 120
Bedrooms: 2
Bathrooms: 2
Floor(s): Single Floor
Type: Semi-Attached
Furnished: Yes
This 1,290 sf single floor home includes a 300 sf front terrace plus parking for one car and a separate, secure storage locker. It is and end unit and therefore attached on only one side by a 6 inch cement demising (common) wall, which prevents sound transfer.
Our Lives
WEATHER: It's still hot. we are awaiting the rains..nothing in the central valley so far...
Surprise... I'm here... Back ground: we had had a Guatamellan client for about a year. He traveled periodically and sometimes the unit was vacant for several weeks. He paid on time and was a good tenant. He left just before Christmas, and prepaid January. February, March, and April came... I tried contacting him... I had an e-mail address... got a return reply saying that he no longer worked for the company. Checking the unit, I saw personal belongings... clothes, food, loose cash, expensive rums and tequilas, additional TVs and kitchen items... I couldn't wait any long so removed the items into boxes and put those into my locker for safe keeping for ??? at least 6 mo.
At 12:20 am Saturday night, I get a knock on my door. It's him....!!! he explained that he had had a motor cycle accident in Mexico and was in re-hab fixing up a leg. His phone had been broken in the accident. I asked him to return the next morning and we'd sort everything out. He returned and I asked him what he wanted to do. He in effect said he'd like to continue renting if I would have him. He had been a good tenant up to his disappearance so I said fine. I asked what seemed fair and reasonable for Feb, March, and April... He offered to pay all back months... and two months in advance. Wow!!! I returned all his things, he moved in and unpacked and is now gone again... the owners are pleased.
Paradisus: The chances of us selling the units is virtually nil. The likelihood of leasing them in "builders raw" was also unlikely. I decided to paint, curtain, and install appliances for "partially" furnished. Now we will see what happens. Renters are few and far between and the market is in their favor so rents are under pressure.
A former multi-seasonal tenant who had become a friend arrived for a few days with a friend of his wanting dental work. We had a chance to catch up. He had helped me solve several problems and I really enjoy his company and his previous help. They were to leave on Spirit Air on Friday... it didn't fly and wasn't going to for a week. They were left on their own to make alternate arrangements. Spirit was of no help. The given answer as to why their flight was canceled was ash from Volcano Turrialba. That might have had some validity but other planes were arriving and departing... Who knows but Spirit didn't make any friends with them...
News Items of the Week
Comments
1. Housing Minister: one year into the job and only one small project has been funded. Solis has lost 33% of his cabinet staff in the first year... wow!!
2. Textile plant Opening: first I knew of this. CR does not grow cotton so it must be imported and then processed.
3. Cultural Event: typical of CR organizational abilities.
4. Case Resolution: a study in inefficiency... don't be surprised...
1. Lawmakers ask President Solís to dismiss housing minister

Legislators from seven parties sent a letter to President Luis Guillermo Solís on Wednesday calling for the immediate dismissal of Housing Minister Rosendo Pujol Mesalles, arguing little progress in the ministry's public works.

The call led Solís to cancel a public event he and Pujol had scheduled for Thursday.

In a news conference at the Legislative Assembly, lawmakers blamed the minister for delays in the construction of housing projects for the poor, mostly because the required public funds haven't been allocated.

Christian Democratic Alliance lawmaker Mario Redondo Poveda said the funds are there. "The [financial] resources exist, but ministry officials lack the ability to speed up procedures to properly distribute them," Redondo said.

Legislators also said they have received several complaints from private contractors interested in participating in public bids for government projects.

"Construction businesses tell us that all public bids are at a stalemate," National Liberation Party lawmaker Juan Marín Quirós said.

"They say currently there aren't any new construction projects and so they've been forced to cut down their staff. In almost one year of this administration, the [housing] ministry's actions are close to none. Pujol is the worst minister of this administration," Marín said.

Costa Rican Renovation Party legislator Fabricio Alvarado Muñoz claimed that in the past 11 months the ministry only approved one housing project, consisting of 32 houses.

In the wake of the lawmakers' public rebuke, Solis' communications office announced that it was rescheduling Thursday's event with Pujol and Solis, citing "a scenario of unpredictability." The president and minister were supposed to sign into law a new housing stipend.

Pujol has said the legislators' request is inappropriate and that he has offered, on various occasions, extensive explanations to the legislators' complaints and inquiries regarding his work.

"We currently have several projects in progress or that are close to completion," he said through his press office. "Resigning at this time for me would be like playing the game of those who do not trust the system and who do not believe in the changes we are implementing. We are improving the procedures for choosing new projects, their locations and the people who will benefit from them, but some people are averse to these changes," the minister said.

A total of 16 members of Solís' administration have resigned or been removed from their posts in the past 11 months, including five ministers. President Solís has said he will evaluate further changes to his cabinet at the end of his first year in office in May.
2. South Korean textile plant opens in CR

South Korean company SAE-A Spinning launched operations in Costa Rica on Thursday with the inauguration of its yarn spinning plant in the province of Cartago, with an initial investment of just over $35 million.

The new Costa Rica plant employs 270 workers and produces cotton yarn for export, mainly to other countries in North and South America.

President Luis Guillermo Solís attended the inauguration. He said the new operation strengthens efforts to generate economic prosperity and more jobs for Costa Rica.

"Today this modern facility launches operations hand in hand with hundreds of Costa Ricans whose talent and dedication will help this company grow," he said.

The company's CEO Woong-Ki Kim said the plant would also create more opportunities for new and existing businesses here.

"Our commitment to the people of Costa Rica is unwavering and we only expect a steady growth in coming months and years," he said at the opening ceremony.

SAE-A Spinning is a subsidiary of Seoul-based Sae-A Trading Co., a company that currently has more than 60,000 employees at 41 operations in 10 countries. Its total textile exports in 2014 exceeded $1.5 billion, while total sales of its other operations were over $2 billion.

The opening of the South Korean company boosts Costa Rica's textile sector, which in past decades has been affected by the relocation and closure of several multinational companies.

That upward trend could continue as Canadian company Gildan Activewear announced plans last year to install a manufacturing plant in the province of Guanacaste.

Gildan's choice of Costa Rica followed several months of negotiations between the company and the Costa Rican Investment Promotion Agency (CINDE).

Total investment and an exact date for the start of construction on the Gildan plant have not been made public, but CINDE reported in May that Gildan's new Guanacaste facility would create some 1,000 new jobs for the province.
3. CR's Organizational Abilities

If you were just about to head out to the first day's events of the International Arts Festival (FIA), don't: The afternoon events scheduled for Alajuelita and all events scheduled for today in San Ignacio de Acosta have been cancelled due to lack of permits and, crucially, lack of lighting and sound equipment.

The head of this year's festival, Inti Picado, told La Nación on Thursday that the international bands scheduled to play in Acosta this afternoon and evening would be reprogrammed for this weekend at the National Cultural Center (Cenac), in downtown San José.

The lineup of Costa Rican bands scheduled for Acosta, including Hongo Fu, Witty y Gavina, Los Kaites and Sonámbulo, will be reprogrammed for the following weekend.

As of this afternoon, the 6 p.m. inauguration in downtown Alajuelita was still scheduled to take place.

For weeks the 2015 festival, which is put on by the Ministry of Culture, has been mired in controversy.

FIA fans have expressed safety concerns about attending events in the low-income districts of Alajuelita and Desamparados; participating artists have claimed a lack of official guidance and information; and a last-minute tiff between the Culture Ministry and lighting company LuzArt has left some of the stages without sound or lights.

Just today, the Health Ministry noted that organizers had not procured proper health and safety permits.

The Culture Ministry did not answer calls from The Tico Times, and local arts organizations declined to comment.
4. Despite doubling of staff, Costa Rica's judicial branch resolves far fewer cases than in 2000

The number of cases resolved by Costa Rican courts has declined precipitously over the past 13 years despite a doubling of judicial staff over the same time period, according to a new report from Costa Rica's State of the Nation Program.

The "State of Justice" report also found that resolution of legal complaints is increasingly expensive for the country, in part becuase of the justice system's large number of employees.

Per capita, the judicial branch has doubled its staff since 2000, from 120 employees for every 100,000 citizens to 238 employees for every 100,000 in 2013. This increase, however, did not translate into greater efficiency in terms of the number of cases prosecuted, the report found.

In fact, the justice system may be much less efficient now than it was at the start of the millenium.

In 2000, a total of 841 cases were resolved by a single court, meaning they ended without any appeals to higher courts. But that number dropped to 486 by 2013, according to the report.

Costa Rican judges issued an average of 958 sentences in 2000, but by 2012 that figure was just 143.

Also, the justice system began promoting alternative dispute resolution in 2000, but these mechanisms were only used in 1.3 percent of cases evaluated in the report.

The report was the first time the State of the Nation Program has evaluated the country's justice system. The program is a collaboration between Costa Rica's public universities and the government ombudsman's office.

Supreme Court President Zarela Villanueva said justices acknowledge the "weakness in efficiency" highlighted by the report. But she said the increase in staff is justified by the growth of services offered, as well as new departments and facilities created in recent years to provide citizens with more effective service.

The report also highlighted the large number of legal complaints that never make it to court. That can be a good sign, State of Justice coordinator Evelyn Villareal explained.

In 2013 judicial offices received nearly 600,000 complaints, of which 65 percent were dismissed or archived, meaning they did not end in a trial or final ruling. In one of every three cases, a judge dismissed a complaint for lack of merit.

Of all criminal complaints filed in 2013, 32 percent were archived by the prosecution, meaning they couldn't attribute a crime to any suspect. Another one-third of complaints were rejected because of weak evidence.

Only 15 percent of criminal complaints ended in a sentence, of which 8.7 percent resulted in conviction while the remaining 6.5 percent resulted in acquittal.

Villareal conceeded that the report didn't reflect the full reality of Costa Rica's justice system. (But) "it is a starting point for research in areas not previously investigated in the country," she said.

The study is available on State of the Nation's website (in Spanish).
Brian, Lita, the Late Hugo IV, irreverent Vicka, the pigeon toed parrot, Chico II and Chica II