A Dysfunctional Government?? What's New???
Dear friends,
When I started Residencias Los Jardines, I started writing a weekly news letter -determined to tell all the good, bad, and the ugly. I knew some readers would be interested in the construction process. I expected others might be interested in the lifestyle of two people who had decided to live outside the box. For others, the adventures of Lita, the parrot and the cat took on an entertainment saga all its own.
Residencias Los Jardines is finished. We periodically have resales and rental availability. Some readers may be interested in this information.
Brian Timmons
DEVELOPER / PROPERTY MANAGER
Residencias Los Jardines / https://www.residenciaslosjardines.com info@residenciaslosjardines.com
ResidenciasPropertyManagement@gmail.com
Featured house this week
Paradisus Condos / Rohrmoser
FOR SALE / FOR RENT
Residencias Los Jardines
Property Management, Rentals, Re-Sales
Market Activity
Sales: no inquiries.
Rentals: two rental inquires, both were Venezuelans...
FOR SALE
Unit #110: $215,000 / See Unit
Unit #114: $235,000 / See Unit
Unit #116: $214,000 / See Unit
FOR RENT
Unit #112: $1,500 mo. / March-April / See Unit
Unit #113: $1,400 mo. / Immediately / See Unit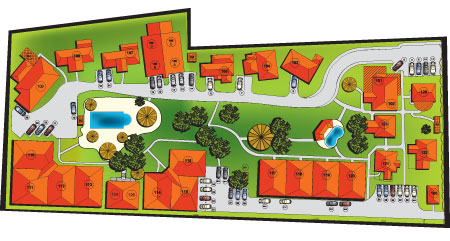 HOUSES FOR SALE
UNIT #110
FOR SALE $215,000
Total Area (Sq Ft): 1290
Total area (Sq M): 120
Bedrooms: 2
Bathrooms: 2
Floor(s): Single Floor
Type: Attached
Furnished: Yes
Beautiful end-unit bungalow (one floor) town home (part of 4 homes) situate at the far quiet end of Residencias Los Jardines, steps from the main pool. It includes one designated parking spot and one storage unit. The home is 120 square meters (approximately 1,300 square feet) with two bedrooms (master has king size bed and guest has queen size bed), two full bathrooms (one being an ensuite), a large open concept kitchen, living room, dining room, granite breakfast bar with stools and features vaulted ceilings and lots of windows. The home has a large covered terrace overlooking the gardens. Custom made wood blinds cover all windows throughout. Ceiling fans in bedrooms, living room and terrace.
UNIT #114
FOR SALE $235,000
Total Area (Sq Ft): 1290
Total area (Sq M): 120
Bedrooms: 2
Bathrooms: 2
Floor(s): Single Floor
Type: Attached
Furnished: Yes
This 1,290 sf. (plus covered parking for one car and two lockers 67 sf.) single story, semi detached house, with garden terrace, two bedrooms is a beautiful executive style home. This home consists of two large bedrooms one with six piece en-suite bathroom with additional access to separate full shower. Each bedroom has large closets with extensive built-ins for personal organization. The vaulted living room and bathroom ceilings provide a feeling of grandeur while allowing the warmer air to rise and exit through the ceiling ventilating system. There are four TVs (one in each bedroom, one in the living room and one in breakfast / dinning room.) This is a beautiful well appointed home.
UNIT #116
FOR SALE $214,000
Total Area (Sq Ft): 1290
Total area (Sq M): 120
Bedrooms: 2
Bathrooms: 2
Floor(s): Single Floor
Type: Semi-Attached
Furnished: Yes
This 1,290 sf single floor home includes a 300 sf front terrace plus parking for one car and a separate, secure storage locker. It is and end unit and therefore attached on only one side by a 6 inch cement demising (common) wall, which prevents sound transfer.
HOUSES FOR RENT
UNIT #112
$1,500 mo. March-April
Total Area (Sq Ft): 1290
Total area (Sq M): 120
Bedrooms: 2
Bathrooms: 2
Floor(s): 1 Story
Type: Attached
Furnished: Yes
This 1,290 sf single floor home includes a 300 sf front terrace plus parking for one car. It is attached on two sides by a 6 inch cement demising (common) wall, which prevents sound transfer.
UNIT #113
$1,400 mo. Immediately
Total Area (Sq Ft): 1290
Total area (Sq M): 120
Bedrooms: 2
Bathrooms: 2
Floor(s): 1 Story
Type: Semi-Attached
Furnished: Yes
This 1,290 sf single floor home includes a 300 sf front terrace plus parking for one car. It is attached on one side by a 6 inch cement demising (common) wall, which prevents sound transfer. The three other sides allow light, ventilation and garden views.
Our Lives
WEATHER: temperatures have backed off a bit. We are coming into the rainy season this month.
It's sad to see Venezuelans here, forced out of their country and they know the situation is going to get more dire and more dangerous and there is nothing they can do about it. Their lives are completely disrupted.
Parrots: they are still with us and noisy as can be... what a wonderful sound of nature.
Dysfunctional Government: I had occasion to got to dinner with an old time Tico lawyer. He knows lots of people and while not active politically himself, he keeps a finger on the pulse. He told me something I was completely missing... it isn't in the press... and a friend to reads more CR news than I wasn't fully aware of it. We both saw some things which were "unusual" from our perspective and after an education by this tico lawyer, some things started falling into place. And they are.
Solis has lost the support of many of his party members. His party, the PAC did not control the most seats in the legislature, PLN does but neither has enough seats for a majority government. Therefore, the PAC had to make alliances with other parties to form the government. Solis insisted on a Luthern minister (an old time friend of his) become the chief of Staff. This guy was so irrassable that he pissed of so many people and Solis has lost much of his support. In addition, Figueres, a former president in the late 90s who escaped to Switzerland and was accused of taking a $900,000 unearned consultation fee in a deal which put two other presidents behind bars but Figueres didn't go to jail for reasons I don't know. CR does not have an extradition treaty with Switzerland... I guess when he was pardoned or whatever, he returned. Ten days ago, to much fanfare, he held a news conference outlining the next 10 year government blueprint. He was / is challenging Solis at a time when Solis has very limited support. He fired his chief of staff this past week and replaced him with the head of INS... Remember, the international rating agencies are waiting, licking their chops and sharpening their pencils for a downgrade if CR doesn't make the necessary fiscal and monetary changes required by them. In addition, it seems that Solis got caught by his common law wife with another woman... he's somewhat missing in action and she is reported to be in Florida with his credit card...
When you read you read the news, keep this info. in mind... given that state of government and the status of the economy which many feel is close to a major event, one has to be a bit wary...
News Items of the Week
Comments
1, 2 and 3: see above...
4. The colon is still appreciating against the US dollar and CR is spend lots and lots of money to support it even though officially, the colon is in free float...no one believes that... and the drain on the treasury shows problems. The problem is, that the CR voting population has loans in dollars--their new cars (of which there are lots), business and mortgages are in dollars (many of them) and many of these people earn in colones. If the government were to let the colon float, there would be social unrest and economic chaos. It might make sense at this point to dollarize the economy although CR would have to swallow it's pride... difficult
5. Waiting: in 2001 the government was ordered to compensate these people. Another court case 6 mo. ago told the government to do it. The are still waiting. Too many are still alive so the government will continue to wait... my cynical take on the issue.
1. Solís loses controversial chief of staff
By the A.M. Costa Rica staff

Melvin Jiménez, the controversial chief of staff to President Luis Guillermo Solís, is out of a job.

The former Lutheran bishop served since last May. He managed the presidential campaign for Solís.

Some lawmakers had urged the president to fire Jiménez, who held the title of minister of the Presidencia. The biggest complaint was that he was ineffective as a liaison between the legislature and Casa Presidencial.

A replacement is expected to be named today.

Solís hopes that the replacement will be able to help move a series of bills for new taxes through the legislative process.
2. Divisive Figure Fired

Heads continue to roll in the administration of Costa Rican President Luis Guillermo Solís. On Thursday morning, Presidency Minister — and Solís' former presidential campaign manager — Melvin Jiménez Marín submitted his resignation effective immediately.

The resignation, which Solís said was submitted at his request, came after a series of clashes between the now ex minister and opposition parties and economic groups. Jiménez has been blamed for much of the recent negative publicity directed at the already battle-weary government.

"His time in this government has ended," President Solís said. "He was worn out."

Jiménez has been the target of severe criticism from various political, business and even religious sectors, who repeatedly questioned his skills as government spokesman and highlighted his unsuccesful attempts to negotiate with these groups.

Solís justified Jiménez's ouster on "the many things that Don Melvin has had to endure, which he has faced with great stoicism."

He said that the change at the Presidency Ministry does not alter the road map of his administration in any way. And he thanked Jiménez for his efforts "to achieve social stability and economic progress in the country."

Jiménez's most recent controversy came last week when a draft bill to amend the country's "Radio and Television Law" was released publicly. The bill called for harsh sanctions against TV and radio stations for broadcasting "lies" or offending public morality.

The scandal had already cost Science and Technology Minister Gisela Kopper Arguedas and Vice Minister Allan Ruiz Madrigal their posts. They oversaw the group of experts who drafted the bill.

The situation worsened last Friday when Ruiz said claimed that Jiménez had offered him an ambassador post in exchange for his resignation.

In addition, Kopper blamed Jiménez for leaking the draft of the controversial bill, which Jiménez denies.

Following the resignation announcement, Juan Jiménez Succar, a legislator with the National Liberation Party, the main opposition party, said he wasn't surprised by the announcement.

"I told the president, in the presence of Minister Jiménez, that we opposed his role as the liaison between the Executive and the Legislative branches," the legislator said.

Libertarian Movement legislator, and former presidential candidate, Otto Guevara Guth, said "Solís' decision was overdue."

Social Christian Unity Party leader Luis Vásquez Castro said Jiménez repeatedly showed lack of leadership in his job.

Jiménez becomes the fourth minister of Solís' administration to step down and the 15th official to leave during Solís' 11 months in office.

The new Presidency Minister will be announced Friday at a press conference, Casa Presidencial reported.
3. Confidence still shrinking in central government
By the A.M. Costa Rica staff

As the central government plans to present legislation to raise taxes, the private sector is circling the wagons.

Business leaders appear to have lost confidence in President Luis Guillermo Solís and his team.

The concern spilled over the legislature Wednesday when opposition lawmaker Sandra Piszk Feinzilber noted that foreign direct investment declined 20 percent from the second half of 2013 to 2014 and the exports dropped 18 percent from the first two months of 2014 compared with the same period in 2015.

In dollars that is a decline in investment of $261 million and $320 million in exports, she noted.

Observers have said that when the Ministerio de Hacienda submits proposed bills it will be to a fragmented legislature. Solís does not even have the full support of his own party to engineer approval. Many wish to see dramatic cuts in the central government. A long legislative battle is predicted.

The national budget is nearly half borrowed money, and although there has been some improvement in generating government income, the monthly deficit still is large.

The government is embarking on a campaign to show that the new taxes are needed. The major credit rating agencies of the world are believed to support higher taxes.

Wednesday the Cámara de Comercio de Costa Rica released a report of its survey of members and said that the index of confidence in the economy had dropped to the lowest point since 2010.

The chamber also cited statistics from the Caja Costarricense de Seguro Social that said new jobs were 1,135 in 2014, a drop of 80 percent from the year before.

The chamber survey report said that only 19 percent of the member firms plan new investments in the next six months. About the same number expect to add employees.

The criticism was not confined to the executive branch. Some 68 percent of the firms surveyed characterized the work of the Asamblea Legislative as bad or very bad, said the survey.

Part of the concern is that Intel Corp. has begun laying off workers in anticipation of moving its chip production facility to Vietnam.

Sport fishing operators on the Pacific report they are losing customers because prices here are much higher than in adjacent countries. Other tourism operators have said the same.

Meanwhile, lawmakers are considering a bill that would legalize the deal the central government made with tourism operators when it decided to levy five years of back sales tax on their operations.

The deal is to phase in the sales tax and ignore the back taxes, which no one knew about in the first place.
4. Credit card debt grows in an unsustainable way
By the A.M. Costa Rica staff

An economics ministry report earlier this week showed that Costa Ricans owe 933 billion colons or about $1.77 billion on their 5 million-plus credit cards.

A check of a similar report June 10, 2013, shows that the debt has increased some $293 million from 729 billion colons.

The ministry, correctly called the Ministerio de Economía, Industria y Comercio, also reported that the consumer credit card interest rates range from 24 percent, mostly at state banks, to 65 percent.

At these rates, considering the growth in debt over less than two years, credit card dent does not seem sustainable.

Some expats in the rental business also are pointing to the decline on average rents. They note that rents determine the value of rental properties and that banks have made loans based on values indicated by higher rents.

These apartment owners also say that the availability of good tenants also has declined.

The rental situation and the massive credit card debt is a double whammy for financial institutions.

One reader said Tuesday that the consumer debt mirrors the debt the central government has accumulated with a national budget that is nearly half borrowed money.

The economics ministry estimated that the increase in credit card debt was 7.24 percent from a previous study. The current study includes figures as of Jan. 31.

Of course, these numbers do not reflect other types of debt, such as mortgage loans or other consumer agreements...

Some 7.31 percent of the credit users were behind from zero to 90 days, said the ministry. Some 4.27 percent were behind greater than 90 days. That would be about 39.8 billion colons.
5. Still Waiting for Help Since 2001

Hundreds of banana workers who were exposed to the banned pesticide Nemagon protested Wednesday in front of Costa Rica's Legislative Assembly demanding compensation for physical and psychological damages.

From 1967 to 1979, thousands of workers in banana fields owned by foreign companies in Costa Rica and across Central America were exposed to the nematocide Nemagon, also known as DBCP, a chemical that has been proven to cause myriad health problems including sterility, cancer, miscarriages and genetic deformities. Costa Rica banned the importation of the chemical in 1979.

Although a law has been on the books since September 2001 promising compensation for the former banana workers, and a decree by President Luis Guillermo Solís was published in the government newspaper La Gaceta in December 2014, hundreds of workers still haven't received payments.

"We want a pension and fair compensation," reads a sign held by protesters on April 15, 2015 in San José, Costa Rica.

"It looks like they are waiting for us to die," said José Carlos Madriz, a banana worker from Batán, a town in the province of Limón, who worked with the Standard Fruit Company from 1967 to 1973.

"We are suffering from severe health problems and we want to get the money we deserve," added Miguel Arguedas, who also worked for the Standard Fruit Company.

Protesters are demanding ¢5 million ($9,400) each, plus a monthly pension of ¢300,000 ($565).
Brian, Lita, the Late Hugo IV, irreverent Vicka, the pigeon toed parrot, Chico II and Chica II