Dear friends,
When I started Residencias Los Jardines, I started writing a weekly news letter -determined to tell all the good, bad, and the ugly. I knew some readers would be interested in the construction process. I expected others might be interested in the lifestyle of two people who had decided to live outside the box. For others, the adventures of Lita, the parrot and the cat took on an entertainment saga all its own.
Residencias Los Jardines is finished. We periodically have resales and rental availability. Some readers may be interested in this information.
Brian Timmons
DEVELOPER / PROPERTY MANAGER
Residencias Los Jardines / https://www.residenciaslosjardines.com info@residenciaslosjardines.com
ResidenciasPropertyManagement@gmail.com
Featured house this week
Paradisus Condos / Rohrmoser
FOR SALE / FOR RENT
Residencias Los Jardines
Property Management, Rentals, Re-Sales
Market Activity
Sales: no inquiries.
Rentals: two rental inquires.
FOR SALE
Unit #110: $215,000 / See Unit
Unit #114: $235,000 / See Unit
Unit #116: $214,000 / See Unit
FOR RENT
Unit #112: $1,500 mo. / March-April / See Unit
Unit #113: $1,400 mo. / Immediately / See Unit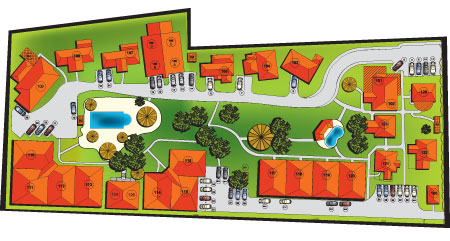 HOUSES FOR SALE
UNIT #110
FOR SALE $215,000
Total Area (Sq Ft): 1290
Total area (Sq M): 120
Bedrooms: 2
Bathrooms: 2
Floor(s): Single Floor
Type: Attached
Furnished: Yes
Beautiful end-unit bungalow (one floor) town home (part of 4 homes) situate at the far quiet end of Residencias Los Jardines, steps from the main pool. It includes one designated parking spot and one storage unit. The home is 120 square meters (approximately 1,300 square feet) with two bedrooms (master has king size bed and guest has queen size bed), two full bathrooms (one being an ensuite), a large open concept kitchen, living room, dining room, granite breakfast bar with stools and features vaulted ceilings and lots of windows. The home has a large covered terrace overlooking the gardens. Custom made wood blinds cover all windows throughout. Ceiling fans in bedrooms, living room and terrace.
UNIT #114
FOR SALE $235,000
Total Area (Sq Ft): 1290
Total area (Sq M): 120
Bedrooms: 2
Bathrooms: 2
Floor(s): Single Floor
Type: Attached
Furnished: Yes
This 1,290 sf. (plus covered parking for one car and two lockers 67 sf.) single story, semi detached house, with garden terrace, two bedrooms is a beautiful executive style home. This home consists of two large bedrooms one with six piece en-suite bathroom with additional access to separate full shower. Each bedroom has large closets with extensive built-ins for personal organization. The vaulted living room and bathroom ceilings provide a feeling of grandeur while allowing the warmer air to rise and exit through the ceiling ventilating system. There are four TVs (one in each bedroom, one in the living room and one in breakfast / dinning room.) This is a beautiful well appointed home.
UNIT #116
FOR SALE $214,000
Total Area (Sq Ft): 1290
Total area (Sq M): 120
Bedrooms: 2
Bathrooms: 2
Floor(s): Single Floor
Type: Semi-Attached
Furnished: Yes
This 1,290 sf single floor home includes a 300 sf front terrace plus parking for one car and a separate, secure storage locker. It is and end unit and therefore attached on only one side by a 6 inch cement demising (common) wall, which prevents sound transfer.
HOUSES FOR RENT
UNIT #112
$1,500 mo. March-April
Total Area (Sq Ft): 1290
Total area (Sq M): 120
Bedrooms: 2
Bathrooms: 2
Floor(s): 1 Story
Type: Attached
Furnished: Yes
This 1,290 sf single floor home includes a 300 sf front terrace plus parking for one car. It is attached on two sides by a 6 inch cement demising (common) wall, which prevents sound transfer.
UNIT #113
$1,400 mo. Immediately
Total Area (Sq Ft): 1290
Total area (Sq M): 120
Bedrooms: 2
Bathrooms: 2
Floor(s): 1 Story
Type: Semi-Attached
Furnished: Yes
This 1,290 sf single floor home includes a 300 sf front terrace plus parking for one car. It is attached on one side by a 6 inch cement demising (common) wall, which prevents sound transfer. The three other sides allow light, ventilation and garden views.
Our Lives
WEATHER: temperatures have backed off a bit. We are coming into the rainy season this month.
There are usually start up problems with tenants... wire transfers, connections, keys, and appliance malfunctions... that has keep me busy this week. I am also coming to the undesirable conclusion that I will have to either completely or partially furnish the 3rd. unit at Paradisus. Most people looking want something they can move into right away. It takes me two weeks to furnish and decorate a unit and $17,000. Now that high tourist season is over, it is time to start planning a trip to the beach.
Parrots: this year, we have had a flock of "periocos" -smaller wild parrots nesting at Los Jardines. They always arrive around 5:15, create a wild, loud. ruckas for 15 min. and as if on que, go silent until 4:30-5am when they start up again.
News Items of the Week
Comments
1. "Fiscal Value" vs. "Market Value": a game played for years between the public and the government tax man.
2. Why did tourist catamaran sink? For some reason the observations of the many passengers couldn't establish this or the insurance companies want confirmation.
3. Holiday Violent Death Toll: it was best to stay in the hammock and in the Central Valley.
4. On Notice: Again the three international credit rating agencies, have put CR on notice of a downgrade if they don't get their fiscal house in order by cutting spending and raising taxes. Ticos favorite pose is the proverbial head in the sand until a crisis happens.
1. Government tightens rules on so-called 'fiscal value'
By the A.M. Costa Rica staff

Costa Rican lawmakers have moved to crack down on a long-running practice that has cost the country untold millions in property transfer taxes.

For years lawyers who process real estate transfers have been declaring a fake lower value of the transaction to reduce taxes and fees before a property deal is filed at the Registro Nacional.

The transfer tax is supposed to be 1.5 percent, and many lawyer-notaries have been declaring a much lower value to reduce the tax and stamp fees for their clients at the expense of the municipality, the Registro Nacional and a host of other entities that benefit from the tax.

In some cases the difference between the so-called fiscal value and the real price of the property sale has been large.

In one court dispute, a transaction's value was listed at about $2,000, yet the owner insisted that he should be compensated for the real value, some $765,000.

Law No. 9069 has been on the books since Sept. 28, 2012, but there does not seem to have been any high-profile cases resulting from it. A new batch of tax proposals are expected to be filed in the next three weeks, and there may be an effort to beef up even more this aspect of the law.

The measure in Artículo 92 sets penalties for omission or fraud of the government with up to five to 10 years of prison.

As the World Bank's Doing Business
survey noted, the transfer tax and stamp duties are calculated on the basis of the highest of the stated purchase price and the property value appearing on the national property registry, and the price is updated when the property is sold or mortgaged.

A curious twist are those would-be expats who inflate deliberately the price of a property that they purchased. The goal is to show immigration officials that at least $200,000 has been invested, enough to qualify for residency as an inversionista.
2. U.S. Navy divers visit to investigate sunken ship
By the A.M. Costa Rica staff

A team of seven U.S. Navy divers are working this week to help Costa Rican officials investigate the wreck of the sunken tourist catamaran EcoQuest.

This is the three-deck vessel that sunk Jan. 8 with the loss of three lives, a U.S. man, a Canadian woman and a British man.

Some 106 persons survived after being dumped into the Gulf of Nicoya .

The boat was owned by Global Trust Firm S.A. The boat was believed to have been operated by the firm Pura Vida Princess.

The U.S. Navy team includes divers with special equipment for operating at depths of more than 60 meters, said the U.S. Embassy in announcing the visit. Costa Rican officials asked for the help because of the depth.

The boat capsized in strong winds, and the assumption is that one of the two pontoons on which the hull was built collapsed.

Survivors also reported that the lower row of windows on the boat were open and allowed water to enter.

"The result of this collaboration will be a joint marine vessel casualty safety investigation report, issued within five to seven months, which will be given to the Costa Rican authorities to help improve the safety of all passengers and passenger vessels in Costa Rica," said the U.S. Embassy.

The trip was a common one to Isla Tortuga, also in the Gulf of Nicoya. The mishap took place some seven miles off Punta Leona in the Central Pacific. The boat was built in 2007.

The captain is under investigation by the judiciary.
3. Final holiday toll is 82 with 20 listed as traffic accident victims
By the A.M. Costa Rica staff

The judicial morgue reported Monday that 82 persons died over the Semana Santa holidays.

The morgue is where the best count of deaths and violent mishaps can be made because all who die in such circumstances go there. The morgue is part of the judiciary.

The report listed 20 deaths from traffic accidents, 10 from water accidents, 12 murders, 10 suicides and 10 natural deaths. It also said that 20 deaths were under investigation.
4. CR Put On Notice—But No One Is Listening

The rating agencies Fitch Ratings, Standard & Poor's (S & P) and Moody's expect the adoption of tax reforms over the next 18 months.

In no avail legal changes to reduce the fiscal deficit and public debt, Costa Rica has a high probability of experiencing a deterioration in their ratings, confirmed the three agencies, after consultation of the Nation.

"If the fiscal deficit and public debt are not stabilized in the next 12 to 18 months, the agency could downgrade" said César Arias, Fitch.

He added that the filing of tax reforms is not enough to ensure a good perspective of the country.

Fitch changed the rating of Costa Rica from stable to negative in January last. Meanwhile, Moody's withdrew investment grade last October.

S & P maintained the same note to the country, but warned that more and more pressure there is, if fiscal inaction persists.

The note describes the solvency risk of a government to deal with its debt with creditors, mainly in the case of Eurobond issues in the country.

The indicator also provides guidance for those conducting foreign direct investment.

Fernando Rodriguez, Deputy Minister of Finance Revenue, acknowledged that the country has less time to meet their fiscal difficulties.

"If we go (qualification) would be a terrible sign that the country would send" said Rodriguez.

The Ministry of Finance submitted on March 10, the drafts to transform the sales tax on value added tax (VAT) and income tax reform. Both reforms would increase government revenue by 2% of gross domestic product (GDP).

The initiatives will be referendum until next April 17. Hacienda analyze the observations and initiatives sent to Congress this month.

Cut spending. The US agencies agreed that with changes in taxation, must send clear signals as to the reduction of public spending.

"The controls of public spending help. In 2014 adjustments were made and the fiscal deficit was below expectations, but still high and not entirely solve the problems. Are needed more revenue "said César Barceinas, S & P analyst.

Costa Rica closed with a fiscal deficit equivalent to 5.7% of GDP in 2014. The projection at the beginning of the year was 6%.

Meanwhile, the public debt amounted to 40% of production, but was 25% in 2008.

Indeed, the growth of borrowing was the main criticism of the country by Gabriel Torres, an analyst at Moody's. "The debt continues to rise, if not lower will have negative consequences in qualifying," he said.

Despite criticism, the agencies noted that growth in the US is a positive factor for Costa Rica because of its economic ties.

Moreover, public investment in infrastructure can help improve the business climate and production.
Brian, Lita, the Late Hugo IV, irreverent Vicka, the pigeon toed parrot, Chico II and Chica II