Dear friends,
When I started Residencias Los Jardines, I started writing a weekly news letter -determined to tell all the good, bad, and the ugly. I knew some readers would be interested in the construction process. I expected others might be interested in the lifestyle of two people who had decided to live outside the box. For others, the adventures of Lita, the parrot and the cat took on an entertainment saga all its own.
Residencias Los Jardines is finished. We periodically have resales and rental availability. Some readers may be interested in this information.
Brian Timmons
DEVELOPER / PROPERTY MANAGER
Residencias Los Jardines / https://www.residenciaslosjardines.com info@residenciaslosjardines.com
ResidenciasPropertyManagement@gmail.com
Featured house this week
Paradisus Condos / Rohrmoser
FOR SALE / FOR RENT
Residencias Los Jardines
Property Management, Rentals, Re-Sales
Market Activity
Sales: no inquiries.
Rentals: several inquires, one rental.
FOR SALE
Unit #114: $235,000 / See Unit
Unit #116: $214,000 / See Unit
FOR RENT
Unit #112: $1,500 mo. / March-April / See Unit
Unit #113: $1,400 mo. / Immediately / See Unit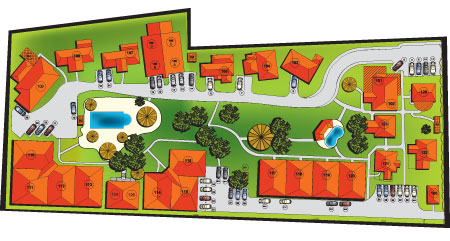 HOUSES FOR SALE
UNIT #114
FOR SALE $235,000
Total Area (Sq Ft): 1290
Total area (Sq M): 120
Bedrooms: 2
Bathrooms: 2
Floor(s): Single Floor
Type: Attached
Furnished: Yes
This 1,290 sf. (plus covered parking for one car and two lockers 67 sf.) single story, semi detached house, with garden terrace, two bedrooms is a beautiful executive style home. This home consists of two large bedrooms one with six piece en-suite bathroom with additional access to separate full shower. Each bedroom has large closets with extensive built-ins for personal organization. The vaulted living room and bathroom ceilings provide a feeling of grandeur while allowing the warmer air to rise and exit through the ceiling ventilating system. There are four TVs (one in each bedroom, one in the living room and one in breakfast / dinning room.) This is a beautiful well appointed home.
UNIT #116
FOR SALE $214,000
Total Area (Sq Ft): 1290
Total area (Sq M): 120
Bedrooms: 2
Bathrooms: 2
Floor(s): Single Floor
Type: Semi-Attached
Furnished: Yes
This 1,290 sf single floor home includes a 300 sf front terrace plus parking for one car and a separate, secure storage locker. It is and end unit and therefore attached on only one side by a 6 inch cement demising (common) wall, which prevents sound transfer.
HOUSES FOR RENT
UNIT #112
$1,500 mo. March-April
Total Area (Sq Ft): 1290
Total area (Sq M): 120
Bedrooms: 2
Bathrooms: 2
Floor(s): 1 Story
Type: Attached
Furnished: Yes
This 1,290 sf single floor home includes a 300 sf front terrace plus parking for one car. It is attached on two sides by a 6 inch cement demising (common) wall, which prevents sound transfer.
UNIT #113
$1,400 mo. Immediately
Total Area (Sq Ft): 1290
Total area (Sq M): 120
Bedrooms: 2
Bathrooms: 2
Floor(s): 1 Story
Type: Semi-Attached
Furnished: Yes
This 1,290 sf single floor home includes a 300 sf front terrace plus parking for one car. It is attached on one side by a 6 inch cement demising (common) wall, which prevents sound transfer. The three other sides allow light, ventilation and garden views.
Our Lives
WEATHER: Normal beautiful weather sometimes with normal strong winds...
Follow Ups:
Murphy Lives: We don't go away very often but tried to go to the beach with friends for 3 nights... a lousy three nights. Upon arrival, Lita immediately get's a headache, a few hours later one of our traveling companions gets sick. I had probably no less than 15 business calls in one day where as I have not had that many calls in the past two months... We ended up packing up the bags after two of a planed three night vacation and returned with our tail between our legs...
meanwhile:
Paul and Esther, friends / former partner were trying to leave for Canada. Volcano Turrialba acted up again, spewing ash all over, and closed down the airport for two days. The benefit for us was a couple more socials and dinner together again... we will miss them...
but:
I did do a "hurry up" short term lease for Paradisus to the US Embassy...
and...
the lawyer "processing my new car" --finally-- is asking for some information... wow...it might actually be drivable before I die... but I'm not betting on it nor am I planning on dieing... we'll see...
meanwhile:
this country continues to do everything it can to blow itself up...note the latest tax proposals...
News Items of the Week
Comments:
1. Proposed (?) tax??? that foreign incoming and outgoing funds would be levyed a tax of 5-15%... see #5 below... I have to believe the idiots won't approve this...
2. R. Piercy says his kidnapping was for extortion. May yes, maybe no... but I believe it was situation specific and not endemic of the country.
3. Moin Terminal: finally under construction ??? well, maybe... if / when operational, it will certainly create employment opportunities... and mfg. free trade zones and an expedited highway being financed by China will help.
4. Turrialba: the on-going eruptions spewed ash and the winds brought it to SJ and the airport. The airport was closed for two days, people stranded and all of us have major cleaning to do.
5. Proposed Tax Changes: many of these are recycled from before... they never made it through the legislature. Personally, I am resigned to the 15% VAT... however, the tax on internal and external country money flows --even though it is not likely to pass-- creates lots of uncertainty and that drives off foreign capital / investors. I don't know why when a government gets elected they suddenly become stupid.
6. Another One Bites the Dust... and this closing says a lot about what is actually happening, regardless of government "numbers"
1. Foreigners expected to pay for development bank
By the A.M. Costa Rica staff

The Banca para el Desarrollo creates a way small businesses can obtain financing. The project has been approved by the legislature.

A little known fact is that the government is expecting to skim money from foreign capital leaving the country to finance the project. A proposed executive decree would implement the financial exit tax found in the law.

The proposed decree was prepared in the middle of last month, and La Gaceta, the official newspaper, published it Friday.

The seven-page decree is steeped in legalese, but it appears to say that both companies and individuals based in Costa Rica have to pay a tax of from 5 to 15 percent on money sent through the banking system to foreign accounts.

The payments specified include interest, commissions, dividends and other financial expenses.

The proposed decree says that the tax also applies to any purchases imported into the country.

When the measure originally was in the legislature, the tax was set at 5.5 percent the first year with increases to 15 percent over the next few years. The proposed decree does not contain this language.

The decree does not really say how the new tax would be put into practice. Many foreigners, including thousands of Nicaraguans, send money outside the country to relatives.

Also not addressed are financial transfers made by expats who might sell property here or simply decided to return to their home country and transfer their money there.

Foreign vendors are not going to accept a reduction in their payments, so the tax would become an extra expense of firms and individuals doing business here.

The decree is open for discussion on the section of the Ministerio de Hacienda Web page titled projectos.
2. Ryan Piercy characterizes his abduction as extortion
By the A.M. Costa Rica staff

Ryan Piercy said Monday that his abduction was an attempt of extortion toward Casa Canada.

Pierce is general manger of the Association of Residents of Costa Rica, and the association released the brief statement. He also is a principal in the family business, which is Casa Canada.

"We regret to notify the members that Ryan Piercy will not be returning to the office for some time, due to the stress of the recent situation, which has also caused a recurrence of his personal health problem," said the statement. "He would first like to thank all for their thoughts and kind support."

But then the statement said that no more information would be released "due to the amount of misinformation that has already been published, in order to avoid further interference with the investigation."

In fact, there has been little information published by legitimate news sources. There has been a lot of speculation on the social media outlets.

El Diario Extra, the Spanish language news source, did report incorrectly that one of the children of the Piercys had been abducted. However, the case has been unusual because of the lack of information from the Piercy family and investigators.

There was no secret that something was amiss. The car Piercy was driving turned up with the door open Jan 20, and police quickly relayed this information to reporters.

Piercy, 45, is a Canadian who is a naturalized Costa Rican citizen. Casa Canada was in the business of helping foreigners, mainly Canadians, make investments here.

Piercy returned home Feb. 22, and there were reports of a ransom payment.

The case caused concern among expats because many know Piercy and his disappearance made them feel vulnerable.
3. Moin Terminal – Ground Breaking

MOÍN, Limón — Sunday morning started out rainy and overcast in the Caribbean port city of Limón. But the sun eventually broke through the clouds, and through the early morning mist, the cargo ships — the town's economic lifeblood — waiting in the harbor came into view.

As the day's weather improved, officials and business leaders gathered on Moín beach to celebrate what they said was a new beginning for a region hampered by unemployment and violence, and largely abandoned by the central government.

The $1 billion Moín Container Terminal project, long delayed because of labor and environmental disputes, celebrated its formal groundbreaking Sunday on the beach where the Dutch concessionary APM Terminals will build the most advanced container port of its kind in Central America. Costa Rica Foreign Trade Minister Alexander Mora called the terminal the most important infrastructure project in modern Costa Rican history.

Paul Gallie, managing director for APM Terminals Central America, said the new port would help modernize Costa Rica's shipping infrastructure and ease the high costs the country incurs when cargo ships are stuck waiting to unload onto the port's small docks.

The new terminal will sit on an 80-hectare artificial island constructed west of the original Moín docks. Construction is expected to take 36 months.

The terminal will span 1.5 kilometers and receive so-called Post-Panamax ships — vessels designed to take full advantage of the expanded Panama Canal. When finished, Gallie said, the new docks will be able to receive ships more than three times bigger than the current docks are able to receive.

The Moín Container Terminal is set to quadruple the port of Moín's current capacity, to an estimated 2.5 million TEUs — twenty-foot equivalent units, the industry standard for measuring cargo — annually by 2030, according to the project's master plan. The Port of Seattle, in comparison, has the capacity to handle close to 3 million TEUs.

The terminal will include specialized berths for container and refrigerated cargo, as well as traditional cargo.

Initial construction began in January after the the Environment Ministry's National Technical Secretariat, SETENA, greenlit construction permits.

Gallie framed the project as a second chance for Costa Rica to take advantage of its proximity to the Panama Canal after a century of scant investment in its ports. The World Economic Forum's 2014-2015 Global Competitiveness Report ranked Costa Rica 115 out of 144 countries surveyed in port infrastructure.

"I'm a patient guy. I've waited five years," Gallie told the crowd, referring to the years of legal disputes and environmental concerns that delayed the project. "I could wait more but Costa Rica can't afford to wait longer," he said.

On Moín beach, overlooking the stretch of sea where the artificial island will rise from the waves, Gallie told The Tico Times that the project will create an estimated 700 construction jobs, many of which are to be filled by Limón residents.

Once the first phase of construction is complete, another 600 people will be needed to operate the mega-terminal — from administrators to dockworkers.

Gallie said the company was aware that Limón — a canton were only 17 percent of school children graduate from high school — would likely have a deficit of skilled labor to run the terminal when it opens in 2018. He said APM Terminals was working with the National Training Institute, INA, and other educational institutions to train local workers.

"At some point in time I would like to see the whole terminal run by limonenses," Gallie said, using the Spanish name for Limón residents.

President Luis Guillermo Solís, who also attended the groundbreaking, urged the people of Limón to leverage their native English, along with engineering and other skills, to take full advantage of the job opportunities the new terminal will bring. The president said learning Chinese alongside English was a key to success for young workers.

Solís said the Moín Container Terminal was not an end in itself but the beginning of many more projects that would improve Limón, including the recently-approved financing for the Route 32 highway expansion, the $98 million investment announced Saturday to renovate the National Oil Refinery's Caribbean dock, and an expanded border crossing between Costa Rica and Panama, among others.

Security was tight at the beachfront event but threats of significant protests did not materialize during the ceremony.

The daily La Nación reported that a group of 75 from the dockworkers union, SINTRAJAP, blocked the access road to the existing Moín docks for several hours Sunday morning. But the roadblock was cleared by noon.

Speaking to the crowd gathered at the ceremony, APM Terminals Vice President Tiemen Meester said what many here are pinning their hopes on: "In three years, we're really going to put Costa Rica on the map."
4. Turrialba volcano puts on a spectacular display
By the A.M. Costa Rica staff

As expected, Volcán Turrialba increased its activity Thursday and erupted three times. Gas and ash shot up to two miles in the air, but most of it was carried west and into the Pacific by strong winds.

A dusting of ash covered parts of the metro area, mainly the sections that are in the northeast part.

Turrialba is one of two sentinels that stand at the eastern end of the valley. Its brother mountain is Irazú, which became a tourist attraction when it erupted in 1963. Irazú still is active.

The Red Sismológica Nacional at the Universidad de Costa Rica said that Turrialba began emitting small amounts of ash starting Sunday. Thursday there were three spectacular eruptions.

The first at 10:53 a.m. lasted 36 minutes. A second at 1:38 p.m. spewed gas and ash for 48 minutes. The third was at 2:50 p.m. and lasted until 3:24 p.m., said the Red Sismológica.

The ash that fell outside of a two-kilometer radius around the volcano caused few problems, but those with respiratory illnesses and children may have been affected. The ash cloud had dissipated by nightfall, said the U.S. National Oceanic and Atmospheric Administration.

The Tobias Bolaños airport in Pavas closed at mid-afternoon when ash in the air reduced visibility. The big international airport in Alajuela, Juan Santamaría, also closed until 8 a.m. today in order to consider the volcano's behavior during the night. Some flights were detoured to Liberia's Daniel Oduber airport.

Not many persons live near the volcano, and many of those who had been there have moved elsewhere.

As A.M. Costa Rica reported March 6 the national emergency commission said that scientific indications suggested that Turrialba was headed to an event of great magnitude. That assessment was based on samples of ash.

The mountain is under 24-hour watch. Roads have been closed, and police are maintaining checkpoints. The national park adjacent to the volcano had been closed from 2009 to 2011, and then the park was closed again in 2013. The last major eruption was in October.

The education ministry closed 12 schools in the vicinity of the volcano for today. They are Guayabo, La Reunión, Santa Cruz, Julia Fernández, La Pastora, El Volcán, La Orieta, Las Virtudes, El Sitio de las Abras, Calle Vargas, Bonilla and the Unidad Pedagógica el Torito.

No one knows what the 10,958-foot (3,340-meter) Turrialba will do next.

Comisión Nacional de Prevención de Riesgos y Atención de Emergencias and neighbors hope the mountain returns to dormancy. Some the tourism industry would like to see a series of moderate eruptions that attract visitors from afar.

Meanwhile, some expats said they were purchasing clear plastic and tape to block windows and doors if the mountain increases its emission of ash. That happened in 1963, and San José residents found themselves shoveling ash and trying to keep the fine particles out of houses.

Today computers are highly vulnerable to the ash, as are other electronic devices.

The eruptions Thursday were a boon to local television. There were endless special shows highlighting every possible facet of eruptions and ash along with continual replays of the eruptions of the day.

Strong winds overnight were pushing much of the Central Valley ash around.
5. Tax Proposals

Finance Ministry officials this week presented a series of amendments to Costa Rica's sales and income tax laws in the hopes of increasing revenue by around ¢600,000 million ($1.1 billion). That would represent 2 percent of the national economy, officials said.

The proposal, however, faces serious opposition from some business owners, legislators and unions.

"As always happens, the consumer will end up suffering the consequences," Francisco Ovares, president of Costa Rica's Private Accountants Association, said Thursday.

"We believe all affected sectors should read and do a deep analysis of the proposal," Ovares said, "but most importantly, they should communicate their concerns to the Finance Ministry."

One of the major proposed changes would swap the current sales tax for a value added tax, and increase the rate gradually from the current 13 percent to 15 percent by 2017. Switching to a value added tax would mean most services, as well as goods, would be taxed.

Businesses operating within free-zone regimes would remain exempt from the tax. Education and private health services would also be exempt, except for surgery and hospitalization.

Tourism activities would be exempt for the first year after the law goes into effect, then levied a 5 percent tax in the second year, 10 percent in the third and 15 percent starting the fourth year.

Services provided by self-employed professionals — including doctors, lawyers, architects and accountants — would be taxed. Concert and sports tickets, plastic surgery and cosmetic services, among others, would also be taxed.

The proposal does include a provision designed to soften the effects of tax increases on the poor. Authorities would define a package of essential goods and services that would be exempt from the value added tax.

The package would be revised periodically based on results of the National Institute of Statistics and Census's survey of household income and expenses.

Final drafts of the bills will be submitted to the Legislative Assembly for discussion and voting between April 13 and 17, Finance Minister Helio Fallas said.

Proposed changes to income tax law

The proposal includes two new salary brackets for income tax purposes. Monthly income above ¢2,225,000 million ($4,120) and up to ¢4,450,000 ($8,240) would be taxed at 20 percent.

All monthly income above ¢4,450,000 would be taxed at 25 percent.

Currently, monthly income above ¢793,000 ($1,469) and up to ¢1,190,000 ($2,200) is taxed at 10 percent, while all income above ¢1,190,000 is taxed at 15 percent.

Monthly income under ¢793,000 ($1,469) would remain tax-exempt.

The proposal would also tax all remittances paid to individuals and businesses outside of the country.

In addition, large cooperatives would have to pay a 30 percent tax on their profits (all cooperatives are currently exempt).

Micro, small and medium-sized businesses would be exempt as long as they are registered as such with the Economy Ministry.

Private companies that provide energy generation services would also be exempt.

Mario Hidalgo Matlock, a tax expert with the consulting company Deloitte, said the proposed tax law changes weren't new.

"They are very similar to those proposed during the last four or five administrations," he said.

He said the proposed expansion of taxed services would especially hit small entrepreneurs and businesses, like beauty parlors.

He said the proposed tax on remittances "would affect the country's appeal for attracting investors and even retirees and foreign residents sending remittances from here," Hidalgo added.

Drafts of both tax bills, along with forms that citizens can use to submit comments and suggestions, are available for download at the ministry's website.

Negative reactions

The tax proposals generated plenty of criticism from different sectors of Costa Rican society.

Leaders of the country's main labor unions rejected both proposals. Eight major public and private sector unions grouped under the Patria Justa Coalition of Labor Unions, issued a joint statement, saying the proposed changes would disproportionately affect the poor and those who already pay most of the taxes.

"The government is opting for the easy way to solve its (economic) problems," they said.

"Transforming the sales tax into a value added tax will only aggravate the already unfair tax structure," the union leaders wrote. "Poor citizens are not the ones stealing or dodging tax money."

Labor leaders said they were considering street demonstrations against the proposed changes.

The business sector was more guarded in its reaction. Luis Mesalles Jorba, vice president of the Costa Rican Union of Private-Sector Chambers and Associations, said the group would consult its members before submitting observations to the Finance Ministry.

Mesalles said that any solution to the problem should combine fiscal reforms with tighter controls on public spending.

He acknowledged that the government has already taken some actions to control spending, but said it had yet to address bigger problems, such as yearly wage adjustments and large cash benefits received by many bureaucrats.

The outlook for the bill's passage in the Legislative Assembly is dubious.

Leaders from five parties — the National Liberation Party, Christian Democratic Alliance, Broad Front, Social Christian Unity Party and Libertarian Movement — publicly said they will vote against the government's plan.

Instead of raising taxes, they said the government should make further efforts to cut public spending and improve tax collection.

During the full Assembly's session on Wednesday, Libertarian Movement leader Otto Guevara Guth said his party will vote "against taking more money out of Costa Ricans' pockets."

Social Christian Unity Party leader Rafael Ortiz Fábrega said his party "will not tolerate employers and taxpayers having to pay for the government's inefficiency."

He said his party won't approve any tax reform as long as the government fails to propose concrete measures for reducing spending.

Comments and suggestions regarding the proposed reforms must be submitted via a template available on the Finance Ministry's website and emailed to: cordobazm@hacienda.go.cr or esquiveljm@hacienda.go.cr or sent by fax: 2255-4874.

The deadline to send comments is March 27.
6. Another One Bites the Dust...

Costa Rican company Transportes Internationales GASH dismissed 65 workers in early March "due to a recent drop in cargo volumes," general manager Luis Guillermo Solís Fernández announced in a news release this week.

"Cargo volumes have severely declined in the last three months, therefore the company was forced to take the decision to reduce our staff," the statement said.

The general manager said the firm hoped to regain cargo handling levels in the near future "in order to reinstate the dismissed posts and to support the country's stability and economic growth."

GASH has been in the cargo transport market for over 60 years and currently owns a fleet of 300 semi trailers, according to the company's website.

The company offers transport services throughout Central America and currently has offices in San José and also at Moín and Caldera ports on the Caribbean and Pacific coasts. It also owns a terminal in Nicaragua.

The layoffs at GASH add to recent announcements from companies closing shops or moving operations abroad, including Wendy's, Burger King, Bagelmen's, Incesa Standard and most recently Alimentos Jack's.

Several cited high production costs in Costa Rica, increasing public utility rates and high taxes as reasons for leaving.
Brian, Lita, the Late Hugo IV, irreverent Vicka, the pigeon toed parrot, Chico II and Chica II