Dear friends,
When I started Residencias Los Jardines, I started writing a weekly news letter -determined to tell all the good, bad, and the ugly. I knew some readers would be interested in the construction process. I expected others might be interested in the lifestyle of two people who had decided to live outside the box. For others, the adventures of Lita, the parrot and the cat took on an entertainment saga all its own.
Residencias Los Jardines is finished. We periodically have resales and rental availability. Some readers may be interested in this information.
Brian Timmons
DEVELOPER / PROPERTY MANAGER
Residencias Los Jardines / https://www.residenciaslosjardines.com info@residenciaslosjardines.com
ResidenciasPropertyManagement@gmail.com
Featured house this week
Paradisus Condos / Rohrmoser
FOR SALE / FOR RENT
Residencias Los Jardines
Property Management, Rentals, Re-Sales
Market Activity
Sales: no inquiries.
Rentals: several inquires, no follow thru.
FOR SALE
Unit #114: $235,000 / See Unit
Unit #116: $214,000 / See Unit
FOR RENT
Unit #112: $1,500 mo. / March-April / See Unit
Unit #113: $1,400 mo. / Immediately / See Unit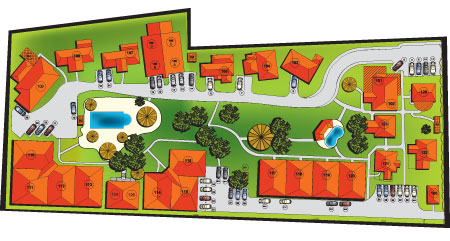 HOUSES FOR SALE
UNIT #114
FOR SALE $235,000
Total Area (Sq Ft): 1290
Total area (Sq M): 120
Bedrooms: 2
Bathrooms: 2
Floor(s): Single Floor
Type: Attached
Furnished: Yes
This 1,290 sf. (plus covered parking for one car and two lockers 67 sf.) single story, semi detached house, with garden terrace, two bedrooms is a beautiful executive style home. This home consists of two large bedrooms one with six piece en-suite bathroom with additional access to separate full shower. Each bedroom has large closets with extensive built-ins for personal organization. The vaulted living room and bathroom ceilings provide a feeling of grandeur while allowing the warmer air to rise and exit through the ceiling ventilating system. There are four TVs (one in each bedroom, one in the living room and one in breakfast / dinning room.) This is a beautiful well appointed home.
UNIT #116
FOR SALE $214,000
Total Area (Sq Ft): 1290
Total area (Sq M): 120
Bedrooms: 2
Bathrooms: 2
Floor(s): Single Floor
Type: Semi-Attached
Furnished: Yes
This 1,290 sf single floor home includes a 300 sf front terrace plus parking for one car and a separate, secure storage locker. It is and end unit and therefore attached on only one side by a 6 inch cement demising (common) wall, which prevents sound transfer.
HOUSES FOR RENT
UNIT #112
$1,500 mo. March-April
Total Area (Sq Ft): 1290
Total area (Sq M): 120
Bedrooms: 2
Bathrooms: 2
Floor(s): 1 Story
Type: Attached
Furnished: Yes
This 1,290 sf single floor home includes a 300 sf front terrace plus parking for one car. It is attached on two sides by a 6 inch cement demising (common) wall, which prevents sound transfer.
UNIT #113
$1,400 mo. Immediately
Total Area (Sq Ft): 1290
Total area (Sq M): 120
Bedrooms: 2
Bathrooms: 2
Floor(s): 1 Story
Type: Semi-Attached
Furnished: Yes
This 1,290 sf single floor home includes a 300 sf front terrace plus parking for one car. It is attached on one side by a 6 inch cement demising (common) wall, which prevents sound transfer. The three other sides allow light, ventilation and garden views.
Our Lives
WEATHER: Normal beautiful weather sometimes with normal strong winds...
Follow Ups:
Short Term Rental: A great opportunity for someone wanting to escape N. Am. / European winter.
Lousy Power: We have unreliable electricity and frequent power surges which cause all type of problems. Around mid Feb. several people lost modems, I lost a UPS and a Magic Jack, and a large condominium complex in Santa Ana lost an expensive motor. For Los Jardines, I have urged the installation of a surge protector on the main power supply but that suggestion fell on deaf ears... I could not find a new Magic Jack in CR... Radio Shack used to carry them but not now... I had to bring one in the the States... getting it connected has proved very frustrating... not such thin as plug-and-play in the electronics industry... the biggest myth around.
News Items of the Week
Comments:
1. Gas Prices: they have gone up but not nearly to the levels of a few months ago. Also, they are scheduled to go back down next month. So goes the yo-yo here...
2. Burger King... having to make some adjustments to locations having difficulty. Remember, Wendy's packed up and left completely a month or so ago.
3. Cloud Accounting: it's now possible but to file in CR, the reports have to be in colones and in Spanish...
4. Private Power and ICE: ICE is not going to give in to this easily. They have continued to thwart this for several years. A person came to Los Jardines to set up shop in CR because he felt there as a great opportunity. Since he was just off the proverbial boat, I expressed my view that it wasn't going to be as easy as he expected. So far, I'm right.
5. Solis and the Press: He doesn't like criticism... unlike the former president, he hasn't yet sought to sue anyone for defamation / slander but let's wait...
6. Rental Increase Limits: this bill has been discussed previously. Rents in US dollars are fixed for the term. Rents in Colones have been allowed to increase up to 15%... the difference being that historically, the colon has had substantial inflation. As of now, the market is such that it is difficult to raise rates due to the supply.
1. Gas Prices go Up

The Public Services Regulatory Authority approved an increase in fuel prices that will raise the per-liter price up to ¢42 later this week.

The increase is the first this year and comes after eight consecutive cuts approved since July.

The newly-approved hikes mean the per-liter price of Super gasoline will rise from ¢536 to ¢570, Plus from ¢503 to 545 and diesel from ¢474 to ¢493.

The new prices will go into effect at midnight following publication in the official newspaper La Gaceta, expected to occur later this week.

The National Oil Refinery said the price hikes were necessary because international fuel prices have gone up, and because maintenance work at U.S. refineries have caused a decrease in fuel production.

Authorities also said that several strikes at refineries are affecting prices for other countries.

The first decrease this year, approved on Jan. 15, was the most significant since 2010.
2. Franchise owner of Burger King in Costa Rica closes four restaurants

BK Centroamérica, the franchise owners of Burger King restaurants in Costa Rica, announced plans to close four of its 33 locations in the country, adding to a wave of franchise closures in recent months. BK Centroamérica also said it would lay off 39 of its 462 employees.

In a news release on Sunday, the company confirmed that in coming weeks it will close three restaurants in Heredia province plus a restaurant at mall Paseo Metrópolis in Cartago. The franchise firm said those locales "are not financially viable, are located in non-strategic areas and are showing poor sales results."

General Manager in Costa Rica Mario Jiménez said that despite the closures the company is looking for better locations to open new restaurants. He also stressed that the company would meet all of its labor responsibilities to employees under Costa Rican law.

So far this year two restaurant franchises have closed operations in Costa Rica. U.S. burger chain Wendy's closed its 10 restaurants on Jan. 8 and local coffee shop chain Bagelmen's shut its seven locations and fired 110 employees on Jan. 24.

At the time the president of the Costa Rican Restaurants Chamber Jorge Figueroa told The Tico Times that more closures in the local food and beverage industry were expected. He said the fast food market in Costa Rica was seeing signs of saturation, particularly in the western and eastern sectors of the San José metropolitan area.

Figueroa also blamed the government's "lack of clear economic policies and strategies," which he said were causing uncertainty for entrepreneurs.
3. Cloud accounting a boon for expats and snowbirds
By Garland M. Baker, Special to A.M. Costa Rica

Times are changing. Cloud accounting is here and here to stay. It is scalable, cost-effective and easy to use. This is great news for expats, tourists and locals alike.

Cloud accounting means freedom, freedom to roam the world while monitoring one's financial matters and business endeavors. It is nothing more than using software and services in the cloud via the Internet.

Software as a Service, commonly referred to as SaaS, can be the key in keeping up with Costa Rica's fast changing tax regulations.

It's especially useful for those expats trying to managing a Costa Rican business from some other part of the world.

Many expats renting their second homes short-term here are not collecting and remitting sales taxes as required by law. Ticos working in San José with vacation homes in other parts of the country are culprits too. Others do not pay income taxes if they make a profit in a business venture.

Some are willing tax evaders. Others just find keeping up too difficult because they find accounting tedious.

The good old days when the tax department was lackadaisical are over. Those evading taxes need to wake up. Some apartment and villa owners are reporting that homeowners associations are turning in tax dodgers on short-term rentals. Other are prohibiting the activity if owners cannot confirm tax compliance.

Getting up-to-date does not need to be difficult or time consuming. It also has other benefits. Renting property legally can exempt owners from taxes under Law 8683. Most people refer to this assessment as the luxury tax.

The answer to simplified accounting is in a single-ledger system. This means having one set of books in the cloud accessible by all the users connected to the system.

The accounting to run a business, track investments, and prepare tax returns is all in the ledger.

Xero, Kashoo, Wave Accounting, Zoho Books, Freshbooks and FreeAgent all offer single-ledger options. QuickBooks' new international offering, QuickBooks Online Global, is giving the contenders a run for their money. It is designed for small businesses aspiring to save time and mental energy by simplifying small business accounting. It allows full capabilities to up to five users and limited functionalities for an unlimited number of others.

How does cloud accounting work?

It is simple. Just like all accounting, it is based on a chart of accounts, customers, suppliers, employees and transactions. The latter transactions, are made up of invoices, payments, bills, expenses and other types of activity and documents to produce reports like a balance sheet and profit and loss statement among others.

What makes it better is that these transactions can be input into the cloud accounting system by using a smartphone, tablet, or computer. Receipts can be photographed or scanned and then attached to the transactions.

Originals, in most cases can be trashed. Yes, thrown away.

The tax department's resolution number DGT-02-09 of 2009 and clarification AIA-I-013-2010 states in summary that as long as documents are kept in good conservation with adequate backup procedures they do not need to be physical. They can be stored digitally.

Keeping one's own backup system is very expensive. However, nowadays, there are a multitude of cloud backup options. The key players in this area are Amazon, Google, Dropbox, and Box. There are many others. New companies are emerging all the time to fill in the gaps where the leaders are weak. This is especially true in the area backup services.

Google is one of the pioneers of these new services and one of the least expensive. Microsoft has only recently in the last few years decided it should get on the bandwagon with its OneDrive and Office 365 offerings.

Several owners of luxury villas in Playas del Coco have converted their entire rental operation to digital. All accounting is done in the cloud. All paper is scanned and attached to transactions. The partners in the villas live in different parts of the world. They all have access to the system and keep tabs on it daily.

SaaS is not just for small business. A foreign cattle rancher with a big operation in Costa Rica moved his entire accounting into the cloud using a different twist. He uses QuickBooks Enterprise, a desktop based system, and hosted it with Elucentra Cloud Services.

His employees use smartphones to send accounting documents to an independent accounting office run by certified public accountant Kevin Chavarria located in San José. He is a pioneer in QuickBooks hosted desktop.

All this may sound a bit techie for some, but really it is not. It is all pretty simple stuff, and it is getting easier to use by the day.

In almost all areas of business, it is now possible to get rid of paper entirely. Digital documents are simpler, easier to store and send, more searchable and more versatile than paper. It has taken almost a decade but online accounting solutions are closer to rivaling more complicated desktop systems.

Expats should dump the paper, move into the cloud, and manage business from anywhere as they join the freedom revolution.
4. Private power generating being sabotaged, solar representative says
By the A.M. Costa Rica staff

A decision on solar power by the nation's regulatory agency has a local firm suggesting that government interests are sabotaging the idea.

The regulator is the Autoridad Reguladora de Servicios Públicos. According to Paul Furlong of CRSolar, the agency has approved an unfair tariff that only will benefit large commercial companies.

His firm sells and installs solar panels.

The tariffs involve homeowners and businesses that put solar panels on the roof to generate electricity themselves. The plan has been that the power utility would compensate those who invest in solar panels for any excess that is put into the national grid.

Furlong said that regulations approved Thursday actually charge those with solar panels for the electricity they produce. The Autoridad Reguladora issued a press release Friday that is at best ambiguous on this point.

The board of directors established unanimously the mechanism to calculate the tariffs for generation with alternative sources, including solar, wind, bio systems and similar, said the release Furlong said the tariffs are what the persons generating the alternative energy have to pay, not what the power utility has to pay them.

The regulatory agency did not release the text of the decision, but the document soon will be published in the La Gaceta official newspaper.

There also are a series of hearings scheduled around the country at 5 p.m. today on the topic, said Furlong.

The regulating agency wants to charge solar producers by the kilowatt, said Furlong, adding: "This means they'll charge you for your savings on electric consumption, about 25 percent of what you'd have paid if you just bought it straight from the power company! Such a deal!"

Furlong said that he believes the tariff will be 27 colons for every kilowatt used, no matter if solar panels produce it or if it comes from a power company like the Instituto Costarricense de Electricidad.

"In other words, they're charging us for the loss of income they have because we decided to produce our own electricity using solar panels" he said.

He said this approach will kill the goose that laid the golden egg.
5. Solis and the Press

It's just as common for a president to rail against the press when the headlines aren't rosy enough for his or her taste. This administration's battle began last Sunday when President Luis Guillermo Solís wrote on op-ed lambasting Costa Rican national media for what he perceived as unethical and irresponsible reporting on his government and its policies. Solís continued his charge on Tuesday during his weekly press conference.

"Information becomes a weapon — and I'm using that term deliberately — a weapon that can do great damage to a democracy like this one that defends freedom of expression," Solís told reporters gathered at Casa Presidencial.

"This is not about deflecting responsibilities from the government," Solís said, "It's about debating the role of the media in a democracy that does not tell the full truth, perverts it, or even reports something false."

The comments came on top of Solís's bitter op-ed printed Sunday in the daily La Nación. In it, the president complained about daily harassment from the press "in which the use of alarmist or openly false headlines, of highlighted bad news and very well concealed good news has become the rule."

He also wrote: "If an alien came to San José and read some media outlets these days, it would think Costa Rica is on the edge of an economic and social catastrophe."

La Nación defended its coverage in a long and detailed editorial on Tuesday. It diligently noted all the days it had published stories about much of what Solís considers the good news of his administration, like the pending construction of the new Moín terminal (groundbreaking is scheduled for this weekend), the recently-approved Alajuela-San Ramón highway project and the Route 32 expansion.

In the case of La Nación's Route 32 coverage, the paper noted that it would have been impossible to ignore the doubts expressed by Solís's own party starting when the deal was first negotiated by the former administration of Laura Chinchilla (2000-2014). The paper noted that Solís's own Public Works and Transport Minister, Carlos Segnini, repeated those doubts before the Legislative Assembly.

"The sudden change of heart is, at the least, noteworthy," the editorial stated.

Observers told The Tico Times that the president's attempt to call out his critics might well end up further complicating his relationship with the media.

Political analyst Constantino Urcuyo said that the president's jeremiad might have been cathartic but it had no apparent political value besides starting a fight with the media. Urcuyo said that presidents forget how much they need the media to push their agenda and how fickle the press can be with its praise.

"I would tell Solís to pray the media does what he wants 5 percent of the time; I'd be happy with that," Urcuyo said.

Marlon Mora, president of the Costa Rican Journalists' Association, was similarly unsympathetic to Solís's tongue-lashing.

"[President Solís] needs to talk about public policy as president, not start fights with the media," Mora said.

He said taking a confrontational stance with the press did little to push Solís's agenda or to get out the message that he alleges the media has been ignoring.
6. Proposed Law to Limit Rental Increases Advances

The Legislative Commission on Legal Affairs unanimously approved a draft bill this week that would decrease the amount landlords are allowed to hike the rent each year for houses and apartments.

According to the country's current Rent Law, each year landlords can set increases up to 15 percent on monthly rent.

The proposed change in legislation would allow for rent hikes up to the average inflation rate recorded over the past 12 months — the interannual inflation rate — as reported by the National Institute of Statistics and Census (INEC) and Costa Rica's Central Bank. The bill would also cap rent increases at 10 percent.

As an example, a tenant who ended his yearly contract in February might be subject to a monthly rent increase of 3.53 percent, which is the interannual inflation rate for that month, according to the Central Bank.

Bill #18,067 "Amendment to Article 67 of the Rent Law" was first drafted in 2012 by former Broad Front Party lawmaker and presidential candidate José María Villalta. But the proposal never had enough support to make it to the full Legislative Assembly for discussion.

Now, the bill will move to the Assembly's main agenda for discussion and possible approval.

According to INEC, in 2014 there were 1,399,271 houses in Costa Rica, of which 265,503 were rentals. More than 850,000 people live in rented homes or apartments here.
Brian, Lita, the Late Hugo IV, irreverent Vicka, the pigeon toed parrot, Chico II and Chica II