Dear friends,
When I started Residencias Los Jardines, I started writing a weekly news letter -determined to tell all the good, bad, and the ugly. I knew some readers would be interested in the construction process. I expected others might be interested in the lifestyle of two people who had decided to live outside the box. For others, the adventures of Lita, the parrot and the cat took on an entertainment saga all its own.
Residencias Los Jardines is finished. We periodically have resales and rental availability. Some readers may be interested in this information.
Brian Timmons
DEVELOPER / PROPERTY MANAGER
Residencias Los Jardines / https://www.residenciaslosjardines.com info@residenciaslosjardines.com
ResidenciasPropertyManagement@gmail.com
Featured house this week
Paradisus Condos / Rohrmoser
FOR SALE / FOR RENT
Residencias Los Jardines
Property Management, Rentals, Re-Sales
Market Activity
Sales: no inquiries.
Rentals: several inquires, no follow thru.
FOR SALE
Unit #114: $235,000 / See Unit
Unit #116: $214,000 / See Unit
FOR RENT
Unit #112: $1,500 mo. / March-April / See Unit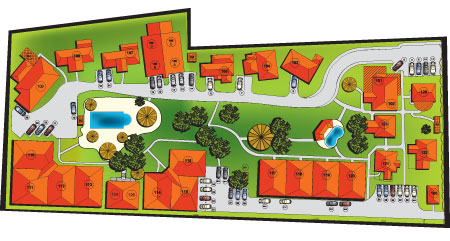 HOUSES FOR SALE
UNIT #114
FOR SALE $235,000
Total Area (Sq Ft): 1290
Total area (Sq M): 120
Bedrooms: 2
Bathrooms: 2
Floor(s): Single Floor
Type: Attached
Furnished: Yes
This 1,290 sf. (plus covered parking for one car and two lockers 67 sf.) single story, semi detached house, with garden terrace, two bedrooms is a beautiful executive style home. This home consists of two large bedrooms one with six piece en-suite bathroom with additional access to separate full shower. Each bedroom has large closets with extensive built-ins for personal organization. The vaulted living room and bathroom ceilings provide a feeling of grandeur while allowing the warmer air to rise and exit through the ceiling ventilating system. There are four TVs (one in each bedroom, one in the living room and one in breakfast / dinning room.) This is a beautiful well appointed home.
UNIT #116
FOR SALE $214,000
Total Area (Sq Ft): 1290
Total area (Sq M): 120
Bedrooms: 2
Bathrooms: 2
Floor(s): Single Floor
Type: Semi-Attached
Furnished: Yes
This 1,290 sf single floor home includes a 300 sf front terrace plus parking for one car and a separate, secure storage locker. It is and end unit and therefore attached on only one side by a 6 inch cement demising (common) wall, which prevents sound transfer.
HOUSES FOR RENT
UNIT #112
$1,500 mo. March-Aprl
Total Area (Sq Ft): 1290
Total area (Sq M): 120
Bedrooms: 2
Bathrooms: 2
Floor(s): 1 Story
Type: Attached
Furnished: Yes
This 1,290 sf single floor home includes a 300 sf front terrace plus parking for one car. It is attached on two sides by a 6 inch cement demising (common) wall, which prevents sound transfer.
Our Lives
WEATHER: We had several showers this week which always helps the garden... other than that, normal beautiful 24C / 78F days with breeze...
Follow Ups:
Ryan Piercy: He reappeared by taxi last Sunday...the OIJ (investigative branch of law enforcement (?) are still using the term "alleged" kidnapping and didn't conduct an interview with him for a number of days... Many people I know, think there is much more to the story and I think so as well. The whole reporting just doesn't follow normal form.
Short Term Rental: A great opportunity for someone wanting to escape N. Am. / European winter.
Lindora Blvd: 16 mo. ago the government announced that this street would be widened beginning last January... that didn't happen (surprise) but work is now on-going. Traffic will be chaotic during the process... hopefully, the work will improve the traffic flow and improve the safety.
New Construction: One new building is being completed now... what it will be is still a mystery but there is very limited parking being provided... typical. A huge development started several years ago, shutdown for ?? reasons, has now started up again... three cranes have been erected and people all over the place. It appears to be another large commercial mall perhaps with offices above. It is across from the McDonald's restaurant. The Santa Ana City Center Center continues to take shape... the gray work is nearing completion and with it the structure itself. At this point in time it appears that it is going to be mostly and enclosed mall. I don't see any street and other side to what could be to which it was described as being similar...
People I speak with in the investment group feel that CR will continue to muddle along, continue to wonder when the reality crash will come, wonder where all the money is coming for the new cars, buildings, and restaurants, where replacement ex-pats will come from, etc. A number would like to sell their houses but have no buyers...they will stay put until that happens...
News Items of the Week
Comments:
1. CR and credit rating: CR was proud that the third rating agency didn't drop them to junk status...just one grade above - but said the outlook remained "stable"...
2. Jack's leaves: the snack food giant is moving the bulk of this production out of CR..mainly to the US, El Salvador. They cited the uncertainty of doing business in CR and the cost...
1. Standard & Poor's maintains Costa Rica sovereign debt rating at BB/B

The New York-based ratings agency Standard and Poor's maintained its "BB/B" long and short-term credit rating for Costa Rica Thursday afternoon, adding that the outlook appears stable, according to a statement.

The company also reaffirmed its transfer and convertibility assessment for Costa Rica at "BBB-," the agency's lowest investment grade.

S&P's statement was sanguine in the face of the country's rising budget deficit, predicting that the government would be able to contain runaway debt through higher tax revenues and budget controls in the next two years. The rating agency's forecast breaks with gloomy predictions recently from other groups, including Fitch Ratings and the Eurasia Group.

Standard & Poor's also noted that Costa Rica would likely see an improving economy thanks to a recovering U.S. economy, the country's largest trade partner, and low international oil prices. A stable political system and continued foreign direct investment would buffer Costa Rica during the next two years from the immediate effects of the deficit, the statement said.

"Standard & Poor's decision show confidence in the efforts of the government to secure the approval of tax measures that will be presented to the Congress in the coming weeks," Vice President and Finance Minister Helio Fallas said in a statement Thursday. Those measures include a bill that would establish a value-added tax.
2. High costs in Costa Rica scare off Jack's Foods

Local firm reported that for these reasons the production to the United States and El Salvador, especially, as well as Nicaragua and Chile will take.

Andrés Ignacio Pozuelo, president of Food Jack's, argued that in Costa Rica are given second-class treatment to companies of local capital.

He know how many of the 700 employees of the template will be affected, but acknowledged that there will be impact.

According to the businessman, in the next five years, the company expected to invest $ 10 million, generating at least 200 additional places.

Defence. The Minister of Economy, Industry and Trade (MEIC), Welmer Ramos said that in all economies inputs and outputs are presented companies and, on balance, Costa Rica has more income. Meanwhile, the chief of the Ministry of Labour and Social Security, Victor Mora Morales defended the Government's efforts to create jobs and to raise the competitiveness of enterprises. He said that between January and February this year, several companies announced 5,795 new jobs.

Morales added that the Alliance for Jobs and Production Development strategies for creating spaces are refined, while seven productive sectors were identified to develop short-term, aimed at improving the competitiveness of firms shares. The latter, he said, was in line with the Costa Rican Union of Chambers and Associations of Private Business Sector (Uccaep).
Brian, Lita, the Late Hugo IV, irreverent Vicka, the pigeon toed parrot, Chico II and Chica II