Dear friends,
When I started Residencias Los Jardines, I started writing a weekly news letter -determined to tell all the good, bad, and the ugly. I knew some readers would be interested in the construction process. I expected others might be interested in the lifestyle of two people who had decided to live outside the box. For others, the adventures of Lita, the parrot and the cat took on an entertainment saga all its own.
Residencias Los Jardines is finished. We periodically have resales and rental availability. Some readers may be interested in this information.
Brian Timmons
DEVELOPER / PROPERTY MANAGER
Residencias Los Jardines / https://www.residenciaslosjardines.com info@residenciaslosjardines.com
ResidenciasPropertyManagement@gmail.com
Featured house this week
Paradisus Condos / Rohrmoser
FOR SALE / FOR RENT
Residencias Los Jardines
Property Management, Rentals, Re-Sales
Market Activity
Sales: no inquiries.
Rentals: one showing.
FOR SALE
Unit #114: $235,000 / See Unit
Unit #116: $214,000 / See Unit
FOR RENT
Unit #112: $1,500 mo. / March-April / See Unit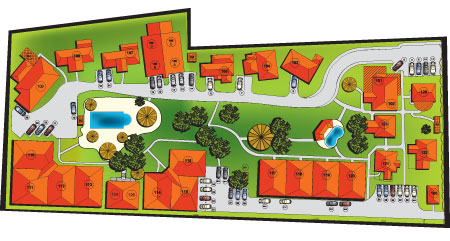 HOUSES FOR SALE
UNIT #114
FOR SALE $235,000
Total Area (Sq Ft): 1290
Total area (Sq M): 120
Bedrooms: 2
Bathrooms: 2
Floor(s): Single Floor
Type: Attached
Furnished: Yes
This 1,290 sf. (plus covered parking for one car and two lockers 67 sf.) single story, semi detached house, with garden terrace, two bedrooms is a beautiful executive style home. This home consists of two large bedrooms one with six piece en-suite bathroom with additional access to separate full shower. Each bedroom has large closets with extensive built-ins for personal organization. The vaulted living room and bathroom ceilings provide a feeling of grandeur while allowing the warmer air to rise and exit through the ceiling ventilating system. There are four TVs (one in each bedroom, one in the living room and one in breakfast / dinning room.) This is a beautiful well appointed home.
UNIT #116
FOR SALE $214,000
Total Area (Sq Ft): 1290
Total area (Sq M): 120
Bedrooms: 2
Bathrooms: 2
Floor(s): Single Floor
Type: Semi-Attached
Furnished: Yes
This 1,290 sf single floor home includes a 300 sf front terrace plus parking for one car and a separate, secure storage locker. It is and end unit and therefore attached on only one side by a 6 inch cement demising (common) wall, which prevents sound transfer.
HOUSES FOR RENT
UNIT #112
$1,500 mo. March-Aprl
Total Area (Sq Ft): 1290
Total area (Sq M): 120
Bedrooms: 2
Bathrooms: 2
Floor(s): 1 Story
Type: Attached
Furnished: Yes
This 1,290 sf single floor home includes a 300 sf front terrace plus parking for one car. It is attached on two sides by a 6 inch cement demising (common) wall, which prevents sound transfer.
Our Lives
WEATHER: Still windy but the strength seems to be backing off.
Follow Ups:
Ryan Piercy disappears: not a whisper of any info. --very strange. There was never any interviews with family, co-workers, friends, wife, etc.
Short Term Rental: see Unit 112 below.
News Items of the Week
Comments:
1 & 3. Economic Predictions and Jobs: like lots of cases, here, the government picture is different from the real economy. Most businesses surveyed do not plan on hiring additional staff this year. Having said that, there is currently a job fair looking to fill a number of jobs... the take is that yes, there are vacancies but not net increased in positions.
2. Gas Price Calculations: the algorithm has been screwed up for years but while it was bringing in lots of revenue, the government didn't mind. Now that the methodology isn't bringing in enough to subsidize the government, they want to change it. One of the obvious factors in the algorithm was the cost of refining which CR hasn't done for years due to rusted and broken equipment.
1. Economic predictions appear to be way out of sync
By the A.M. Costa Rica staff

There are mixed signals from the economy. On the one hand, the confidence of a panel of business leaders has dropped 8 percent.

On the other, a job fair over the weekend hopes to fill 2,000 places for bilingual employees. And an established car rental business reported Monday that it is adding the Enterprise-Rent-a-Car franchise in addition to the two it already holds.

The business panel is a continuing feature of the Unión Costarricense de Cámaras y Asociaciones del Sector Empresarial Privado. The panel consists of 462 businesses. The outlook reported Monday was not rosy:

• Seven out of 10 firms said they would not make new hires for the year.

• Some 14 percent say they plan layoffs.

• Some 38 percent said they think the economic climate is worse than a year ago.

• The confidence index fell from 6.5 to 5.9 on a 10-point scale. The index measures expectations for the second three months of the year.

• Some 41 percent predict that the economic growth for the year will be from 0 to 2 percent and lower than the 3.5 percent predicted by the Banco Central.

• Some 58 percent see inflation being from 3 to 4 percent and the cost of living to increase by 8 percent by the end of the year.

The Unión Costarricense de Cámaras already has expressed its concern with the closing of some businesses in Costa Rica and statistics that show 228,000 persons unemployed in the country. The chamber has called for a declaration of a national emergency.

The job fair that starts Friday in the Antigua Aduana is sponsored by the Coalición Costarricense de Iniciativas de Desarrollo, known as CINDE. This is the 11th such annual event. The organization is asking Job seekers to register at its Web site in advance of the three-day event. At least 46 firms are expected to attend.

At the same time firms like Amazon are advertising on billboards in English for employees.

The minister of Trabajo, Víctor Morales Mora, said last week that the employment situation the country was due to some 60 percent of the job seekers having failed to complete a secondary education.

Clearly anyone who is fluent in English, Portuguese or some other languages will be able to find a job at the fair.

Other observers have blamed the disproportionately excessive salaries of the government for hoarding skilled workers.

It was Grupo ANC that said it was adding the Enterprise name to its existing brands, Alamo and National. The firm also will offer the rental car services in Nicaragua and Guatemala.

The firm that has a 45-year presence in the country must be aware that the rental car market led to the closing of several firms in the last few years.

In fact, the situation in the car rental market reflects the larger economy. Tourists have become more frugal. The rental car industry in particular has been the target of claims by customers that they were cheated. There are Web site postings by persons who did not receive the return of deposits or the rental clerk found previously unnoticed damage to the vehicle upon return.

Many firms rely on the free advertising they get from various travel guides, but posts are disproportionately by the discontented.

Many of these firms and others in the tourism business do not have a consistent and aggressive marketing program.
2. Fuel price computation change proposed
By the A.M. Costa Rica staff

The nation's price regulating agency plans to revise the way fuel prices are computed. The new proposal will be presented to the public March 10.

The Refinadora Costarricense de Petróleo is the state-owned fuel monopoly, and it has been criticized for the excessive costs of its operation. The firm has not actually refined fuel for years and simply imports the product and distributes it.

The Autoridad Reguladora de Servicios Públicos computes the price of fuel each month based on international prices and the dollar exchange rate. Fuel prices have not fallen as abruptly as the international price.
3. Job Fair Opportuntities

Recruiters will look to hire both technical and professional staff in several areas.

This is a good week for job-seekers in Costa Rica as three separate job fairs will feature openings for 5,000 posts starting Tuesday.

Universidad Latina will host the first, where 30 companies will be looking to fill some 900 vacancies in management and administrative and operational posts.

Entrance is free and open to the public from 10 a.m. to 6 p.m. at the university's campus in Heredia on Tuesday, and at their San Pedro campus on Wednesday.

Recruiters will be looking to hire staff in the following areas: management, communications, web design, information technology, sales, marketing, tourism, engineering, accounting, finances, human resources and customer service, among others.

Participating companies include: Intel, IEEE, Enhmed, Multivex, Amazon, Sykes, Lafise Bank, Pepsi, Let's go internship, Pantera Negra Global, Growth Acceleration Partners, Rule Financial, Hewlett Packard (HP), LI Bean, Coopenae, TIMS, McKinsey, Belcorp, Teleperformance, Phillip Morris tobacco, Western Union, CIAP, QSR International (KFC, Quiznos), Hotel Andaz, Cemex, KCC, Terranova Travel Agency and Unilever.

From Feb. 20-22, the Costa Rican Investment Promotion Agency (CINDE) will host its XI CINDE Job Fair at the Antigua Aduana facilities east of downtown San José, where 3,800 posts will be available.

CINDE's fair aims primarily at attracting staff fluent in two or more languages, as vacancies are for multinational companies attracted to Costa Rica by the agency.

This year's edition will bring together a total of 48 companies from the services, advanced manufacturing, life sciences and human resources sectors. They will be looking to hire staff with an advanced command of English, Portuguese, French, Italian, German and Mandarin.

Openings are available in both professional and technical areas, including accounting, human resources, finances, engineering, web development, software development, information technology, network administration and others.

Those interested in attending the fair should fill out an online pre-registration form with personal details, contact information and work experience. For a full list of participating companies and to fill out the form, click here.

The municipality of the southwestern San José canton of Escazú also will host a two-day job fair starting Thursday, which brings together 23 companies from the commerce and services areas, all based west of the capital.

The fair will be held at Escazú's central park from 9:30 a.m. to 3:30 p.m., and recruiters will accept both print and digital résumés.
Brian, Lita, the Late Hugo IV, irreverent Vicka, the pigeon toed parrot, Chico II and Chica II