Dear friends,
When I started Residencias Los Jardines, I started writing a weekly news letter -determined to tell all the good, bad, and the ugly. I knew some readers would be interested in the construction process. I expected others might be interested in the lifestyle of two people who had decided to live outside the box. For others, the adventures of Lita, the parrot and the cat took on an entertainment saga all its own.
Residencias Los Jardines is finished. We periodically have resales and rental availability. Some readers may be interested in this information.
Brian Timmons
DEVELOPER / PROPERTY MANAGER
Residencias Los Jardines / https://www.residenciaslosjardines.com info@residenciaslosjardines.com
ResidenciasPropertyManagement@gmail.com
Featured house this week
Paradisus Condos / Rohrmoser
FOR SALE / FOR RENT
Residencias Los Jardines
Property Management, Rentals, Re-Sales
Market Activity
Sales: no inquiries.
Rentals: one showing.
FOR SALE
Unit #114: $235,000 / See Unit
Unit #116: $214,000 / See Unit
FOR RENT
Unit #112: $1,500 mo. / March-April / See Unit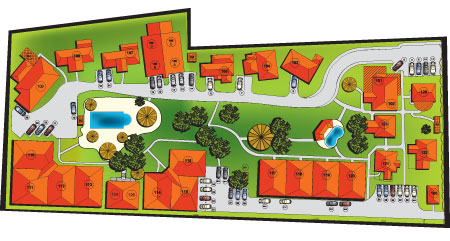 HOUSES FOR SALE
UNIT #114
FOR SALE $235,000
Total Area (Sq Ft): 1290
Total area (Sq M): 120
Bedrooms: 2
Bathrooms: 2
Floor(s): Single Floor
Type: Attached
Furnished: Yes
This 1,290 sf. (plus covered parking for one car and two lockers 67 sf.) single story, semi detached house, with garden terrace, two bedrooms is a beautiful executive style home. This home consists of two large bedrooms one with six piece en-suite bathroom with additional access to separate full shower. Each bedroom has large closets with extensive built-ins for personal organization. The vaulted living room and bathroom ceilings provide a feeling of grandeur while allowing the warmer air to rise and exit through the ceiling ventilating system. There are four TVs (one in each bedroom, one in the living room and one in breakfast / dinning room.) This is a beautiful well appointed home.
UNIT #116
FOR SALE $214,000
Total Area (Sq Ft): 1290
Total area (Sq M): 120
Bedrooms: 2
Bathrooms: 2
Floor(s): Single Floor
Type: Semi-Attached
Furnished: Yes
This 1,290 sf single floor home includes a 300 sf front terrace plus parking for one car and a separate, secure storage locker. It is and end unit and therefore attached on only one side by a 6 inch cement demising (common) wall, which prevents sound transfer.
HOUSES FOR RENT
UNIT #112
$1,500 mo. March-April
Total Area (Sq Ft): 1290
Total area (Sq M): 120
Bedrooms: 2
Bathrooms: 2
Floor(s): 1 Story
Type: Attached
Furnished: Yes
This 1,290 sf single floor home includes a 300 sf front terrace plus parking for one car. It is attached on two sides by a 6 inch cement demising (common) wall, which prevents sound transfer.
Our Lives
WEATHER: The winds have been fierce this week but otherwise the weather was perfect.
Follow Ups:
Ryan Piercy disappears: not a whisper of any info. --very strange
Short Term Rental: see Unit 112 below.
Exchange Rate: 1) Costa Rica announced they were going to allow the colon to float except for rapid changes... In week one, they intervened 3 times and spent $53 million. This week, week 2, they intervened once. The rate is virtually unchanged from two weeks ago...
A Friend of a Very Long Term Friend: The first person I met in undergraduate school, August 1964, (wow, 50 years) has a missionary friend newly arrived in CR. Through our mutual association, the missionary made contact and we are hosting he and his wife for lunch to catch up and to provide any info. I can about CR which they are requiring.
Gas Prices: too good to last very long.. they are likely to go up...
News Items of the Week
Comments:
1) New Cars Imports: they are on the rise... most financing is done in dollars, 7 yr. loans... used cars are piling up on the lots...
2) Unemployment: it's going up and the information is unreliable...
1. New Car Imports

The entry of new cars raced five years ago, according to the Ministry of Finance.

By contrast, the entry of used vehicles tends to fall since 2012, and closed the previous year by 18,000 units.

In 2014 were imported in total 52,344 railcars to Costa Rica, which meant an increase of 12% compared to the previous year.

The biggest arrival of cars, mostly new, had a positive effect on government tax revenue in 2014.

Reasons. The rise in the import of new cars is based, according to employers surveyed by The Nation, the largest credit facilities for the purchase of car.

"Today is cheaper finance the purchase of a new car than a used one. New Vehicle Loans are for a term of seven years, whereas it is used for three years, "said Allan Sime, commercial director of Purdy Motor.

Most loans for car purchase is formalized in dollars and interest rates in the US currency remain more competitive against the colon, highlighted Sime.

To Kristian Federspiel, commercial director of Cars Subaru, making more compact, economical and efficient cars, as well as the drop in fuel prices motivate consumers to buy a car agency.

Effect used. The implementation of traffic law slowed, from 2012, the arrival of used cars.

Primarily, by limiting the entry of vehicles with total loss or alteration, stressed Lilliana Aguilar, executive director of the Association of Importers of Vehicles and Equipment (Aivema).

"Other government measures such as the creation of history Odometer vehicles, or online consultation VIN (chassis number) have come to change the auto market Costa Rica," Aguilar acknowledged.

Jose Carballo, president of the Costa Rican Chamber Automotive - umbrella organization for companies selling used vehicles, said that fiscal measures hit the car import second.

"There is uncertainty in the tax paid on imported vehicles. Today we get a figure and tomorrow is another. This legal uncertainty has discouraged the import of used cars, "explained Carballo.

The Costa Rican Petroleum Refinery (Recope) confirmed that, last year, there was an increase in the consumption of super attributed mainly to a major renovation of the fleet of Costa Rica, during the 2014 gasoline.
2. New statistics show employment picture is complex
By the A.M. Costa Rica staff

A report that said unemployment has increased in the last four months of 2014 brought quick government responses.

However, the employment situation with 220,000 persons reported out of work is only represented partly by these numbers.

And additional statistic is that there are 931,000 persons working in the informal economy.

The numbers came from the Instituto Nacional de Estadisticas y Censos, which said the unemployment rate in the last third of 2014 was 9.7 percent, compared to 8.3 for the previous year.

Welmer Ramos, the minister of Economía, Industria y Comercio, quickly issued a statement saying that the government and private enterprise both hope for a reactivation of the economy.

Víctor Morales Mora, minister of Trabajo, blamed structural causes and said 60 percent of first-time job seekers have not completed secondary education. He added that cuts by the Banco Central in key interest rates would help promote consumption.

According to the statistics, women were more likely to be unemployed than men. The rate for women was 11.8 percent compared to the 8.2 for men.

Another big problem was the number of individuals who are underemployed, meaning that they are working at a job for less hours or at a lower position than they would like. That was estimated to be 18.8 percent.

In human terms the higher unemployment statistic means that there were 31,000 more persons without jobs at the end of 2014 when compared to the previous year.

The number of those employed informally confounds precise discussions of unemployment. These would be the self-employed and others who are not party to social security benefits.

Large numbers of sports book employees fall into this category because they are paid off the books. So are a large number of foreign agricultural workers.

A statement said officials expect 35 new projects using foreign investments to do this along with increases in exportation, tourism and the development of small and medium enterprises.

The government also said it would accelerate the execution of public works projects.

Private industry, however, has said economic constrictions come from the higher cost of electrical energy, taxes and social security payments for employees.

The new statistics are troubling because they reflect employment over the Christmas season, which is supposed to provide many temporary jobs. But in the last four months of 2014, the commercial sector showed fewer jobs, according to the report that was issued Thursday.
Brian, Lita, the Late Hugo IV, irreverent Vicka, the pigeon toed parrot, Chico II and Chica II