Dear friends,
When I started Residencias Los Jardines, I started writing a weekly news letter -determined to tell all the good, bad, and the ugly. I knew some readers would be interested in the construction process. I expected others might be interested in the lifestyle of two people who had decided to live outside the box. For others, the adventures of Lita, the parrot and the cat took on an entertainment saga all its own.
Residencias Los Jardines is finished. We periodically have resales and rental availability. Some readers may be interested in this information.
Brian Timmons
DEVELOPER / PROPERTY MANAGER
Residencias Los Jardines / https://www.residenciaslosjardines.com info@residenciaslosjardines.com
ResidenciasPropertyManagement@gmail.com
Featured house this week
Paradisus Condos / Rohrmoser
FOR SALE / FOR RENT
Residencias Los Jardines
Property Management, Rentals, Re-Sales
Market Activity
Sales: two inquiries, we'll see.
Rentals: one call, no show.
FOR SALE
Unit #114: $235,000 / See Unit
Unit #116: $214,000 / See Unit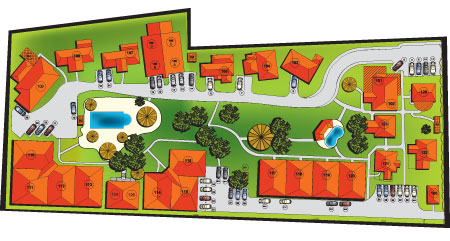 HOUSES FOR SALE
UNIT #114
FOR SALE $235,000
Total Area (Sq Ft): 1290
Total area (Sq M): 120
Bedrooms: 2
Bathrooms: 2
Floor(s): Single Floor
Type: Attached
Furnished: Yes
This 1,290 sf. (plus covered parking for one car and two lockers 67 sf.) single story, semi detached house, with garden terrace, two bedrooms is a beautiful executive style home. This home consists of two large bedrooms one with six piece en-suite bathroom with additional access to separate full shower. Each bedroom has large closets with extensive built-ins for personal organization. The vaulted living room and bathroom ceilings provide a feeling of grandeur while allowing the warmer air to rise and exit through the ceiling ventilating system. There are four TVs (one in each bedroom, one in the living room and one in breakfast / dinning room.) This is a beautiful well appointed home.
UNIT #116
FOR SALE $214,000
Total Area (Sq Ft): 1290
Total area (Sq M): 120
Bedrooms: 2
Bathrooms: 2
Floor(s): Single Floor
Type: Semi-Attached
Furnished: Yes
This 1,290 sf single floor home includes a 300 sf front terrace plus parking for one car and a separate, secure storage locker. It is and end unit and therefore attached on only one side by a 6 inch cement demising (common) wall, which prevents sound transfer.
Our Lives
WEATHER: The normal trade winds for this time of year have returned....but otherwise "perfect"...
Follow Ups:
Ryan Piercy disappears: the news media is conspicuously silent on this. There is virtually no information. The only additional info. is that his 23? yr. old son, lawyer, went missing several days after Ryan.
Giving Back: Again this event went off flawlessly and again I found it very rewarding... probably the best birthday present I've ever given myself...
CIMA: My friend is virtually completely recovered and leading a normal life... albeit with renewed enthusiasm and respect for each morning... as do the rest of us who know him.
Birthday: Last week in included a note about my birthday. I didn't expect the responses I received... I heard from people I hadn't heard from for years, and didn't even know were following / reading the blog. It was great hearing from them, a little catch up and promises of more.
News Items of the Week
Comments:
(a) Fiitch downgraded the public banks which guarantee CRs debt...
(b) The heads of state of most Central and South Am. countries were in town this week spending the public's money and accomplishing nothing. It was a farce with the leftist governments seizing the opportunity to mainly criticize the US... A great time must have been had by all...
Articles:
(1) Bank Employee Performance Bonuses: Remember that in CR the Collective Agreement includes the management... these guys, working for a government agency, gave 98% of themselves 25% of the bank's profits... hereby "reducing" the profit... their obligation is to distribute portions of their profit to other government entities... after their "performance bonuses" were paid, there was less "profit" to distribute...These are the same banks that Fitch downgraded... but for different reasons... The average "performance bonus" seems to work out to be between $29K and $4,700... depending on the bank. And note the salary of the head government bank... and I'm sure that does not include this "bonus" nor aginaldo... and other perks
(2) $3,800 jobs up for grabs... what it doesn't say is that 228,000 jobs have been lost and unemployment is rising...
(3) Lack of confidence by business leaders in Solis: this does not bode well for the future.
(4) Gas prices to drop again this week in Costa Rica: I filled up at a cost of C26,000 ($50) vs. previous costs of C42,000 ($80)
(5) Amounts owed by government agencies to CCSS (CAJA): many government agencies and government monopolies have not paid their "mandatory" contributions to the "social insurance" agency (CAJA). They are protesting the method of calculation. At the same time, the government has approached the World Bank requesting to borrow about $500,000 to make these payments... they probably want the "loan" to be forgivable... it might as well be, since it is unlikey to be paid back...
(6) Sewer Connections: San Jose is advancing the development of the black water / sewage treatment plan near La Carpio. I went past it last weekend and it appears nearing completion. AyA is installing connection pipes to take the sewage from it's source to the treatment plant; a large pipe is being laid along the river embankment near Paradisus. This work is being funded by a loan / grant from Japan which sat un-taken for years and finally two years ago, Japan said take it or loose it. This article says that a number of households have to pay for connections. In some cases, the connections will be difficult. I doubt that many will opt in...
(7) A travesty of justice but not an unexpected verdict: Acquittal of accused... on technical grounds due to the OIJ (investigative police / FBI type) incompetence... the conservation community is really disgusted and outraged by this... I am as well but I expected it...
1. Salary incentives and bonuses at public banks hurt credit options for small businesses, says comptroller general

A Comptroller General's Office report issued Monday, Jan. 26, 2015, concludes that salary bonuses at public banks hurts debtors, as the payments increase interest rates on loans.

A report made public this week by Costa Rica's Comptroller General's Office notes that from 2006-2012, three of the country's public banks spent ₡100 billion ($185 million) on salary incentives and bonuses for employees, which is the equivalent of almost a quarter of their total profits.

The report says that Banco Nacional de Costa Rica (BNCR), Banco de Costa Rica (BCR) and Banco Popular in that period spent 23 percent of their profits on performance-based bonuses for most of their employees, following guidelines set by collective agreements.

In order to pay out these bonuses, funds were cut from programs that grant loans to small and medium-sized businesses. The budgets of public agencies entitled by law to receive a part of public bank profits also were affected, including the National Emergency Commission, the pensions program of the Social Security System, and the National Commission of Educational Loans, among others.

"Salary bonuses also affect debtors, as they lead to increased interest rates on loans at these banks," the report stated.

Comptroller General Marta Acosta said that bank boards agreed to pay out these salary incentives before they were included in collective agreements. They were later added to those agreements. (Each bank negotiates its own collective agreement.)

"This situation has generated characteristics of perpetuity – meaning the implementation [of incentive payments] increasingly becomes automated, and payments are almost impossible to downgrade," Acosta said.

Acosta sent the report to board members at the three public banks and ordered them to establish mechanisms to calculate employee benefits "according to the financial situation of each bank and the socioeconomic situation of Costa Rica." She also asked the Legislative Assembly and Casa Presidencial "to take action on this issue."

On Tuesday, the president of the Union of Private-Sector Chambers and Associations (UCCAEP), Ronald Jiménez, criticized the government for its alleged "political appointments." He alleged that "in recent months the current administration has appointed people to bank boards who are not banking experts."

President Luis Guillermo Solís during his election campaign promised to eliminate appointments based on politics, but in his first seven months in office, his administration has approved several board member replacements at public banks, and at the same time, increased spending on wages, mostly for managers.

Last month, BCR President Mario Rivera was replaced by Mario Barrenechea, and although the bank reported the move would save a monthly ₡4 million ($7,561) on his salary, the actual number was only ₡1.4 million ($2,650).

BNCR President Fernando Naranjo resigned last Monday, and while he said the resignation "was not related to the comptroller's report," which was released earlier that day, a report from Telenoticias Channel 7 on Tuesday stated — without quoting specific sources — that "in recent days many rumors spread at the Legislative Assembly saying the government had been looking for an opportunity to fire Naranjo from the beginning of the administration's term in May."

Sources quoted in several Costa Rican news outlets expressed outrage at Naranjo's salary as BNCR president, a job he began in June 2010. Those reports accused Naranjo of "earning more than Barack Obama," the president of the United States.

However, President Obama's salary is $400,000, plus a $50,000 annual expense account, a $100,000 nontaxable travel account and a $19,000 entertainment budget, according to the U.S. Senate.

Naranjo's salary was $387,600.

The BNCR's board of directors on Tuesday issued a statement saying "the bank believes the conclusions reached by the Comptroller General's Office are inaccurate, as all [salary bonuses] were paid strictly according to provisions of the collective agreement."

None of the other banks' representatives have reported any intention of cutting the incentives and bonuses for employees, and public-sector unions currently are negotiating with the government a wage hike that will take effect in the second semester of this year.
2. Bilingual employment fair to offer 3,800 jobs

Job seekers at a CINDE employment fair in February 2014. More than 60 percent of businesses surveyed during the third quarter of last year said they do not plan to hire more staff in 2015.

An annual bilingual job fair held by the Costa Rican Investment Promotion Agency, or CINDE, will offer 3,800 jobs at 48 businesses from Feb. 20-22 at the Antigua Aduana in downtown San José.

Foreign companies in life sciences, light manufacturing and services are looking for workers who are fluent in English, Italian, Portuguese, French, German or Chinese, according to a statement from CINDE. Participating companies include Citi, Boston Scientific, VMWare, Cargill, Brightstar, Emerson, and Thomson Reuters, among others.

Job seekers interested in attending should pre-register at www.cindejobfair2015.com, where applicants can fill out their experience and interests electronically. Pre-registered applicants need not bring paper résumés to the fair. English and Portuguese speakers are advised to complete the free BELT exam online as a reference for job scouts during the fair.

The fair is free and will be open from 9 a.m. to 5 p.m. on Friday, Feb. 20 and Saturday, Feb. 21; and from 10 a.m. to 4 p.m. on Sunday, Feb. 22. CINDE recommends approximately three hours to visit the fair.
3. Employer chamber cites lack of confidence in Solís
By the A.M. Costa Rica staff

The private employers chamber says that its members are losing confidence in the government, and this is one reason there are 228,000 persons jobless in the country.

The chamber, the Unión Costarricense de Cámaras y Asociaciones del Sector Empresarial Privado, said it was alarmed by the increase in unemployment and the closing of companies.

The chamber in a statement noted that dozens of Costa Ricans have lost their means of income with the closing of Wendy's and Baglemen's and the decision by Avianca and Volcano to reduce job slots.

The chamber also cited firings by other employers, including Intel, the Bank of America, Ichiban, Hotel La Condesa, Hotel Europa, Cartex and Banco Cathay.

Elevated electrical rates that have increased twice the rate of inflation in 2014 and deficient infrastructure are factors that cause unemployment, said the chamber.

There is a lack of confidence in the government because of the continuing fiscal deficit, the approval of a 2015 national budget without any cuts and legal insecurity generated by President Luis Guillermo Solis' lifting of a veto on a labor reform bill that had been imposed by a past president. A slowing economy also has employers worried, the chamber said.

Reversing the unemployment trend is difficult but possible, the chamber said. It suggested stimulating confidence with less bureaucracy, legal security and the efforts of the government. It called for a declaration of emergency by the government over unemployment.

The action by Solís to lift the veto imposed by then-president Laura Chinchilla is being litigated before the Sala IV constitutional court. Solís also lifted one imposed years ago by then-president Óscar Arias Sánchez. That action is in the court, too.
4. Gas prices to drop again this week in Costa Rica

The Public Services Regulatory Authority (ARESEP) on Monday approved a new decrease in the per-liter price of fuel, the second consecutive one this month.

The approved decrease will mean a ₡43 drop in the price of Super gasoline, a ₡49 decrease for Plus gasoline, and a ₡48 decrease for diesel. Per-liter prices will change from ₡580 to ₡537 ($1.10-1.02) for a liter of Super gasoline, while Regular gasoline will change from ₡552 to ₡503 ($1.04-0.95) and diesel will decrease from ₡522 to ₡474 ($0.99-0.90).

ARESEP approved the new prices by taking into consideration a recent recent drop in the international prices of oil from $70 to $57 a barrel.

The price of cooking gas also will cost less this week, with an 8.5-liter cylinder decreasing from ₡2,725 to ₡2,597.

The new prices will take effect at midnight on the day of publication in the official newspaper La Gaceta. Once approved, prices will be on average ₡103 cheaper than those registered in January 2014.

Prices last year peaked in July when a liter of Super gasoline reached ₡816, with Plus gasoline at ₡788 and diesel at ₡676. Following that month, ARESEP has approved seven consecutive reductions in fuel prices accounting for ₡286 less in Super gasoline, ₡293 for Plus and ₡207 in diesel.
5. Collection millionaire faces the CCSS with public companies

State companies question the way the CCSS calculates the contribution of its profits to the pension fund administered by the autonomous entity. The resources have been transferred to the IVM system used by legal mandate to strengthen the system. The Fund estimates that more than 200.00 persons would gain.

A fee of ¢ 6,800 million has faced with the Costa Rican Social Security Fund (CCSS) and public enterprises.

The autonomous entity claims the payment millionaire six state companies as part of its annual contribution to the scheme of Disability, Aging and Death (IVM) profits.

However, the National Insurance Institute (INS) and the Costa Rican Electricity Institute (ICE) confirmed to The Nation that will not make any money transfer. The Costa Rican Petroleum Refinery (Recope) decided to suspend its payments.

In addition, state banks have complained to the Fund by charging said Alberto Acuña, CFO Management Service Pension Fund.

Acuña said the amount owed for 2013 earnings amounted to ¢ 6.174 million, ¢ 600 million plus accrued interest.

The actions pending payment of state companies equivalent to 5% of total receivables of IVM resources.

Late last year, the amount was more than ¢ 136,000 million, according to financial statements of the CCSS.

The autonomous institution expects that SOEs publish their results in 2014 to start the collection process in the coming months.

Article 78 of the Worker Protection Act, enacted in 2000, dictates that public companies are required to move between 5% and 15% of its profits to the pension fund of the Fund.

The first money transfer was done last year. In total, there are 10 entities must submit portions of their profits; but for the Fund, still owed resources.

The CCSS contribution calculated based on gross profit of each company. However, banks argue that this estimate should be based on the net profit.

Last year, the autonomous institution received ¢ 2.837 million of National banks, Costa Rica, Bancrédito and Correos de Costa Rica, but was estimated to perceive ¢ 9,000 million.

The purpose of money is to strengthen the pension coverage of non-salaried workers in poverty. The Fund estimates that 204,279 people would gain with the transfer of profits.

Negative. According to the autonomous institution, INS and ICE owe more than ¢ 4,400 million profit in 2013.

However, the companies argue that, after opening in insurance and telecommunications, it became clear that profits are mainly destined to compete capitalize.

"We can not do (the contribution). We are convinced that we are not required legally. Nor can grab money to give to a third party, even if the box because the law dictates invest in equity "said Sergio Alfaro, CEO of INS.

For Jesus Orozco, head of the Financial Division of ICE, the entity also applies the transfer of resources dictates Worker Protection Act.

"The rules (ICE strengthening) is clear and concise, indicating that our institution must capitalize their revenues for the implementation of its goals and objectives," said Orozco.

For his part, Edgar Gutierrez, manager of administration and finance Recope confirmed that suspended payments to the Fund, while not dictated, definitively, the methodology for establishing the contributions.

"A divergence of calculating the pending litigation against the CCSS are added by other public companies appealing collection" Gutierrez said. He added that a statement requested the Attorney General's Office is pending.

Unfounded. Moreover, the Constitutional Court rejected in previous September, the application of the Bank of Costa Rica (BCR), the National Bank and Bancrédito to eliminate the obligation to transfer part of its profits to the IVM.

Entities argue that this provision puts at a disadvantage compared to private banking and risk their stability.

However, the judges concluded that the state banks that do not move credited 15% of your earnings to the Fund endanger their capital adequacy, that are at a competitive disadvantage against private entities.
6. 125,000 families must pay for their connection to the sanitary sewer

Treatment Plant Cuts in La Uruca, registered a 85% complete, cost $ 50 million and was awarded to the Spanish company Acciona Agua. Once operating, this mega-project will remove the organic load-in up to 40% - of water now reaching the contaminated with feces and urine, chemicals and metals rivers.

Some 125,000 families living in 11 counties of metropolitan be connected to the sewer system of AyA, the first phase will start operating in June.

To do so, they will have to pay between 6,000 and ¢ ¢ 850,000, depending on the location of the house and forecasts that were taken at the time of its construction.

These families must also consider the monthly payment for the new sewer system, which represents 33% on water consumption. Even those who choose not to connect to the network of sewers, will have to pay.

Wastewater is collected from the houses pipes reach Treatment Plant Cuts in La Uruca. There are remove up to 40% organic load (urine, feces, chemicals, metals) and then be deposited, much cleaner, in rivers.

Are those same channels that are currently receiving the liquid 140,000 other homes, without any treatment.

This group is already connected to the network of AyA and pay for the sewer. It is people from certain quarters in the cantons of San José, Tibás, Moravia, Goicoechea, Curridabat, Montes de Oca, Homeless, Alajuelita and Escazú. )

With the operation of Los Tajos, the Costa Rican Institute of Aqueducts and Sewers (AyA) clean water from these 140,000 households and 125,000 are about to join. In total, the plan reaches about 1,070,000 people.

The work is part of the Environmental Improvement of Greater San Jose, and will include some sections of the cantons Vázquez de Coronado and La Union of Cartago.

The goals will be completed in two stages: this year will cover the northern part of San Jose; next, southern sector.

Sacrifices. Manuel Lopez, director of Collection and Treatment of AyA, warns that the sewer not prosper without citizen engagement without a radical change in awareness of environmental health.

This implies the need to change some habits. For the plant's Cuts function effectively, it is necessary to eliminate practices like letting go down the drain tuna oil or grease from the kitchen, or throw diapers or sanitary towels in the toilet. Grease traps, for example, are measures that require the Ministry of Health.

The system also involves investment by families.

Costs will vary depending on whether households have a scheduled recording and a box on the sidewalk. Also how far is the septic tank Street and materials that make up the floor.

If you already have the cord under the spout, you pay only ¢ 6,000 to AyA by the interconnection process and between ¢ 120,000 and ¢ 150,000 for the junction box (which will build a plumber, because it does the Institute). In addition, each month disbursed 33% more on your receipt.

If the subscriber has a planned-but this is not located on the sidewalk of forehead should add between 88,000 and ¢ ¢ 100,000. This, for the AyA is responsible for the works and arrangements in the street.

The connection will be even more expensive in the case of households without a scheduled and the farther away your septic tank sidewalk, the greater the constructive works inside the house (ground breaking, buy and reconnection of pipes.).

Kenneth Rosales, construction engineer Housing Promotion Foundation (Fuprovi) estimates that in the case of a middle-class, the cost ranges between ¢ 100,000 and ¢ 600,000.

According to Manuel López, a large number of houses and developments that already has its planned because this is a requirement to build for 20 years.

One can connect to the system households having front, and at the same level, one of the collectors. Those at the front, but at a lower level with respect to the tube must use pumps and invest further.

In any case, all homes with piping network to the front obliged to pay for the service on their receipts, but decided to keep the septic tank. This is stipulated in Article 288 of the General Health Law.

70% of Costa Ricans has septic tank.

"People can continue to use your septic tank, provided it is in perfect condition. If you are in disrepair, the Ministry of Health may force them to connect to the network, "Lopez said. 45% of subscribers used Aqueduct tank, while 55% pay for sewerage.

In 2020, the AyA expand the four collectors and 21 existing sewer lines. In the end, 184 developments (with planned network) will join 64, by the collector Rivera; 13, by the Torres; 48, by María Aguilar and 59 Tiribí.
7. Acquittals in Jairo Mora case were unexpected
By the A.M. Costa Rica staff

There was widespread surprise and condemnation Monday when a court in Limón acquitted seven men in the murder of environmentalist Jairo Mora Sandoval.

The Poder Judicial quickly noted the verdict is subject to appeal and that the president of the Corte Suprema de Justicia, Zarela Villanueva Monge, said the law gives judges independence.

The trial panel said that there were errors in the investigation of the case and the safeguarding of evidence. Some lawmakers are calling for an appearance by Jorge Chavarría, the fiscal general de la República, Carmen Zúñiga, the fiscal of the Tribunal de Juicio in Limón, and Francisco Segura, director of the Judicial Investigating Organization.

Marcela Guerrero Campos of the Partido Acción Ciudadana said the acquittal on technical grounds damages the image of Costa Rica.

Perhaps the most outspoken was Paul Watson, the founder of the Sea Shepherd Conservation Society. He called the verdict a sad, sad day for justice in Costa Rica.

"It is not surprising that the seven men charged with the murder of Jairo Mora Sandoval have been acquitted," Watson said on a Facebook page. "Evidence was conveniently lost, and the court made numerous errors, and although these men clearly are responsible for killing Jairo, they get to walk, although four of them will serve time for rape and robbery of tourists on the same beach. All seven were acquitted of murder, kidnapping, sexual ...assault and robbery involving Jairo Mora Sandoval and the volunteer women turtle conservationists working with him."

He called Jairo Mora a martyr and added "he is in my opinion the greatest conservation hero in the history of Costa Rica, and the system has failed him, and it did so because of corruption and politics. The narco-poachers have won again, not surprising — they have the money, the power and the ruthless determination to advance their greed at all costs."

The case began May 31, 2013 when Mora and volunteers were traveling to a Caribbean beach, Playa Moín, on a mission to protect turtles. They were confronted by men who took Mora away and held the volunteers hostage for a time in a nearby dwelling.

The judges said that both the prosecution and investigators lacked rigor in handling evidence including breaks in the chain of custody. Problems also existed in the presentation of the case of the three U.S. volunteers and a Spanish woman who were held hostage while Mora was dragged to his death at the nearby beach.

The judges cited errors in the handling of wiretap results including a lack of attributing ownership of certain cell phones to the accused.

Three of the accused are free, but four others were convicted of robbery and holding people against their will. They will serve terms ranging up to 27 years.
Brian, Lita, the Late Hugo IV, irreverent Vicka, the pigeon toed parrot, Chico II and Chica II